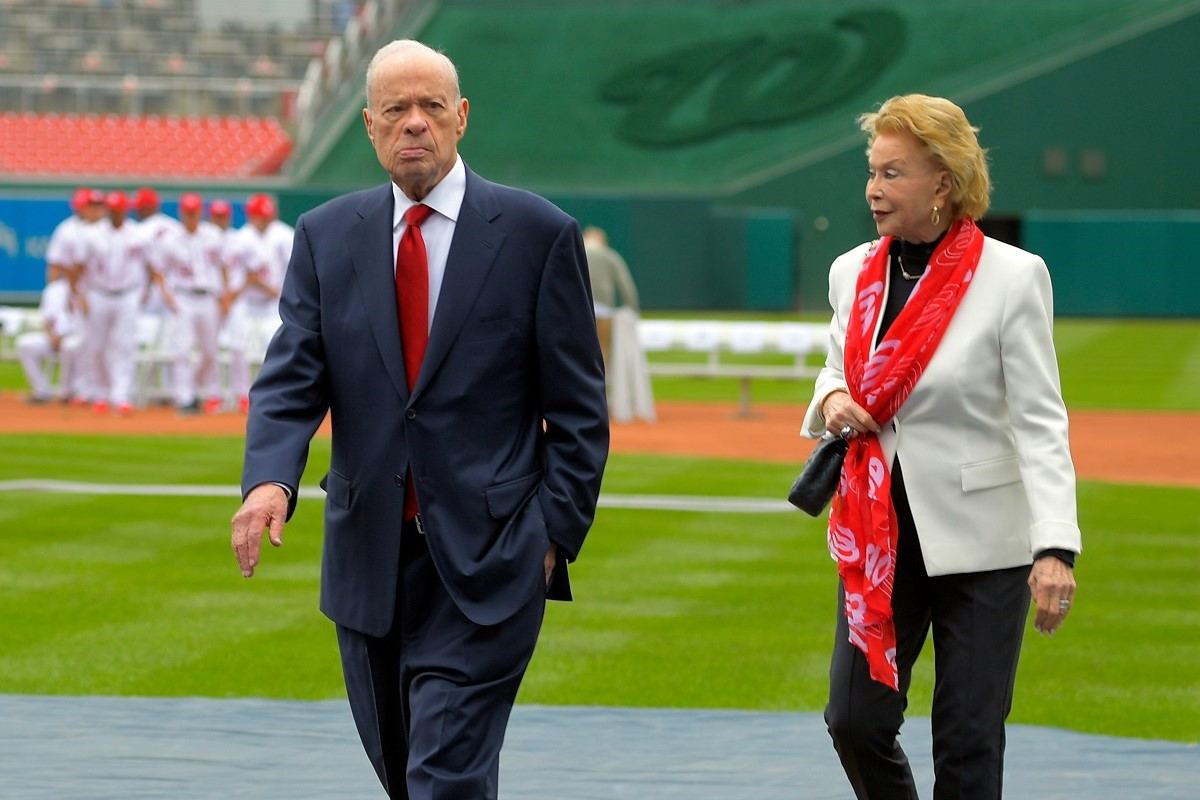 15:31 JST, February 14, 2023
Theodore N. "Ted" Lerner, a self-made billionaire developer who became principal owner of the Washington Nationals and oversaw the team's rise to prominence, capped by its victory in the 2019 World Series, died Feb. 12 at his home in Chevy Chase, Md. He was 97.
The cause was complications from pneumonia, said Nationals spokeswoman Jennifer Mastin Giglio.
The pinnacle of Mr. Lerner's stewardship of the Nationals came in 2019, more than a decade after he bought the franchise for $450 million. After a stumbling start to the season, the Nationals found a remarkable team chemistry that year, winning the National League pennant on Oct. 15 – Mr. Lerner's 94th birthday.
Fifteen days later, following a tense seven-game series in which the home team lost every game, Mr. Lerner looked on as the Nationals upset the heavily favored Houston Astros to win the World Series.
No team from Washington had been baseball's champion since 1924, one year before Mr. Lerner was born.
The victory was the capstone to his career, reshaping his public legacy from that of a publicity-averse real estate and shopping mall magnate known for his gruff and litigious personality to that of a community-spirited team owner who brought a championship to his hometown.
A onetime usher at Washington's old Griffith Stadium, where the Senators played in his youth, Mr. Lerner plowed $450 million of his fortune into the Nationals, purchasing the team from Major League Baseball in 2006, one year after the franchise moved from Montreal to Washington.
The Nationals endured six mostly miserable seasons with a losing record, as Mr. Lerner and other members of his family, who were part of the ownership group, learned the baseball business and built the team.
Mr. Lerner closely supervised the construction of the publicly financed Nationals Park, which opened in 2008 on South Capitol Street, 15 blocks from the U.S. Capitol, and led to the revitalization of a once-desolate district along the Anacostia River.
One of Mr. Lerner's key decisions came in 2009, when he hired Mike Rizzo as general manager and president of baseball operations. Rizzo was the architect of a team that won four National League East Division championships from 2012 to 2017 before breaking through in 2019 with the World Series title.
The Nationals named Mr. Lerner's son, Mark, managing principal owner in 2018, but the elder Mr. Lerner remained the unquestioned, if closemouthed, patriarch in control of the team's purse strings.
In 2018, Mark Lerner said, "We will never sell the Nationals." But in April 2022, with the club valued at $2 billion, the Nationals announced "an exploratory process" to seek additional investors or a possible sale of the franchise.
As the fortunes of his team rose, Mr. Lerner sought to stay out of the public eye. Known as "Silent Ted" at Roosevelt High School in the District of Columbia in the 1940s, Mr. Lerner studiously avoided the limelight while building one of the largest privately held real estate companies in the region.
His company, Lerner Enterprises of Rockville, Md., constructed more than 22,000 houses and 7,000 apartments in the Washington area. It owned and managed millions of square feet of commercial and retail space, with stakes for many years in shopping destinations at Tysons Corner and Dulles Town Center in Northern Virginia and at White Flint Mall in North Bethesda, Md. (White Flint Mall was demolished in 2015 and slated for redevelopment.)
Mr. Lerner and his family had a net worth estimated by Forbes magazine at $6.6 billion in 2023. Buying the Nationals fulfilled a lifelong dream for Mr. Lerner, who recalled that he worked as an usher at Griffith Stadium because he could seldom afford to buy tickets to watch the Senators.
He attended baseball's All-Star Game in Washington in 1937. "The streetcar to Griffith Stadium cost three cents," he told The Washington Post in 2015. "Discounted because I was a student. The all-star ticket was 25 cents. Not sure how I bought it. But I certainly do remember the game."
He kept a framed scorecard of the game in his office.
Over the years, Mr. Lerner expressed interest in owning football, basketball and baseball franchises but had never come close to succeeding.
When the Washington Senators left after the 1971 season to become the Texas Rangers, Washington became the country's largest metropolitan area without a big league baseball team. The capital was passed over as baseball expanded to other cities.
In 2002, Major League Baseball took over ownership of the financially strapped Montreal Expos and two years later announced that the franchise would move to Washington. Mr. Lerner led one of several groups competing to buy the Expos.
Baseball Commissioner Bud Selig and his selection committee were seeking to attract an owner with deep pockets and deep roots in Washington who would make a long-term commitment to the team. They also sought a low-key public image and a willingness to treat the franchise as a public trust.
Mr. Lerner satisfied those requirements, but after criticism that his ownership group was not sufficiently diverse, several prominent Black investors joined at the last minute. Stan Kasten, a former sports executive in Atlanta, lent experience and expertise to the Lerner investment group and ultimately was named team president.
Selig and other baseball officials originally said they wanted to have a new owner in place by the time the Nationals began play in 2005. But one delay led to another, and the team remained the property of Major League Baseball throughout its first season in Washington.
Eight serious bidders were winnowed to three, and it was not until May 2006 that Mr. Lerner and his family finally prevailed in buying the franchise. Mr. Lerner, who had acquired vast wealth without becoming a public figure, was suddenly cast into an unfamiliar spotlight, in which he admitted he was not entirely comfortable.
"It's quite a different world," he said in a 2014 interview with Nationals broadcaster Bob Carpenter of the MASN sports network. "The same business principles exist [in] baseball. You have to make major decisions. And one of the decisions … is, do you invest dollars and time and effort in the short term – and take risks in the short term – or do you go for the long term? We committed to the world that we would not take any profits out of this franchise for 10 years."
Through the 2007 season, the Nationals played at aging Robert F. Kennedy Stadium. The Lerner family promised to invest heavily in the team and develop land around the new $611 million baseball stadium built with city financing on the Anacostia waterfront.
When the club struggled through two straight 100-loss seasons with a low payroll in 2008 and 2009, fans began to vent their frustration, accusing Mr. Lerner of opportunistically taking the public's money without spending enough to build a competitive team. Kasten left the Nationals after the 2010 season and became a part-owner of the Los Angeles Dodgers.
Despite the opening of Nationals Park in 2008, attendance fell off as the team continued its losing ways. Redevelopment of the stadium's blighted neighborhood also proceeded slowly during a serious nationwide economic downturn. Within a few years, however, the area known as the Navy Yard was blooming with restaurants, shops and apartment buildings near the ballpark.
The Lerner family also faced a storm of anger from the D.C. government in 2008 by refusing to pay $3.5 million in rent to the city because some cosmetic features of the facility were not "substantially complete," even though the team was already playing at the park.
"There's really nothing like the business of sports," Mark Attanasio, owner of the Milwaukee Brewers, told The Post in 2019. "Everything you do is under a microscope. Imagine being on Wall Street and making all these deals over the course of a day and then at the end of the day having to explain all your decisions publicly. That's the position Ted found himself in. It's a transition for all of us."
Mr. Lerner and his ownership team were sometimes criticized for signing some players to contracts with deferred compensation, meaning the full value would not be paid out for years – sometimes long after a player had left Washington.
The club's fortunes improved in 2012, when the Nationals won 98 games and made the playoffs for the first time. The team drew about 2.5 million fans a year, putting it in the top third in baseball, as it won the NL East four times in six years. In 2018, the All-Star Game was played at Nationals Park, 81 years after Mr. Lerner saw his first All-Star Game at Griffith Stadium.
Criticism of Mr. Lerner and his stewardship of the team turned to praise in 2009, when the Nationals drafted pitcher Stephen Strasburg, paying him $15.1 million, a record contract for an amateur player.
When the heralded 21-year-old right-hander made his debut with the Nats in June 2010, striking out 14 batters in his first game, the stadium began to sell out for his appearances. After the 2019 World Series, in which Strasburg was named MVP, he signed a $245 million contract extension to keep him with the team through 2026.
Mr. Lerner, who built a strong working relationship with Scott Boras, the agent for many of the Nats' top players, continued to open his pocketbook in 2010 when the team drafted 17-year-old slugger Bryce Harper, paying him $9.9 million over five years, including a signing bonus of $6.25 million. Harper left after the 2018 season for a 13-year, $330 million deal with the Philadelphia Phillies.
In 2015, the Nationals signed pitcher Max Scherzer to a seven-year contract worth $210 million. Scherzer became one of baseball's dominant pitchers and a huge fan favorite for his passionate style of play before he was traded in 2021.
The Nats reached the playoffs in 2012, 2014, 2016 and 2017 but, in each case, they failed to advance past their opening round. After the team lost a hard-fought division series to the Chicago Cubs in 2017, popular manager Dusty Baker was not retained when his contract expired, even though he had led the team to 95 and 97 wins in consecutive seasons.
Many of the team's fans were angered and complained that Mr. Lerner and his family didn't fully grasp the vagaries of baseball, in which postseason success was often subject to chance and luck.
"Regular season wins and division titles are not enough," Rizzo said, speaking for Mr. Lerner and other family members. "Our goal is a [championship] parade down Pennsylvania Avenue."
Before the 2018 season, the Nationals hired Dave Martinez as manager. He built the team around Scherzer, Strasburg, first baseman Ryan Zimmerman – the Nationals' first draft choice in 2005 – third baseman Anthony Rendon, shortstop Trea Turner and young outfielder Juan Soto.
In 2019, the Nationals overcame a slow start – the team was 19-31 after 50 games – to win several dramatic postseason games before triumphing over the Houston Astros in Game 7 of the World Series. After the Nationals won, 6-2, in Houston's Minute Maid Park, Ted Lerner was no longer silent. "The dream came true," he said.
Theodore Nathan Lerner was born in Washington on Oct. 15, 1925, and was raised in an Orthodox Jewish family.
His father, a clothing salesman, had emigrated from the British mandate of Palestine; his mother came from Lithuania. They did not use electric lights or listen to the radio on Saturdays, the Sabbath. After buying the Nationals, Mr. Lerner refrained from attending games on Friday nights, in observance of the Sabbath.
At Roosevelt High School, he was involved in the school newspaper, the French club and the tennis team. His Class of 1944 yearbook called him one of the school's "most energetic and resourceful students."
After Army service in Texas during World War II, he received an associate's degree from George Washington University in 1948. Two years later, he graduated from the university's law school and began his ascent in real estate. A local builder challenged him to sell 25 homes, and Mr. Lerner went well beyond that goal.
"It was the middle of November," he told Washingtonian magazine. "I had one house completely wrapped in cellophane with a huge red bow. Santa Clauses stood on each corner." He sold 100 homes, convincing him that he had a "feeling for real estate." He remained a developer of subdivisions for many years.
In 1951, Mr. Lerner married Annette Morris, the daughter of a developer on the Eastern Shore of Maryland. In addition to his wife, of Chevy Chase, survivors include three children, Mark D. Lerner and Debra Lerner Cohen, both of Washington, and Marla Lerner Tanenbaum of Bethesda; nine grandchildren; and 11 great-grandchildren.
In the mid-1950s, when enclosed shopping malls were still a novelty, Mr. Lerner got into the business through Isadore M. Gudelsky, a former sand-and-gravel salesman who built up considerable real estate holdings in the Washington suburbs. Their Wheaton Plaza project became one of the most successful shortly after it opened in 1960.
Mr. Lerner soon won over Fairfax County planners with his ideas of how to develop the apple orchards and cow pastures around Tysons Corner. In doing so, he beat out James W. Rouse, a Maryland shopping mall pioneer who went on to develop the planned city of Columbia, Faneuil Hall in Boston and Harborplace in Baltimore.
To keep out competition, Mr. Lerner and partners bought more than 100 acres of farmland across from Tysons Corner Center and eventually built what is now Tysons II.
Mr. Lerner was as litigious as he was shrewd, and relations with some of his business associates unraveled. H. Max Ammerman, a partner in the Tysons mall deals, told a Post reporter shortly before his death in 1988 that Mr. Lerner "was a hard-nosed guy."
"If he didn't get his way, he was a terror," Ammerman said. "Meetings would end up in verbal fights."
In the early 1980s, when the D.C. Department of Finance and Revenue mistakenly assessed Mr. Lerner's property at Connecticut Avenue and L Street NW at $2.90 a square foot instead of $290 a square foot, Mr. Lerner balked at the correct price and the resulting tax lien placed on the property.
Mr. Lerner's attorneys instigated a lawsuit charging that the lien amounted to slander and libel. In the end, Mr. Lerner and a partner reportedly agreed to a $675,000 tax payment, about $160,000 less than the District had sought.
Mr. Lerner also ejected his younger brother Lawrence as an officer and director of the family's property management firm. In the mid-1980s, Lawrence Lerner sued his brother, charging that he had been cheated out of tens of millions of dollars over the years. Despite a settlement in 1987, Lawrence Lerner had to return to court to enforce the agreement. He died in 2019.
Even those who have been the target of Mr. Lerner's ire have acknowledged his generosity in charitable giving. He and his wife started a philanthropy, the Annette M. Lerner and Theodore N. Lerner Family Foundation, which gave away millions of dollars. The largest recipients included George Washington University, Children's National Hospital and his synagogue, Ohr Kodesh, a conservative congregation in Chevy Chase, Md.
But for most Washington-area residents, Mr. Lerner's greatest legacy lay with the baseball team he built and the championship year of 2019.
"It has been said that good things come to those who wait," Mr. Lerner said at the Nationals' victory celebration, almost a century after the city's only other World Series title. "Ninety-five years is an awful long time to wait. But it was worth the wait."
Add TheJapanNews to your Google News feed.