A Week After the Quakes, Many Survivors in Turkey and Syria are Still Waiting for Aid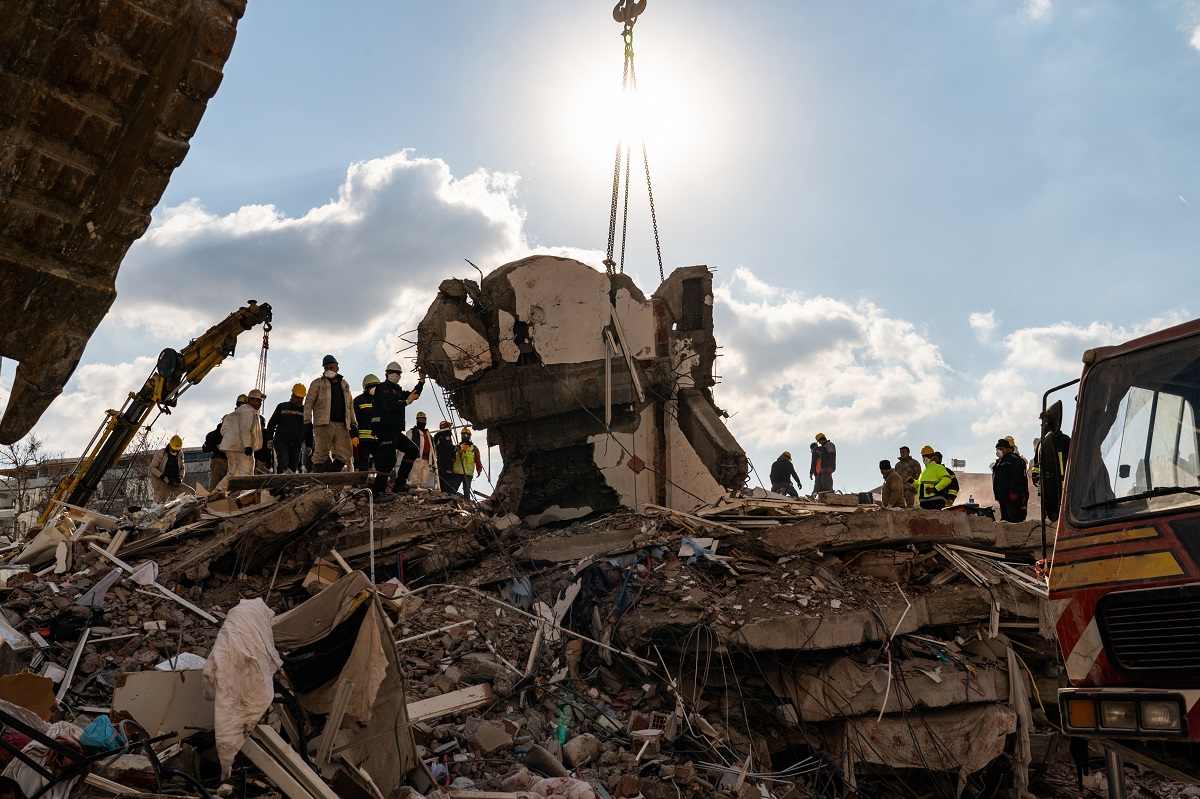 15:18 JST, February 14, 2023
Adds byline name. Updates death toll, with other updates and edits throughout. Adjusts contrib line.
Thousands of rescue operations were still underway Monday across southern Turkey and northern Syria as workers raced against the clock in their search for survivors, one week after a pair of earthquakes shattered the region.
The death toll surpassed 37,000 and the United Nations acknowledged "troubles" in its early aid efforts in Syria, where hardly any relief arrived until several days into the disaster. Humanitarian groups say the delay severely hampered efforts to pull people out of the rubble alive; even now, Syrians are waiting for the types of heavy machinery and specialized tools available on the Turkish side of the border.
Hundreds of thousands of people in both countries are injured or homeless, with many living in tents or their cars. There are growing reports of looting and instability in some of the hardest-hit areas, deepening the sense of desperation among survivors.
On a visit to Aleppo, Syria, on Monday, U.N. Emergency Relief Coordinator Martin Griffiths said "the rescue phase," consisting of "dragging live people out from the rubble and finding those who died in the rubble," is "coming to a close."
He lamented the destruction in Aleppo, a city already gutted by years of airstrikes and street fighting. "I had hoped that Aleppo, being further from the earthquakes, would have suffered less, but it hasn't," he said. "Aleppo's pain is visible to all."
"The humanitarian phase – the urgency of providing shelter, psychosocial care, food, schooling and a sense of the future for these people, that's our obligation now," he said.
U.N. Secretary General António Guterres said Monday that Syrian President Bashar al-Assad had agreed to open two more crossing points on the Turkish border, Bab Al-Salam and Al Ra'ee, to allow aid deliveries to northwest Syria for three months. For years, the Bab al-Hawa crossing has been the only lifeline for Syrians who reside in areas outside government control.
But for those who worked around-the-clock in rebel-held Syria with limited resources, promises of future relief will be seen as "too little, too late," according to Raed al-Saleh, head of the Syrian Civil Defense Forces, also known as the White Helmets. "Countless lives have been needlessly lost," he said in a statement Sunday.
The rebel-run Salvation Government's Health Ministry has reported 3,160 deaths; 1,414 people have died in government-controlled parts of Syria, according to the state-run Syrian Arab News Agency.
In Turkey, successful rescue operations continued Monday in the face of incredible odds. A 72-year-old woman was pulled out alive from the remains of a three-story building in Hatay's Antakya district, Turkish media reported. A 6-year-old girl named Miray in Adiyaman and a 10-year-old girl in Kahramanmaras were also reported to have been rescued from the rubble.
Rescuers on Monday afternoon were still trying to reach a family of three – a newborn, her mother and her grandmother – who were trapped in Kahramanmaras. Experts have marveled at the ability of survivors to hold on for so long.
"Within the rubble can exist pockets and spaces where people can survive for days on end, particularly if they have access to water," said Chris Skopec, vice president of global health for Project HOPE, an international humanitarian group. "As we near the eighth day, though, the chances of recovering survivors from the original earthquake damage is next to nothing," he said, noting that frigid temperatures in the affected countries can cause life-threatening hypothermia.
Turkey's Foreign Ministry said Monday that 9,247 foreign personnel from 80 countries were helping with search, rescue and relief efforts.
Nearly 4,500 search-and-rescue operations have been conducted in Turkey, and only about 400 of them have been completed, Interior Minister Suleyman Soylu said at a news conference Monday. "We have been experiencing the largest disaster in history," he added, through an interpreter. "We are working very hard to manage it."
Aid workers in Syria have said such operations are exponentially harder without access to special equipment that can help identify people under the rubble and extract them safely. Many of those affected in Syria had already been displaced, some several times, during the country's brutal civil war.
Fadi al-Halabi, a cinematographer for the Oscar-winning documentary "The White Helmets," said 13 members of his family had died. "My family is gone," he wrote on Facebook, sharing photos of children at a seaside picnic.
U.N. Special Envoy for Syria Geir Pedersen, speaking after a meeting with Syrian Foreign Minister Faisal Mekdad, said he was "pleased to hear reassurances from the Syrian government that they will support us in the work that we are doing all over Syria" – a reference to reports that U.N. efforts to deliver aid have been held up by factional fighting in the country. "Of course, this can't really fix all the troubles we had at the very beginning. But now, support is coming in," Pedersen said.
Fifty-two U.N. trucks hauling relief supplies entered Syria through the Bab al-Hawa border crossing from Thursday through Monday, Madevi Sun-Suon, a U.N. Office for the Coordination of Humanitarian Affairs spokeswoman, said by email. Other aid is reaching Turkey from countries including Indonesia and Iran.
Hatay Airport, near the devastated city of Antakya, reopened for some flights after damage was repaired, adding a key port for aid deliveries and evacuations. Airmen in uniform were seen unloading cardboard boxes containing mattresses and blankets Sunday night, footage on Turkey's TRT World broadcaster showed.
As aid groups shift their focus from rescue to long-term response, there are concerns that disease could spread easily among the displaced. Vaccines are being sent to the disaster zone, but the health-care systems in both countries are under severe strain.
With dozens of hospitals and health facilities damaged across Turkey and Syria, the World Health Organization is appealing for more than $42 million in aid.
Turkish officials have said earthquake recovery could cost as much as $50 billion; others have put the estimates much higher.
Add TheJapanNews to your Google News feed.