These Black and White Churches Began Worshiping Together During the Pandemic and haven't Stopped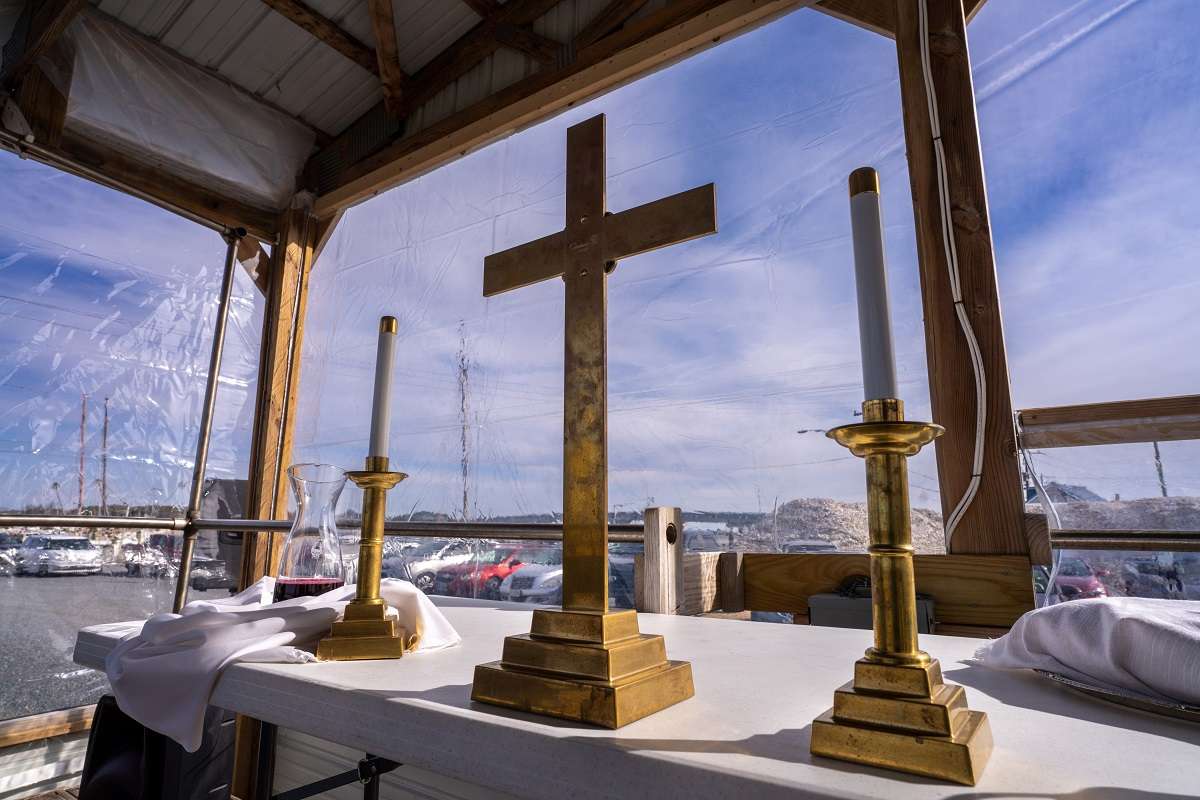 15:47 JST, February 12, 2023
DEAL ISLAND, Md. – It's Sunday morning, and the Bibles are on the dashboard. Disposable Communion cups drop into the consoles and coat pockets. Radios are tuned to 91.1 FM as pickup trucks and minivans weave around piles of oyster shells to claim a spot close to the bandstand. Horns blare and heaters crank as the piano player gets into position.
It's the call to prayer at Church by the Bay.
Since 2020, three pastors who lead a combined seven churches on the Deal Island Peninsula have been worshiping together at a small beach on Maryland's lower Eastern Shore. The pastors, two White and one Black, are part of the United Methodist Church. A spur-of-the-moment idea to bring the faithful together during the pandemic has become a once-a-month gathering where hundreds of worshipers honk along to a boisterous service that offers a mix of polemics, politics and preaching.
"There isn't a better church than this one right here," said Cathy Sikos, a retired Walmart worker who lives in nearby Dames Quarter. "It's a true depiction of what a church should be. No fancy building. Just pure worship. It's God's place. I wouldn't want to go anywhere else."
The Rev. Martin Luther King Jr. famously called 11 o'clock on Sunday morning "America's most segregated hour." In many places, it still is. On the Eastern Shore, White and Black Methodist churches do not often mix. That may not be a huge surprise on a peninsula where many counties did not fully desegregate until the 1970s. But it is slowly changing. About two decades ago, the Black and White Methodist churches in Nanticoke, Tyaskin and Bivalve – small towns outside of Salisbury – began to worship together once a month, trading off locations.
The three Church by the Bay pastors say they never set out to be an example of integration. They simply wanted to offer Communion to parishioners starved of that opportunity. After three months of virtual worships, the trio decided to offer a joint Communion at the beach for 30 minutes. They stayed for two hours to serve hundreds of Christians. They decided they would meet every week. The beach's owners, a seafood company, agreed to let them.
For 18 months, they met every Sunday – in high winds, frigid temperatures and scorching summer days. When their churches reopened, the three pastors – with the beach owner's blessing – decided to continue with the Communion and service on the first Sunday of the month. They never missed one, until January, when a windstorm sheared off part of the bandstand, and it needed repairs.
The joint worship has introduced the parishioners to different styles and messages. Pastor Deangelo Antonius "Tony" Johnson, who ministers to Macedonia United Methodist Church in Dames Quarter and St. Charles in Chance, is dynamic. During a typical Sunday service, Johnson can earn 3,000 steps on his Fitbit. Pastor Charles "Chuck" Jacobson, from St. Peters in Oriole and the Somerset church in Dames Quarter, is more traditional. A native Californian, Jacobson, 76, describes himself as a "retired, part-time pastor." Then there's Pastor David Webster, leader of the historic Rock Creek, St. John's and St. Paul's churches. Known as "Dave Dave," he is also a firefighter, a waterman and still lives on the same street in Dames Quarter where he was born. Webster often invokes politics – he sometimes rails against abortion rights or the mainstream media – while Johnson hews to scripture and Jacobson offers inspirational messages.
All three are delighted that an event borne out of a deadly pandemic has become a community asset.
"For years we were separate, but when 2020 came around, we found there was a better way," Johnson said.
Added Webster: "We didn't pay attention to what the news told us we were. We paid attention to what God called us to be."
The joint service has helped Macedonia gain a few White worshipers, which has helped the collection plate. Macedonia sits in a flood-prone area along a road where few people still live. It has grappled with structural issues due to water and, at times, with graves being damaged and coffins floating away.
Irvin James Brown, who sings in the choir at both Macedonia and Church by the Bay, said he began coming to hear Johnson. But increasingly, he said, he's moved by the words of Webster – "He can get it." Brown, 86, also retired from Walmart and lives 16 miles away, in Princess Anne.
"I come for all of them now," Brown said as he holds down the horn for Jesus, then excuses himself to join the choir for "This Little Light of Mine."
Sadie, a Labrador, pokes her head out of Tom Shores's truck until the honking sends her sprawling on his lap in the warm cabin. Shores, 73, is a retired police officer. His own church, Rock Creek United Methodist, no longer has a choir. So, he enjoys the Church by the Bay choir, which is mostly singers from Macedonia and St. Charles.
Besides being able to bring his dog, Church on the Bay offers another benefit – casual dress. "I don't like to wear a suit," he said.
Growing up in Chance, schools were segregated, and so were churches, Shores said. Each of the Deal Island peninsula towns had a small Black population. Working on the water, picking fruit, repairing skipjacks and canning vegetables were all-hands-on-deck occupations that put the Black and White communities close to each other.
"We went to separate schools and separate churches, but we would pick strawberries together," Shores said.
The honks pick up when the pastors ask if anyone wants to accept Jesus Christ as their savior – and if so, they are free to send the pastors a Facebook message saying so. Webster streams the service on his Facebook page, where worshipers join from all over the world.
The three pastors have no plans to stop the once-a-month service, showing unity even as the United Methodist Church is splitting over the national organization's decision to allow same-sex marriages and ordain gay and lesbian clergy. About 6 million Americans identify as United Methodists, making it the nation's second-largest Protestant denomination, after Southern Baptists. Webster's three churches are disaffiliating in June and hope to join the more conservative Global Methodist Church. Jacobson said St. Peter's will do that, too, while Somerset will become a limited services church. Johnson, at Macedonia and St. Charles, said his church members have not taken a position yet.
In the summer, when the service ends, worshipers greet each other and even bring "Communion bread" for the seagulls. Johnson often walks down to the beach to pose for photos for his Facebook page. But on winter days, the cars file out in a procession, waving as the seagulls circle over the commotion. The band breaks down the equipment; the piano player wheels out his instruments and amps. Within minutes, the Church by the Bay is just a beach again, an empty bandstand under a bright blue sky.
Add TheJapanNews to your Google News feed.