Powerful earthquake devastates Turkey and Syria. Death toll mounts.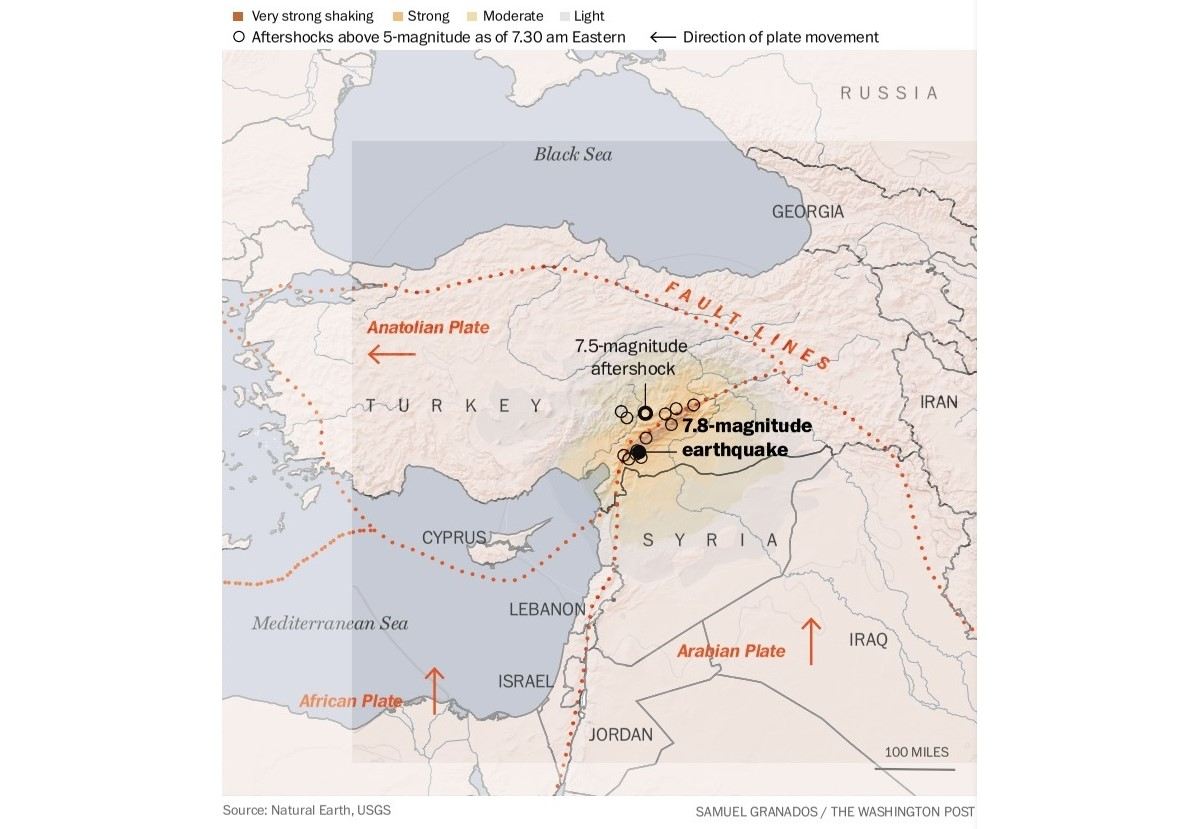 15:26 JST, February 7, 2023
SANLIURFA, Turkey – Nearly 4,000 people were killed across Turkey and Syria on Monday after a powerful earthquake and its many aftershocks ripped through sleeping towns and crowded cities, prompting a massive search-and-rescue effort in the frigid cold, even as hopes for survivors dimmed with the setting sun.
The quake, which the U.S. Geological Survey recorded at a 7.8 magnitude, was among the largest here in nearly a century, bringing death and destruction to a region already buffeted by years of crisis. Thousands of homes and businesses were destroyed, hospitals were overwhelmed, and infrastructure was damaged, including gas lines and civilian airports. In the Turkish city of Gaziantep, a Roman-era castle crumbled as a result of the temblor.
As night fell, residents and rescue crews continued to dig for people trapped under buildings that had collapsed on them as they slept. More than 7,800 people were rescued Monday in Turkey, the state-run Anadolu news agency reported, quoting the country's vice president.
The United States said it was deploying a disaster response team and two urban search-and-rescue teams to Turkey to assist with recovery operations. "U.S.-supported humanitarian partners are also responding to the destruction in Syria," President Biden said in a statement.
Biden also spoke with Turkish President Recep Tayyip Erdogan on Monday, the White House said. According to a readout of the call, Biden "reaffirmed the readiness of the United States to provide any and all needed assistance" to Turkey, a NATO ally.
Erdogan declared seven days of national mourning and said his government was coordinating aid offers from other countries, including Russia and some European nations.
"I wish God's mercy on our citizens who lost their lives in this great disaster, and a speedy recovery to our wounded," Erdogan said in an address Monday. "I hope we will leave these disastrous days behind in unity and solidarity as a country and nation."
The first earthquake struck at 4:17 a.m. local time in a small district in the southeastern province of Kahramanmaras, Erdogan said, about a two-hour drive from the northern border of Syria. It was felt as far away as Egypt, Israel and Lebanon. Later, in the afternoon, a 7.5 magnitude aftershock also rattled the region, its epicenter not far from the first.
Turkey sits in an earthquake hot spot. Three tectonic plates – the Arabian, Anatolian and African plates – meet in this region, and as they slide past and squeeze against each other, they build up friction and stress that gets released as earthquakes, according to Yaareb Altaweel, a seismologist at the National Earthquake Information Center in Colorado.
Turkey has two major faults where earthquakes originate: the 930-mile-long North Anatolian fault and the more than 300-mile-long East Anatolian fault. Many of Turkey's largest quakes originate on the northern fault, and it has gained the most attention because of the potential for a major quake near the population center of Istanbul.
But this one is thought to have struck along the East Anatolia fault zone, which has been flying a bit under the radar, with no earthquakes greater than magnitude 7 "at least since our seismological monitoring network has been in place – the 1900s," said Stephen Hicks, a seismologist at University College London.
The lack of large earthquakes in the last century along that fault, combined with the northward movement of the Arabian Plate, suggests there was pent-up strain in the region, Hicks said.
The initial tremors jolted people from their beds and turned an otherwise quiet winter night into a cacophony of screams and crashing debris. Videos on social media showed victims and displaced residents in Turkey huddled together on thin mattresses in the snow. In rebel-held areas of Syria, including in Idlib province and parts of Aleppo, buildings newly destroyed by the earthquake were virtually indistinguishable from the rubble-strewn landscape produced by the civil war.
In the minutes and hours before rescue crews arrived, people on both sides of the border dug frantically through the remains of their homes, shouting and sobbing as they tried to reach loved ones underneath. Soon, Turkish and Syrian workers were pulling survivors from the piles of concrete.
In footage from Turkey, a rescue worker was shown weeping and hugging a young girl rescued from a building, falling to his knees in the snow. In northern Aleppo in Syria, a video posted by the White Helmets, or Syrian Civil Defense force, shows volunteers extracting a young boy from beneath the pancaked mound that was once his home. He emerges barefoot and covered in dust.
But the death toll's grim ascent continued throughout the day and into the night as authorities counted bodies in the rubble and wounded survivors died on hospital beds.
By 1 a.m. local time Tuesday, Turkish authorities had registered 2,379 deaths and more than 14,000 injuries. In Syria, state media reported more than 700 deaths across provinces controlled by President Bashar al-Assad. And in the rebel-held northwest, where rescue workers have limited capacity after more than a decade of bombardment by Assad's forces, more than 700 people were reported dead by civil defense forces, with thousands more injured or unreachable.
"The situation is catastrophic," Kieren Barnes, Syria country director for the aid group Mercy Corps, said in a statement, adding that the affected area in the country hosts more than 1.8 million displaced Syrians.
"Already, 4.1 million people were going hungry in Northwest Syria and food insecurity has worsened since the war in Ukraine started," Barnes said.
On Monday morning, the Syrian American Medical Society, which supports 36 medical facilities in the northwest of Syria, said four of its hospitals had been damaged and evacuated.
Before the earthquake, health facilities in northwest Syria were already strained because of a cholera outbreak, according to Tanya Evans, Syria country director for the International Rescue Committee.
"Even before this tragedy, many did not have access to the health care they critically need," she said in a statement. "This earthquake is yet another devastating blow to so many vulnerable populations already struggling after years of conflict."
In Turkey, which is also home to 3.6 million Syrian refugees, the government said it had placed nearly 340,000 earthquake victims in shelters in schools and universities.
In the city of Sanliurfa, about 150 miles east of the epicenter, an elderly Syrian woman was pulled from the rubble of a six-story building Monday night. On Ipekyollu Street, floodlights illuminated a large pile of rubble and excavators plowed at the debris. About a dozen people were believed to be trapped inside, according to Mehmet Karakecili, a paramedic who had been working since 4 a.m.
Then someone thought they heard a voice – and the digging stopped. A crowd of onlookers grew.
"Who would have thought that the street that you pass by every day would come to this," said Ibrahim Aydogan, 34, who lived a few blocks away with his parents and siblings and now, like much of the city, was stuck outside in the rain.
Within an hour, a survivor had been found, a grandmother who originally came from Syria, one relief worker said. She was carried down from the rubble, through a column of rescuers, covered in a gold heat blanket. Then they all started digging again, for the rest of her family.
More than 14,000 emergency responders were taking part in rescue operations across southeastern Turkey, according to the government's disaster management agency, and 45 nations, among them members of NATO and the European Union, had offered some form of assistance.
Turkey and Syria were already in the throes of a crippling economic crisis as they contended with the aftershocks of Syria's war. An early estimate from the U.S. Geological Survey suggested that the damage across Turkey alone could top $1 billion.
The question of how to mobilize aid to Syria was thornier. In both government and rebel-held areas, humanitarian assistance is coordinated by the United Nations, which is frequently subject to bureaucratic obstacles and political interference.
Many Western countries also have frosty relations with Assad, whose government has waged a brutal war against rebel groups since 2011. The United States has no formal relations with the Syrian government – and helps maintain a slew of international sanctions targeting a range of areas, including its oil sector and financial transactions.
On Monday, Russia, Assad's most important ally, said it was offering direct aid to the Syrian government and dispatching emergency response workers, the Kremlin said in a readout of a call between Assad and Russian President Vladimir Putin.
Putin also offered his deep condolences to Erdogan and confirmed Russia's "readiness to immediately provide Turkish partners with necessary assistance in dealing with the aftermath of this natural disaster," the Kremlin said later.
The weather and aftershocks were likely to complicate rescue and recovery efforts, aid workers and experts said. In the region, temperatures were expected to dip into the low to mid-30s overnight Monday into early Tuesday, with some areas experiencing rain and snow.
Aftershocks, including a potentially larger earthquake, were a major concern.
Alexandra Hatem, a researcher with the U.S. Geological Survey, said the 7.8-magnitude earthquake ruptured a large portion of the East Anatolian fault.
"There have been numerous damaging earthquakes around this area," she said in a call with reporters Monday. "And we are trying to determine whether one of these would lead to a larger earthquake."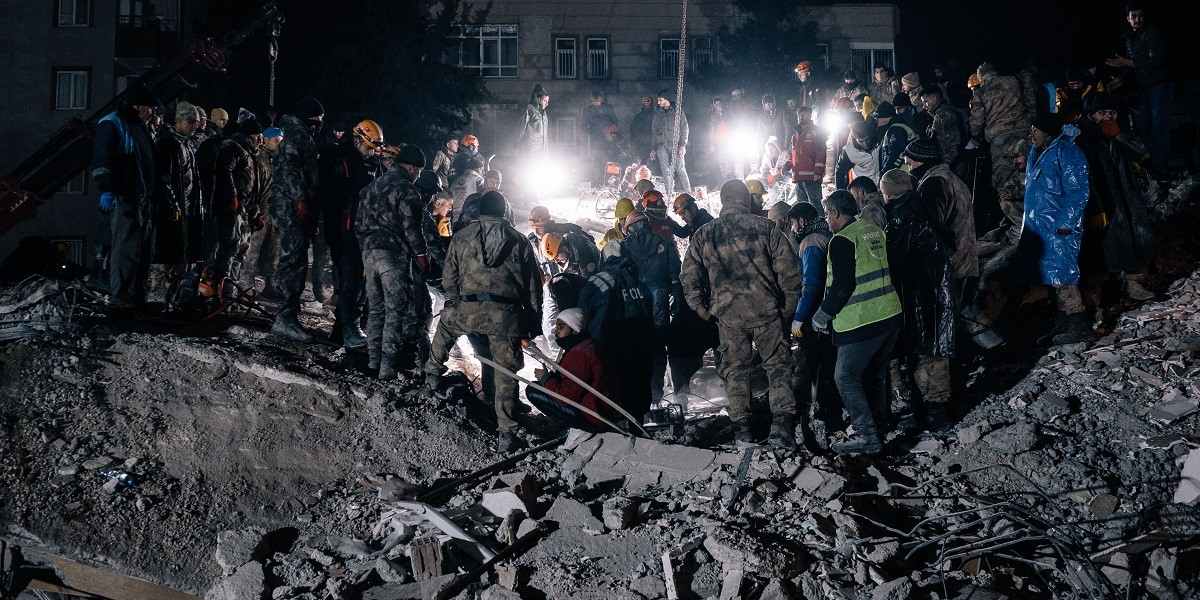 Add TheJapanNews to your Google News feed.