A student needed medical care and a home. His teachers adopted him.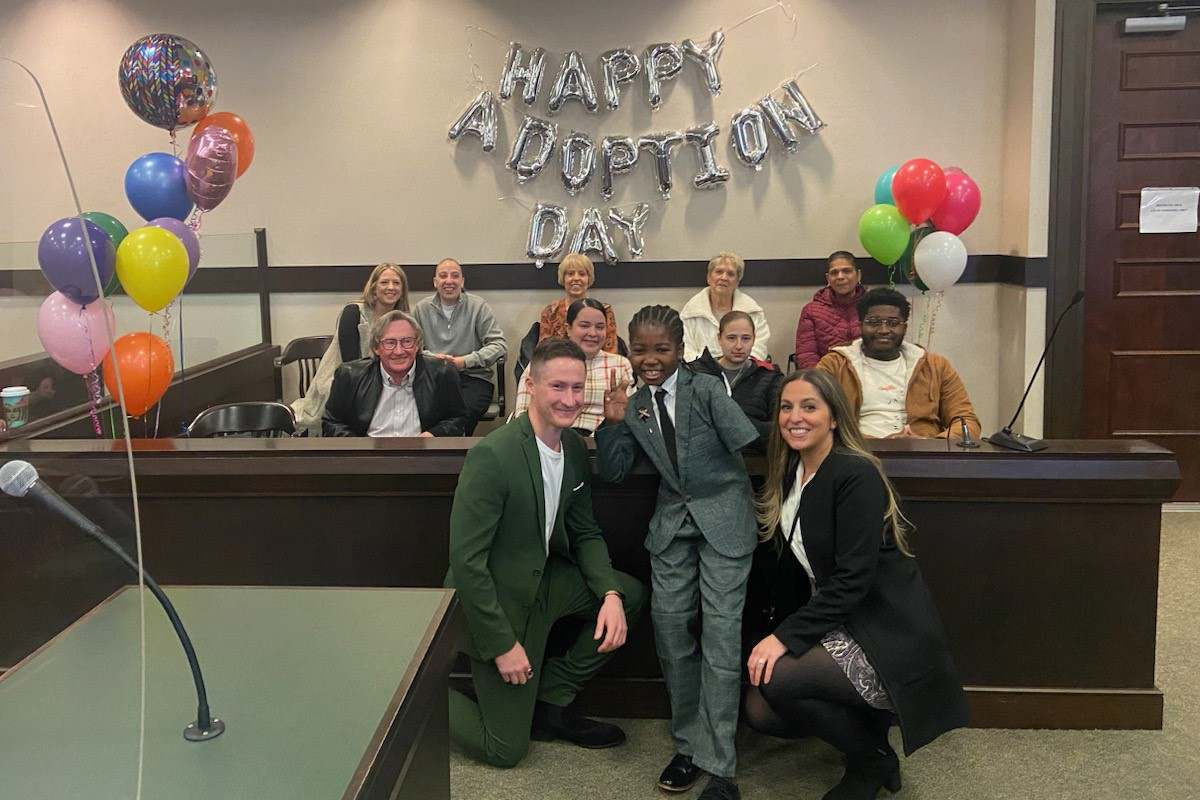 16:16 JST, February 5, 2023
When first-grade teacher Jenna Riccio found out one of her students needed emergency surgery in September 2019, she decided to visit him at the Connecticut Children's Medical Center as he recovered. She knew he had recently been moved into foster care, and thought he'd appreciate seeing her.
"Just thinking about him being at a hospital without his family there, I was just sad for him," she said about her student, Nathaniel "Nate" Innocent Riccio, who was then 7. "I just wanted to be a familiar face."
Nate was born with sickle cell anemia, a red blood cell disorder that can lead to other serious medical concerns, such as infections and chronic pain. While treatments can relieve pain and prevent complications, there is no cure.
Due to complications with his sickle cell anemia, both of Nate's legs had already been amputated below his knees, along with his left arm and several fingers on his right hand. He has also suffered from liver and kidney damage, among other health issues.
While at the hospital, Riccio chatted with a social worker from the Connecticut Department of Children and Families about Nate's foster situation and learned that the family he was staying with lived about an hour away from his school, Walsh Elementary School in Waterbury, Conn.
The arrangement, Riccio learned from the worker, "wasn't ideal," for Nate, who Riccio described as "super bright and easy to love."
She turned to Nate's social worker and suddenly said: "Can I foster him?"
After leaving the hospital, Riccio told her then-boyfriend, Tim Riccio, about her spontaneous offer. He was all in. Tim Riccio already knew Nate well, as he was the school art teacher.
"It kind of felt like a no-brainer that we could be those people that could be there to help him," said Tim Riccio, who wasn't living with Jenna Riccio at the time, but moved in shortly after.
"We didn't know the full extent of everything he had gone through, but we knew the situation he was in and how much he needed somebody there," he added.
Once Nate confirmed that he was on board with the plan, the process began. In 10 days – after they completed background checks, training courses and a home inspection – Nate moved into Jenna Riccio's home, and never left.
She learned that Nate's ongoing medical needs extended beyond what his birth family could meet, and that after a series of missed medical appointments, he had been removed from his birth family by the Department of Children and Families (DCF).
"He was a young boy that had extremely complex needs and he was unable to have his needs met on a regular basis," said Ken Mysogland, the bureau chief of external affairs at DCF.
Once Nate moved in with the Riccios, "it didn't take very long at all" for them to start feeling like a family, Tim Riccio said.
"When you're waking up with a kid in the middle of the night and helping him get dressed in the morning and giving him baths and doing all the stuff that parents do, it was only a couple months, and we were 'mom and dad.'"
Initially, Nate was still in communication with his birthparents, and the goal was for him to ultimately reunite with them. Over the years, though, they distanced, and social workers determined that adoption was a better alternative.
"It was clear that it was in his best interest to remain with the Riccios," said Vannessa Dorantes, the commissioner of DCF. "Kinship doesn't have to be by blood; it has to be about people who love and care for a specific child."
In the Riccios's case, Dorantes added, their dedication to Nate's well-being was clear from the get-go. Children with complex medical needs are particularly difficult to place in foster homes.
"I know the sacrifices teachers make for their students, and in this particular situation, you had a teacher that cared about a child that she was assigned to," Dorantes said. "He was a pretty sick little boy, and she wanted to make sure someone was there for him that she knew he'd be comforted by."
In recent years, being a teacher has been fraught with challenges, leading to nationwide staffing shortages and widespread burnout. Recently, an elementary school teacher in Newport News, Va., was shot and injured by a 6-year-old student.
The Riccios said they believe their role as teachers extends beyond the classroom, which is why they offered to take Nate home. While adoption wasn't initially on their minds, once it became an option, they said they were relieved more than anything else.
"He's been here for everything," said Jenna Riccio, adding that Nate was the ring bearer at the couple's wedding in May 2021 and was also present for their daughter's birth in February 2022. "I always wanted what was best for Nate," but "it was sad for me" to think that he would eventually leave.
The Riccios said they were undeterred by Nate's medical needs. Given that he is still growing, he will require revision surgeries every few years, and frequent monitoring.
"There's a lot of follow-ups that needs to happen to keep him healthy," said Jenna Riccio, adding that they are grateful for the support of hospital staff and social workers, as well as family and friends.
Dorantes said she hopes the Riccios will inspire others to follow suit in the ways they can. "It's just a perfect example of ordinary people making an extraordinary difference in a child's life," she said.
Nate – who had used a wheelchair and now walks with prosthetic legs – is in fifth grade and doing remarkably well, Jenna Riccio said.
Although the couple took in Nate several years ago, as of Nov. 18 – which is National Adoption Day – he legally became their son.
"The adoption day was amazing, and it was the best time that I ever had," Nate said. "I was so happy to be officially part of this family."
His favorite aspect of being a Riccio, he added, "is having great parents that take care of me so well and having a little sister to play with and take care of."
"I love making her laugh, I love making sure that she's having fun, and I just love to see her grow up," Nate said of his sister, Julien.
Nate has ambitions to become an actor one day and has participated in several acting workshops at a local theater.
His parents say they are blown away by how far he has come.
"He has just blossomed," Jenna Riccio said. "He's a little person now with his own dreams, and it's pretty incredible to know that we are there to support him through it all."
Add TheJapanNews to your Google News feed.