America's offices are now half-full. They may not get much fuller.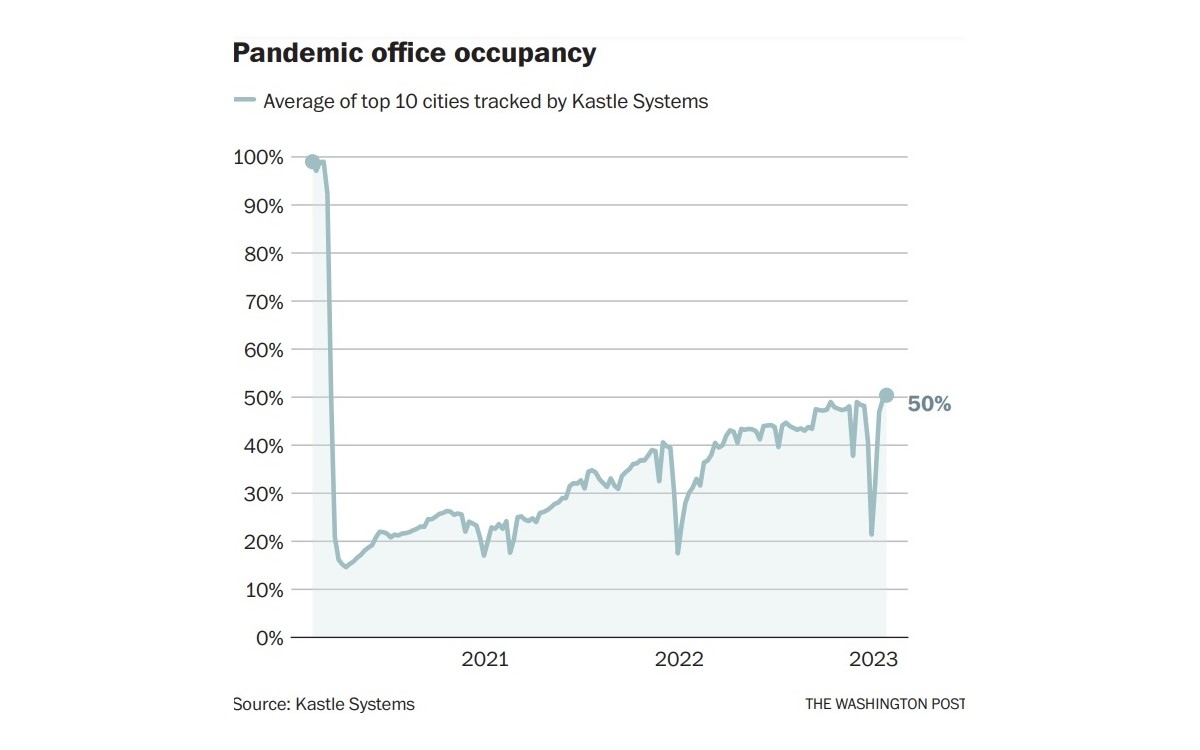 15:39 JST, February 5, 2023
The tug of war over getting workers back to the office just reached a key milestone: 50 percent are back at their desks on average, the most since the pandemic hit in March 2020.
But that means major corporate offices are only half as full as they once were – and many experts think this could be as good as it gets.
Overall growth in office occupancy has begun to level off in recent months despite efforts by many bosses to get workers back more often, according to data tracked by Kastle Systems. Last week, office occupancy across the country's top 10 metro areas edged up to 50.4 percent of pre-pandemic levels, according to Kastle, which measures office activity through entry swipes.
Indeed, late January marked the first time that all 10 cities tracked by the index – including laggards like San Francisco that lean remote – notched average occupancy rates of at least 40 percent of pre-pandemic levels.
But the return-to-office figures are unlikely to go much higher as flexible work becomes entrenched in the lives of white-collar workers, experts say. Some employees have resisted hard mandates to return: They've left for remote opportunities elsewhere or even flouted in-office requirements, flexing worker leverage while the labor market remains hot. In response, more companies seem to be moving toward acknowledging that the 9-to-5, Monday-through-Friday in-office job is over. More than half of U.S. jobs that can be done remotely were hybrid as of November, up from 32 percent in January 2019, according to data from Gallup.
"I think we must be headed toward some new equilibrium," said Ben Zweig, CEO of Revelio Labs, a workforce intelligence company. "Companies are becoming a lot more explicit about whether they're remote first or hybrid or in-person, and employees can sort of select into those companies."
Since the pandemic's onset, many office employees have made it clear they prefer flexibility in where they do their work. In 2021, when roughly 47 million people quit their jobs in what has become known as the Great Resignation, workers showed a willingness to walk away from jobs that weren't satisfying their needs. But remote job postings peaked at 20.6 percent in March 2022, LinkedIn data shows, and the dwindling opportunities are creating a mismatch in the face of widespread demand.
"Office numbers have flatlined," said Nicholas Bloom, an economist at Stanford University who has been studying the evolution of flexible work. "Longer-run, work from home will clearly rise, as the technology supporting this is improving rapidly, driven by the surge in current levels."
At the beginning of the year, some high-profile companies – including General Motors, Starbucks and Disney – announced moves to draw workers back to the office. Disney's hybrid workers must be in the office four days a week by March. TikTok recently warned employees they could be terminated if they don't live close enough to offices to meet the company's requirement of coming in two days a week, the Information reported. Law firm Sidley Austin is tying annual bonuses to office attendance for junior attorneys, according to Bloomberg Law.
"Companies are a bit gutsier right now," said Shannon Gabriel, managing director at TBM Consulting Group. "Whereas last year they were conceding on all points, this year they're stepping forward and being a bit more brazen."
But employers that are cracking down on a return to office are increasingly outliers, as many companies double down on flexible work. For Ancestry.com, shifting from an office-focused approach to allowing employees to work from anywhere has allowed the company to tap into talent pools that were previously out of reach, said Shane Koller, the company's senior vice president of people and places.
"By no longer being limited to the boundaries of our office locations, we can broaden our hiring capabilities to reach more underrepresented talent and provide a level playing field for equitable participation of talent," Koller said.
Some companies such as Apple and JPMorgan have faced blowback for enacting strict return-to-office mandates, and that's encouraged others to take a more lenient path. Market intelligence company ZoomInfo kicked off its return to office on Jan. 17, with the aim of having the company's 3,600 employees come in at least one day a week, according to Chad Herring, ZoomInfo's chief human resources officer.
"Employees aren't going to forget how employers treated them," Herring said. "We don't want to be a company in that situation where we had a draconian approach."
At the consulting firm Ernst & Young, a hybrid model allowed employees to make team-based decisions about when to work in the office or remotely, according to Ginnie Carlier, EY Americas vice chair. The company also reimburses U.S. workers for commuting, child care and pet care. Employee input into back-to-work plans plus the perks have led to a 150 percent increase in employees coming back since last February.
"By centering around flexibility, we're creating norms that meet the needs of our people," Carlier said.
The push and pull on employees is happening as employee engagement has fallen to its lowest level in a nearly decade, with just 32 percent of workers saying they feel engaged at work, compared with 36 percent in 2020, according to Gallup. Young workers report that they are struggling in particular, the Gallup survey of about 67,000 employees found.
For her first job after graduating from college in 2022, Hannah Reilly turned down two remote offers in favor of working exclusively in-person for Verkada, a security system start-up based in San Mateo, Calif. After the pandemic left her feeling disconnected from friends and peers, she wanted to "take a risk," move to a new place and be around people.
When she was younger, Reilly imagined office life being "dark and dreary," with people working in isolation at their desks. But Verkada's light-filled office – with its barista and barber services, catered meals and frequent team-building events – is livelier than she expected. She loves it so much that she persuaded her roommate to apply; now they commute together every day.
"I don't think I'd ever go back to a fully remote company at this point," Reilly said. "Now we have all these opportunities we missed out on for so long."
Attuned to the advantage flexibility offers in attracting and retaining talent, some companies with mixed workforces are searching for ways to offer more of it. Red Wing Shoe Company's workforce of about 2,300 employees is spread out over manufacturing, retail, warehouse, hotel and office jobs. Corporate employees have benefited from the company's "Work Done Right" program, which allowed teams to decide when to come into the office and when to work from home, according to Carrie Heimer, the company's chief human resources officer.
In the summer of 2021, at the peak of the labor shortage, Red Wing recruited and found employees by temporarily offering some factory workers a chance to work part-time shifts, if they wanted, or allowing them to switch shifts. There were some logistical challenges, but employees liked the setup. The company is determined to explore ways to offer greater flexibility and support for all employees, Heimer said.
"Certain jobs will always require more on-site presence," Heimer said, "but let's get creative and think of what we can do to still extend some of that same feeling of empowerment and flexibility."
Years into the hybrid evolution, companies are still figuring out what works. After having employees come into offices three days a week since the fall, tech company RingCentral is shifting to asking employees to come in 30 days a quarter. The measure could yield fewer in-office days, but it gives employees more latitude in how they allocate their time, according to chief operating officer Mo Katibeh. That could mean working some weeks entirely at home and others in the office, or deciding what works best for them from week to week, Katibeh added.
It will also be easier to monitor in-office time on a quarterly basis for each employee than on a weekly one, Katibeh said.
"Really it's about flexibility and accountability," Katibeh said.
Add TheJapanNews to your Google News feed.