Elaine Chao responds to Trump's racist attacks on her Asian American heritage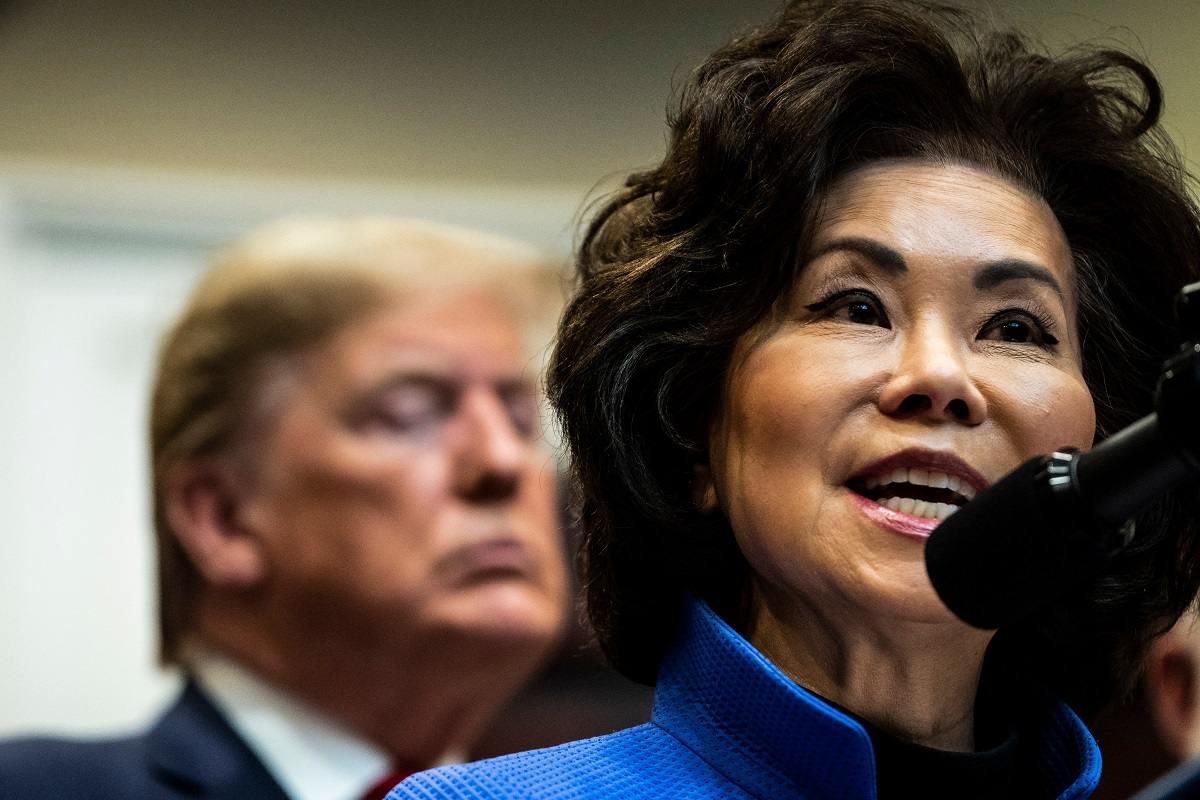 17:16 JST, January 26, 2023
WASHINGTON – Former transportation secretary Elaine Chao issued a rare public comment about former president Donald Trump – whose Cabinet she served in – and criticized his string of racist attacks aimed at her and other Asian Americans.
The most recent missive from the former president attempted to link Chao and her husband, Senate Minority Leader Mitch McConnell (R-Ky.), to the classified documents found in President Biden's office at the Penn Biden Center in Washington.
"Does Coco Chow have anything to do with Joe Biden's Classified Documents being sent and stored in Chinatown?" Trump posted on Truth Social on Monday. "Her husband, the Old Broken Crow, is VERY close to Biden, the Democrats, and, of course, China."
In a statement, Chao said, "When I was young, some people deliberately misspelled or mispronounced my name. Asian Americans have worked hard to change that experience for the next generation. He doesn't seem to understand that, which says a whole lot more about him than it will ever say about Asian Americans."
Politico was the first to report Chao's statement.
Wednesday's statement is the latest rupture between Trump, who has announced his third bid for the presidency in November, and a key insider in the Republican Party.
Trump spokesman Steven Cheung, who did not immediately respond to The Washington Post's request for comment, told Politico: "People should stop feigning outrage and engaging in controversies that exist only in their heads."
Chao served as transportation secretary for all four years of Trump's presidency before announcing her resignation following the Jan. 6, 2021, attack on the U.S. Capitol by a mob of his supporters.
Chao's father, James S.C. Chao, founded a successful international shipping company. She immigrated to the United States from Taiwan at age 8 without knowing how to speak English. She went on to graduate from Harvard Business School before working as a transportation banker. She also did stints as a White House fellow, at the Peace Corps, corporate boards and think tanks.
In 2001, Chao became the first Asian American woman to be named to a Cabinet post, serving as labor secretary under George W. Bush for eight years.
McConnell did not initially support Trump's 2016 candidacy but aligned himself with the party's standard-bearer once he secured the nomination. The two men developed a working relationship that produced legislation on tax cuts and the confirmations of a bevy of judicial appointments, but the alliance was severed after the attack on the Capitol and a string of election losses that the senator essentially blamed on Trump.
Trump posted a racist interpretation of Chao's last name in a social media post in October, after McConnell helped pass legislation to avert a government shutdown. In that post, Trump also said McConnell "has a DEATH WISH!"
Before that, Trump called Chao "crazy" and said McConnell helped her "family get rich on China!"
Chao has largely avoided responding to Trump and urged journalists not to quote his inflammatory rhetoric. The "media continuously repeats his racist taunt," Chao told CNN in December. "And so, he's trying to get a rise out of us. He says all sorts of outrageous things, and I don't make a point of answering any one of them."
McConnell also issued a rare and pointed criticism of Trump that month, telling NBC News that some of the Republicans' midterm losses were a result of the candidates Trump had promoted. McConnell added, "I think the former president's political clout has diminished."
But Chao hasn't been the sole focus of Trump's seemingly racist remarks about Asian Americans.
As the coronavirus pandemic amped up across the United States and the world in March 2020, Trump publicly referred to it as the "Chinese virus." Trump's use of the phrase "Chinese virus" on social media was linked to a spike in anti-Asian hashtags, according to a study co-written by an epidemiology professor in California.
At a campaign rally in June 2020, he added another racist nickname to the mix, this time calling covid "Kung flu."
"The fact that he got the crowd so riled up was just chilling," Chris Lu, a Chinese American who served as Cabinet secretary in the Obama White House, said that summer. "In that really primal desire to get a rise out of the crowd and get that affirmation he wants, he went to this place that has such bad consequences for Asian Americans broadly and for Asian American kids in particular. It's a joke to him but not to us."
In November, Trump attacked Virginia Gov. Glenn Youngkin (R), writing on social media that the last name of the Republican, who is talked about as a potential Trump challenger for the Republican presidential nomination in 2024, "Sounds Chinese, doesn't it?"
Former Maryland governor Larry Hogan (R) said Trump's comment – which was false, Youngkin is not Asian – was "racist" and "Asian hate."
Chao's remarks Wednesday stand in stark contrast to her tenure in the Trump administration, in which she supported the president even during some of his most tumultuous moments. In August 2017, she was at the president's side in the lobby of Trump Tower, visiting New York ostensibly to discuss infrastructure. Trump said she was doing a "fabulous job."
Yet those remarks became infamous when Trump veered off topic to discuss far-right violence that had engulfed Charlottesville days before, saying that a group of white-supremacist demonstrators included "very fine people" and that the blame for the violence lay with "both sides."
Add TheJapanNews to your Google News feed.