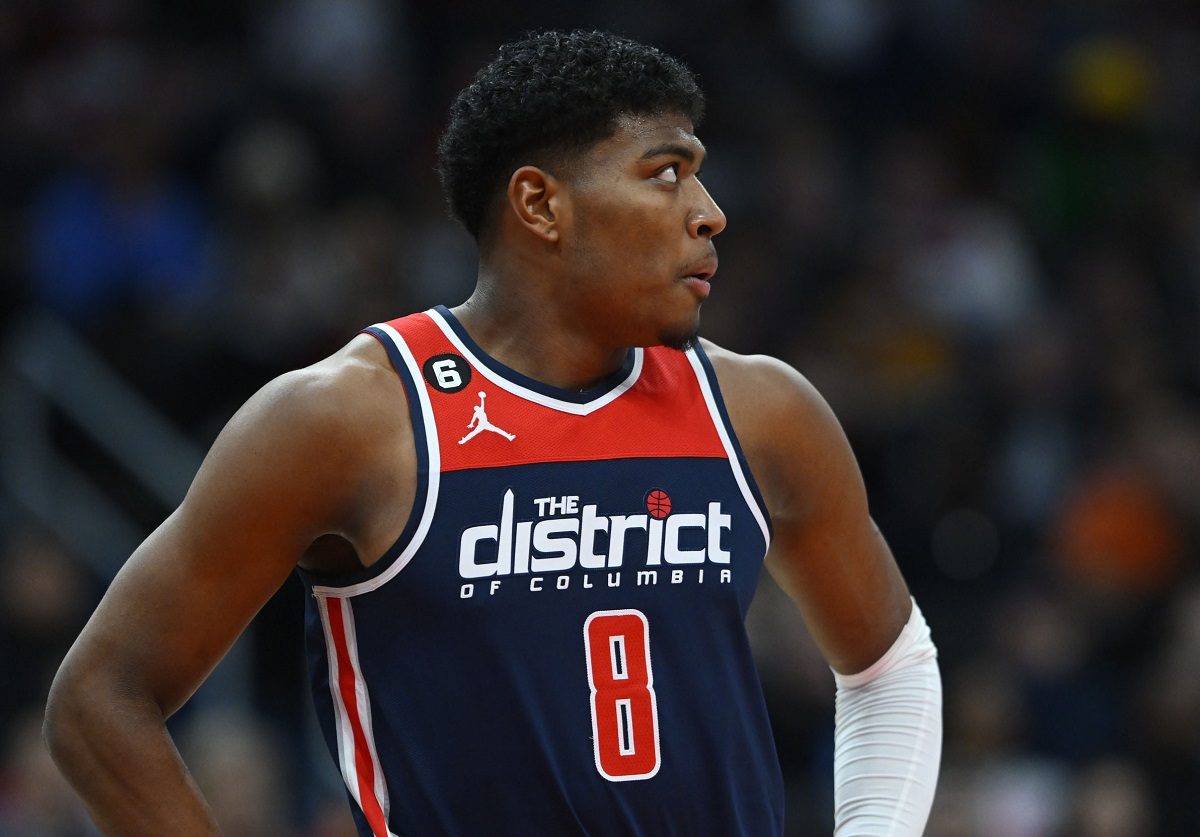 12:18 JST, January 24, 2023
The Washington Wizards have traded forward Rui Hachimura to the Los Angeles Lakers for a package of draft picks, multiple people with knowledge of the deal said Monday.
The Lakers will send three future second-round picks and guard Kendrick Nunn to Washington for Hachimura. The picks include a 2023 pick via Chicago, the Lakers' own 2029 pick and whichever is the least favorable second rounder between the Wizards and Lakers in 2028.
The 24-year-old Hachimura said Saturday that he had "no comment" regarding recent trade speculation, and that he "just want[ed] to be somewhere that wants me as a basketball player."
Hachimura did not practice with the Wizards on Monday due to an excused personal absence, Coach Wes Unseld Jr. said.
Hachimura, a 2019 lottery pick, has struggled to fully blossom during his four seasons with the Wizards. After missing nearly half of last season due to a personal leave, Hachimura was moved to a bench role this season. He is averaging 13 points, 4.3 rebounds and 1.2 assists in 24.3 minutes per game while shooting 48.8 percent from the field and 33.7 percent from deep.
The Wizards and Hachimura did not reach a contract extension agreement before the deadline last October. ESPN and The Athletic were first to report on the Hachimura trade.
The Lakers, who are the West's 12th seed entering Monday, have eyed trades all season after star forward LeBron James criticized the team's roster construction on opening night. With the Hachimura deal, the Lakers were able to add a rotation player without sacrificing one of their two remaining future first-round picks, which could be used to make additional deals before the Feb. 9 trade deadline.
Hachimura would address a clear need for Los Angeles, which has been seeking size and athleticism on the wing all season. The team has been forced to use undersized lineups with All-Star center Anthony Davis sidelined by a foot injury, and recent injuries to Lonnie Walker IV and Austin Reaves have thinned out their perimeter corps.
Hachimura's defense has been his weak spot throughout his career, but his 6-foot-8, 230-pound frame offers an enticing blend of versatility and physicality.
If he excels with the change of scenery, the Lakers can make him a restricted free agent by extending him a qualifying offer this summer.
For the Wizards (20-26), the move addresses overcrowding at the power forward position as the team sits in 12th place in the Eastern Conference. Unseld's preferred lineup features Daniel Gafford at center and Kristaps Porzingis at power forward, leaving Hachimura and third-year forward Deni Avdija, a lottery pick in 2020, jostling for minutes off the bench.
Rather than risk losing Hachimura for nothing in free agency, Washington recouped draft assets without taking on any addition future salary – key for the organization as it is facing questions over whether it can retain two expensive core players beyond this season in Porzingis and Kyle Kuzma.
Kuzma said earlier this season he will not sign an extension with the Wizards and has become a player of interest for multiple teams as the Feb. 9 trade deadline approaches, even as Washington has signaled that it intends to keep its third-leading scorer, according to multiple people around the league.
Porzingis could exercise a $36 million player option or become an unrestricted free agent. Complicating matters is that Bradley Beal will earn $46.7 million next season in the second year of his five-year, max contract. Retaining all three players would push Washington close to paying the luxury tax, which owner Ted Leonsis has only done once since taking over the franchise in 2010.
But finding Hachimura a new home crossed one item off Washington's to-do list.
The Wizards and Lakers are no strangers as trade partners, as they previously agreed to a 2021 trade that sent Russell Westbrook to Los Angeles. In Los Angeles, Hachimura would be reunited with several former Wizards teammates, including Westbrook, with whom he developed a close relationship in Washington, Thomas Bryant and Troy Brown Jr.
Nunn, 27, never found a consistent and productive role with the Lakers this season after missing the 2021-22 campaign with a knee injury. The scoring-minded guard has averaged 6.7 points while shooting just 40.6 percent overall and 32.5 percent from deep in 39 appearances. He is in the final year of a two-year, $10.3 million contract and will be an unrestricted free agent this summer.
Add TheJapanNews to your Google News feed.