Monterey Park toll grows to 11 dead as details emerge about gunman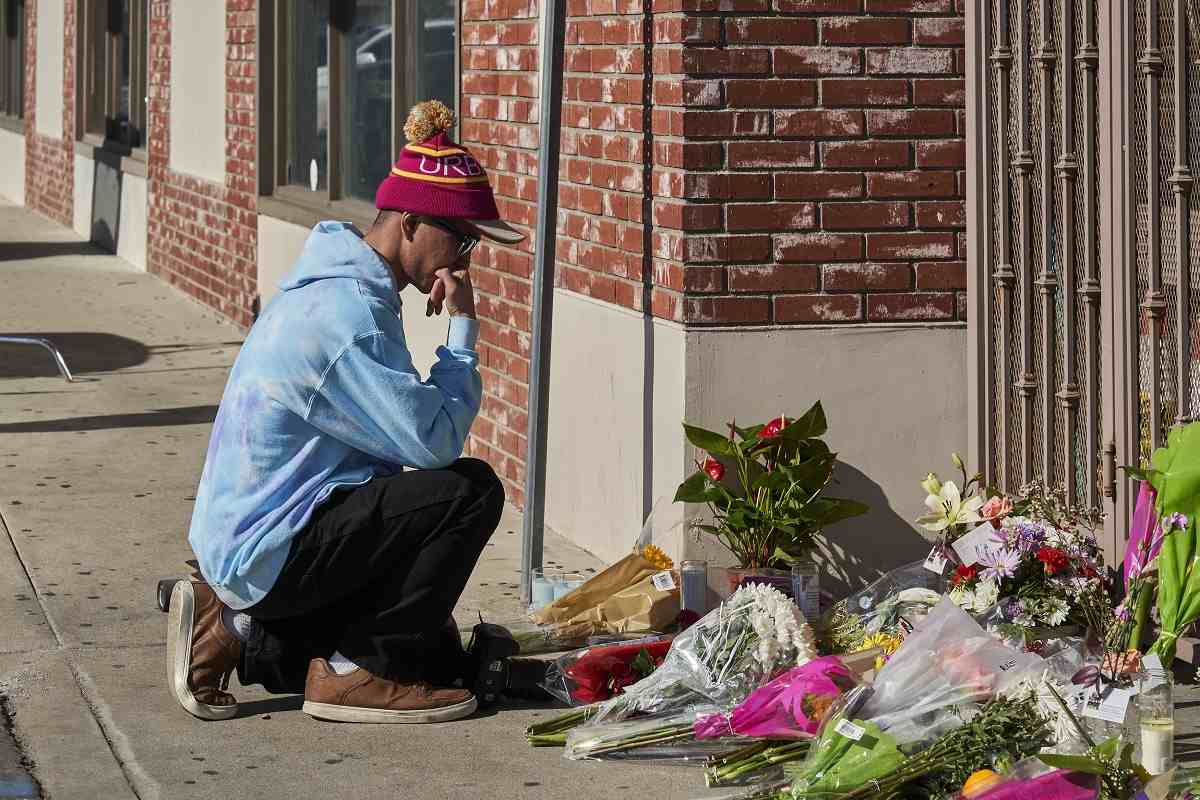 12:09 JST, January 24, 2023
HEMET, Calif. – Authorities said Monday they don't know why a gunman slaughtered people inside a Monterey Park, Calif., dance studio over the weekend, even as a portrait began to emerge of an attacker who had accumulated anger against his family and others in his life before he opened fire.
While new details emerged about the gunman, the grief suffusing Monterey Park deepened with news that the death toll from the attack Saturday had risen to 11. Ten people were declared dead at the scene of the carnage, authorities said, and an 11th – a woman in her 70s, according to the coroner – succumbed to her injuries nearly two days later.
Los Angeles County Sheriff Robert Luna said that authorities were investigating what could have driven the shooting, saying they were exploring rumors that it was fueled by some sort of jealousy or personal relationship but that they had not confirmed anything.
"We do not have a motive yet," Luna said during a news briefing Monday afternoon. He added later, "What drove a madman to do this? We don't know. But we intend to find out."
The carnage on Saturday shook Monterey Park, a largely Asian suburb outside the city of Los Angeles, just as the community was beginning to celebrate the Lunar New Year. A moment of joy quickly gave way to anguish and terror, as Monterey Park joined the seemingly endless list of American communities subjected to the horror of a shooting rampage inside a shared space – an epidemic that has cut people down in schools, grocery stores, houses of worship, bars, nightclubs, movie theaters and offices, among other places.
The victims in the shooting were people in their 50s, 60s and 70s, including My Nhan, 65, who was among those identified Monday by the county medical examiner. Nhan's family described her as "our biggest cheerleader" in a social media post, recalling her warmth, kindness and years spent going to the dance studio on weekends.
Luna also provided some new details about what unfolded during and after the carnage at the Star Ballroom Dance Studio on Saturday. Police said the gunman, who they identified as 72-year-old Huu Can Tran, massacred people at the dance studio and then traveled to another studio before someone there wrested away his gun. Then, police say, the gunman fled, sparking a manhunt that ended the following day when he shot himself as police approached his van.
Police believe one of the victims on Saturday was shot outside the Star Ballroom Dance Studio before the gunman continued inside to continue firing, Luna said. In total, the sheriff said, investigators found 42 shell casings and a large-capacity magazine at the scene.
Authorities said they still did not know how the suspected shooter obtained the weapons used in the rampage and were investigating whether he acquired them legally. In all, officers have described at least three guns they linked to the attacker: A rifle found in his home, a handgun recovered from his van and what they said was a modified semiautomatic taken away at the second dance studio.
Luna said the attacker's criminal history was relatively limited, only describing a 1990 arrest for unlawfully possessing a firearm. But it was unclear from his remarks whether that arrest might have impacted his ability to obtain a gun later. The same year as that arrest, the gunman became a naturalized American citizen, according to a citizenship petition on Ancestry.com. The petition also said he was born in Vietnam. A federal official confirmed the date and country of birth were accurate; the official spoke on the condition of anonymity due to the ongoing investigation.
While investigators said they were still digging into the shooter's life, including whether he had any relationships with people at the dance studio, other details suggest that his years were defined at least in part by grievances toward others.
Authorities said he had recently gone to police to make allegations of wrongdoing against his family, including claims of fraud and poisoning, while Adam Hood, a former tenant who lived on his property for years, recalled him as distrustful and difficult.
The gunman, Hood said in an interview Monday, had few friends and "a lot of vendettas against people."
While Monterey Park grappled with the tragedy and loss, investigators expanded their search eastward, searching a home about 80 miles away in Hemet, Calif., where the gunman had lived.
At his home in Hemet, Luna said, police found a rifle, electronic devices and hundreds of additional rounds.
Police in Hemet on Monday also described recent contacts with the gunman – both of which he initiated. According to police, the gunman visited their department's lobby twice this month to make claims that his family had wronged him.
The visits – on Jan. 7 and Jan. 9 – involved allegations of "past fraud, theft and poisoning" involving family members "in the Los Angeles area 10 to 20 years ago," the department said in a statement.
"Tran stated he would return to the station with documentation regarding his allegations but never returned," the department said.
The gunman's home in Hemet was part of a mobile home park that made up a large community called the Lakes at Hemet West. The community, which bills itself as being for people age 55 and older, offers golf and other amenities, and many of the double-wide mobile homes are well-maintained and spruced up with plants and decorations. The gunman's home, however, lacked any adornment when a reporter visited Monday, and his area of the park had a shabbier feel.
Ronald Smith, 67, who lives across the street, said the attacker was friendly enough, but described him as "somewhat of a recluse" who spent a lot of time tinkering with his white Chevy van, cleaning it or working underneath it. He even shaved outside so he could use the driver's side mirror to look into, Smith said.
"He always was doing something to his van," Smith said. The van is where police found the gunman's body after he shot himself as officers approached Sunday.
A day later, the gunman's home appeared to be without furniture. But rather than suggesting a looming move or that the gunman had cleaned house before the massacre, Smith said his neighbor had simply never had any furniture.
Smith said he was still stunned when he learned his neighbor was the shooter in Monterey Park, saying: "You never know what's hidden inside someone's mind."
The gunman had also lived near – and then clashed with – Hood, his former tenant and acquaintance. Hood said they first met about two decades ago.
The gunman had been a regular at two venues, Hood recalled: Star Ballroom Dance Studio and a nearby dance studio, Lai Lai Ballroom & Studio, where officials say he went after the rampage.
Authorities said they began receiving 911 calls Saturday night about gunshots at the Star Ballroom studio. Police said the scene they encountered was nightmarish, with some people hiding and others fleeing a bloody scene. Officers who came into the room found people who had been slaughtered along with some who were wounded but survived.
The gunman, police say, then moved to the second dance studio, where Brandon Tsay, 26, was helping run things with his family. Tsay told "Good Morning America" on Monday that he saw the gunman and "realized I needed to get the weapon away from him."
They struggled over the weapon, Tsay said, before he took control of it and pointed it at the attacker, who eventually "jogged back to his van." Tsay called police, he said, with the gun in his hand.
On Monday afternoon, Luna praised Tsay, saying he had saved many lives by disarming the gunman. Officials had initially said two patrons, not one person, took the gun from the attacker, before revising that account and saying Tsay alone disarmed the shooter.
Hood said the gunman's only hobby was dancing, describing those two venues as "the only place he would go at night." But Hood said the gunman was angry with people who attended and worked at those places.
"He kept complaining to me that people there were not friendly with him," Hood said in a telephone interview. "For years, he's been not happy with people in both studios."
Hood said the gunman seemed to stockpile grievances: Financial difficulties, a divorce from an ex-wife he claimed wronged him, disgruntlement with the dance community.
"It's not one day," Hood said. "It's not one year. It's more than 10 years – or even longer. Maybe 20 years."
Their own relationship ended nearly a decade ago in a California courthouse. Hood said he had to file a lawsuit in small claims court after the gunman refused to return his $750 security deposit. That was the last time they saw each other, Hood said.
The gunman was unusually old among mass killers who have killed so many people. There is no universal definition of what constitutes a mass shooting, but the Violence Project, a nonprofit organization, has a database of attackers who have killed at least four people in public spaces.
The median age of people in that database is 32, and the Monterey Park gunman is the oldest person they have added to it, said James Densley, a criminal justice professor at Metropolitan State University in St. Paul, Minn., who co-founded the Violence Project.
In other cases, older people have opened fire in public spaces – including the then-73-year-old white supremacist who shot and killed three people near Jewish facilities in 2014 and the 88-year-old white supremacist who opened fire inside the U.S. Holocaust Memorial Museum, killing a guard – though those tolls did not reach the Violence Project's parameters.
But while the gunman appeared to be an outlier among mass attackers in one way, Hood's depiction of a man collecting grudges echoed other patterns seen among people who have opened fire in public spaces. Experts and researchers have found that active shooters tend to be male, driven by grievances and likely to target places they know. Researchers have also found that these attackers often display concerning behaviors noticed by someone around them, and more than half signal that they intend to carry out violence.
Still, in some cases no clear answers emerge about what exactly drove the bloodshed. Speaking at a separate briefing earlier in the day, Monterey Park Police Chief Scott Wiese said everyone wanted to understand why the gunman opened fire.
"The why is a big part of this," he said. But, Wiese added, some answers may never come, saying, "The problem is we may never know the why."
– – –
Shammas and Berman reported from Washington. The Washington Post's Alice Crites, Maria Sacchetti, Meryl Kornfield, Danielle Paquette, Aaron C. Davis in Washington; Reis Thebault in Los Angeles; and Annabelle Timsit in London contributed to this report.
Add TheJapanNews to your Google News feed.