A Black professor defies DeSantis law restricting lessons on race A1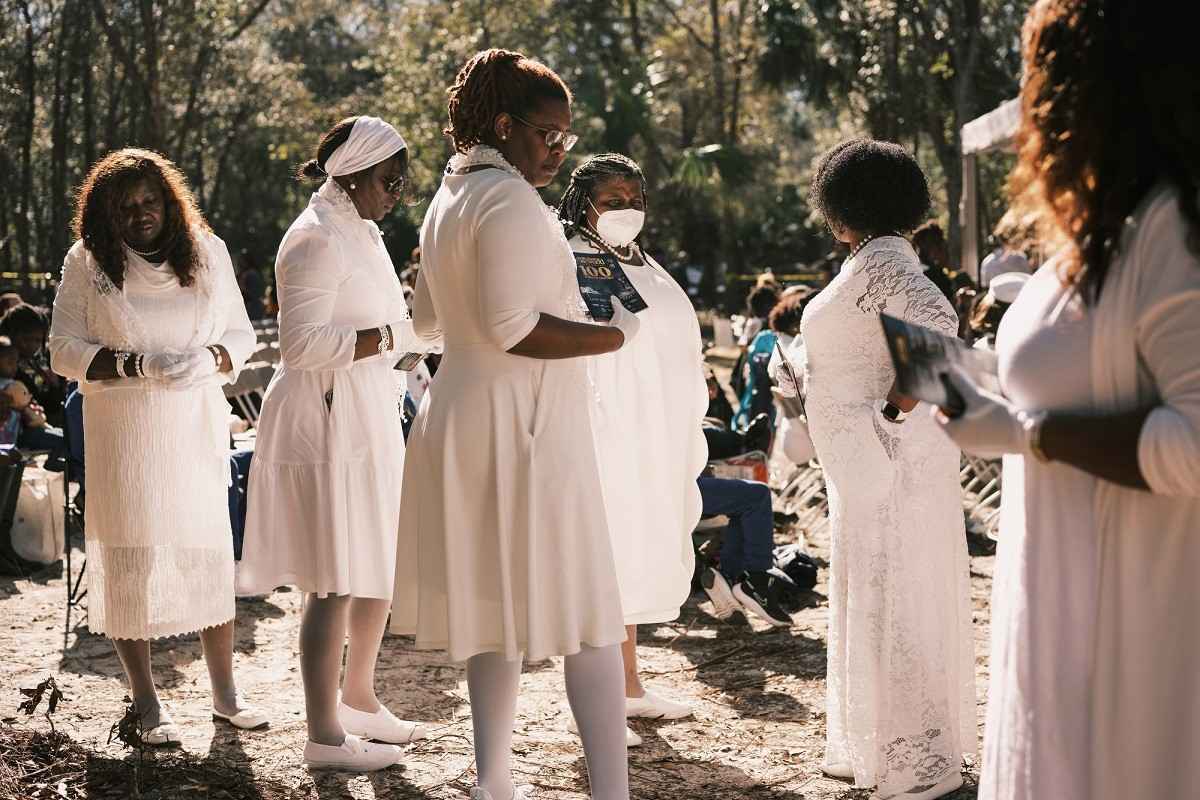 16:22 JST, January 22, 2023
NEWBERRY, Fla. – The inscriptions on many of the tombstones at the Pleasant Plain Cemetery tucked in the North Florida woods are so worn by time and weather that they are unreadable.
But Marvin Dunn knows their stories.
On a recent afternoon, he gathered students and their parents at the cemetery and told them about the Rev. Josh J. Baskin and five other Black Floridians hanged by a White mob from an oak tree in 1916 after an accusation over a stolen hog sparked two days of terror.
The painful chapter in Florida's history known as the Newberry Six lynchings is one the university professor has taken pains to help document over decades of research. It's also one that he fears will be removed from Florida history lessons under a new education law championed by Gov. Ron DeSantis (R) as part of a broader push to root out ideas he deems "woke."
The law requires lessons on race to be taught in "an objective manner," and not "used to indoctrinate or persuade students to a particular point of view." It also says students should not be made to "feel guilt" because of actions committed by others in the past. DeSantis and other proponents of the law, which went into effect last summer, contend some teachers have inserted political beliefs into lessons related to race.
The language in the legislation dubbed the "Stop WOKE Act" is sufficiently vague that educators and civil rights leaders worry it is having a chilling effect. The new law doesn't prohibit teaching events like the Newberry lynchings, but teachers in several parts of the state said they fear it will compel them to water down or glance over uncomfortable truths about Florida's past.
"I can't tell the story of the Newberry Six without expressing my disgust for the lynching of a pregnant woman," Dunn, 82, a professor emeritus at Florida International University, said. "As a teacher who has spent 30 years going from place to place in Florida where the most atrocious things have happened, I don't know how to do that. And I don't want the state telling me that I must."
Nationwide, education has emerged as a political battleground between Republican lawmakers and other conservatives who equate many lessons on race, gender and identity with liberal indoctrination and Democratic leaders, teachers and others who contend omitting them is tantamount to whitewashing history and hiding difficult truths from students.
Dozens of states have enacted or considered laws banning or restricting critical race theory in the classroom, but Florida has gone a step further than most. DeSantis has not just moved legislation but also used his education department to single out academic programs and initiatives embraced elsewhere and appointed like-minded officials to state and local boards.
Earlier this month, the state Department of Education rejected an Advanced Placement African American Studies course offered by the College Board after determining that it is "inexplicably contrary to Florida law and significantly lacks educational value." The White House on Friday called the decision "incomprehensible."
In Duval County, school administrators recently held back 26 books from elementary schools – including "Roberto Clemente: Pride of the Pittsburgh Pirates" and "Climbing Lincoln's Steps: The African American Journey" – until a committee determines whether they meet the standards of the new state law.
Meanwhile at the university level, administrators are scrambling to prove they aren't running afoul of the new law. The DeSantis administration required that all state colleges and universities submit details about "campus activities" and costs of anything "related to diversity, equity, and inclusion, and critical race theory."
But Dunn is intent on defying the governor – even if it comes at a personal cost. Last year, a neighbor who complained to police that he was angry at seeing "busloads of these Black bastards" at Dunn's property was charged with assault after allegedly yelling racial slurs to the professor and a small group preparing for an event.
Dunn is one of eight plaintiffs in a lawsuit over DeSantis's Stop Wrongs to Our Kids and Employees Act, which also applies to public university professors. A federal judge ruled against the state in November, ordering a temporary injunction against portions of the act that restrict how college and university professors teach about race.
"Listen, if there is such a thing as the woke mob in Florida, I aspire to lead it," Dunn said.
Meanwhile, Dunn's statewide "Teach the Truth" tours are taking high school students to the sites of some of the worst racial violence in Florida history. His first tour in January took more than two dozen high school students from Miami and their family members to a museum that marks where married Black civil rights activists Harry T. Moore and Harriette V.S. Moore were killed on Christmas Day in 1951 when a bomb planted under their home exploded.
A nonprofit Dunn leads in Miami to promote Black history is sponsoring the tours, and he plans to take another group during the spring legislative session.
"These are things that nobody knew, it's like it was swept under the rug," said Shanika Marshall, who took her teenage son on the tour. "I feel very strongly that this history needs to be told. There's no shame, it just is what it is, but it needs to be put at the forefront so we can all try to get past it."
***
Dunn was born in an orange grove barn in the central Florida city of DeLand. He and his family harvested crops at a time when the Sunshine State had some of the nation's strictest Jim Crow segregation laws. Dunn lived that history up close; he remembers being forced to use the "colored" beach and drinking fountain growing up.
After graduating from Morehouse College in 1957, he served as an officer in the Navy, and later went on to earn a doctorate in community psychology. Along the way, he began traversing the state to piece together the story of Black Floridians through photos, newspapers clippings and what was left of sites like the Pleasant Plain Cemetery.
His book "A History of Florida: Through Black Eyes," contains photos unearthed over 50 years of research, documenting lynchings and other crimes against Black Floridians. He donated a collection of 4,000 photos recording that past to FIU.
"Almost all of Florida's painful racial past has been whitewashed, marginalized or buried intentionally," Dunn wrote. "But I was born here. I know Florida's flowers and her warts."
While teaching in Miami, he got the idea to highlight Black stories by offering a tour to sites where historic events transpired. It was popular especially with adults who wanted to know about people and places seldom discussed today – like Arthur McDuffie.
The Black insurance salesman was beaten to death by six White police officers in 1980. Dunn took those who signed up for the tour to the exact street corner where McDuffie was attacked. Today the site is surrounded by high-end restaurants and furniture stores.
When DeSantis began pushing new rules on how race is taught, Dunn decided to take his tour statewide and to focus on students. If teachers were going to shy away from lessons about the Newberry Six lynchings or the murders of Black civil rights activists, he would take it upon himself to make sure that history was taught.
"We're going to keep on teaching it," Dunn said. "This is the antidote to the DeSantis-izing of history."
***
DeSantis began urging restrictions on how Black history is taught in 2021, when he asked the Florida Board of Education to adopt rules banning critical race theory in public schools. Critical race theory is an approach to studying history that starts with the premise that racism is systemic in American society, including legal systems and other institutions.
Last year, he signed a law officially outlawing what he called "pernicious ideologies" like critical race theory. The governor has said he wants students to learn history – and by law, they are required to – but accused teachers of indoctrinating students to believe a "woke ideology."
"What you'll hear from the left in the media is, 'Oh, well, they just they don't want to teach about slavery or civil rights,'" DeSantis said at a Heritage Foundation event in September. "Just know in Florida, all of that is required to be taught by statute. That is not what CRT is about. Those are historical facts. And you teach all of American history. But what you do not do is you do not distort American history to try to advance your current ideological agenda."
After the governor signed the Stop WOKE Act into law last April, Dunn took to Twitter, asking DeSantis which parts of history would be permitted – and whether he would be allowed to tell students about his own experiences facing racial discrimination growing up. DeSantis did not respond. His office did not return a request for comment on Dunn's work.
DeSantis, expected by many to run for president in 2024, has made "anti-wokeism" a cornerstone of his governing philosophy in the past two years. His staff has described the term "woke" as "the belief there are systemic injustices in American society and the need to address them," and said DeSantis doesn't believe that theory.
The state Department of Education will hold work sessions in early February to determine what social studies curriculum should look like under the Stop WOKE Act.
"They're going to try to flesh out exactly what can be taught," said state Sen. Geraldine Thompson, a Democrat from Orlando, who served on the department's African American History Task Force. "Because the teachers really have a lot of uncertainty around that."
She said that with the most recent actions by the DeSantis administration – including prohibiting an Advanced Placement course on African American history – the work Dunn is doing is more imperative than ever.
"Dr. Dunn is filling a need. I've talked to college students who said they feel cheated because they never learned these things," Thompson said.
Thompson wants Education Commissioner Manny Diaz and his department to use input from the task force to help design the curriculum. She has succeeded before – helping amend a bill to require lessons on the Election Day massacre in Ocoee, Fla., in 1920, when dozens of Black voters were killed and the rest of the community was forced to flee.
"We're working to try to bring some light to what you can teach," Thompson said. "And I think anything that is factual ought to be taught in the state of Florida."
State Rep. Randy Fine, a Republican who co-sponsored the Stop WOKE act, said critics of the law don't understand it. Fine – who sponsored another controversial piece of legislation, the Parental Rights in Education law, called "don't say gay" by people who oppose it – said teachers can talk about race and explain racist events like the ones Dunn shows on his tours.
The law, which also describes what can be taught in employee training sessions, says students should not be made to feel "psychological distress" because of what one group of people might have done years ago. Fine said those feelings shouldn't come from teachers.
"Learning history will create anguish. People should feel anguish when they learn we had slavery in this country. But the teachers shouldn't be telling people how to feel," Fine said. "That's what the law says. It doesn't say you can't teach things that will make you feel bad. That's not what it says because a lot of things will. But it says you can't tell them how to feel. That's indoctrination."
Thompson said teachers are looking to the department for explicit direction on how to teach racism, concerned that otherwise events like race riots and lynchings will be omitted or not explored in depth.
"We need to teach authentic history," she said, "and not whitewash history."
***
After taking students on the first "Teach the Truth" to the site of lynchings in Newberry – where a plaque was erected just three years ago to mark the killings – among several other sites, Dunn then led the group to Rosewood.
The town near Cedar Key on the Gulf Coast was once populated mostly by Black residents who built homes, a church, a Masonic lodge, a schoolroom and other community buildings. It was burned to the ground by a White mob in January of 1923. At least six Black people and two White people were killed. Many of the Black families that escaped fled by train.
The railroad is long gone, but Dunn bought five acres of property in Rosewood where the rail bed is still visible. He visits the site frequently, finding artifacts and clearing brush.
His presence there hasn't been welcomed by everyone. In September, Dunn was with a small group preparing for a wreath-laying event when a neighboring property owner drove by and, they said, yelled racial slurs at them. They said the man drove away, and then came back, speeding down the dirt road and nearly hitting Dunn's adult son, according to a police report.
Police arrested the neighbor, David Emanuel, 61. The arrest report said Emanuel told officers he called one of the men with Dunn "a Black son of a bitch," but he denied using other racial slurs. According to the report, Emanuel said he's had to deal with "these busloads of these Black bastards" every four or five years when they come to Rosewood. Emanuel was charged with assault with a deadly weapon, and has pleaded not guilty.
In a comment to The Washington Post, Emanuel said "I got arrested for something I didn't do" and said his lawyer advised him not to talk about the incident.
The attack hasn't deterred Dunn from continuing his work. On Jan. 8, 100 years after the Rosewood massacre, Dunn hosted more than 200 people at his property, including the students on his tour and descendants of the victims.
"Everybody's not happy with what's happening today," Dunn said in a speech before a ceremony to mark the occasion. "This many Black folks have not been in Rosewood since the massacre."
Mikese Lovett, 17, a junior at Miami Edison Senior High School, said his history class spent about a week on Reconstruction and the Jim Crow era, but with the exception of a brief mention about Rosewood, he wasn't taught about other incidents of racial violence in Florida.
"We don't go into depth," he said. "They just scratch the surface."
Lovett was on Dunn's tour with his mother, Chauntel Walters. She graduated from a Florida high school in 2010 and said she had never heard of Rosewood, Newberry, Harry T. Moore or any of the other events Dunn showed them.
"They have to be able to teach this to kids in school," Walters said. "We need to know our history, all of it."
Add TheJapanNews to your Google News feed.