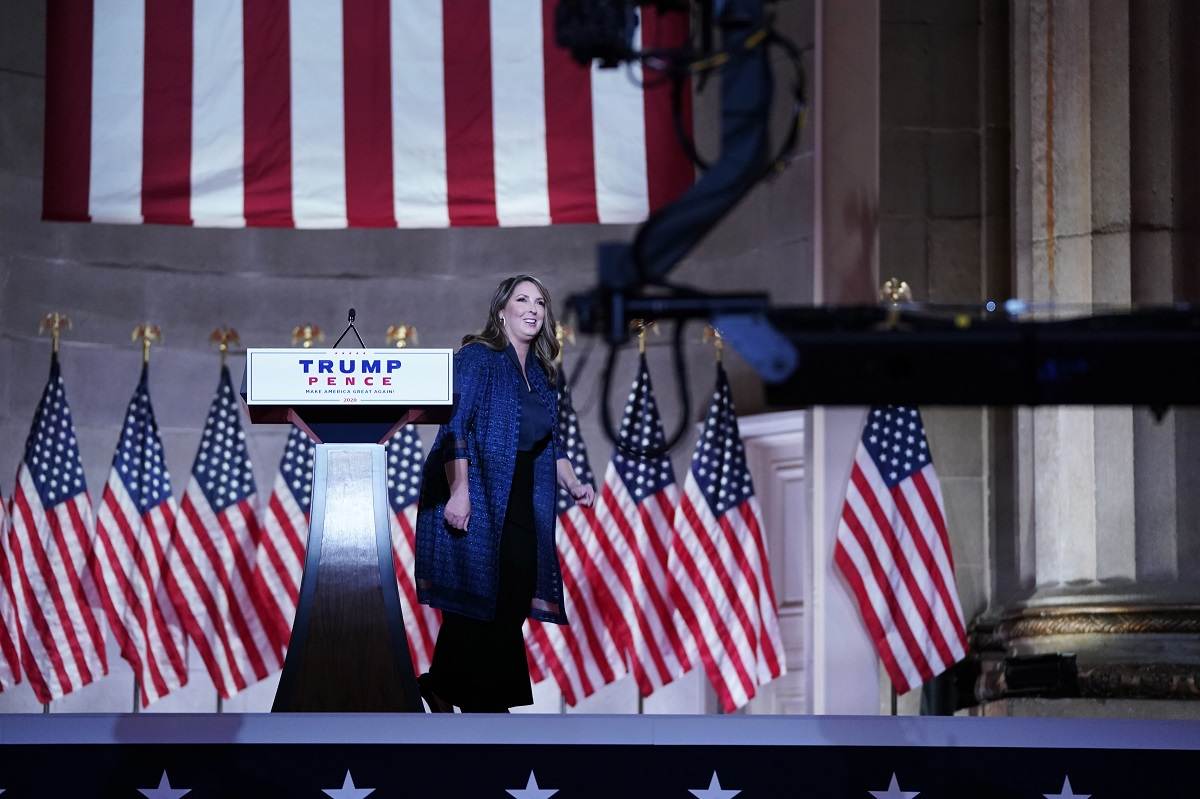 12:45 JST, January 18, 2023
President Joe Biden identifies proudly and often as Irish American; less-remarked upon is that the Republican Party, for most of the Trump era, has had a distinctly Gaelic feel at the top. And that will largely continue with the reelection of Mitch McConnell as Senate GOP leader and the recent ascension of Kevin McCarthy to House speaker.
On Jan. 27, we'll find out whether the Mc-surnamed will hold onto the trifecta atop the GOP. That's when Republican National Committee Chairwoman Ronna McDaniel faces down her own leadership challenge.
Most signs indicate that she will be reelected; McDaniel in November released an endorsement list that covered 101 out of 168 RNC members – well more than the 85 she needs for reelection. (Each state and territory gets three votes: one for the party chair, and one each for a committeeman and committeewoman.) Her top challenger is Donald Trump ally Harmeet Dhillon, with MyPillow founder Mike Lindell at least nominally running for the job.
But the opposition has still put up a spirited, if very regional, challenge. And that opposition at least appears more robust than it did for both McConnell and McCarthy, as the party grows weary of its poor recent election results and a vocal portion calls for a change of leadership.
Around a half-dozen state parties in recent weeks have issued votes of no confidence in McDaniel's leadership or other calls for a change at the helm – in some cases unanimously – with more potentially on the way in the coming days. And Trump himself has notably punted, including as recently as Monday, when asked to choose between McDaniel and Dhillon. That's a contrast to his public support of McCarthy, who was also facing Trump allies as potential challengers.
The state parties that have rebuked McDaniel come exclusively from the Sun Belt and the South. They include Alabama, Arizona, Arkansas, Louisiana and Texas. Tennessee Republican National Committeewoman Beth Campbell has also said her state party voted "overwhelmingly" last month for a change in leadership, though as in Louisiana, that doesn't appear to have been publicly announced at the time.
Florida will also hold such a no-confidence vote Friday, while the chairman of the Nebraska Republican Party, Eric Underwood, has promised a leadership vote Saturday after withdrawing his endorsement of McDaniel last month.
There's little evidence of others following his lead, even amid the backlash in some state parties. One who has is Hawaii Republican National Committeewoman Laura Nakanelua, who was on McDaniel's Nov. 18 list of endorsements but said Dec. 18 that she would now back Dhillon. (Underwood's name wasn't on the initial list of McDaniel backers.)
McDaniel's November endorsement list contained very few members from the states mentioned above – reinforcing the regional split in the party. But among them, there's no evidence of those members changing course in response to what their state party did (which isn't binding on them).
Texas Republican National Committeewoman Toni Anne Dashiell stood by her McDaniel endorsement even after the state party voted unanimously against McDaniel. Arkansas Committeewoman Vicki Drummond, who serves with McDaniel in RNC leadership as party secretary, hasn't indicated any shift in her vote. And two members from Florida, Chairman Joe Gruters and Committeewoman Kathleen King, both told The Washington Post they were still in McDaniel's corner.
"My perspective on this race has not changed," King said.
Gruters cast doubt on whether the vote in Florida will even be successful, saying he doubted there would be a quorum present and describing its supporters as a "vocal minority." Leaders of the effort include former congressman Madison Cawthorn (R-N.C.), who lost a GOP primary in his first reelection bid last year, and former state representative Anthony Sabatini, who also lost a GOP primary for Congress last year.
But Gruters did point to just how vocal that minority is. Speaking shortly before 10 a.m. Tuesday, he said he had "been bombarded by about 250 calls, texts and emails today."
McDaniel became RNC chairwoman in 2017, after Trump was elected president. Since then, she has presided over three disappointing elections for her party, most notably in 2022, when the GOP failed to make the kind of gains that usually come when the other party holds the White House.
Despite the GOP winning the House, its majority was narrower than expected, and the opposition party lost seats at the gubernatorial and Senate level for the first time since 1934. That came on top of the GOP losing the House in 2018 and losing both the presidency and the Senate in 2020, both on McDaniel's watch.
The fact that McCarthy and McConnell got a pass for those results is perhaps understandable, given the lack of truly viable alternatives for their leadership and the fact they don't lead the party's campaign efforts. But McDaniel's job is to guide the party to electoral victory, making the lack of a bigger backlash all the more notable.
Of course, McDaniel's math isn't as daunting as it was for McCarthy. He could only lose a handful of GOP votes and still win the majority of the House required to be speaker; she only needs a majority of 168 RNC members. She could lose 16 people off her November endorsement list and still win.
McDaniel also avoided a challenge from a more established challenger like former congressman Lee Zeldin (R-N.Y.). That left her party to decide between her and a shift toward the Trump wing at a time when that doesn't appear to be a recipe for righting its electoral ship.
And despite the disappointing electoral results, she's proved a very adept fundraiser, and GOP turnout was actually quite strong in 2022. (It's just that too many Republicans didn't vote for flawed GOP candidates in key races.)
But the cumulative effect is that the GOP might respond to its recent electoral failures by changing little at the top of the party – at least until the 2024 GOP presidential primaries.
Add TheJapanNews to your Google News feed.