How Selma recovers after tragedy, from civil rights battles to tornadoes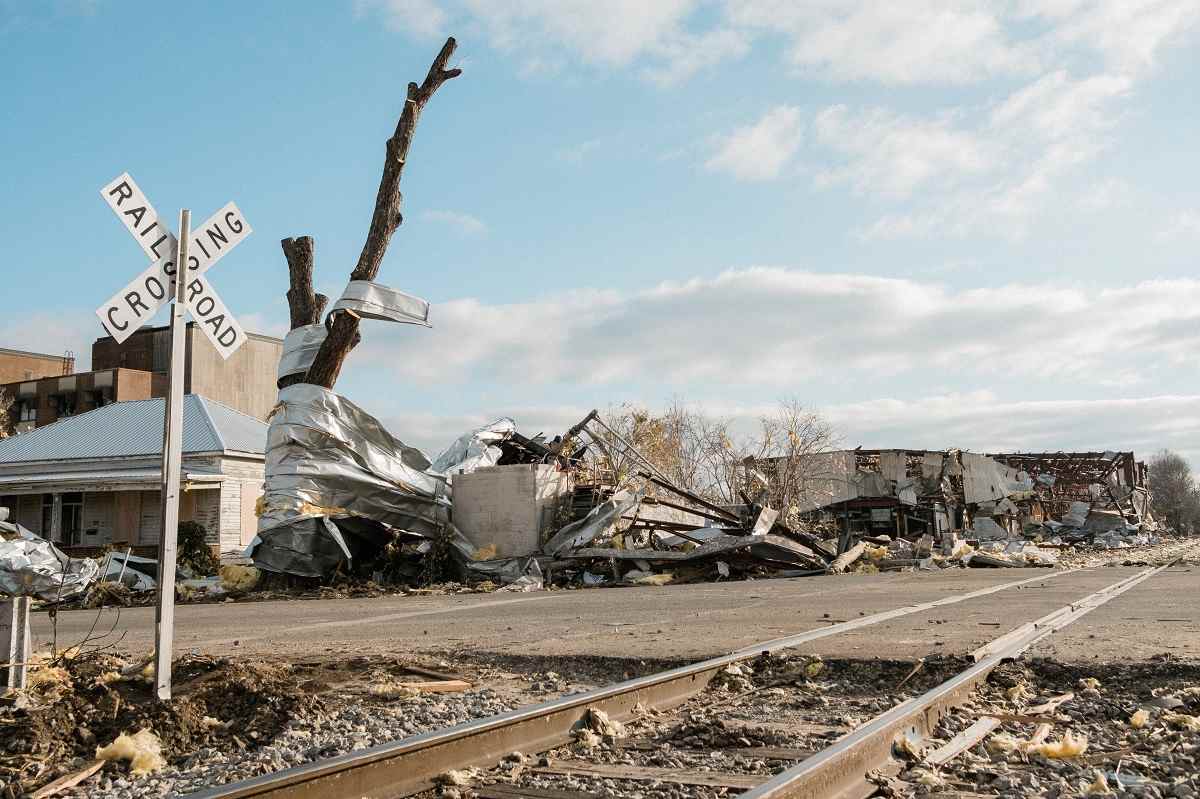 12:48 JST, January 17, 2023
SELMA, Ala. – Javarus Smith had a tree on top of his house. His power was out, and his smoker was decimated in the storm that tore through the city last week, totaling homes and demolishing entire blocks.
And yet he was on a street corner here, serving free meals to hundreds of people in need.
"We have all this division in the world, but you go through something like this and realize we're in this together," said Smith, 33.
Selma, a city of just over 17,500, was one of the hardest hit by Thursday's storm. The extreme weather – including dozens of tornadoes, damaging winds and large hail – killed at least 10 people in Alabama and Georgia, and triggered states of emergency in both places.
On Sunday, President Biden approved a major disaster declaration, which freed up federal aid for recovery efforts. But Selma residents weren't waiting for Washington to get started on that work.
With over a third of its residents living in poverty, "Selma's one of the poorest cities in Alabama," said Kimberly Smitherman, 38, the executive director of Foot Soldiers Park, a forthcoming park and education center commemorating those who participated in the civil rights movement. "We've already dealt with covid, which has made it worse, and now we're dealing with this."
But Smitherman said there's been a tradition of Selma coming together after tragedy, from fighting for voting rights to hurricane cleanup. When the pandemic hit, "there were people giving away food on every single corner," Smitherman said.
The city is now following that same blueprint. On the corner of Philpot Avenue and Marie Foster Street on Saturday afternoon, Smith and Patrick Bonner, 32, had two massive smokers cooking chicken drumsticks, turkey legs, hot dogs and burgers.
"Since we were in a good position to give back, we decided to set up in the neighborhood where it's needed," said Bonner, a billing technician for Selma Water Works.
Around Selma, residents offered to do each other's laundry, loan generators to those without power and reunite lost pets with their owners. Emergency personnel and civilian volunteers – like Mark Martin, a realtor from Fairhope, Ala., and member of the Rotary Club of Fairhope – traveled from nearby towns to help.
"These are some of our other guys over here trying to get this man's truck out of the driveway," Martin said, standing in front of Selma resident Otto Benford's home Saturday morning.
Benford, 74, was alone in his living room when the tornado ripped away the roof over his television. It had done the same to his front room, somehow sparing fragile artifacts like his mother's chandelier, a bottle of sparkling apple juice and a framed family photo.
In less than 48 hours, Benford's yard was full with Martin's crew of helpers, including fellow Rotary Club member Anthony Sampson, the superintendent of Dallas County Schools, and Footsteps Through Selma tour guide Terry Chestnut, who's also Benford's nephew-in-law and son of Selma's first Black attorney J. L. Chestnut Jr.
"We go to disasters, tornadoes, hurricanes all over," Martin said over the sound of a chain saw shearing through the branches blocking Benford's driveway. He listed some of the recent examples, from Florida to Louisiana. And when a hurricane struck Martin's own Baldwin County in 2020, "a lot of people came there and helped us."
The Tuscaloosa Fire Department doing a secondary survey of Benford's neighborhood was also returning the favor.
In 2011, Tuscaloosa County had 53 deaths attributed to a multiple-vortex, high-end EF-4 tornado – one of more than 350 tornadoes confirmed in the "Super Outbreak" that killed at least 320 people.
"Areas like this with this massive destruction, it really brings back some terrible, terrible memories," Lieutenant Adam Watley said. "But we're glad to help."
The firefighters checked inside each mangled home for any victims first responders may have missed on the night of the storm. They used fluorescent orange spray paint to leave Federal Emergency Management Agency "search codes," indicating who searched the house, the date of the search, any hazards found and the number of casualties discovered inside.
"One person was found in this one, mark it one," Watley called to Sergeant Justin Whigham in front of a decimated home in the shadow of corrugated metal dangling from a tree.
Fortunately, most of the homes in the area were marked zero. Some owners had been at work when the storm came, as was the case for Dallas County High special education teacher Coretta Smith. After climbing over felled trees and power lines, she found her house without a roof and its windows shattered.
"I thank god we weren't in the house when it happened," said Smith, 53, standing in her front yard surrounded by family who came to help salvage belongings. "Had I seen it coming, I probably would have had a heart attack."
A deluge of good will poured in from friends, family and schoolmates Smith hadn't heard from in years. "Even people from out of town have been sending donations, sending love and prayers," she said.
Then there was the total stranger walking by Smith's house who handed her a "generous amount" of cash.
Tornado survivors could also go to Selma High School, where Red Cross volunteers set up a shelter with free beds, food and cellphone charging kits.
"I just hang around while people are being assisted medically to figure out if they need emotional support," Selma therapist Karen Sullins, 52, said in the Selma High gymnasium. "Most of them do."
LaToyia McNeil Tolbert, founder of Divine for Youth, a nonprofit that helps local youth process emotions through dance and miming, is dealing with the trauma through movement.
After the disaster, "my heart was heavy for my city," said Tolbert, 45. She decided to go out in the community with her children and some Divine For Youth participants to perform and distribute donations like bottled water.
These random acts of kindness were taking place all over town.
One piece of evidence is the new header photo on Selma teacher Patricia Stewart's Facebook page.
"This is Trooper Ranger Wright, he assisted my mom yesterday," said Stewart, 67, on Friday night at the Selma High Red Cross shelter, pointing to the photo.
Stewart's 91-year-old mother, Mary Price Smiley, tried to take cover in her closet when the tornado took away her roof. She was still standing behind a door nearby when Wright, 40, found her.
Wright, a senior trooper for Alabama State Troopers and Department of Public Safety, is a full-time academy instructor. He wasn't on official patrol when he drove to the disaster zone to look for survivors. He convinced Smiley to leave her unstable, hazard-filled house.
"You never know your angel," Stewart said, still holding her phone displaying Wright's photo. "God sends a person who wouldn't ordinarily come that way – and there he is, holding mama's hand walking up the street."
Wright returned to the house the next day to see if Smiley was okay.
"I don't think there's one of us in this department that's not going to do something similar," Wright said Saturday.
Add TheJapanNews to your Google News feed.