Joe Biden and Kevin McCarthy, wary opponents, prepare to work together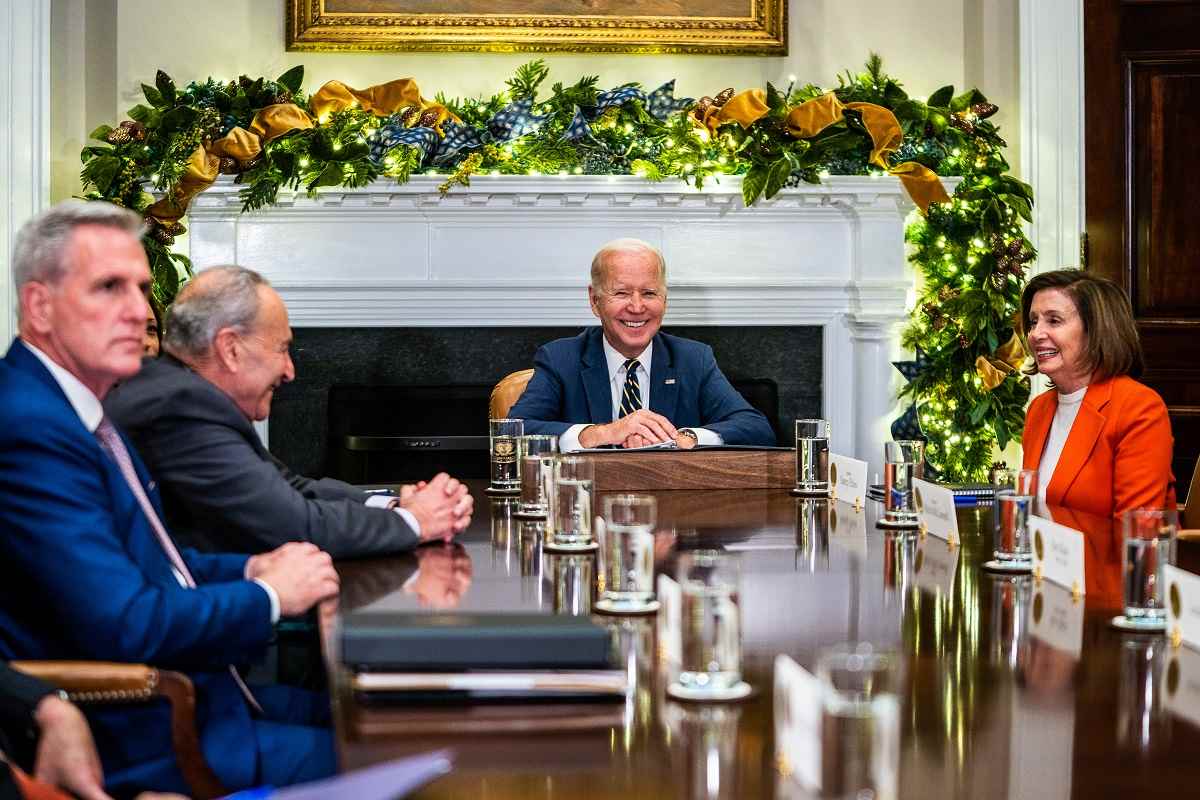 12:19 JST, January 16, 2023
WASHINGTON – Joe Biden began his presidency with an apparent snub of future House Speaker Kevin McCarthy, who was sitting about 30 feet away, watching the teleprompter, as Biden addressed the nation from the west front of the U.S. Capitol.
"Chief Justice Roberts, Vice President Harris, Speaker Pelosi, Leader Schumer, Leader McConnell, Vice President Pence, distinguished guests," Biden said at the start of his inaugural address on Jan. 20, 2021.
McCarthy, then the House minority leader, has since told others that he noticed in real time his omission from the bipartisan list of congressional leaders. A White House aide said the omission of McCarthy's name from the inaugural speech was unintentional.
But McCarthy has used the incident as an example of the cool treatment he received during the first two years of Biden's presidency, when the path to legislation went through the Senate GOP and the Democratic House majority.
Those years were marked by public bickering and private distance between the two men, who had once met for breakfasts together at the Naval Observatory during Biden's time as vice president but found their relationship strained by McCarthy's support of challenges to Biden's 2020 election victory. The California congressman has mocked Biden as senile and highlighted the addiction struggles of Biden's son, while the president has cast McCarthy as the flag-bearer of a form of Republican extremism aimed to undermine the nation's soul.
But now the country's economic health may depend on them finding a way to cut a deal on two must-pass items this year – a debt ceiling increase and appropriations to fund the government. Biden has said he is ready to work with the new speaker, and McCarthy has expressed optimism now that he is third in line to the presidency with a razor-thin majority in the House and a close relationship with the moderate House Republicans that Biden hopes to win over to pass compromise legislation.
"Since he has become president, he hasn't had us down very often," McCarthy told reporters last year when asked about his relationship to Biden. "I think that will change now. Look, the election is over. I can work with anybody who wants to work to make America better."
The early squabbling in the first week of the McCarthy's speakership does not suggest an easy path, as he needed 15 ballots to get elected to his leadership post. McCarthy has said he wants to explore a debt ceiling deal that also provides a cap on government spending, linking the two issues. "I told him I'd like to sit down with him early and work through these challenges," McCarthy said Thursday, describing a private call the two men had on Jan. 7.
The White House responded Friday with an email to reporters. "Debt ceiling hostage taking is tantamount to holding a gun to millions of jobs and 401(k) plans," the subject line read. The text suggested Republican plans to enact their "extreme agenda" were "malfeasance."
Complicating the negotiations is McCarthy's uncertain hold on his own Republican conference. Pointing to the experience of Republicans after the 2010 elections, both Democratic and Republican election strategists have argued that an extended shutdown or spike in interest rates because of a failure to increase the debt limit could hurt both Republican efforts to expand their majority in the 2024 elections and Biden's expected reelection argument.
McCarthy's most conservative members have made clear that they have no fear of threatening another government shutdown or endangering the nation's credit rating to force cuts in spending. As for moderates, some in Congress have discussed the possibility that enough Republicans will break from leadership to sign a rarely used "discharge petition" – a procedure that allows legislation to pass if a majority of the House signs a document calling up a floor vote.
"What he can or can't do in terms of talking with the White House is based upon how far the conference will go," said former House Majority Leader Eric Cantor (R-Va.), who worked closely with Biden during Barack Obama's first term to strike fiscal compromise bills. "I wouldn't give any advice other than he knows the members better than anyone and he knows what they need and will support as far as fiscal matters."
The first step for Biden and McCarthy is to begin to rebuild a rapport that has eluded them over the last two years. In the days after the 2020 election, before a victor was declared, McCarthy went on Fox News to say, "President Trump won this election, so everyone who is listening, do not be quiet." He voted against certifying Biden's electors in Arizona and Pennsylvania but later encouraged Republicans to recognize Biden as president.
"What we saw last week was not the American way," he said a week after the Jan. 6, 2021, attack on the U.S. Capitol. "Neither is the continued rhetoric that Joe Biden is not the legitimate president."
But the two men did not forge a new personal bond. Asked after the midterm elections to describe his relationship with McCarthy, Biden said, "I think he's the Republican leader, and I haven't had much of occasion to talk to him. But I will be talking to him."
McCarthy's closest Democratic working relationship has been with former House Majority Leader Steny H. Hoyer (D-Md.), who he has called "a very good friend." McCarthy has also worked with Steve Ricchetti, a senior aide to Biden, and Shuwanza Goff, a longtime Hoyer adviser who now works as deputy director of the White House Office of Legislative Affairs.
Hoyer said he knows McCarthy is a leader who Democrats can work with, though he is unsure whether McCarthy will be able to reach out for Democratic support as past speakers John A. Boehner (R-Ohio) and Paul D. Ryan (R-Wis.) did given the narrow GOP majority in the House and the demands of McCarthy's most conservative members.
"Biden's inclination, as we all know, is to work in a bipartisan way and to reach out to the other side and try to work to a mutually agreed compromise," Hoyer said. "I think McCarthy is prepared to do that, but he has a very difficult time within his own party, both in the Congress and outside groups, in thinking that is a good thing for the country."
Since Biden's election, McCarthy has come to the White House for multiple congressional leadership meetings with Senate Minority Leader Mitch McConnell (R-Ky.), whom Biden regularly calls a "friend." The new speaker has also accepted invitations to a number of White House social events over the last two years, including a state dinner, a dinner for German Chancellor Angela Merkel and a celebration at of the Los Angeles Dodgers' 2021 World Series Victory. But most of their interactions at those events have been perfunctory and formal, according to people familiar who spoke on the condition of anonymity to describe private matters.
One exception, according to White House officials, was a visit last fall to sign a bill in honor of the late Rep. Jackie Walorski (R-Ind.), who died last year in a car accident. Biden toured a small group of people, including McCarthy, around the president's suite near the Oval Office, including the personal dining room. A person present described it as a "cordial" and "intimate" time for the two men, with McCarthy partaking of cookies that were served by the White House.
White House officials say there is strong ground upon which to build the relationship. Both politicians have risen through their careers by closely tending personal relationships with their allies, making it a point of pride to get to know the children and spouses of those they work with. Both have deep institutional attachments to the legislative branch.
"They both come from a place and a starting point of relationships matter. And understanding that and understanding the institutions, they bring such a value to some of the really tough issues we're going to have to deal with," a White House official said, speaking on the condition of anonymity to discuss the relationship.
White House staff have met with McCarthy's staff since early in the Biden presidency. Dan Meyer, McCarthy's chief of staff, has spoken with White House legislative staff about his time in the White House doing the same work for then-President George W. Bush. Behind the scenes, McCarthy's office has also worked with Biden's team on their shared goal of supporting Ukraine against the Russian invasion, the officials said. (McCarthy has more recently warned that Republicans will not authorize a "blank check" for Ukraine going forward.)
Publicly, by contrast, the president and the speaker have more often taken jabs at each other. During the summer of 2021, McCarthy regaled a gathering of Tennessee's Republican Party with a senility joke at Biden's expense.
"I went up to Bedminster and I had lunch with President Trump, and that night I flew to D.C. and Biden has me over for dinner," McCarthy said. "It's a true story. I don't think anybody in the world has done it. The sad part is I think only one president remembers I was there."
McCarthy also took to comparing Biden to Jimmy Carter, the last Democratic president to only serve a single term. "Jimmy Carter had Billy Carter," McCarthy said in October 2021, about the Georgia-born president's brother who publicly struggled with alcoholism during his time in office. "President Biden has Hunter Biden."
Biden's son responded at the state dinner for French President Emmanuel Macron in December, when he made a point of crossing the room to greet McCarthy's mother, who was the Republican leader's date for the night, according to people familiar with the interaction.
McCarthy later downplayed Hunter Biden's time with his mother. "He shook her hand and said something, but I am not quite sure my mom knew who he was," McCarthy later explained to Fox News.
More often the gibes between Biden and McCarthy have followed the conventions of election-year politics, focused on each other's policy positions, not character or personal issues. Toward the end of the campaign season, both men used the other as foils in their stump speeches.
"With a straight face, Kevin McCarthy says MAGA Republicans will restore faith in our elections," Biden joked at a September Democratic National Committee event in Washington, provoking laughter. "As we say in my faith, 'Bless me, father, for I have sinned.'"
McCarthy traveled to Biden's childhood hometown of Scranton, Pa., to deliver a blistering condemnation of the president's attacks on those who identify with Trump's Make America Great Again movement.
"What Joe Biden doesn't understand is that the soul of America is in the tens of millions of hard-working people, loving families, law-abiding citizens who he vilifies for simply wanting a stronger, safer and more prosperous country," McCarthy said.
Their first interaction after the midterm elections came at the end of November, when Biden invited McCarthy and McConnell for what the White House called a "productive conversation" about year-end government funding bills, which McCarthy ultimately opposed.
Later, McCarthy described his conversation with Biden, which focused on the long-standing Republican concerns about the number of migrants passing through the southern border.
"I invited him to the border and he said, 'I'm sure you want me to,'" McCarthy told reporters later. "He asked me, 'What did I want to see happen at the border?' And I walked through exactly what I want to see happen at the border."
The White House later read out the same exchange, which happened weeks before Biden visited the border, with a tour of El Paso this month. "The president really listened carefully and respectfully," an official who was present said.
Biden's failure to mention McCarthy at the inauguration did not immediately poison their ability to get along. After Biden's speech, he walked inside the U.S. Capitol, where congressional leaders offered gifts to welcome the new president and vice president.
"On behalf of Republicans in Congress, congratulations. We are very proud of you both," McCarthy told the new leaders, as he presented them with framed photographs of their swearing-in ceremonies from just moments before. "I listened to your speech today. You talked about the tension and division. Our task as leaders is to bind this nation's wounds."
Later, as they looked at the photos together, the new president acknowledged the GOP leader. "Thank you so much," Biden said.
Add TheJapanNews to your Google News feed.