12:13 JST, January 16, 2023
This flu season, Benny Matthew – a nurse at the Montefiore Medical Center emergency room in the Bronx – has often been responsible for 15 to 20 patients at a time.
By 3 p.m. most days, the emergency room is often exploding with patients, Matthew said. Hospital gurneys stand inches apart. When beds run out, patients squeeze into tightly packed chairs. When the chairs run out, patients must stand. Wait times to see a doctor can be up to six hours. At the same time, the hospital is advertising more than 700 nursing positions.
"We go home feeling like failures," Matthew said. "There are times when you can't sleep because you're thinking: 'Did I do anything wrong today?'"
Matthew is one of more than 7,000 union nurses who went on strike in New York City last week, protesting staffing levels, which led to two of the city's largest nonprofit hospital systems to agree to strengthen staffing ratios at some hospitals. On Thursday, hundreds of health-care workers from around the country protested understaffing at HCA Healthcare, the nation's largest hospital system. That included one worker from El Paso who recently admitted herself into her own emergency room for dehydration and exhaustion after working four 12-hour days in a row, her union said.
These tensions have continued to play out over the past month, as nurses have also protested, gone on strike or threatened strikes in California, Oregon, Michigan and Minnesota.
Understaffing concerns have been at the heart of labor disputes in myriad industries in recent months, including an averted national rail strike threat, but perhaps nowhere have these tensions been more pronounced than in health care and nursing. Nurses led a quarter of the top 20 major work stoppages tracked by the Bureau of Labor Statistics in 2022.
While understaffing has plagued some hospitals and medical centers nationwide for years, the pandemic added new layers of stress, as nurses worked through consecutive coronavirus outbreaks that killed and disabled thousands of health-care workers. The upswing of flu and respiratory diseases in the past several months has only worsened the situation.
With no end in sight, legions of nurses have left the field, retired early or switched jobs. Some 100,000 nurses left the industry between 2020 and 2021, according to an industry trade-journal estimate. Although there were 4.4 million registered nurses with active licenses as of 2021, according to the National Council of State Boards of Nursing, only 3 million people were employed as nurses, according to the Department of Labor.
Those who have remained have faced increasingly heavy workloads. They also gained more leverage in the tight labor market, leading nurses to organize new unions and even walk away from jobs to join the ranks of traveling nurses who parachute in from out of town to fill staffing gaps and tend to be paid more.
"The issue is that we are understaffed, not only in my facility, but really across the nation," said Cathy Kennedy, president of the California Nurses Association, which represents 100,000 nurses in the state. "We are seeing an upsurge of nurses that are saying, 'We've had enough. We want to organize. We really want our hospital to hear what we have to say.'"
The New York-based hospital company Montefiore did not respond to a request for comment about staffing levels. But the company touted the agreement reached by negotiators and the hospital late Wednesday that ended the strike, with some big concessions for nurses. The agreement includes a 19.1 percent raise over three years, 170 new nursing positions and emergency-room staffing ratios based on the severity of patient needs.
Harlow Sumerford, a spokesperson for HCA Healthcare, said Thursday's protest was "an expected tactic as we are set to begin our regular cycle of bargaining with the labor union in the next few weeks." He noted that the hospital system staffs its "teams appropriately and in compliance with state regulations."
In the years leading into the pandemic, there were roughly enough new nurses entering the pipeline to replace the ones that retired, according to a 2022 McKinsey & Co report titled "Assessing the lingering impact of COVID-19 on the nursing workforce." But covid changed everything. "Over the past two years, McKinsey found that nurses consistently, and increasingly, report planning to leave the workforce at higher rates compared with the past decade," the report found, a trend that continued even as covid cases fell.
From coast to coast, mounting nursing shortages have triggered a widespread set of issues for nurses and patients, according to conversations with nine nurses. Nurses say there have been significant declines in patient care, including delayed cancer treatments and critical checkups for expecting mothers. Medications are administered late or missed altogether. The shortage has also taken a toll on nurses' mental and physical health, as they are forced to skip meal and rest breaks and get little recovery time between shifts.
Organized strikes, and even the threat of strikes, have succeeded in pushing some hospitals to agree to address some staffing concerns. This winter nurses have won guarantees of investment in new hires, a bigger role in shaping nurse-to-patient ratios, and strong wage gains that could help with retention.
In Kalamazoo, Mich., 300 nurses – as part of the Michigan Nurses Association – won a 20 percent raise in the first year of their contract, after threatening to strike at Ascension Borgess hospital over staffing levels in December. Night nurse Lori Batzloff said the pay increase should help retain nurses. But she is concerned about her hospital's ability to weather another covid outbreak.
Last September, in Minnesota, 15,000 nurses went on strike for three days over understaffing concerns, in the largest-ever private nurses' strike. When hospitals still refused to concede to their demands, the nurses threatened to walk out a second time, for three weeks in December. With days to go before the strike deadline, more than a dozen hospitals, for the first time, agreed to give nurses a say in staffing levels, averting the strike.
"I think the hospitals looked around and understood that they couldn't withstand, frankly, a 15,000-member three-week strike in Minnesota," said Chris Rubesch, vice president of the Minnesota nurses union. "That would be crippling."
A Twin Cities Hospital group spokesman said in a press statement when the deal was struck that the new agreement shows that hospitals and labor can work together to "develop staffing language the meets the unique needs" of hospitals, nurses and patients.
For other health-care workers who typically earn less than nurses – such as health-care technicians, dietitians and nursing assistants – the impacts of understaffing are just as bad.
"There is no morale left," said Gregorio Oropeza, an admitting representative who registers patients at Cedars-Sinai Hospital in Marina del Rey, Calif. Oropeza has colleagues who have had to drop out of the workforce after suffering severe symptoms from covid. "Everyone is there because they need a paycheck. They're terrified of getting sick, but it is a job and they have to uphold a household."
Oropeza and 400 of his colleagues went on a five-day strike with SEIU-United Healthcare Workers West in December over understaffing and pay concerns, but union contract negotiations have continue to stall.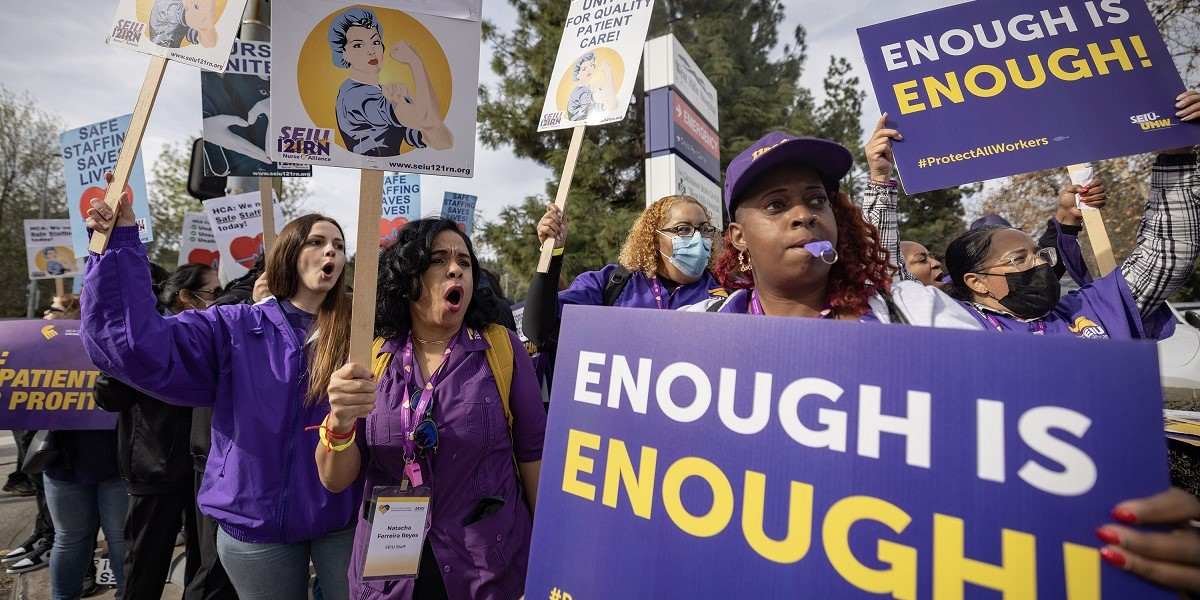 Marni Usheroff, a spokesperson for Cedars-Sinai Marina del Rey, said the hospital recognizes that its employees are its "most important asset" and that during contract negotiations, the hospital has shown its "commitment to maintain staffing levels that provide important support for our health care workers."
During the coronavirus pandemic, nurses have been organizing and winning union elections, even as unionization rates in the United States have declined.
"I remember in the middle of the pandemic, predicting that once the dust settles, there could be an explosion of new organizing and strikes to accomplish safe staffing levels," said Sal Rosselli, president of the National Union of Healthcare Workers, which represents 15,000 health-care employees in California. "And that's what's happening now."
While some nurses are organizing, many have dropped out of the field entirely or plan to leave the industry. A 2022 survey by the staffing agency ShiftMed found that two-thirds of nurses say they are inclined to leave the profession within the next two years.
Some nurses have quit their full-time jobs to take on highly lucrative contract work, traveling to other parts of the country and temporarily filling in at short-staffed hospitals. The option has become popular among younger nurses, in particular many who are looking to pay off student loans. Demand for travel nurses is roughly double what it was at the start of the pandemic, although it has tempered since the height of outbreak, according to April Hansen, an executive at Aya Healthcare, the country's largest travel-nurse agency.
Nurses unions say hospitals are to blame for nursing shortage problems, noting that health-care companies made a deliberate choice not to devote resources to hiring more nurses. Many hospitals profited during the pandemic, receiving millions in covid-related aid, rewarding investors with generous stock buybacks and paying executives seven-figure salaries. In the Bronx, the CEO of Montefiore, Philip Ozuah, took home $7.4 million in 2020.
"I feel that hospital administrators are hypocrites," said Zulma Gutierrez, 42, an intensive care unit nurse at Montefiore who went on strike this week. "They're going home making millions and we're going home with guilt."
But a growing and aging population, combined with the continued waves of covid, mean demand for nurses will continue to soar in the coming years. By 2025, the United States is projected to be between 200,000 and 450,000 nurses short, according to the McKinsey report.
Add TheJapanNews to your Google News feed.