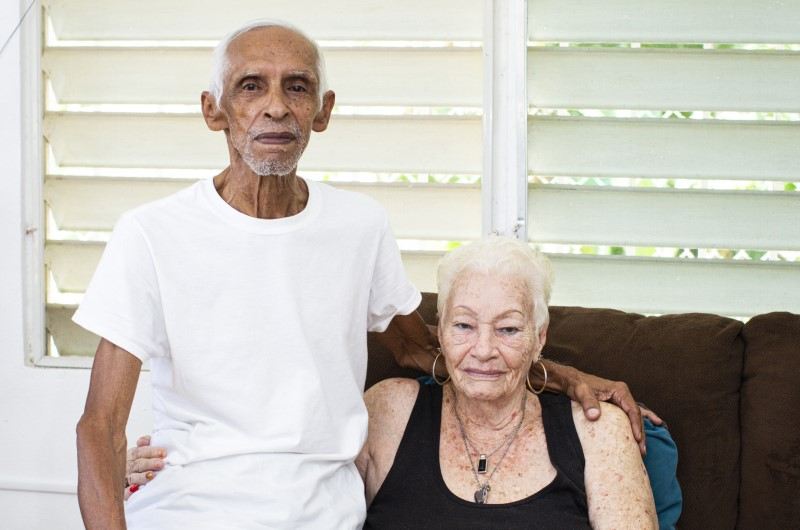 15:23 JST, January 15, 2023
VEGA ALTA, Puerto Rico – Hector Colón and Ana Serrano fell in love in Brooklyn in the 1950s as both tried to scratch out new lives from less than nothing.
They had fled Puerto Rico as young adults for factory jobs that offered working-class wages and the conveniences of big-city life: walkable streets, easy public transit and everything they might need within blocks.
But when Serrano's mother fell ill in 2000, Serrano returned to the island to care for her. Her husband soon followed. They took their savings and retired, leaving their support system and inheriting the older woman's home in the coastal town of Vega Alta after she died.
That is where they were living when Hurricane Maria damaged the roof. Colón didn't want to bother anyone for help, thinking he could do it himself. But he couldn't. Five years later, the elderly couple was still living under a waterlogged roof until a foundation offered to chip in.
"It hurts," Serrano, 86, said. "We have family, but nobody thinks of us. They have their own lives and should live them."
As Puerto Rico struggles to recover from a series of brutal natural disasters, the island is aging more rapidly than most places on Earth. More than one in five residents is over 65, making Puerto Rico's share of older adults the 10th highest in the world. That puts the U.S. territory in the same category as countries such as Japan, Italy and Germany – places with strong economic bedrocks that Puerto Rico lacks.
But what makes Puerto Rico's demographic patterns so unique is what researchers call "aging by compression," meaning the commonwealth is graying because its working adults are leaving. The share of older Puerto Ricans doubled in less than 20 years while U.S. Census Bureau figures show more than 700,000 residents left in the past decade – accelerated by economic truncation and disaster.
That emigration has emptied out the barrios of Puerto Rico, leaving large numbers of senior adults alone to face the ravages of cyclones that are ever more frequent, powerful and variable.
"Their children migrated to the United States, and senior citizens were left alone in Puerto Rico. And they are the most vulnerable population right now," said Jessika López Montalvo, a social worker who has watched her caseload shift from mostly children to all older adults.
The shift has massive implications for Puerto Rico, which is still struggling to recover from Category 5 Hurricane Maria in 2017 and subsequent earthquakes and political tumult. The main island where the capital, San Juan, is located and two smaller islands with fewer resources need workers to rebuild and stimulate the territory's fragile economy.
But most residents will be retirement age in less than a decade, data shows. Poverty is expected to deepen as elderly residents make up a greater share of the population, all the while grappling with unequal access to federal benefits such as Supplemental Security Income and Medicaid because of Puerto Rico's status as a U.S. territory, experts said. And with physicians and medical specialists leaving in droves, the health-care system is teetering precariously.
"Puerto Rico is experiencing a demographic phenomenon not seen anywhere else before on the planet, and we don't know yet what the consequences will be, not just for older adults, but for everyone on the island," said Amilcar Matos-Moreno, a social epidemiologist. "If nothing changes, the repercussions will be severe in terms of mortality and quality of life."
***
Hurricane Maria resulted in more than 3,000 deaths – the majority involving people over the age of 60 – after it ravaged Puerto Rico five years ago.
Since then, each subsequent disaster has unveiled another facet of the social safety net's inadequacies as stories about Puerto Rico's elderly living in subhuman conditions become frequent segments of local newscasts and tabloids.
"We have been sounding the alarm for years. It was no secret that this would happen," said Carmen Delia Sánchez, Puerto Rico's special advocate for elderly and retired adults. Her office administers federal funds for critical services through the Older Americans Act. "The government was not preparing or prioritizing this shift. Now, we are a country of old people."
The legislature has strengthened elder abuse laws and protections against workplace age discrimination, offered platitudes in budget documents and, in 2022, set aside millions to house about 4,000 seniors during disaster. But while efforts are perpetually underway, critics say, the government has not revealed any strategic plan to respond to what amounts to a massive reordering of society, according to experts and a review of government documents and reports.
Matos-Moreno, along with a group of researchers, analyzed data showing that nearly half of older Puerto Rican adults have at least one child living in the states or in other countries and that about 30 percent live alone – a worrying statistic.
"We don't know what to expect, because no one in the world has lived this," Matos-Moreno said, adding that about two of every five older Puerto Rico residents live below the poverty line.
Puerto Rico's policymakers have been focused on bringing their government out of economic crisis since 2006. But they are emerging from bankruptcy to create budgets for a population that looks radically different than it did then. Nonetheless, Gov. Pedro Pierluisi's policies, from economic development plans to the relentless pursuit of statehood, do not reflect these changes, said more than a dozen advocates and researchers pushing the government to rethink its focus.
The Center for Investigative Reporting in Puerto Rico found that the local health department failed to implement a federal program that helps governments track and deliver lifesaving services to the neediest before, during and after a disaster.
Some municipalities kept a census of need, but there was little to no communication between the central government and its mayors before Fiona struck to evacuate individuals such as dialysis patients to equipped shelters. The federal database identified more than 40,000 energy-dependent patients in Puerto Rico, but experts say the number is higher.
The central government initially blamed municipalities for the failure, saying local authorities have more information than federal officials on which residents need aid. But CPI's analysis found that the federal database contained far more names and addresses but still went unused.
Though the death toll is much lower from the most recent storm, the Puerto Rico government is in no better position to prevent death in another prolonged power outage that could threaten the lives of its elderly population, according to data and experts.
The Puerto Rico departments of health and family affairs did not respond to phone calls and messages.
At the federal level, congressionally imposed caps on Medicare and Medicaid in Puerto Rico, which are funded at lower rates than in the states, also put seniors at a huge disadvantage.
"The health-care system here is so fragmented over the struggle for federal funding that people don't know how to navigate it, and they fall between the cracks," said José Acarón, AARP's Puerto Rico director. "We need to rethink everything in this country to face the reality."
Sánchez, the government's special advocate, said she used her limited budget and worked with AARP to provide generators and kitchen equipment to more than 130 private and municipal-run senior housing and community centers ahead of hurricane season. But just 2 percent of Puerto Rico's elderly and older adults live in such facilities.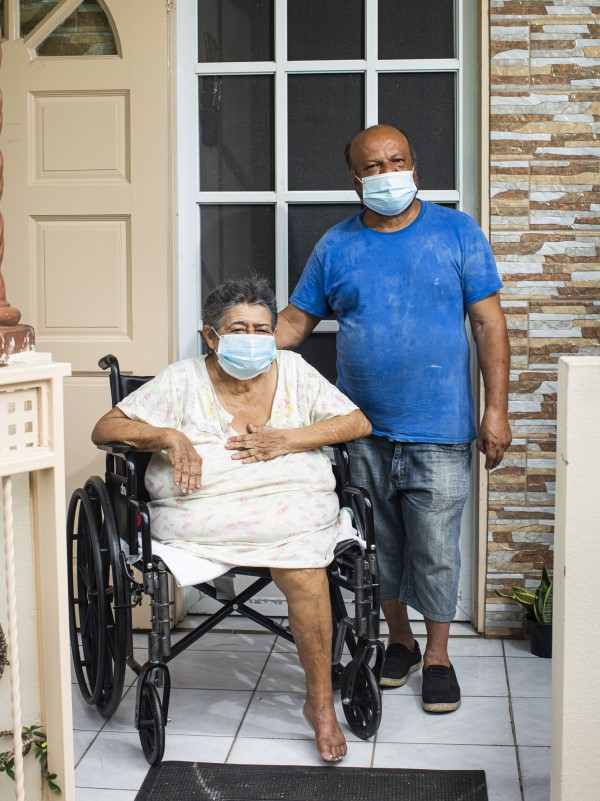 The majority are aging inside their own homes in urban areas near San Juan that have not adapted to changing climate and health needs, experts said. After Fiona, seniors found themselves trapped and in need of rescue from high-rise public housing condominiums where elevators were useless in a power outage. Elderly couples abandoned by family or unknown to neighbors went hungry inside overheated and damaged homes. Octogenarians burned to death or died of carbon monoxide poisoning while trying to operate generators.
But while the outlook is grim, researchers say, there is also evidence that the high levels of social cohesion in Puerto Rico's more rural communities could offer solutions for policymakers. In the wake of tropical cyclones, older adults took charge of their communities. They volunteered to care for and provide for elderly and bedridden neighbors. They coordinated with local governments and nonprofits to meet needs. And they stood up to demand more when they needed it.
***
A tower of adult diapers and chocolate Ensure beverages sit on tables on one side of a storage room of the Asociación Comunitaria de Llanos Tuna, a local organization serving 6,000 people in western Puerto Rico, while a donated wheelchair and boxes of gauze sit on the other.
Volunteer Annette Menay was busy taking inventory in October in a book whose pages are filled with requests and donations after Hurricane Fiona left their community without electricity and water for three weeks.
Their latest need: Baby food to feed elderly, bedridden residents. Nearly four of every five residents of this rural Cabo Rojo community on Puerto Rico's southwestern tip is over the age of 65, local leaders say. When disaster strikes, the volunteers, most of whom are retired older adults and cancer patients, fill the gaps.
Mayris Ruiz Olmo, who leads the association, was hired by the municipal government to assess the damage household by household and to build a list of needs after the deadly 2017 storm to access federal relief funds. But what she found was a community of senior citizens who needed much more than pallets of bottled water or mosquito nets. They couldn't access basic services.
"We needed to go much further than handing them a flier with FEMA's number," Ruiz Olmo said. "I gave municipal leaders the census, but when the administration changed parties, all that was lost. Many things could've been done that weren't done. If they had, we wouldn't be where we are today."
In the five years since Hurricane Maria, Ruiz Olmo's group has partnered with other nongovernmental organizations to help her neighbors navigate government health insurance, teach people how to use water filters and seal their leaky roofs. But the needs keep growing.
On an October afternoon, an older neighbor with mud-caked jeans showed up to the association's door. It had been raining, and the local creek was flooding. There was no electricity, and he was hungry. Ruiz Olmo directed two volunteers in hairnets, who spooned globs of rice and beans into a Styrofoam container with a pork chop.
"Is there anyone else around you who needs food, too?" she asked the bashful man. He demurred but then said he has some elderly neighbors who haven't eaten in some time.
Ruiz Olmo handed him four more plates of food: "Things simply do not work here in Puerto Rico."
After the storm, she and her motley crew of ladies found a wheelchair-bound amputee suffering from open-wound infections his wife couldn't clean well because there was no water. They located an older gentleman suffering from depression who slept in his vehicle as gusts lashed it. They came across the homes of elderly whose blue tarp roofs affixed after Maria had been torn off by Fiona.
On the other side of the big island, the story is the same. Carlos Rodríguez of the nonprofit Happy Givers came home to Puerto Rico after Maria. He decided to stay, leaving behind a career as a Christian pastor in the states to serve communities near Vega Baja in northeastern Puerto Rico. He had expected most of their work would involve helping children in poverty. But he was wrong.
If Hurricane Maria unmasked Puerto Rico's poverty, Fiona exposed the neglect. Nearly half of seniors are in poverty or on a fixed income, surviving on a Social Security check or food benefits.
Rodríguez, like many of his generation, left Puerto Rico to study and build careers in the states, where a professional can make triple the salary they can at home. When he returned, he said, he was stunned to find so many hungry seniors needing repairs to their homes and help with daily tasks.
"Moms and dads and grandmas and grandpas and uncles are all staying behind, and they're not being supported. And of course, we can't count on the government to support them because they're not," Rodríguez said. "Of the 20 calls we get a day, 19 are from elderly people. They ask, 'Can you come help me? My roof is collapsing. I don't have any water. I can't cook for myself.' We're seeing the regression of all services, electrical services, water services, medical services, and we're seeing it through the eyes of the elderly, who are the most vulnerable population."
But what is less visible is the toll that social isolation – worsened by the pandemic – is having on the mental health of Puerto Rico's abuelos.
Colón and Serrano are the original bootstrappers – a generation of poor Puerto Ricans lured from its balmy shores to big-city factories during one of the largest migrations in history. Their ride on the "guagua aerea," as Puerto Ricans referred to the flights to New York City in the middle of the 20th century, was made necessary by the island's rapid industrialization, which created jobs but displaced thousands of agrarian workers.
He toiled in plastics. She sewed clothes.
When they returned to Puerto Rico decades later, they found themselves underequipped to handle a major storm, resigning themselves to fate as Hurricane Maria's ferocious winds barreled down.
"We sat here holding each other's hands as it passed," Serrano recalled. "I told Hector if the storm takes us, let it take us together."
Colón had spent a lifetime being resourceful and making things work. He told few people about the damage to their home's roof, hoping he'd find a way to resolve it. The couple grew isolated as time went on. Serrano stopped going to the doctor. She was depressed and ate little. And Colón, now 82, wouldn't eat unless she did. They entertained themselves with crossword puzzles and games on a tablet they could never figure out how to connect to the internet.
"I sit here sometimes with tears streaking down my face just remembering," she said.
The pair rarely left the home until Happy Foundation volunteers found them living beneath a rotting roof that had corroded the home's electrical system. They were wasting away, shrinking into the furniture as they lost weight and lost will.
"The day something happens to us, the neighbor can bury us or leave us pickled in vinegar for all I care," Serrano said with a wicked laugh. The volunteers now visit regularly, bringing them hot meals and helping around the house.
The roof was fixed two weeks before Hurricane Fiona dropped more than 20 inches of rain.
"I regret having ever left Brooklyn," Serrano said. "Puerto Rico is not made for the old."
Add TheJapanNews to your Google News feed.