Hong Kong reopens to China, with anxiety over covid and painkiller access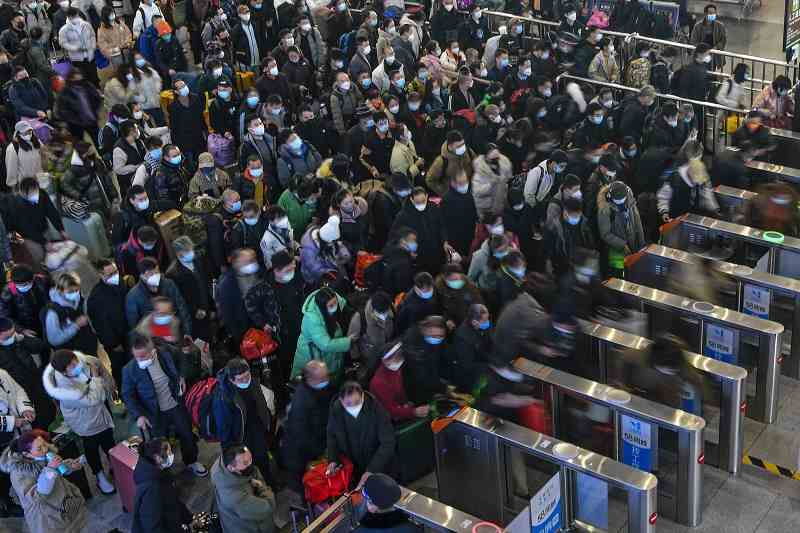 13:21 JST, January 8, 2023
HONG KONG – For much of the pandemic, Hong Kong delayed fully reopening to the world. Instead, the semiautonomous Chinese region – which for years billed itself as "Asia's world city" – prioritized the reopening of its internal border with mainland China, adopting a comparable "zero covid" policy that pummeled the economy and triggered an exodus of residents.
That internal border will open after almost three years on Sunday, when Beijing also makes quarantine-free travel available to the rest of the world. But the freer travel comes as the coronavirus wreaks havoc in China, which abandoned tough pandemic measures late last year.
The unsealing of the border – and Beijing's lack of transparency about the scale of the trouble on the mainland – is being greeted with some anxiety in Hong Kong. Residents are bracing for an influx of mainland Chinese visitors that are hungry to use the city's health-care sector, which has better access to painkillers and more effective vaccines. Authorities are publicly considering restrictions on the sale of paracetamol painkillers, which are increasingly hard to find in the city's pharmacies.
Coleman Cheung, vice chairman of Hong Kong General Chamber of Pharmacy, said he has been told by his members that Panadol, a popular branded version of paracetamol, is out of stock in pharmacies citywide. (The locally-made generic version is still available but in short supply.) He estimates that between 60 and 70 percent of recent customers bought the medication to ship to relatives on the mainland, where there has been a shortage of fever medicine as coronavirus cases spike.
The demand for such medication will increase further when the border reopens, allowing Chinese visitors to travel and purchase medicines to bring home, said William Chui, president of the Society of Hospital Pharmacists of Hong Kong.
Concern about the influx of mainland Chinese visitors to Hong Kong is not a new phenomenon, though covid border controls created a years-long pause. Previous visitors briefly strained the city's supply of baby milk powder; sometimes they have added pressure on maternity wards.
In recent years, local groups have sought to protect the city's interests in areas ranging from civil liberties to health care and housing. However, Hong Kong now sees far fewer protests or civil society movements, following the introduction of a national-security law and a Beiijing-ordered crackdown on pro-democracy campaigners.
Ivan Lin of the Society for Community Organization, a nonprofit that works with the underprivileged, said he had been approached by dozens of families and older people this week who had found pharmacy shelves cleared of Panadol.
"Everyone is snatching up the drugs," he said, noting that they were dealing with the lack of a medicine "brand they've trusted for years, coupled with uncertainty about what will happen" after Sunday's reopening.
Health Secretary Lo Chung-mau told reporters Thursday that the city is not ruling out regulating the purchase and sale of such drugs.
Hong Kong is not completely throwing its doors open to the mainland. The territory's leader, Chief Executive John Lee, said Thursday that there would be a daily cap of 60,000 on the number of people allowed to cross the border each way. (In 2019, roughly 120,000 mainland Chinese entered Hong Kong daily, according to government data.) People coming to the city also need to produce a recent negative test result.
"The return to normalcy is the wish and wants of a lot of people, both locally and overseas," Lee said at a news conference.
"I think there is general consensus that people in Hong Kong generally know how to take care of themselves after three years of covid experience," he added.
Siddharth Sridhar, an infectious-disease expert at the University of Hong Kong, said the probable influx of visitors will not create "significant stress" on the local health-care system, as the average resident has been repeatedly vaccinated. The shortage of cold medicine was expected and would resolve itself in the coming weeks, he added.
"I understand people's worries about shortages, but Hong Kong's opening up to China is something we can get to. We've been through worse," Sridhar said.
There is also concern about access to vaccines. The health-care system in Hong Kong, an affluent city, is far more developed than in mainland China. Messenger RNA vaccines manufactured by BioNTech have been widely available in Hong Kong for several years, though they have not been authorized for use on the mainland. The Western vaccines, which were the target of a disinformation campaign by Beijing, have been found to be significantly more effective than the homegrown Sinopharm and Sinovac shots widely used in China.
Earlier in the pandemic, Hong Kong met with so much vaccine resistance – its seniors were particularly hesitant to get their shots – that health officials contemplated throwing away expiring doses. But residents are now rushing to get vaccinated ahead of the reopening, and Reuters reported that some clinics are fully booked until February. (Nonresidents have to pay for vaccines, though shots remain free for locals.)
Ada Cheng, 80, waited in line outside a clinic for a dose of a BioNTech vaccine on Saturday, as she prepared for a trip to neighboring Shenzhen to visit her 97-year-old mother, whom she has not seen in two years. "I want to protect myself and others," she said, adding that she was not particularly concerned about a potential vaccine shortage.
Add TheJapanNews to your Google News feed.