The country moved on from covid. This homeless shelter is stuck in it.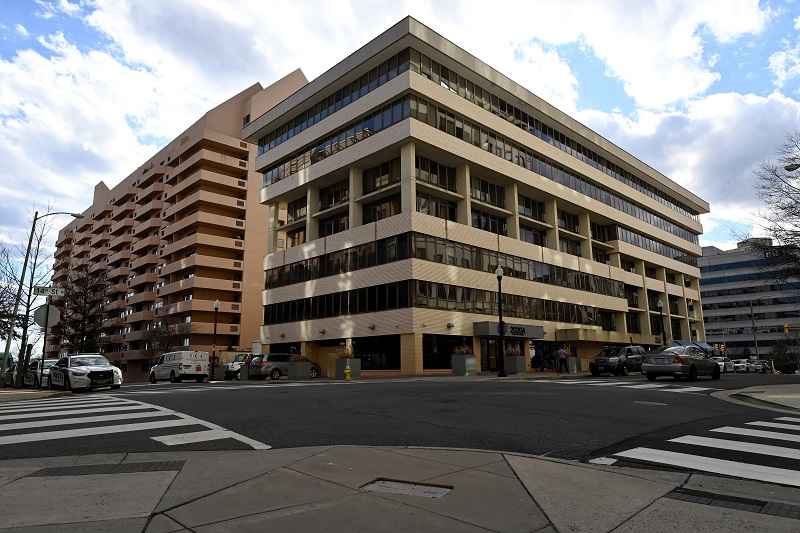 15:45 JST, January 2, 2023
Each night, as the temperature plummets and dozens seek refuge inside Arlington County, Va.'s largest homeless shelter, the staff runs through the same drill it has for the past three years: Before anyone is given a bed, they are tested for the coronavirus.
On Wednesday, the shelter's usual one or two covid cases landed early. As more people arrived, more cases followed. By the end of the night, staff said, a dozen people had tested positive. All needed to be quarantined.
The shelter had an outbreak.
Inside the facility, run by nonprofit PathForward, the year is ending much like it began: with an outbreak of disease pushing an already burned-out staff to its limit. But now, many of the resources PathForward once relied on to contain the virus have vanished.
The world outside has forged ahead, but those who live and work inside shelters meant to house the region's most vulnerable are still battling covid day after day. They're testing, enforcing mask-wearing and trying to keep infection rates low as the shelter's winter population explodes. What they really need is a chance to breathe, assess and try to get ahead of the next crisis. They haven't gotten it.
"It feels like we're right back where we were before," said Betsy Frantz, president and chief executive of PathForward. "We've never been able to really recover. When hypothermia [season] was about to start, I was talking to a vendor and he said, 'You don't seem ready. You don't seem where you usually are.' And the reality is we're just exhausted. There's an overwhelm, a fatigue from never being able to stop. There's this sense of 'When is it going to end?'"
Since the start of the pandemic, homeless-service providers have struggled to balance continuing to care for clients with a range of needs – physical or mental illness, substance abuse, unemployment – and keeping people safe in congregate settings where infectious diseases can spread swiftly.
In the coldest months of the year, PathForward, like many shelters, expands to take in those who might typically sleep on the street. Extreme cold can nearly double its population. Meanwhile, the facility's medical respite wing provides care for clients who are being treated for cancer, put on dialysis and given therapy for debilitating neuromuscular disorders.
"It all just adds up," said Kasia Shaw, a nurse practitioner at PathForward and the senior director of its medical services. "We're still enforcing certain rules to try to keep people safe, like masks in common spaces, but it's becoming more and more difficult."
Vendors come into the building barefaced. Clients, used to not wearing masks outside, bristle at having to put one on. Everyone, Shaw said, is "burned out on covid." It's hard to blame them, Shaw said; she is, too.
But covid no longer looms alone. The deadly virus is now part of the so-called tripledemic hitting the country this winter, along with the flu and respiratory syncytial virus, better known as RSV.
"We can test them for covid and test them for the flu, but we can't test them for RSV," Shaw said. "People are letting their guard down, and all it takes it that one exposure to have an outbreak in here."
The Virginia Department of Health defines an outbreak as three or more cases reported at the same time inside the same facility. In the earliest days of the pandemic, facilities implemented strict safety protocol to avoid having one. Now, as the covid-19 pandemic inches toward its fourth year, staff said it feels instead as if outbreaks have become inevitable.
Some counties have maintained pandemic-era partnerships with nearby hotels to house sick people with nowhere else to go. But most have seen those costs skyrocket and the number of hotels willing to participate drop.
"Even the counties where they still have deals with hotels, like in Fairfax, it's harder to isolate people in them because the price of rooms fluctuate," said Megan Hansen, program director at New Hope Housing's Residential Program Center in Arlington, another shelter for homeless adults. "On a three-day weekend like this one, the rooms are so much more expensive, and the hotels would prefer to reserve it for a person who is going to buy soda or pay for extras, not one of our clients.
"In 2020, we helped by keeping some of these hotels alive. Now, we basically have to beg for a room."
Amid another outbreak at the start of 2022, spurred on by the highly contagious omicron variant, PathForward moved all of its clients into motel rooms at a nearby Days Inn, allowing the virus to dissipate and giving staff time to clean and sanitize the shelter. Until the summer, PathForward continued to quarantine its covid-positive clients in rooms there.
Moving coronavirus patients off-site meant that during the worst of the pandemic, staff at the shelters may not have had as much exposure to infected clients, Hansen said. But now, as shelters reorient to quarantine covid-positive clients inside their facilities, the risk of exposure has grown.
Hansen expects this will continue in 2023. In fact, it's part of her speech to potential new staff members.
"Before, if we had a person with covid, we would send them to the hotel, they would recover and we would bring them back once they were healthy," Hansen said. "Now we're being really transparent with our staff that if a client has a communicable disease – covid, monkeypox, RSV, whatever – we're housing them here."
To accommodate the influx of people who seek shelter during the coldest nights of the year, PathForward and New Hope Housing have worked together to move people from the cold-weather temporary shelter into the county's residential program as soon as beds are available. For the first time in months, Hansen said, every bed at the residential program shelter is occupied.
At PathForward this past week, the number of covid-positive clients threatened to overwhelm the cold-weather shelter and eclipse the number of people who did not have the coronavirus. So, Frantz said, the staff decided to do something unusual.
Instead of housing all the covid-positive people in isolation rooms of one or two, they turned the large cold-weather shelter room inside the facility's converted office space into a group quarantine area and moved clients who tested negative into smaller rooms that had previously been used to isolate the sick. Any additional residents who don't fit in the small rooms will be moved onto cots set up in the on-site classrooms.
"It sounds easy to say, 'Oh, we'll just flip the floors,' but the amount of work it takes to do that – it's not easy," Frantz said. "I saw [my staff's] faces. I see the exhaustion there."
As with other high-intensity front-line jobs – like health-care workers, teachers and nursing home staff – Frantz has seen burnout push staff out of the field. With each new outbreak, she said, Frantz worries about the mental health of the workers who have to guide PathForward through.
She's tried offering what she can: An off-the-books day off for everyone to take at will; extra pay for working through a health crisis – even as the federal emergency fund for such increases has dried up; holiday gift cards and personal notes to each person on staff expressing her gratitude.
"I'm losing staff, and they're completely changing professions. I'll ask them, 'What is it? The money, or?' And they'll say, 'No, I'm done. I'm just done,' " Frantz said. "Frankly, what everyone needs is like a week off to sleep. But I'm doing what I can, because we're open 365 days a year, 24 hours a day."
In late November, the U.S. Centers for Disease Control and Prevention decreased the number of mandatory quarantine days in congregate living facilities from 10 to five.
This, Shaw said, was a relief. Cutting down the number of quarantine days, she thought, could free up space and, maybe, move the shelter out of crisis faster.
But that was before Wednesday's cascade of positive cases.
"I'm just trying to figure out how do we create a safe new normal," Shaw said. "Every time I think, okay, we're catching a break, it's like we get an influx of cases and it's back to reactive mode where we just have to focus on testing and keeping people safe. I don't know when that is going to end, but I'm ready to be there."
Add TheJapanNews to your Google News feed.