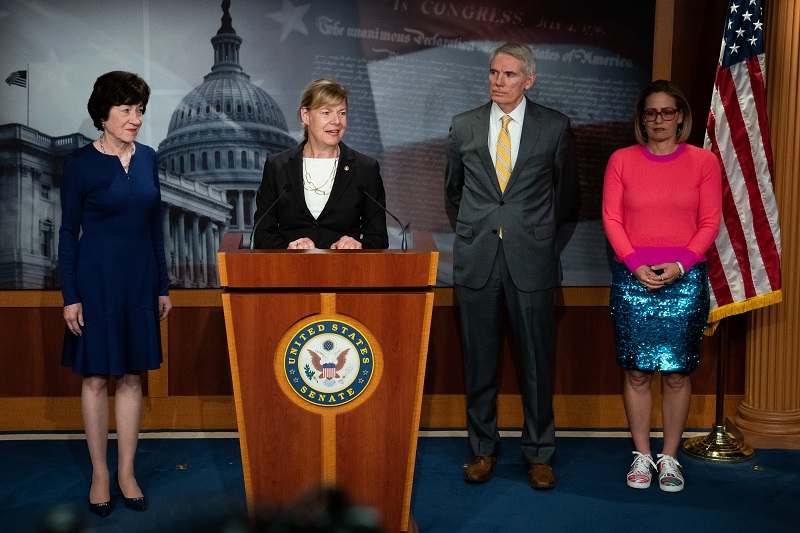 11:57 JST, November 30, 2022
WASHINGTON – The Senate on Tuesday passed the Respect for Marriage Act, which would enshrine marriage equality in federal law, granting protections to same-sex and interracial couples.
The bill passed in a 61-36 vote, with 12 Republicans joining Democrats to vote for it. Three senators did not vote. The bill includes a bipartisan amendment that clarifies protections for religious liberties, and it will now return to the House for another vote before it can go to President Joe Biden to sign into law.
The 12 Republican senators who voted "yes" were Roy Blunt (Mo.), Richard Burr (N.C.), Shelley Moore Capito (W.Va.), Susan Collins (Maine), Joni Ernst (Iowa), Cynthia Lummis (Wyo.), Lisa Murkowski (Alaska), Rob Portman (Ohio), Mitt Romney (Utah), Dan Sullivan (Alaska), Thom Tillis (N.C.) and Todd Young (Ind.).
Before the final vote, Collins stood to "thank all of the Republicans who have supported this. I know that it's not been easy, but they've done the right thing."
Biden celebrated the passage shortly after the tally was announced.
"With today's bipartisan Senate passage of the Respect for Marriage Act, the United States is on the brink of reaffirming a fundamental truth: love is love, and Americans should have the right to marry the person they love," the president said in a statement. "For millions of Americans, this legislation will safeguard the rights and protections to which LGBTQI+ and interracial couples and their children are entitled."
The Respect for Marriage Act would not force states to issue marriage licenses to same-sex couples but would require that people be considered married in any state as long as the marriage was valid in the state where it was performed. The bill also would repeal the 1996 Defense of Marriage Act, which defined marriage as the union of one man and one woman and allowed states to decline to recognize same-sex marriages performed in other states. That law has remained on the books despite being declared unconstitutional by the Supreme Court's 2015 ruling in Obergefell v. Hodges, which guaranteed same-sex couples the fundamental right to marry.
Democrats have warned since June that federal protections for same-sex and interracial marriages, as well as other rights, could be at risk after the Supreme Court overturned Roe v. Wade, which for nearly 50 years had guaranteed the right to an abortion in the United States.
In his June concurrence with the decision to overturn Roe, Supreme Court Justice Clarence Thomas wrote that the high court should also examine previous rulings that legalized the right to buy and use contraception without government restriction (Griswold v. Connecticut), same-sex relationships (Lawrence v. Texas), and marriage equality (Obergefell v. Hodges).
"In future cases, we should reconsider all of this Court's substantive due process precedents, including Griswold, Lawrence, and Obergefell," Thomas wrote. "Because any substantive due process decision is 'demonstrably erroneous' . . . we have a duty to 'correct the error' established in those precedents."
Thomas's opinion set off alarm bells among proponents of marriage equality, who pointed out that if the Supreme Court were to overturn Obergefell, as it did Roe, then the right to same-sex marriage would similarly fall to the states. Currently 35 states have statutes or constitutional amendments banning same-sex marriage that would go into effect if Obergefell were overturned, according to the Movement Advancement Project, a nonprofit that advocates for LGBTQ equality.
In July, the House passed the Respect for Marriage Act, but the Senate delayed its vote on the bill until after the midterm elections. The decision to postpone the vote was negotiated on a bipartisan basis and was made to ensure that there were enough votes to pass the measure.
"The rights of all married couples will never truly be safe without the proper protections under federal law. And that's why the Respect for Marriage Act is necessary," Senate Majority Leader Chuck Schumer (D-N.Y.) said on the Senate floor Monday. "Passing this bill is our chance to send a message to Americans everywhere: No matter who you are, who you love, you deserve dignity and equal treatment under the law. That's about as American [an] ideal as it comes."
Sen. Tammy Baldwin (D-Wis.), the first openly gay person elected to the Senate, tweeted Monday that everyone knows someone who is in a same-sex or interracial marriage. "That's why I'm working across party lines to ensure their marriages are protected," she said.
Baldwin was part of a bipartisan group that had been trying to find 10 Republican votes necessary for the bill to pass in September and that ultimately negotiated a delay on the vote until after the midterms. The group – which included Sens. Collins, Portman, Tillis and Kyrsten Sinema (D-Ariz.) – also worked on an amendment to the bill to allay some Republicans' concerns about religious liberty.
Among other things, the amendment clarifies that the bill does not authorize the federal government to recognize polygamous marriages and confirms that nonprofit religious organizations would not be required to provide "any services, facilities, or goods for the solemnization or celebration of a marriage."
Several religious leaders and groups expressed support for the amended bill, including the Church of Jesus Christ of Latter-day Saints. In a joint statement this month, the bipartisan group of senators that worked on the amendment touted its protections for religious liberties as much as the protections for same-sex and interracial couples.
"We look forward to this legislation coming to the floor and are confident that this amendment has helped earn the broad, bipartisan support needed to pass our commonsense legislation into law," the senators stated.
On Monday, Schumer said it was "notable" that senators from both parties were having this debate.
"A decade ago, it would have strained all of our imaginations to envision both sides talking about protecting the rights of same-sex married couples," he said. "America does move forward, although sometimes in difficult ways, and sometimes it's two steps forward, one step back. But today is a big step forward."
Add TheJapanNews to your Google News feed.