Daniel Snyder considers 'potential transactions' for Washington Commanders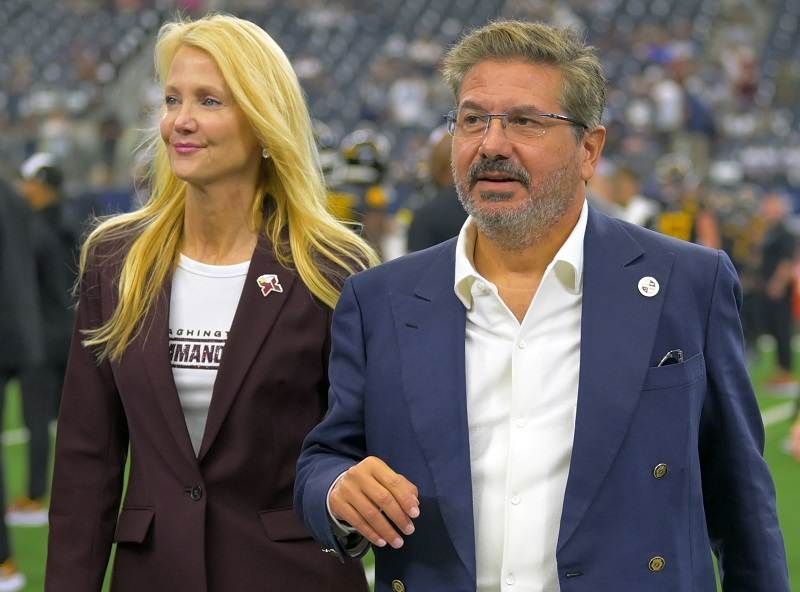 11:39 JST, November 3, 2022
Washington Commanders owner Daniel Snyder has hired an investment bank to "consider potential transactions" related to the franchise, the team announced Wednesday.
The Commanders did not specify whether Snyder and his wife Tanya Snyder, the team's co-chief executive officer, are considering the sale of the entire franchise or a minority share. The team said in a statement that the Snyders have hired a division of Bank of America.
"Dan and Tanya Snyder and the Washington Commanders announced today that they have hired BofA Securities to consider potential transactions," the Commanders said in their statement. "The Snyders remain committed to the team, all of its employees and its countless fans to putting the best product on the field and continuing the work to set the gold standard for workplaces in the NFL."
After buying out his minority partners in March 2021, Snyder and family members own the entire franchise. Daniel Snyder led a group of investors that purchased the team and its stadium in 1999 for $800 million from the Jack Kent Cooke estate. Forbes estimated in August that the Commanders are worth $5.6 billion. One person familiar with NFL franchise transactions said Daniel Snyder recently had been interested in attempting to sell minority stakes in the team but did not know whether that remains his intention. Two others familiar with the NFL's inner workings said it was unclear to them what Snyder intends to do.
"We are exploring all options," a Commanders spokesperson said.
The pool of buyers for a minority stake in any NFL team is small, given the rapidly escalating values of franchises. Based on a $5.6 billion valuation, a 40-percent stake in the Commanders would cost $2.24 billion. Minority stakes are typically discounted roughly 20 percent because they carry no power in the team's decision-making. Even at a 20-percent discount, $1.79 billion would be a steep price for buyers to pay for a minority stake in asset they can't control.
Moreover, any potential transaction would require approval of three quarters of the other team owners, league spokesman Brian McCarthy said in a statement Wednesday. And such a vote would take place at a time when Snyder faces intense scrutiny, under investigation by the NFL, the House Committee on Oversight and Reform and the attorneys general of D.C. and Virginia.
The NFL declined further comment on the prospective transaction.
Indianapolis Colts owner Jim Irsay has said in recent weeks that he and fellow NFL team owners should give serious consideration to voting to remove Snyder from ownership of the Commanders.
"I assume we're going to get into more and more discussion on that," Irsay said last month, speaking to reporters at an owners' meeting in New York. "It's a difficult situation. I believe that there's merit to remove him as owner of the [Commanders]. I think it's something that we have to review. We have to look at all the evidence, and we have to be thorough in going forward. But I think it's something that has to be given serious consideration to."
That day, a Commanders spokesperson issued the following statement: "It is highly inappropriate, but not surprising, that Mr. Irsay opted to make statements publicly based on falsehoods in the media. It is unfortunate that Mr. Irsay decided to go public with his statement today, while an investigation is in process, and the team has had no opportunity to formally respond to allegations. The Commanders have made remarkable progress over the past two years. We are confident that, when he has an opportunity to see the actual evidence in this case, Mr. Irsay will conclude that there is no reason for the Snyders to consider selling the franchise. And they won't."
Irsay expanded on his comments in a phone interview Friday: "I'm not sure how that report's going to come out. But what already has come out is extremely disturbing, and I disagree with the process. And I most likely disagree that we haven't discussed something more severe such as him being removed as owner. As I said, it's not something that I'm saying we should do. I'm saying it's something that has to be given serious consideration."
It would require a vote of at least three-quarters of the owners to remove Snyder from ownership. Multiple owners told The Post in September they believe serious consideration may be given to attempting to oust Snyder from the league's ownership ranks, either by convincing him to sell his franchise or by voting to remove him.
"He needs to sell," one of those owners said then. "Some of us need to go to him and tell him that he needs to sell."
It was not immediately clear Wednesday whether any owners had urged Snyder to sell.
"I think there will be a movement," the same owner said in September. "We need to get 24 votes."
The NFL's current investigation is being conducted by attorney Mary Jo White.
"Mary Jo White is continuing her review," McCarthy said Wednesday. "We have no update on a timeline."
The league launched White's investigation after Tiffani Johnston, a former cheerleader and marketing manager for the team, said at a congressional roundtable in February that Snyder harassed her at a team dinner, putting his hand on her thigh and pressing her toward his limo. Snyder denied the accusations, calling them "outright lies."
In June, The Post reported details of an employee's claim that Snyder sexually assaulted her during a flight on his private plane in April 2009. Later that year, the team agreed to pay the employee, whom it fired, $1.6 million in a confidential settlement. In a 2020 court filing, Snyder called the woman's claims "meritless."
In April, the House committee detailed allegations of financial improprieties by Snyder and the team in a letter to the Federal Trade Commission. Karl A. Racine, the District's Democratic attorney general, and Virginia's Republican attorney general, Jason S. Miyares, announced they would investigate. The team has denied committing any financial improprieties.
Racine's office has nearly completed its investigation and is planning to take further action in the case, a person familiar with that investigation said last month.
"Today's news that Dan and Tanya Snyder are exploring selling the Washington Commanders is a good development for the team, its former and current employees, and its many fans," attorneys Lisa Banks and Debra Katz, who represent more than 40 former team employees, said in a statement Wednesday. "We will have to see how this unfolds, but this could obviously be a big step towards healing and closure for the many brave women and men who came forward."
The NFL has not said when White's investigation will be completed. The league has said that White's report, unlike the findings of a previous investigation of the team's workplace conducted by attorney Beth Wilkinson, will be released publicly.
The House committee is expected to release its findings in the coming weeks. Daniel Snyder participated remotely in a sworn deposition with the committee for more than 10 hours in July. Former team president Bruce Allen gave a deposition remotely for about 10 hours under subpoena in September.
In March, Snyder bought out his three limited partners – Dwight Schar, Fred Smith and Robert Rothman, who collectively owned about 40 percent of the franchise – for $875 million. That transaction required his 31 fellow owners to grant him a waiver to take on an additional $450 million in debt, a debt he must repay by 2028.
The Post reported in November 2020 that Snyder's limited partners had received a $900 million offer from Behdad Eghbali and José Feliciano, the billionaire co-founders of Clearlake Capital, and Feliciano's wife, Kwanza Jones. The sale was blocked, people familiar with the situation said at the time, because Snyder was attempting to exercise his right of first refusal by matching the offers made to Smith and Rothman but not the offer made to Schar. That resulted in a dispute over whether Snyder was entitled to exercise such rights in a selective manner.
Eghbali and Feliciano reportedly were among the bidders for the Denver Broncos, who were sold by the Pat Bowlen Trust in June to a group led by Walmart heir Rob Walton for $4.65 million. That's the most ever paid for an NFL franchise. The owners ratified Walton's purchase in August.
The team's announcement Wednesday also comes with negotiations for public financing for a potential new stadium for the Commanders stalled. The state legislator who led efforts to lure the Commanders to Virginia said in June those attempts had been halted. State Senate Majority Leader Richard L. Saslaw (D-Fairfax) said then: "There were just so many things out there that a lot of people are saying, 'Saslaw, this thing needs to wait.' "
Before Wednesday, the Commanders had said that Snyder would not sell the team. A team spokesperson said following Irsay's original public comments: "We are confident that, when he has an opportunity to see the actual evidence in this case, Mr. Irsay will conclude that there is no reason for the Snyders to consider selling the franchise. And they won't."
In July 2021, the NFL announced the team had been fined $10 million, based on Wilkinson's investigation, and that Tanya Snyder would oversee the franchise's daily operations for an unspecified period.
Add TheJapanNews to your Google News feed.