Deadly Crimea blasts are 'just the beginning,' Ukraine warns Russia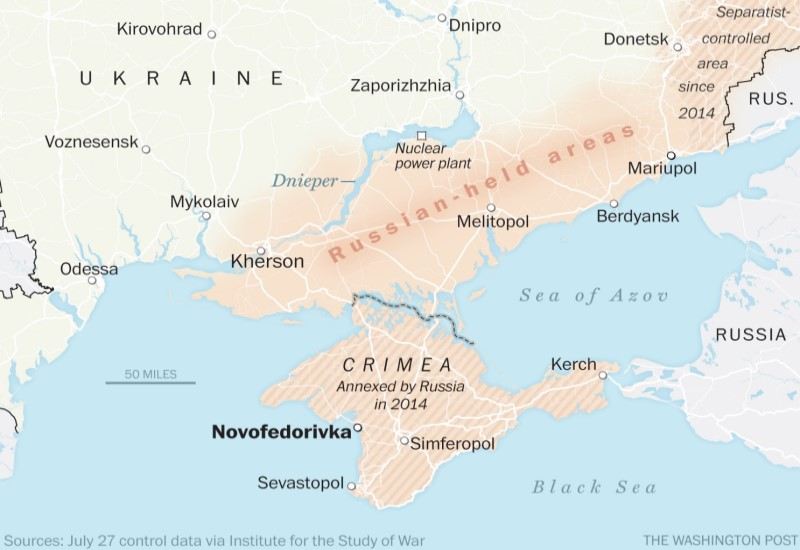 15:16 JST, August 10, 2022
After explosions rocked a Russian air base Tuesday in occupied Crimea, Ukrainian government officials warned the blasts were "just the beginning" and vowed to liberate the territory, which Moscow annexed in 2014.
It was not immediately clear who was responsible for the blasts on the west coast of the peninsula, in an area of beach resorts. An aide to Ukrainian President Volodymyr Zelensky distanced Kyiv from the attack. A U.S. official, speaking on the condition of anonymity because of the sensitivity of the issue, said it appeared Ukrainian forces had carried out a strike using a weapon not provided by the United States. U.S. officials referred additional questions about the operation to Ukraine.
The attack, if conducted by Ukraine, would amount to a dramatic escalation in the nearly six-month-old war. It would demonstrate a remarkable ability by Ukrainian forces, or their allies, to strike at Russia far from front lines, deep inside territory where Russian tourists are so comfortable with their security that they lounge near the base on sandy Black Sea beaches.
In numerous posts on social media, thick plumes of gray smoke could be seen rising over the base. Witnesses said they heard at least 12 explosions, Reuters reported, around 3:20 p.m. near Novofedorivka, Crimea. Moscow used the Black Sea territory, which borders Ukraine's Kherson region, to launch forces into Ukraine in February.
Ukraine did not claim responsibility for the attack, although some remarks by top officials appeared to skirt that line.
"Today, there is a lot of attention on the topic of Crimea. And rightly so," Zelensky said in his nightly address. "Crimea is Ukrainian, and we will never give it up."
In a statements posted on social media, seemingly meant to needle Moscow, Ukraine's Defense Ministry said it "cannot establish the cause of the fire" but reminded the Russian side of the dangers of "smoking in unspecified places."
In another post, the Ukrainians seemed to troll the Russians further: "The Ministry of Defense of Ukraine would like to remind everyone that the presence of occupying troops on the territory of Ukrainian Crimea is not compatible with the high tourist season."
The Crimean Peninsula should be "the pearl of the Black Sea, a national park with unique nature," not "a military base for terrorists," Mykhailo Podolyak, a Ukrainian presidential adviser, wrote on Twitter. "It is just the beginning," he wrote, appearing to reference Tuesday's blasts.
In an interview with Dozhd, an independent Russian online broadcaster, Podolyak did not claim responsibility, saying anti-Russia partisans might have carried out the attack.
Ukrainian Prime Minister Iryna Vereshchuk wrote: "Today's explosions in Novofedorivka are another reminder of who Crimea belongs to. Because it is Ukraine."
In a statement, Russia's Defense Ministry said munitions had been detonated at a storage site at the Saky airfield – and that the explosions were not the result of weapons that had been aimed at the depot.
Russian-backed Crimean leader Sergei Aksyonov soon warned that it was "too early to talk about the victims." But within an hour of the explosions, Aksyonov said that one person had died.
Russian state media outlets reported that several people had been injured – including four cut by glass fragments and a fifth hospitalized for a chest wound. A child was among those injured, Russian state news agency RIA Novosti reported.
In a post on Telegram, Aksyonov said that the situation was "localized and under control" and that there was no general evacuation in the region.
About 30 people were evacuated from houses in Novofedorivka, to nearby boardinghouses and hotels, RIA reported.
A "high ('yellow') level of terrorist threat" alert would be in place between Tuesday and Aug. 24 in some areas, including some urban districts and government facilities, Aksyonov wrote.
Add TheJapanNews to your Google News feed.