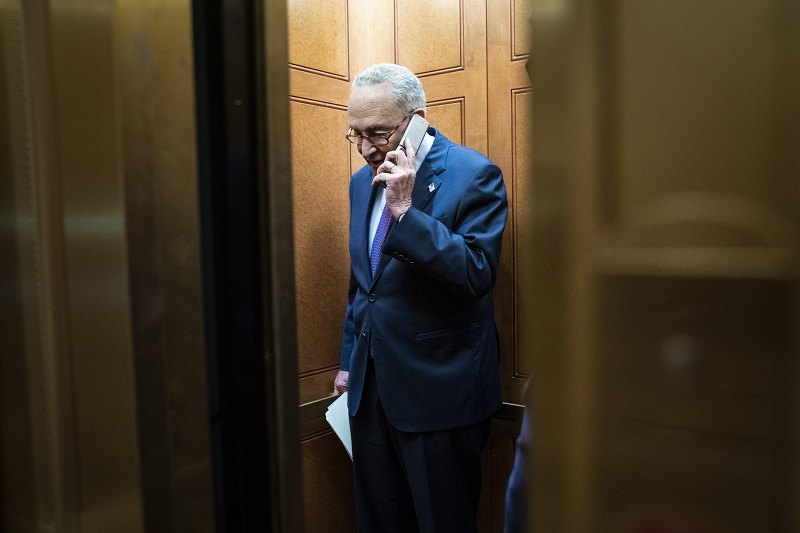 12:05 JST, August 7, 2022
WASHINGTON – Senate Democrats voted Saturday to begin debate on a sprawling bill that aims to lower health-care costs, combat climate change and reduce the federal budget deficit, a critical step in a grueling journey to deliver on President Joe Biden's long-stalled economic agenda.
The vote, which drew unanimous Republican opposition, came seven months after internal bickering scuttled Democratic efforts to reduce greenhouse gas emissions and lower prescription drug costs – key parts of a larger package party leaders regard as essential for retaining control of the House and Senate in this fall's midterm elections.
"Many have talked about the need to act on climate change, the need to hold drug companies accountable, the need to make the tax code fairer," Senate Majority Leader Chuck Schumer, D-N.Y., said Saturday on the Senate floor. "But where previous efforts have fallen short, this Senate majority is on the verge of succeeding."
Schumer called for the vote hours after Democrats received procedural green lights from the Senate parliamentarian, who for weeks has been reviewing critical sections of the bill – a customary process under special rules that allow Democrats to avoid a Republican filibuster on budget matters. GOP lawmakers tried to strip multiple provisions from the legislation, known as the Inflation Reduction Act, but the package emerged from the parliamentary review largely unscathed.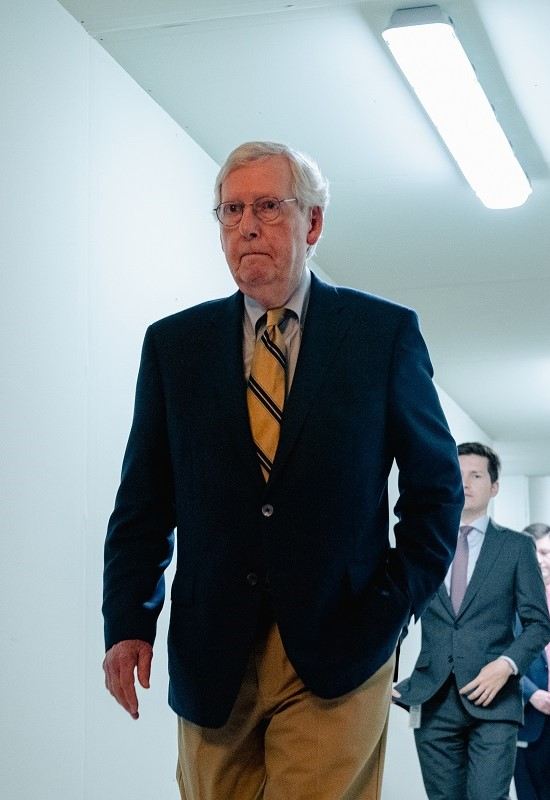 By Saturday afternoon, Democrats had a new, 755-page version of the bill in hand, and Republicans were preparing to launch a fresh barrage of attacks in a marathon debate expected to extend at least through the night. Previewing the fight, Senate Minority Leader Mitch McConnell, R-Ky., blasted Democrats in a speech on the Senate floor for pursuing "another reckless taxing and spending spree."
"Democrats have already robbed American families once through inflation," McConnell said. "And now their solution is to rob American families a second time."
Considering the stakes, the mood in the Capitol at times was surprisingly subdued. With Senate Republicans powerless to stop a united Democratic caucus, many failed to show up for the first vote of the day, on an unrelated matter. Democrats expressed confidence that they could repel any last-minute efforts to amend the bill – including by some of their own.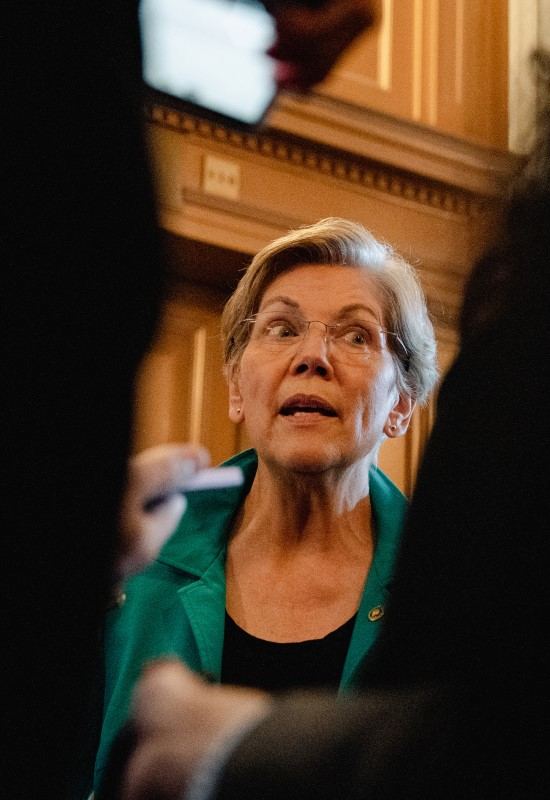 "We have an agreement. We've got to make it to the finish line. The only way to do this is with Democratic votes," said Sen. Elizabeth Warren, D-Mass. "We can't afford to lose anyone, and that means we are in this boat together."
The Inflation Reduction Act includes more than $430 billion in new spending, nearly all of it focused on the largest-ever U.S. investments to boost green energy and reduce planet-harming greenhouse gas emissions. Democrats also aim to protect millions of Americans from rising health insurance premiums by extending subsidies that would otherwise expire next year.
To pay for it, Democrats have proposed a program that could lower prescription drug prices for seniors. It would allow Medicare to negotiate what it pays for a small set of medicines, allowing both patients and the government to save money. That initiative – combined with new tax provisions targeting some billion-dollar corporations, their stock buybacks and a wide array of persistent tax cheats – is expected to raise more than enough to cover the cost of the bill.
The package initially was expected to reduce projected budget deficits by $300 billion over the next decade. But Democrats had yet to release a new fiscal analysis reflecting several last-minute changes.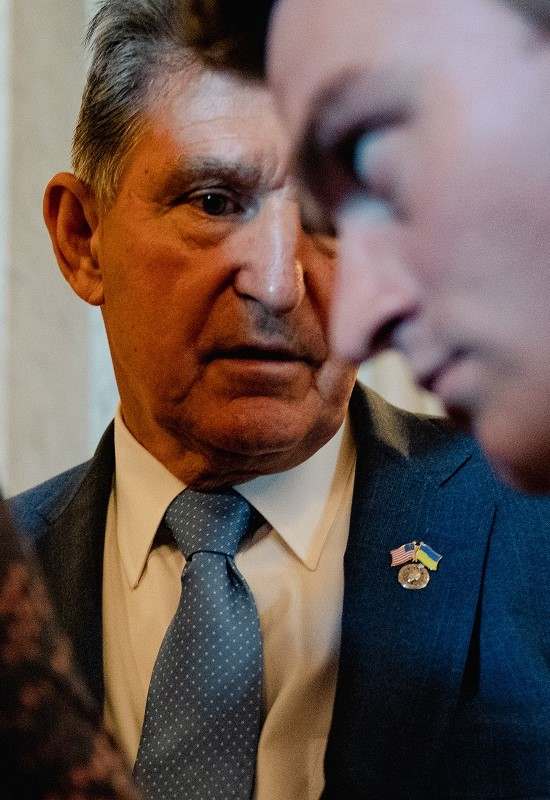 To advance the measure, Schumer brokered a series of deals in recent days with centrist holdouts Sens. Joe Manchin, D-W.Va., and Kyrsten Sinema, D-Ariz. The agreements won their elusive, must-have support, but once again forced Democrats to scale back their ambitions to remake broad swaths of the economy and the U.S. tax code.
Democrats cannot afford to lose Manchin or Sinema – or any other Democrat, even to absences – if they hope to approve the legislation over GOP objections. That's an added challenge at a time when the coronavirus remains prevalent in the Capitol, threatening to upend the political balance in the narrowly divided Senate.
Under a process known as budget reconciliation, Democrats can steer the bill to final passage using their 50 votes, aided by Vice President Kamala Harris, who cast the tiebreaking vote in Saturday's 51-50 tally. While it allows Democrats to sidestep a Republican filibuster, the legislative process opens the door to political risks and potential delays. For example, Republicans can challenge key provisions by asking the Senate parliamentarian to rule that they do not implicate the budget, as reconciliation requires.
Hours before the vote Saturday, Democrats suffered one adverse ruling against their plan for drug pricing, which would require pharmaceutical companies to pay the federal government if they raise drug prices beyond the rate of inflation.
Democrats had hoped to apply the provision to prescriptions written under both Medicare and private insurance. But the parliamentarian ruled against its application to private insurance, according to a person familiar with the matter who spoke on the condition of anonymity to describe the deliberations. It was not immediately clear how the change would affect revenue.
Other Democratic health care proposals appeared in jeopardy, including an attempt to cap insulin costs at $35 for patients on both Medicare and private insurance. Though the parliamentarian ruled against a cap on private prescriptions, Democrats have signaled they would keep it in the bill – essentially daring Republicans to move publicly to strip it out.
"The parliamentarian cannot kill this. Because while she will make a ruling, at the end of the day, it's really the Senate that gets to decide whether to move this forward," Sen. Raphael Warnock, D-Ga., a chief proponent of the proposal, said in a recent interview. "The only way it doesn't pass is if folks on the other side of the aisle decide to block it."
The overall package differs dramatically from the more expansive, roughly $2 trillion Build Back Better Act that Biden sought, and the House adopted, at the end of last year. That measure included more ambitious plans to offer free prekindergarten nationwide, provide paid family and medical leave, expand Medicare benefits and expand a slew of federal safety-net benefits. But the bill never won Manchin's support, ultimately forcing Democrats back to the drawing board.
Subsequent negotiations – led by Schumer – proved perilous at times, at one point raising the prospect that Democrats might have to forgo plans to respond to climate change if they wanted to get Manchin's vote. But Schumer and Manchin stunned Washington in late July when they brokered a deal that kept some of the party's top priorities intact, setting in motion a sprint to push it through Congress before lawmakers depart for summer recess. Days later, Schumer brokered a separate arrangement with Sinema, dialing back some of his party's proposed tax policies to win her vote.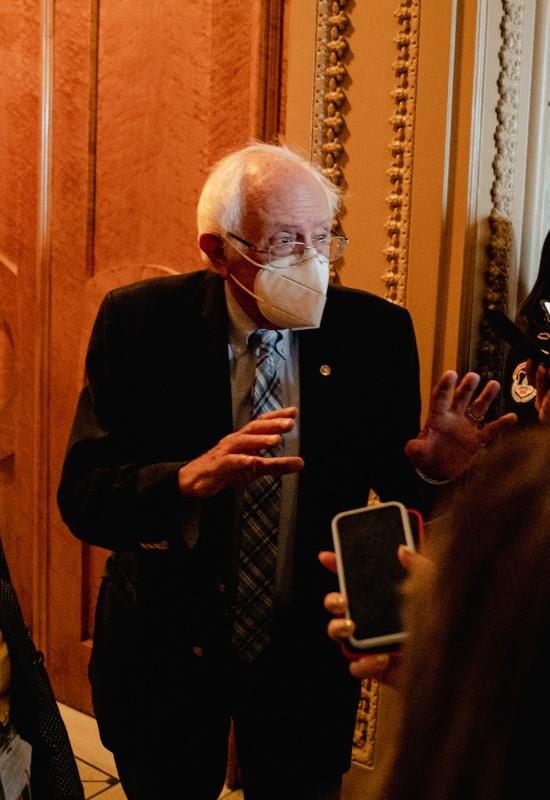 Those compromises left some lawmakers seething. Sen. Bernie Sanders, I-Vt., the architect of the larger bill, said Saturday he is concerned that the new agreement "does not address the major crises facing working families." Sanders vowed to offer amendments to expand the bill, including by adding new Medicare benefits for seniors.
But even some Democrats who support Sanders said they were reluctant to blow up the carefully crafted package. For example, Sen. Edward Markey, D-Mass., said he would vote "to protect" the existing compromise – "which means voting no on amendments, even ones I support."
Republicans have promised to offer politically noxious amendments to force Democrats to take votes that could be used against them on the campaign trail, including proposals focused on "energy, inflation, border and crime," said Sen. John Barrasso, R-Wyo., head of the Senate Republican Conference.
Democrats said they were ready for the political assault.
"We all know it's a process. You try to put in as many 'gotcha' amendments as possible," said Sen. Mark Warner, D-Va. "But," he added, "I have more confidence about getting through the vote" with the package intact.
Add TheJapanNews to your Google News feed.