Fed hikes rates by three-quarters of a percentage point to fight inflation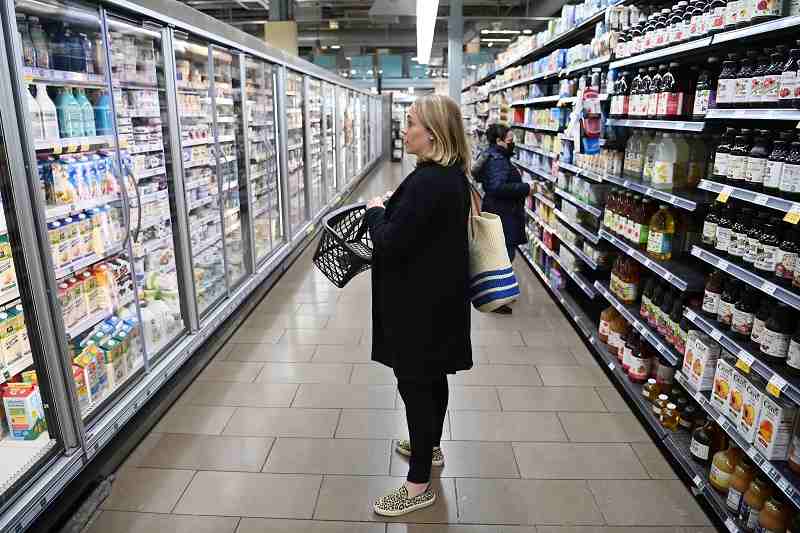 17:17 JST, July 28, 2022
WASHINGTON – Taking aim at stubborn inflation, the Federal Reserve on Wednesday raised interest rates for a fourth time this year to further slow down the economy, arguing that some short-term pain could be the only way to avoid longer-lasting scars.
The Fed hiked interest rates by three-quarters of a percentage point, following a similarly aggressive rate hike in June, even as Chair Jerome Powell acknowledged that the Federal Reserve sees previous hikes as already weighing on housing, business investment and consumer demand.
Speaking at a news conference, Powell said he believes the economy is not in a recession. But the paths to avoiding one are narrower than just a few months ago, he added. With inflation remaining at 40-year highs and June prices coming in especially hot, Powell emphasized that controlling inflation is the Fed's chief priority, even if it brings a slowdown in the job market for now.
"Restoring price stability is just something we have to do," Powell said. "There isn't an option to fail to do that, because that is the thing that enables you to have a strong labor market over time."
He added: "If you fail to deal with it in the near term, it only raises the cost of dealing with it later."
Inflation has plagued policymakers for months, becoming the economy's biggest problem and weighing on families nationwide, but especially the most vulnerable lower-income families. Higher prices for milk, gas and clothing have soured people's sense of how the economy is working for them, dampening consumer sentiment and influencing families to change their own spending behavior, which can worsen inflation.
The glum economic mood has also become a major political problem for the Biden administration going into the midterm elections. Republicans continue to blame Democrats' stimulus efforts from earlier in the pandemic for supercharging the economy and have resisted more federal spending.
The Biden administration has supported the Federal Reserve, emphasizing that the Fed is best equipped to tackle inflation. However, two high-profile Democrats this week blasted the central bank, arguing that rate hikes do little to address the root causes of inflation, while endangering jobs.
"With wage growth declining in recent months, our country's lowest-paid, most vulnerable workers have endured too much already to be sacrificed in pursuit of severe rate hikes that have far too often triggered recessions," said Rep. Pramila Jayapal, D-Wash., the leader of the Congressional Progressive Caucus.
Powell's tone in the news conference – standing behind tough choices to curb inflation – contrasted this time last year, when inflation was steadily creeping up but policymakers at the Fed and White House argued it would be short-lived and not fundamentally threaten the economy.
Now, the Fed is faced with inflation that climbed to 9.1% in June, compared with the year before. And policymakers are trying to keep momentum flowing through the robust job market and keep American workers employed, especially while they are paying more for housing, electricity and meals.
The grim reality, though, is that the tight labor market will have to loosen up for the Fed to make any progress on inflation, which means job freezes and even cuts.
Powell's argument is that the trade-off needs to come sooner rather than later, said Joe Brusuelas, chief economist at RSM.
"The big takeaway is that the Fed is now deep into its price stability campaign," Brusuelas said. "If the Fed does not nip this in the bud, it's setting itself up for institutional failure."
The financial markets rallied on Powell's hints that the Fed could slow the pace of its rate hikes in the coming months. Powell left the door open for another rate hike of three-quarters of a percentage point at the next policy meeting in September. But he also said all decisions will depend on the latest data.
The Dow Jones industrial average jumped nearly 1.4%, the S&P 500 gained 2.62%, and the Nasdaq composite index climbed 4.06%.
The Fed's interest rate decision comes as economists and policymakers already fear the economy is headed toward a recession. Second-quarter GDP figures will be released Thursday morning, and there's a chance that the economy will have actually shrunk, similar to the first quarter. Six consecutive months of negative growth usually signals a recession.
Some sort of economic slowdown is expected, compared with last year's gangbuster growth. Powell repeatedly warned that there would be a "softening in labor market conditions," although he did not go so far as to explicitly mention "layoffs" or "job losses" that often accompany a prolonged spate of rate hikes.
He instead focused on the need to slow inflation for the sake of the job market in the long term. Lower inflation would also mean wages aren't being eaten up by high inflation.
"We think that there's a path for us to be able to bring inflation down while sustaining a strong labor market," Powell said. "That's what we're trying to achieve. We continue to think that there's a path to that. . . . We know the path has clearly narrowed. . . . It may narrow further."
Yet one of the main reasons the labor market is unsustainably hot is because there are more job openings than people looking for work. Rate hikes can't will people to rejoin the labor market, but they can cool employer demand for new hires or prompt the unemployment rate to tick up.
In some sectors, job cuts already are happening. Some companies that hired rapidly during the pandemic have realized that their business models are not a fit for the post-pandemic economy, or that they simply have not been able to handle the cost of inflation. Peloton has laid off thousands of workers. Microsoft is making cuts. Netflix, Tesla and Coinbase have all announced job cuts or hiring freezes. Multiple mortgage lenders across the country, including Wells Fargo and Better.com, have laid off thousands of people as demand for home loans and refinancing drops off.
The Fed's work is slowing down other parts of the economy, too. New data shows that mortgage demand softened for the fourth consecutive week in the latest sign yet that the once-sizzling housing market is slowing down. Home sales are also falling in a few markets.
This week, both Microsoft and Google parent Alphabet reported slower growth in earnings reports. General Motors, one of the nation's largest automakers, reported far lower profits, with CEO Mary Barra warning that the company is working to reduce spending and limit hiring.
Indeed, concerns that interest rate hikes are slowing the economy too much fueled new criticism from some members of President Joe Biden's own party, particularly left-leaning lawmakers, who said it could cause Americans immense financial harm.
Jayapal said she has "serious concerns" that the Fed's interest rate hikes have jeopardized the president's pledge to "grow the economy from the bottom up and the middle out," she said in a statement.
Her comments come days after Sen. Elizabeth Warren, D-Mass., took to the pages of the Wall Street Journal to argue that the Fed – and Powell, in particular – "is on the verge of sacrificing all this progress" that Democrats had made to revive the economy in the wake of the pandemic.
On Capitol Hill, Democrats have explored a wide array of policy proposals they say can respond to inflation. They reached a major step on Wednesday, when Sen. Joe Manchin, D-W.Va., secured a deal with Senate Majority Leader Chuck Schumer, D-N.Y., on legislation that aims to lower health-care costs, combat climate change and reduce the federal deficit. The deal is a significant potential breakthrough for Biden's economic agenda, which has been stalled by concerns over high inflation and resistance to more federal spending among Republicans and some moderate Democrats.
Add TheJapanNews to your Google News feed.