Florida judge blocks new law that would ban abortions after 15 weeks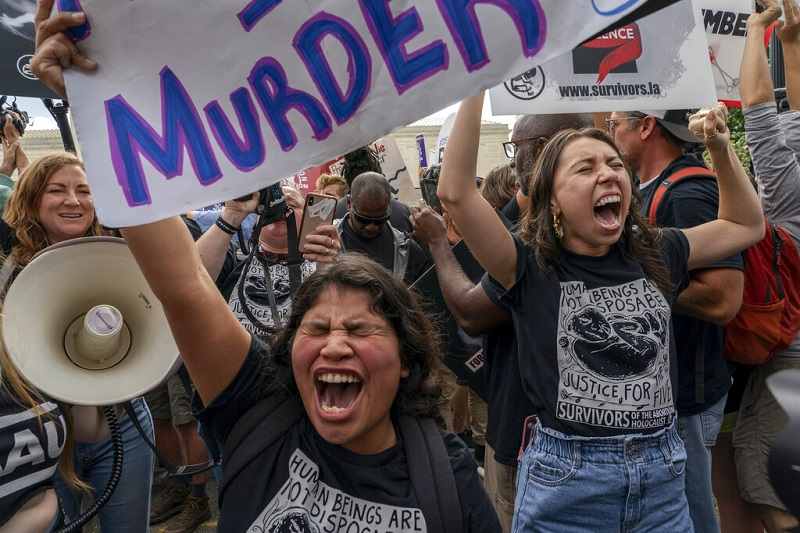 13:16 JST, July 1, 2022
A Florida judge on Thursday announced that he will block a new law to ban abortions in the state after 15 weeks of pregnancy, saying the measure violates the privacy provision of the state's constitution.
Leon County Circuit Judge John Cooper said he will grant a temporary injunction against the law, which was championed by Gov. Ron DeSantis. Cooper added that it will take effect as soon as a written order is signed.
It was unclear how soon that might happen – or for how long the order will stay in place. The restriction is due to take effect Friday. The state is planning to appeal to the Florida Supreme Court, where DeSantis has appointed three of the seven justices.
The decision comes nearly a week after the U.S. Supreme Court overturned Roe v. Wade, reversing nearly 50 years of abortion rights in America and leaving it up to states to decide what they will and won't allow when it comes to terminating pregnancies. Florida is expected to emerge as an epicenter in the state-by-state fight over the issue.
DeSantis called the pending order "not something we were happy to see." The governor, who is widely mentioned as a possible Republican presidential candidate in 2024, is under pressure from antiabortion advocates, who want him to push for additional restrictions or an outright ban on the procedure.
"We knew that we were going to have to move forward and continue the legal battle," he said at an event Thursday. "It was not unanticipated."
While 20 years of Republican-led legislatures have chipped away at abortion rights in Florida, overall access to the procedure has been upheld in court cases and on the ballot as part of the state's constitutional right to privacy. Current law in Florida permits abortions up to 24 weeks of pregnancy, and afterward in cases of health endangerment and rape or incest.
DeSantis signed the law in April. It was passed after hours of often emotional debate on the House and Senate floors, which were accompanied by rallies and protests outside the state's Capitol. Republicans said Florida was "behind the curve" on the issue, with one legislator saying the state had become "an abortion destination." They called the new law "reasonable" and "generous."
Witnesses at this week's nonjury trial in Tallahassee included two women called by the state who are associated with the Charlotte Lozier Institute, an antiabortion research group.
The judge questioned the credibility of the state's witnesses, noting that they showed "an unwillingness to rely on essentially any U.S. data."
At one point during the trial, Cooper reiterated that he was "not here to litigate abortion. I'm here to litigate the right to privacy in Florida."
Despite the legal victory for abortion advocates, plaintiffs said the lack of clarity on when the order will go into effect – and whether the state would be granted a stay on appeal – could nonetheless have a chilling effect on abortions after 15 weeks of pregnancy.
"I know tomorrow we're not going to provide abortions post-15 weeks," said Stephanie Fraim, chief executive and president of Planned Parenthood of Southwest and Central Florida, a plaintiff in the case. "We're not going to step into a moment of confusion. We don't want a patient there and have her have to leave."
The American Civil Liberties Union said in a statement that the 15-week law is "likely to go into effect for a short time" while the court prepares the written order. It added that plaintiffs will seek to vacate any stay granted to the state on appeal.
Even if the 15-week law is reinstated, Whitney White, a staff attorney with the ACLU's Reproductive Freedom Project, which was involved in the case, said the judge's finding that the new law is unconstitutional is significant.
"It is important to recall that the court today made very clear findings that this law is likely unconstitutional, that it violates fundamental rights of Floridians, and that allowing it to take effect will cause irreparable harm," White said.
Fraim said Cooper's order is important not only for Floridians but also for people in other Southern states – several of which have "trigger" laws or other measures on the books that are expected to make abortions more difficult to get. She added that Planned Parenthood offices in Florida have seen a steady uptick in calls and appointments from people in other states for abortion services and birth control.
"I think people in Florida should be thrilled that we have a state constitution that protects the right to privacy," Fraim said. "Right now we're providing abortion care up to 15 weeks, which is pretty amazing in the South."
Add TheJapanNews to your Google News feed.