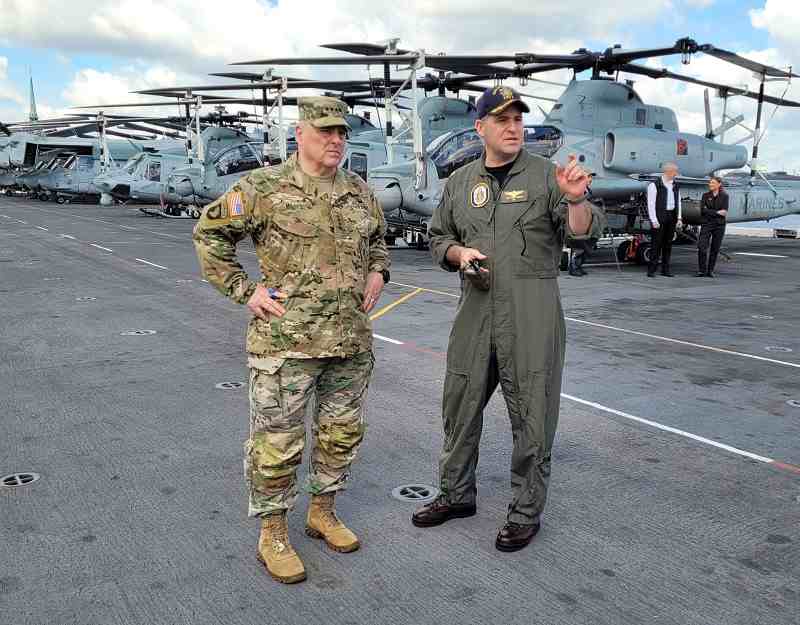 12:57 JST, June 5, 2022
STOCKHOLM — The United States prepared Saturday to launch a sprawling naval exercise in the Baltic Sea with Sweden, Finland and 13 NATO allies, a visible sign of an expanding partnership as Stockholm and Helsinki apply to join the military alliance following Russia's invasion of Ukraine.
The Baltic Operations exercise involves more than 40 warships and has been held annually for decades, but will shift this year to include more involvement from Finland and Sweden, said Army Gen. Mark Milley, chairman of the Joint Chiefs of Staff. He visited Stockholm on Saturday in a show of support for Sweden's membership bid, one day after a similar stop in Finland.
The two countries have long partnered with the U.S. military but resisted applying to join NATO until last month out of concerns that it would anger Moscow. Following Russia's invasion of Ukraine, however, that changed with significant shifts in public opinion in favor of joining the military alliance in both countries.
The new dynamic was evident as the 843-foot amphibious warship USS Kearsarge sat in a narrow waterway running through Stockholm while packed with attack helicopters and other aircraft and more than 2,000 U.S. Marines and sailors.
The United States has never moved such a large warship into this capital city of nearly 1 million people, Milley said. Doing so created a spectacle for tourists snapping pictures and challenges for U.S. troops and Swedish personnel who squeezed the ship into the city.
"That was a big evolution for us to pull in," said Tera Geoffrey, a lieutenant junior grade assigned to the ship. "Our depth beneath the keel sometimes was less than 10 feet."
Milley told reporters aboard the Kearsarge that President Joe Biden and Defense Secretary Lloyd Austin have asked the Pentagon to develop new options to "modestly increase" American military involvement in Sweden where it is appropriate. Meanwhile, other long-scheduled operations like the naval exercise will continue.
"We're looking at things we can do on the ground with either the Marines or Army, things we can do with Special Forces, things we can do with the air or maritime forces," Milley said.
While the NATO alliance is designed to be defensive, Sweden and Finland joining would further enclose the Baltic Sea with NATO countries, something that would be "very problematic" for Russia militarily and "very advantageous" to NATO, Milley said. The Swedish military is not large, Milley said, but it has an excellent navy, modern equipment and well-trained ground forces.
The membership applications come as a NATO ally, Turkey, threatens to block Finland and Sweden from joining the alliance, citing the presence in their countries of militants from the PKK, a Kurdish separatist group that the U.S. and Turkish governments have labeled terrorist organizations.
Swedish Prime Minister Magdalena Andersson, appearing alongside Milley, said that the Finnish and Swedish governments will continue to discuss Turkey's concerns but that Sweden has taken a "very clear stance against terrorists."
"There's no question about Sweden's position in that respect," she said.
As Russia threatened and ultimately launched its invasion, the Pentagon expanded its number of forces in Europe from about 80,000 to more than 100,000 — including Marines and sailors at sea. Maj. Gen. Frank Donovan, who oversees personnel from the 22nd Marine Expeditionary Unit, of Camp Lejeune, N.C., said that the unit has in the past few months visited Iceland, Norway, Estonia, Greece and Turkey.
"We're able to tailor the force for what the task is, and we're very maneuverable," Donovan said.
The Marines have deployed with newly adapted radar initially designed to help fishermen find a potential catch, Donovan said. It has been adapted to be placed on islands or shorelines to track the movement of vessels up to 60 miles away, with data tracked on a tablet device, he said.
Add TheJapanNews to your Google News feed.