Formula One's Miami Grand Prix – 57 laps of cosmo and glam – was oh so Miami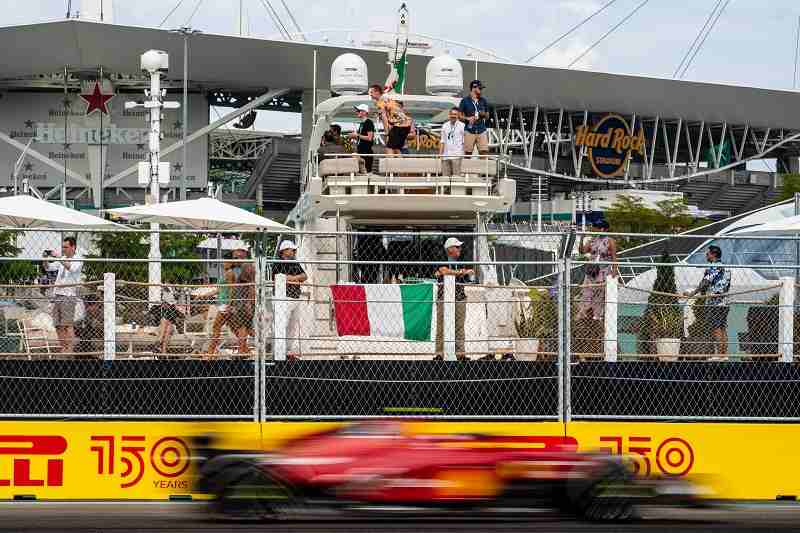 15:16 JST, May 9, 2022
MIAMI GARDENS, Fla. – The city with the meanest drivers in the nation welcomed the circuit with the keenest drivers in the world Sunday, and the whole thing felt very Miami, what with Miami an adjective just as much as a noun.
Formula One, cosmo and glam right down to the little Lavazza espresso cups in some of the team lounges, had come to Miami, which pretty much likes to absorb cosmo and glam into its blood stream. Celebrities found it a big deal – Michael Jordan, Tom Brady et al – and happening upon Venus and Serena Williams felt so Miami.
Dan Marino gave out the trophies, on a podium just above the Dan Marino statue, and he gave winner Max Verstappen a Dolphins helmet with a Dan Marino signature.
That also was so Miami.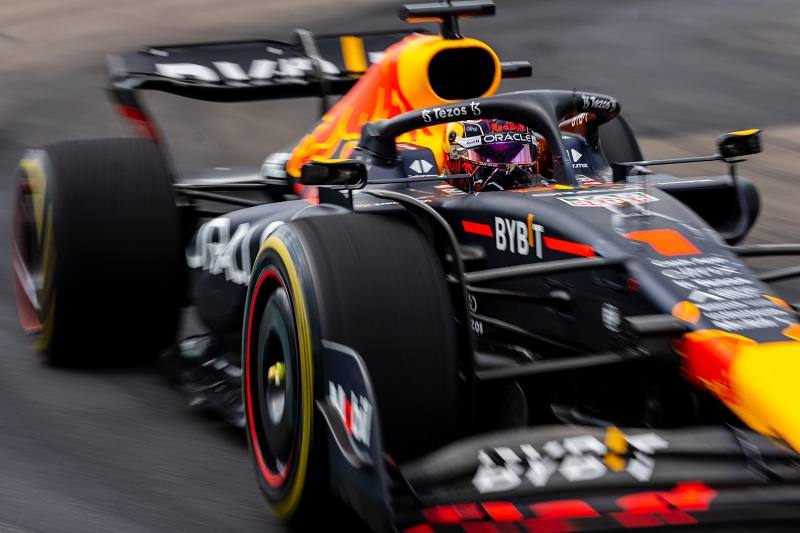 Miami International Autodrome sprung up across six months about half an hour inland along Don Shula Drive and beneath Hard Rock Stadium, and Miami became the 11th American sort to hold a Formula One event. That's in the first year since 1984 in which the United States will hold plural Formula One bashes – Austin, also – and in the fourth year since the Netflix series "Drive to Survive" hooked many of the previously unhooked. The area around a football stadium of the Dolphins and Hurricanes and college playoff games suddenly filled with that futuristic sound of the cars that always sounds futuristic no matter how futuristic we get.
For eccentricity, there were the real yachts in the famed fake marina, which caused no flooding because it was fake. Like many a thing in Miami, it figures to go from lampooned to revered across time. For legitimacy, the winners of the first four races – Verstappen and Charles Leclerc – finished top two in the fifth.
"I think it was an incredible atmosphere," said Verstappen of the Netherlands, the defending world champion who scored his third win among the five races to bolster his second-place standing overall. "It was really incredibly well organized. . . . I think track-wise, we can improve a few areas."
"Organization was great, loads of people, good weather," said Leclerc, the Monacan who finished second but stands first overall in the standings. He liked seeing some evidence of increased interest in the sport.
"The paddock was particularly full," said Carlos Sainz of Spain, who finished third.
"Actually," Verstappen said, "the helmet we had in the race, we needed in the paddock."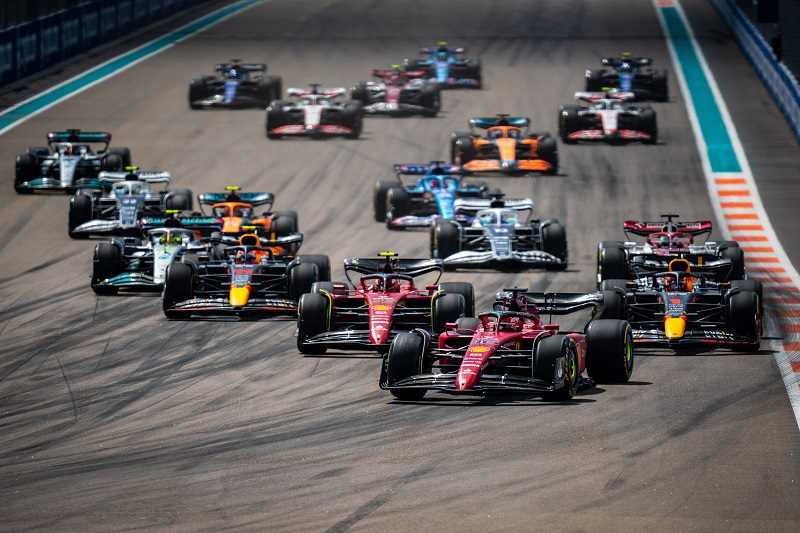 For 57 laps around 19 turns right by the Florida Turnpike, drivers tried rudely to refrain from letting others pass, and while that's part of the game, seldom has it mirrored so aptly a host city. Among the very Miami aspects, the temperature was 87 degrees with 63% humidity that felt closer to 110%, the two of them – heat, humidity – playing some games with the tires. The asphalt cooked. It happened under the big summer clouds of springtime, with rain always a possibility and always a chance at relief.
Absurdly pretty people milled around as happens in all things very Miami. Some observers accused the fans of being laconic at times, but that, too, would be Miami. You probably haven't lived until you have seen international reporters lined up for a gift of a little souvenir Dolphins helmet. Mostly, the full grandstand looked as if it had been there for decades rather than just since roughly yesterday. Some 85,000 attended, and afterward many bunched on the track near the fence to watch the podium, in thick droves of Ferrari gear, Red Bull gear, a McLaren foam finger.
In the front, two people indispensable to this event tried to pull themselves up on the fence to get better glimpses. They are Miamians Alan and Caroline Guevara, and they just got married Nov. 6, after which they woke the next day and watched the Mexico Grand Prix. They watch every race regardless of hour. They have been to the Austin race. And they held up a banner that told of "Hammer Time," honoring Lewis Hamilton, who for some time has greeted those eastbound from the Miami airport with his dominant face on the side of a building for an ad for a watch. (He finished sixth Sunday.)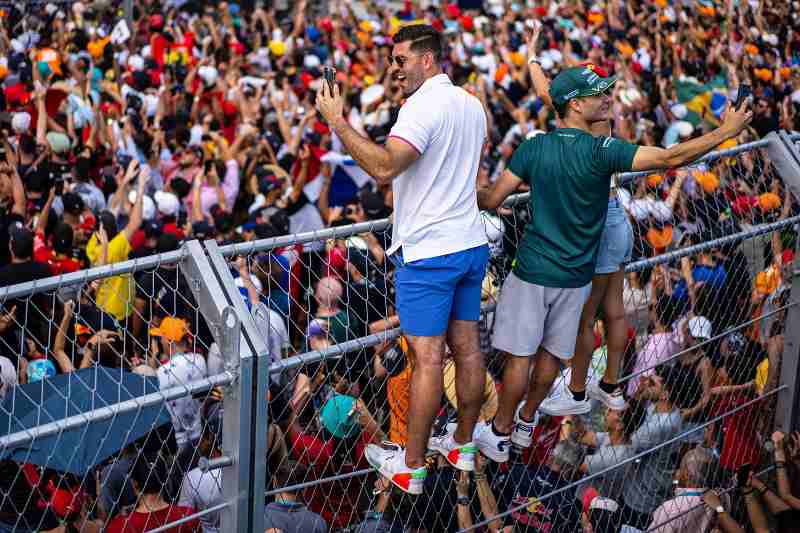 "We went to Austin last year," Alan said, "so we have that perspective, and I think [Miami] was awesome."
"Attention to details," Caroline said. Such as: "They made us feel like we were at a beach."
The other race was excellent, Alan said, but maybe "a bit more generic."
"The music," Caroline said of Miami. "In every stage, you felt like it's a party. More flavors, more colors, more music," which sounded like more Miami.
Alan thought that while the track was "supposed to be a street circuit, [it] still felt like a regular circuit with a lot of open areas and passing zones."
Verstappen started out third and, by the ninth lap, had passed Sainz and Leclerc to lead for good, even if a safety car that finally exited 10 laps from the end caused a bit of a bummer.
Verstappen agreed with a reporter that the race sort of resembled Singapore in nature but noted that this one happened at daytime, which makes a hell of a difference. Issues for some drivers had included the tarmac and the chicane, the latter between Turns 14 and 15. The former started off fine, Verstappen said, then, "Actually during the race it got worse and worse again."
"We just have to look at that" for future years, he said. He also said, "I think we can make some bits more exciting, especially Sector 2."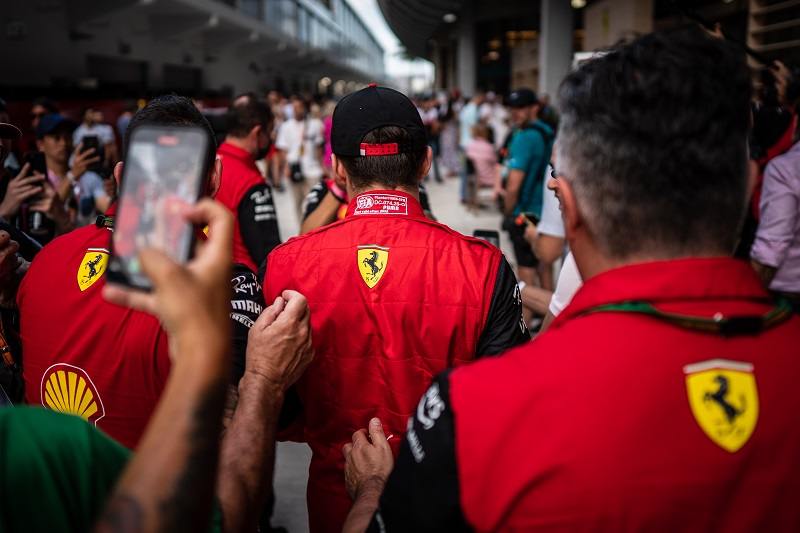 As for the chicane, Sainz found it "a corner that is a bit unnatural and a corner that I think can be manipulated to be a bit different." Said Verstappen, "I think if I had been in a go-kart it would be a nice chicane to take, but not in a Formula One car like we have," citing the largeness of the era. He said his head bounced around quite some at that stage. Said Leclerc, "I think I'm the only driver on the grid that actually liked the chicane."
Said Sainz: "It's a new track. You're always going to go through these phases," and Phase 1 had felt like Miami itself.
Add TheJapanNews to your Google News feed.