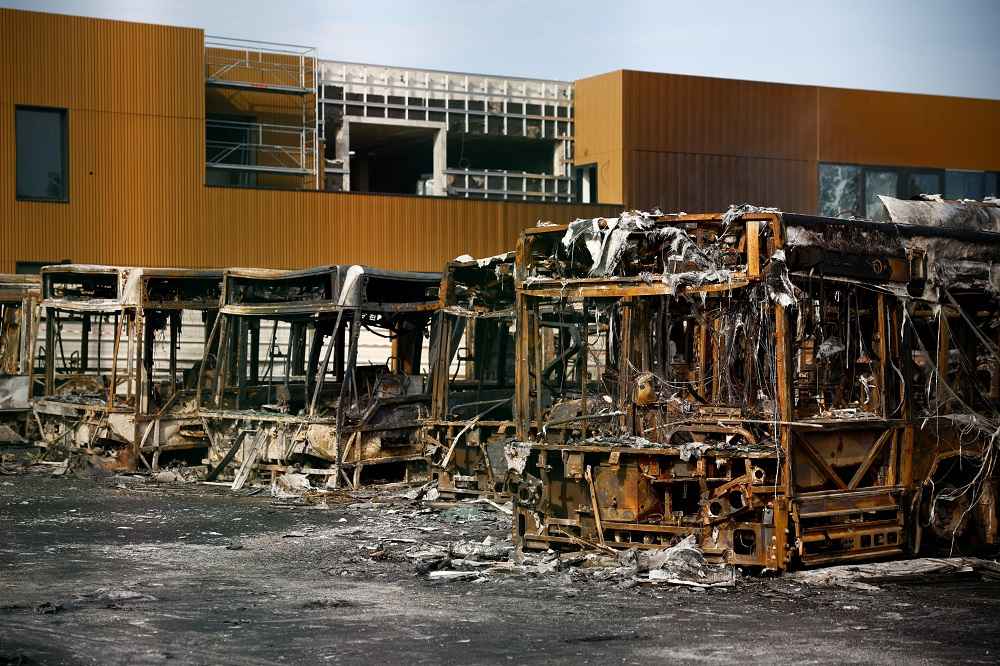 16:56 JST, June 30, 2023
PARIS (Reuters) — French President Emmanuel Macron will convene his cabinet for a second crisis meeting in two days on Friday, after the most destructive night of rioting yet in protest at the fatal shooting of a teenager by police.
Hundreds of police were injured and hundreds of people arrested overnight, authorities said, as rioters clashed with officers in towns and cities across France, buildings and vehicles were torched, storefronts damaged and buses overturned.
Interior Minister Gerald Darmanin, who had deployed 40,000 officers on Thursday night in a bid to quell a third night of unrest, said on Twitter that police made 667 arrests.
Violence broke out in Marseille, Lyon, Pau, Toulouse and Lille as well as parts of Paris, including the working class suburb of Nanterre, where 17-year-old Nahel M. – who was of Algerian and Moroccan descent – was shot dead during a traffic stop on Tuesday.
Nationwide, 249 police officers were injured, authorities said.
Macron will meet with his cabinet at 1100 GMT in Paris, likely cutting short his attendance at a European Union summit in Brussels, his office said. The president has so far ruled out declaring a state of emergency.
In a tweet, Prime Minister Elisabeth Borne called the violence "intolerable and inexcusable" and reaffirmed her support for police and firefighters who were "bravely carrying out their duties".
Transport Minister Clement Beaune told RMC radio that public transport in the Paris region would be severely disrupted on Friday and did not rule out an early closure of the network. Twelve buses were set on fire and destroyed overnight in a depot in Aubervilliers, in northern Paris.
Videos on social media showed numerous fires lit across the country, also including a tram set alight in the eastern city of Lyon.
In Nanterre on Paris's western outskirts, protesters torched cars, barricaded streets and hurled projectiles at police following an earlier peaceful vigil held to pay tribute to the dead boy.
In the Chatelet Les Halles shopping mall in central Paris, a Nike shoe store was broken into, and several people were arrested after store windows were smashed along the adjacent Rue de Rivoli shopping street, Paris police said.
They said they had made 307 arrests in and around the city and that nine police and fire officers had been injured.
Nahel M.'s death has fuelled longstanding complaints of police violence and systemic racism inside law enforcement agencies from rights groups and within the low-income, racially mixed suburbs around France's major cities.
The policeman who prosecutors said had acknowledged firing a lethal shot at the teenager was on Thursday placed under formal investigation for voluntary homicide – equivalent to being charged under Anglo-Saxon jurisdictions. He is being held in preventive detention.
His lawyer, Laurent-Franck Lienard, said his client had aimed down towards the driver's leg but was bumped, causing him to shoot towards his chest. "Obviously (the officer) didn't want to kill the driver," Lienard said on BFM TV,
Overnight in southern France, police fired tear gas grenades and Marseille's tourist hot-spot of Le Vieux Port was evacuated as youths clashed with police. Police there said they had made 56 arrests and that 38 officers had been injured.
In Roubaix, in northern France, a fire destroyed the office of the TESSI company and several cars were set on fire.
The unrest has revived memories of riots in 2005 that convulsed France for three weeks and forced then-president Jacques Chirac to declare a state of emergency.
That wave of violence erupted in the Paris suburb of Clichy-sous-Bois and spread across the country following the death of two young men who ended up being electrocuted in a power substation as they hid from police.
Add TheJapanNews to your Google News feed.