China Stages Combat Patrols After Warning Taiwan about U.S. Speaker Meeting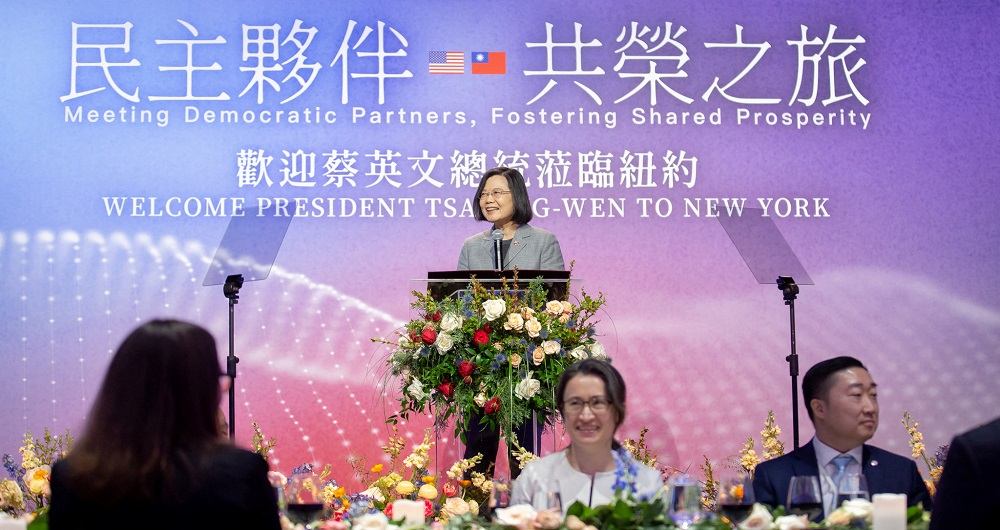 17:19 JST, March 31, 2023
TAIPEI (Reuters) — Nine Chinese aircraft crossed the Taiwan Strait's median line on Friday carrying out combat readiness patrols, Taiwan's defence ministry said, days after Beijing threatened retaliation if President Tsai Ing-wen meets U.S. House Speaker Kevin McCarthy.
China, which claims democratically ruled Taiwan as its own territory despite the strong objections of the island's government, has been angered by what it sees as stepped up U.S. support for Taiwan.
Tsai arrived in the United States on Wednesday, stopping off on her way to Central America.
She is expected to meet McCarthy in Los Angeles on her way back to Taipei in April, and China on Wednesday threatened unspecified retaliation if that meeting were to go ahead.
Taiwan's defence ministry said the nine Chinese aircraft crossed at points in the north, centre and south of the strait's median line, which used to serve as an unofficial buffer between the two sides.
Taiwan's armed forces responded using its own aircraft and ships to monitor the situation using the principle of "not escalating conflicts or causing disputes", the ministry said.
"The communist military's deployment of forces deliberately created tension in the Taiwan Strait, not only undermining peace and stability, but also has a negative impact on regional security and economic development," it said in a statement.
The ministry condemned what it called "such irrational actions".
There was no immediate response from China.
Tsai, on her first U.S. stopover since 2019, told an event held by the Hudson Institute think tank in New York on Thursday that the blame for rising tensions lay with China, according to excerpts of her comments reported by her office.
"China deliberately raises tensions, but Taiwan always responds cautiously and calmly, so that the world can see that Taiwan is the responsible party in cross-Strait relations," she said.
A senior Taiwan official familiar with security planning told Reuters the Chinese aircraft had only "slightly" encroached across the median line, and that no unusual movements by Chinese ships had been stopped.
China staged war games around Taiwan last August following the visit to Taipei of then U.S. House Speaker Nancy Pelosi, and has continued its military activities near Taiwan since though on a reduced scale.
The Taiwan official said China was unlikely to repeat such large exercises as it was in the middle of a "charm offensive" towards foreign political and business leaders, and an escalation of military tension would send "conflicting messages" to the world.
"Having said that, we have made all preparations in case China reacts irrationally," the source said. "The more the international community pays attention to Taiwan, the more upset they get."
Speaking to reporters in Taipei earlier on Friday, Premier Chen Chien-jen said Taiwan was a "democratic country" with the right to go out into the world.
"I hope that China will not find pretext to provoke," he said, when asked about Beijing's retaliation threat.
"China's authoritarian expansion will in fact cause unnecessary trouble, so we here again make this call, hoping that China can reduce its provocative actions."
China has never officially recognised the median line, which a U.S. general devised in 1954 at the height of Cold War hostility, although the People's Liberation Army had until very recently largely respected it.
Add TheJapanNews to your Google News feed.