Israel-Hamas War Misinformation is Everywhere. Here are the Facts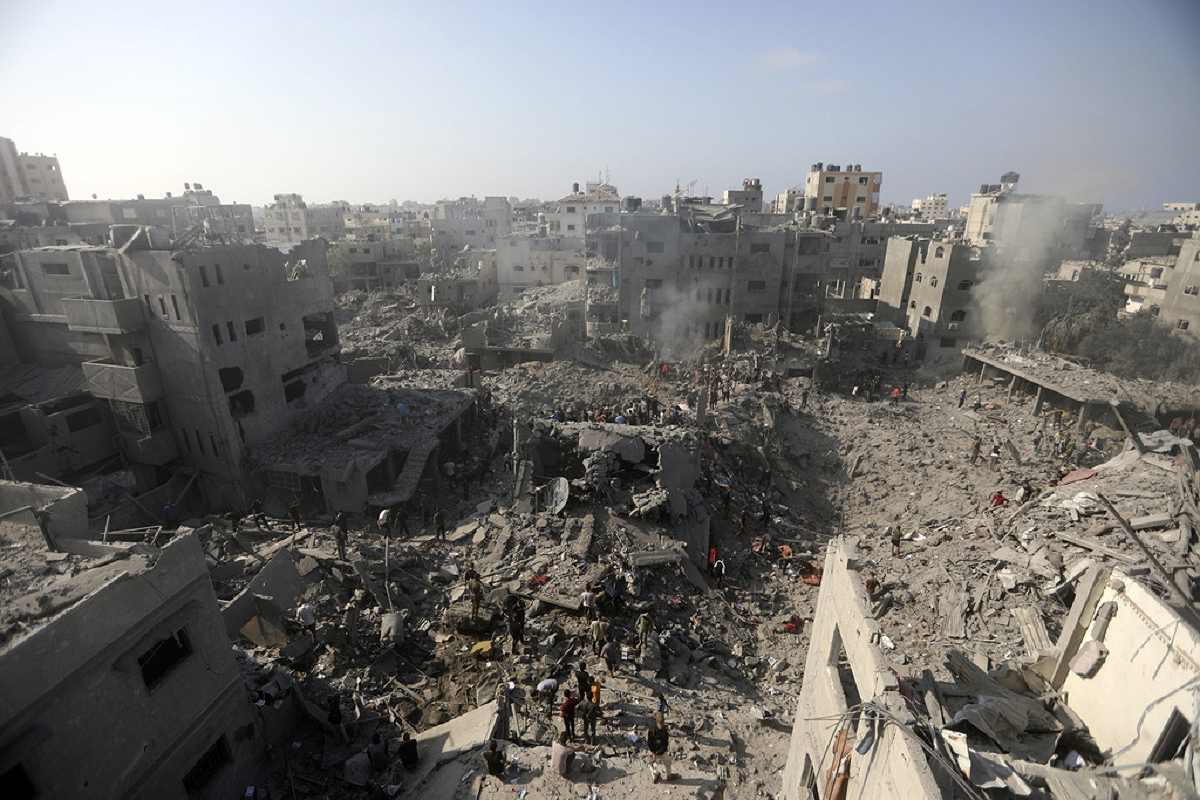 12:12 JST, November 4, 2023
Misinformation about the latest Israel-Hamas war is thriving on social media platforms, where misrepresented video footage, mistranslations and outright falsehoods often crowd out real reporting from the conflict.
In recent weeks, users have pushed false claims that "crisis actors" are staging scenes of carnage and that U.S. Marines are flooding in to fight on the ground in Gaza.
Here is a closer look at the latest misinformation spreading online — and the facts.
___
CLAIM: A video shows Russian President Vladimir Putin announcing Russia will send "help to Palestine."
THE FACTS: The video is from 2021 and shows Putin speaking about the defeat of Nazism at Russia's Victory Day military parade. Russia has so far issued carefully calibrated criticism of both sides in the Israel-Hamas war.
Since the start of the conflict in October, social media users have repeatedly shared false claims about foreign leaders ' comments on the war.
In the latest instance, users are sharing the old video of Putin speaking in Russian at a podium alongside clips of a parade featuring military equipment and personnel.
"Putin Announced Russia Will Openly Help To Palestine," reads the caption overlaying the footage circulating online.
However, the footage, from May 2021, shows Putin speaking at the annual Victory Day military parade in Moscow's Red Square, which marks the anniversary of the end of World War II. The full broadcast can be seen in a post on YouTube.
A transcript of the full speech published by the Russian news agency Tass shows Putin spoke about the defeat of Nazism in World War II while warning that Nazi beliefs remain strong. He did not mention the current conflict in the Middle East.
Anna Borshchevskaya, a senior fellow in The Washington Institute and an expert of Russian foreign policy toward the Middle East, confirmed Putin says in the video: "Glory to the victors."
Borshchevskaya added that Putin has historically made efforts to build good relations with Israel but Hamas leadership has made repeated visits to Moscow as well.
"Putin has always positioned himself as someone who can talk to all sides," Borshchevskaya told the AP.
Putin has not made any explicit claims around Russia's stance over the Israel-Hamas war, though he publicly declared in early October that Moscow could play the role of mediator.
The Russian leader has condemned the Oct. 7 attack by Hamas militants, but at the same time warned Israel against blockading the Gaza strip, the AP reported.
— Associated Press writer Karena Phan in Los Angeles contributed this report.
___
CLAIM: A video shows a soldier being thrown to the ground as an airstrike hits an Israeli tank.
THE FACTS: The imagery is computer generated and was taken from the trailer for a video game called Squad.
The video, which is circulating on X, the platform formerly known as Twitter, appears to show a soldier walking among military vehicles. As an armored vehicle comes up on his left, he waves his hand and says, "Let him through," before an airstrike hits the vehicle and the soldier is thrown to the ground.
One user shared the video with the caption, "The scene of the destruction of an Israeli tank in the attack of Hamas…"
Another post on X of the same video with a similar caption in Urdu had more than 18,000 likes.
But the clip is identical to the initial scenes of the trailer released for an update to the first-person shooter game Squad in December 2022.
Offworld Industries, the game developer that makes Squad, did not immediately respond to a request for comment.
This is not the first time clips of video game footage have been misrepresented as a real-life war. Video of the military simulation game Arma 3 has been shared as both footage of the latest Middle East conflict as well as the war in Ukraine.
— Karena Phan.
___
CLAIM: Yemen has declared war against Israel.
THE FACTS: Yemen's internationally recognized government has not declared war on Israel. Houthi rebels that control the country's capital launched missiles at Israeli targets this week and threatened further attacks. But experts say the Iran-backed militia stopped short of declaring an all-out war against the Jewish state.
Social media users are sharing a video of a a military leader dressed in combat fatigues speaking in Arabic, which they say shows Yemen has become the first regional power to officially enter the latest Israel-Hamas war.
"BREAKING: YEMEN DECLARED THEY ARE NOW AT WAR WITH ISRAEL," wrote one user who shared the brief clip in a post on X, formerly Twitter. "The Republic of Yemen is the first country officially to announce its entry into the 'Battle of the Flood' of Al-Aqsa and launches a large number of ballistic and winged missiles and drones at a number of Israeli IOF targets inside occupied Palestine."
But Yemen's official government did no such thing. The Houthis, a rebel group that controls the national capital of Sanaa, announced Tuesday that it had launched missiles and drones at Israel.
Israel's military said its fighter jets and missile defense system intercepted the salvos outside of Israeli territory. The Houthi military said Wednesday it fired another batch of drones towards Israeli targets "in support of the oppressed Palestinian people."
But the Republic of Yemen, the country's internationally-recognized government, is led by the Presidential Leadership Council, explained Thomas Juneau, a professor at the University of Ottawa in Canada who specializes in Yemen.
That government, which has no relations with the Houthis, splits its time between Riyadh, Saudi Arabia's capital, and Aden, in southern Yemen.
"The Houthis are the de facto authority in Sanaa, the capital, but it is indeed inaccurate to say that 'Yemen' (or the Republic of Yemen) has declared war on Israel," Juneau wrote in an email Wednesday.
Bruce Riedel, a senior fellow at the Brookings Institution's Center for Middle East Policy, agreed, adding that Iran and Syria are the only two nations to have embassies operating in Sanaa, underscoring the group's lack of international legitimacy.
And while the rocket and drone strikes are a significant escalation, the rebel group's statement stops short of committing to an all-out effort to destroy Israel, he said.
Brig. Gen. Yahya Saree, a spokesperson for the Iran-backed militia, said in a televised statement that the rebel army would launch other strikes at Israel until it halted its attacks on Palestinians territories, which came in response to Hamas' surprise attack on Oct. 7.
"It implies that if Israel stops bombing Gaza they will halt attacking Israel," Riedel wrote in an email Wednesday, referring to the Hamas-controlled Palestinian territory that has received the brunt of Israel's attacks.
Officials with Yemen's embassy in Washington didn't respond to emails seeking comment Wednesday.
The Houthis seized Sanaa and much of the country's north in 2014. The takeover sparked a regional proxy war between Saudi Arabia and Iran that has killed more than 150,000 people and created one of the world's worst humanitarian disasters.
— Associated Press writers Philip Marcelo in New York and Jon Gambrell in Dubai contributed this report.
__
CLAIM: Pro-Palestinian rallies at the University of California, Los Angeles, and the University of Pennsylvania called for "Jewish genocide."
THE FACTS: The chant uttered in videos of recent demonstrations is being misrepresented. Protestors aren't saying "We want Jewish genocide," but "Israel, we charge you with genocide." Experts and advocates say it's a typical refrain heard at pro-Palestinian rallies.
One video being miscaptioned shows a group of people chanting protest slogans as they marched through the UCLA campus last week.
"In UCLA hundreds of students chanting: 'Israel Israel you can't hide, we want Jewish genocide'," wrote one Instagram user in a post sharing the video last week. "This is not 1930s Germany, this is in Los Angeles October 26th 2023!"
Another video captures similar sounding protest chants at Penn's campus in Philadelphia on Oct. 16.
"Students @uofpenn gathered chanting 'We want Jewish genocide' 'there is only 1 solution' in reference to the Nazis 'final solution'," wrote an Instagram user who shared the clip in a post. "There has possibly never ever been a more dangerous time to be a Jewish student as Antisemitism continues to grow as a disease."
But the anti-Israel chants are being misquoted, Jewish and pro-Palestinian groups say.
The protestors are actually chanting, "Israel, Israel, you can't hide: We charge you with genocide," the Anti-Defamation League, which frequently speaks out against anti-Semitism and extremism, confirmed in an email Tuesday.
It's a familiar refrain at anti-Israel rallies, but non-Israel-related versions are also heard at other protests, the New York-based Jewish group noted on a page on its webpage debunking false information about the ongoing conflict.
Penn Students Against the Occupation, which organized the Penn rally, dismissed the claims as "blatant disinformation" in a statement posted on Instagram.
The chants last week at UCLA were similarly misquoted, the university said on a webpage correcting misinformation related to campus events.
Dan Gold, who heads Hillel UCLA, a major Jewish organization on campus, noted his organization has called out the rally for its harmful rhetoric in its public statements.
But he personally observed the protest and confirmed there was no direct call to exterminate Jews.
— Philip Marcelo.
__
CLAIM: An ad for British department store Marks & Spencer shows a Palestinian flag burning in a fireplace.
THE FACTS: The image shows red, green and silver paper hats — traditionally worn at British Christmas dinners — burning in a fireplace. It's an outtake from a Christmas commercial filmed in August that was meant to "playfully" illustrate how people don't enjoy some Christmas traditions, including donning the hats.
On social media, some had falsely claimed the image depicted a burning Palestinian flag.
"MARKS AND SPENCER SHOW THE PALESTINIAN FLAG BURNING IN A PROMO," reads one post on X, formerly Twitter. "Their hashtag makes it clear that they intended to burn the Palestinian flag."
The post had received approximately 5,900 likes and more than 4,900 shares by Thursday.
But the image, which the company removed from its social media accounts after the issue arose, was meant to poke fun at a British Christmas tradition, not malign Palestinians, Marks & Spencer wrote in a statement shared on its social media sites on Wednesday.
"Today we shared an outtake image from our Christmas Clothing and Home advert, which was recorded in August," the statement reads. "It showed traditional, festive coloured red, green and silver Christmas paper party hats in a fire grate. While the intent was to playfully show that some people just don't enjoy wearing paper Christmas hats over the festive season, we have removed the post following feedback and we apologise for any unintentional hurt caused."
In a caption on its since-deleted Instagram post, Marks & Spencer wrote, "This Christmas, do only what you love… like saying no to paper hats (although, if we're honest, we're partial)." The sentiment is echoed in the final version of the commercial, which features "Queer Eye" fashion expert Tan France, singer Sophie Ellis Bextor, and actors Zawe Ashton and Hannah Waddingham.
The latest Israel-Hamas war began on Oct. 7 after Hamas launched a deadly incursion into southern Israeli towns — more than a month after the Marks & Spencer commercial was filmed.
— Associated Press writer Melissa Goldin in New York contributed this report.
__
CLAIM: A video showing bodies moving after being covered by white cloths is evidence that deaths are being faked by Palestinians and Hamas during the Israel-Hamas war.
THE FACTS: The video is from 2013 and shows students protesting at Al-Azhar University in Cairo, Egypt.
It is the latest instance of social media users making false accusations that " crisis actors " and " staged " events are being used to exaggerate the human toll being taken by the war.
The video pans across multiple bodies covered with white cloths, stopping at times to highlight movement. At one point, the camera cuts to a close-up as the cloth on one body is lifted to reveal a man who is laughing.
"Wake up World They think you are fools! The masters of fake news," reads one caption on the video shared on Instagram. "Welcome the palestinians & their Hamas"
But the original video was published on Oct. 28, 2013, by an Egyptian news outlet on YouTube. It shows students protesting at Al-Azhar University in Cairo. "A representation of dead bodies inside Al-Azhar University," reads the translated video title.
"Dozens of Muslim Brotherhood students at Al-Azhar University organized a massive demonstration in front of the college administration building," reads the video description.
The Associated Press reported on Oct. 20, 2013, that the students were supporters of ousted Islamist President Mohammed Morsi, who was overthrown by the military about a year after taking office.
— Karena Phan.
Add TheJapanNews to your Google News feed.