Fearing Airstrikes and Crowded Shelters, Palestinians in North Gaza Defy Israeli Evacuation Orders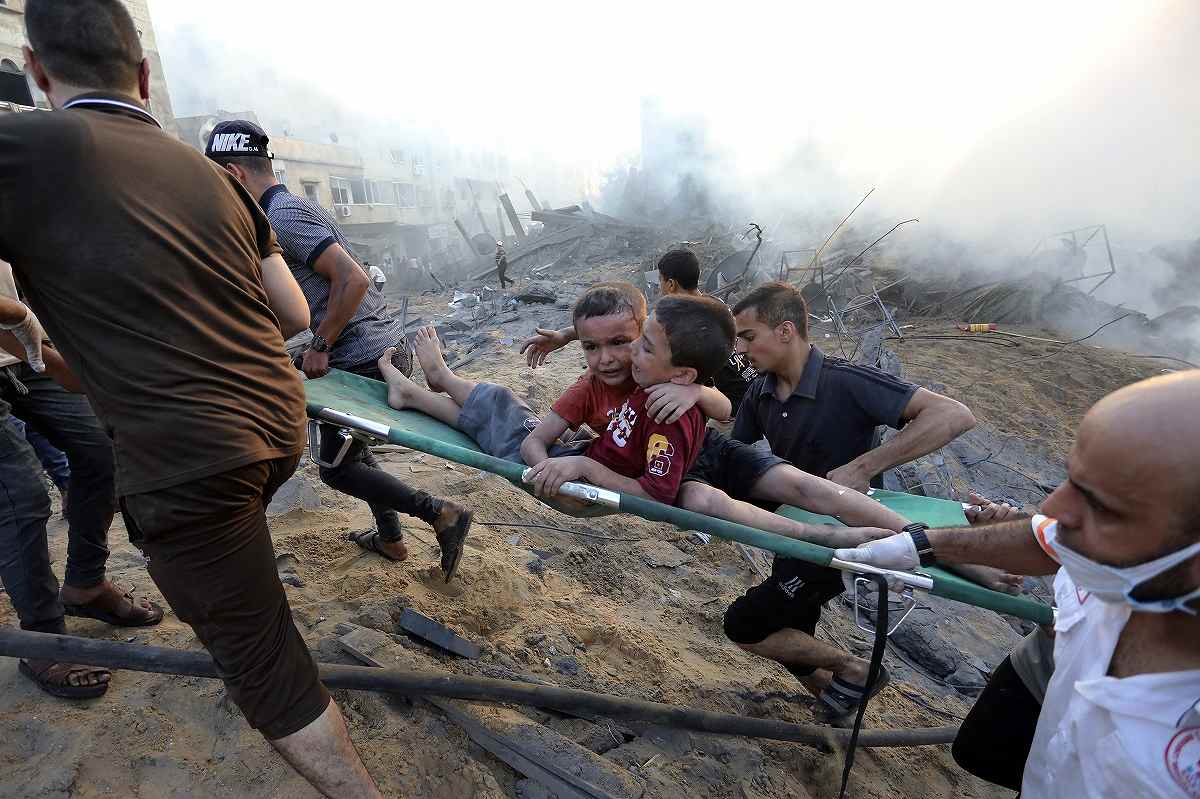 11:22 JST, October 27, 2023
DEIR AL BALAH, Gaza Strip (AP) — Mahmoud Shalabi did not evacuate his home in northern Gaza despite the frightful Israeli warnings of a looming, far more brutal assault to come as it presses ahead with its war against the Hamas militant group.
The Palestinian aid worker is among hundreds of thousands who have remained. Others who initially heeded the Israeli warnings to head south have returned to the territory's north, where Israel says it considers all those who stay possible "accomplices" of Hamas.
Shalabi said leaving his home in Beit Lahia didn't make sense considering the relentless bombardment of southern Gaza, where Israel has repeatedly urged the more than 1 million northern residents like him to seek refuge. The overcrowded shelters and shortages of water and food in the south played a part in their decisions, said Shalabi and others who remained.
Risk death at home, or elsewhere in Gaza, they said.
Leaving would be reasonable only if Israel stopped targeting the south, said Shalabi, who works for Medical Aid for Palestinians, a U.K.-based charity providing health services. "It doesn't make sense to me that I should leave my home to go and get killed in a tent in the south of Gaza," he said.
The risks for those staying in the north are likely to rise exponentially in the event of an expected Israeli ground offensive, after two-and-a-half weeks of heavy bombardments have already claimed more than 6,500 lives in Gaza, according to the Hamas-run Gaza Health Ministry.
With tens of thousands of troops massed along Israel's border with Gaza, Prime Minister Benjamin Netanyahu said Wednesday that Israel was preparing for a ground incursion. He refused to say when it would begin.
Israeli military officials have said they are determined to crush Hamas in response to its brutal Oct. 7 attack on Israeli border communities, and the focus will be on the north, including Gaza City, where Israel says key Hamas assets, tunnels and bunkers are located.
Some 350,000 Palestinians are still in northern Gaza, according to Israeli estimates. Military officials have repeatedly exhorted Palestinians to move south, but have not said whether the presence of a large number of civilians would be a factor in deciding whether to send in tanks and ground troops.
Israel says it seeks to strike Hamas and doesn't target civilians, but Gaza health officials say many of those killed have been women and children. Those numbers are expected to climb with a ground offensive, which would likely see fierce fighting inside crowded urban areas.
International rights groups have sharply criticized the Israeli evacuation orders, saying they cannot be considered effective warning to civilians under the rules of international law, because of a lack of realistic options for those fleeing.
"When the evacuation routes are bombed, when people north as well as south are caught up in hostilities, when the essentials for survival are lacking, and when there are no assurances for return, people are left with nothing but impossible choices," said Lynn Hastings, the U.N. humanitarian coordinator for the Palestinian territories. "Nowhere is safe in Gaza."
Those staying put in the north are bracing for worse to come. They live among the ruins of once bustling neighborhoods while facing dire shortages of fuel, food and water amid looming hospital shutdowns.
Services in the north have deteriorated since Israel's evacuation order prompted at least 700,000 Palestinians to flee south. Most homes have no electricity, water or fuel.
More than 1.4 million Gaza residents are now displaced across the narrow strip, out of a population of 2.3 million, and U.N. shelters are packed at triple their capacity, U.N. agencies say.
In the north, entire neighborhoods have been reduced to rubble. The destruction is so vast that parts of Gaza look like a wasteland from space.
"Everywhere there is debris, there are destroyed cars, there are destroyed houses. And it's really difficult to get from one location to the other because there is no fuel," Shalabi said.
He said he walked for two hours to find a bakery still selling bread to feed his family of 10. Shop shelves are empty; residents are living on canned beans, pineapple, corn.
The little fuel still available, often from private stockpiles, is sold for exorbitant prices. Some rent out small water pump motors, demanding 50 shekels ($12) an hour, a huge amount for the average Gaza resident.
This week Shalabi ran out of cash, and scoured the blocks of dilapidated streets to find a functioning ATM. There were none.
About 50,000 people are sheltering on the grounds of Shifa Hospital, Gaza's largest, in Gaza City. It is overwhelmed by a steady stream of wounded from airstrikes amid warnings that severe shortages of fuel, needed to power generators, could trigger a shutdown. No new fuel has been allowed into Gaza since the Oct. 7 raid.
Still, many Palestinians are choosing to return north, tired of moving from place to place under Israeli fire as shelters become overcrowded and unlivable. U.N. monitors estimate 30,000 have returned.
Ekhlas Ahmed, 24 and eight months pregnant, was among them.
A week ago, she fled Gaza City after repeated Israeli warnings to move south. She returned after the home she was sheltering in along with 14 other family members in the south was hit by an Israeli airstrike.
"It was a residential building, and they bombed it," she said.
Ahmed, who has a 4-year-old son, is hoping for a cease-fire.
"I am very frightened. All of us are frightened," she said.
Add TheJapanNews to your Google News feed.