Settlement over Trump Family Separations at the Border Limits Future Separations for 8 Years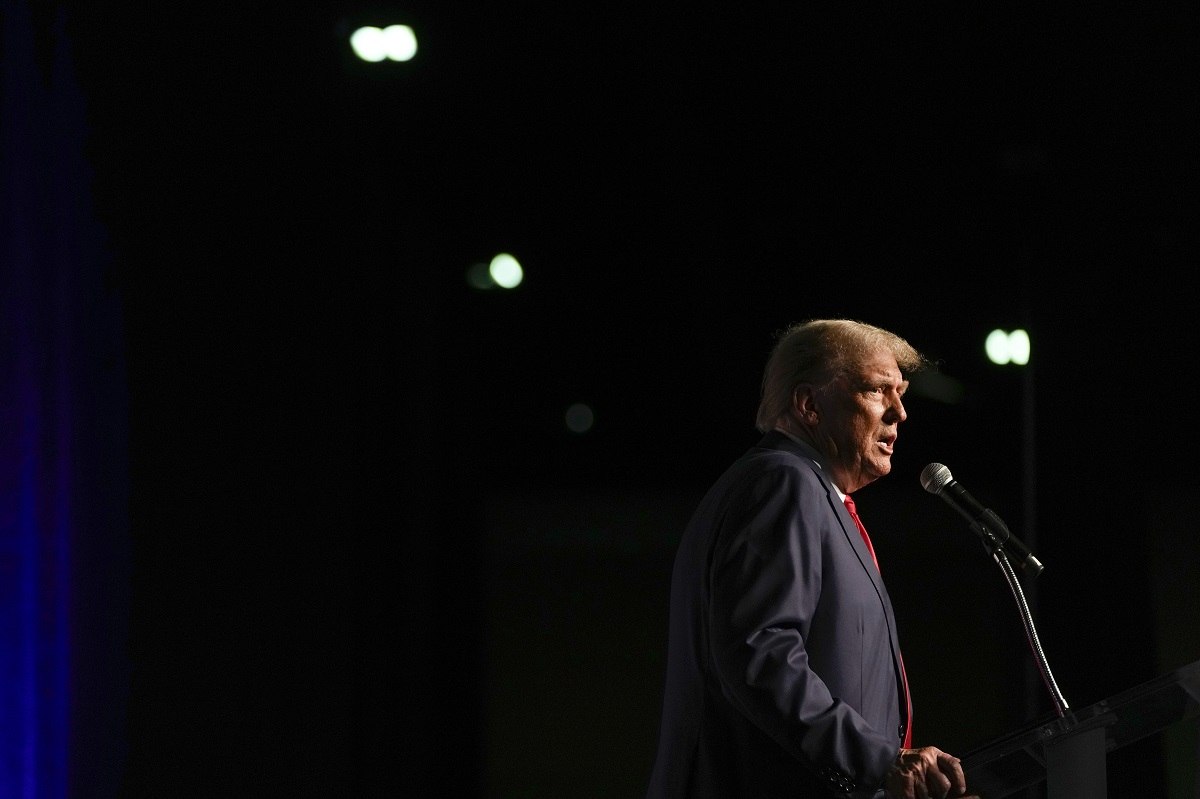 11:20 JST, October 17, 2023
SAN DIEGO (AP) — The federal government would be barred from immigration policies that separate parents from children for eight years under a proposed court settlement announced Monday that also provides families that were split under the Trump administration with temporary legal status and short-term housing aid.
The settlement between the Biden administration and the American Civil Liberties Union, if approved by a judge, would at least temporarily prohibit the type of "zero-tolerance" policy on illegal immigration under which former President Donald Trump separated thousands of families at the border with Mexico.
"It is our intent to do whatever we can to make sure that the cruelty of the past is not repeated in the future. We set forth procedures through this settlement agreement to advance that effort," Homeland Security Secretary Alejandro Mayorkas told The Associated Press.
Trump, the front-runner for the Republican presidential nomination, hasn't ruled out reviving the highly controversial tactic at the southern border if he wins next year's election.
His administration separated children from their parents or guardians they were traveling with as it moved to criminally prosecute people for illegally crossing the border. The children, who could not be held in criminal custody, were transferred to the Department of Health and Human Services and then typically sent to live with a sponsor, often a relative or someone else with a family connection.
Faulty tracking systems caused many to be apart for an extended time or never reunited with their parents. Facing strong opposition, Trump eventually reversed course in 2018, days before U.S. District Judge Dana Sabraw in San Diego halted the practice and ordered immediate reunification in the lawsuit brought by the ACLU.
During a CNN town hall in May, Trump was noncommittal on whether he would again separate families if elected. "When you say to a family that if you come we're going to break you up, they don't come," he said when pressed.
Lee Gelernt, lead counsel for the ACLU, said the ban on any future attempts to separate families as a deterrent to illegal immigration was crucial.
"This settlement means that babies and toddlers will finally get to see their parents after years apart and that these suffering families will have an opportunity to seek lawful status," he said. "Nothing can make these families whole again but this is at least a start."
Under the settlement, it would still be possible to separate children from parents or guardians, but under limited scenarios, as has been the case for many years. They include if the child is being abused or the parent committed a much more serious crime than crossing the border illegally.
President Joe Biden issued an executive order on his first day in office to reunite families. According to figures released by the Department of Homeland Security in February, 3,881 children were separated from their families from 2017 to 2021. About 74% of those have been reunited with their families: 2,176 before a Biden administration task force was created and 689 afterward.
Hundreds of families sued the federal government, seeking both monetary damages and policy changes.
In 2021, the government was discussing a possible payment of hundreds of thousands of dollars to each parent and child separated under Trump's policies but talks stalled on that point.
But the proposed settlement provides key benefits including authorization for parents of separated children to come to the U.S. under humanitarian parole for three years and work in the United States. The families receive housing aid for up to a year and medical and behavioral health benefits designed to address some of the trauma associated with the separations.
Mayorkas described how he'd met with a woman who had been separated from her daughter and how after they had been reunited, her daughter still struggled with the experience.
"We need to help these families heal. And that is an obligation that we carry because of the pain that we inflicted upon them," he said.
Attorney General Merrick Garland said the practice of separating families was "shameful" and that the proposed settlement will provide those affected with critical support to recover.
They'll also get access to legal services which will be vital as they may file asylum applications to stay in the United States on a permanent basis. The settlement also waives the usual one-year timeline limiting when someone can apply for asylum, and the parents can apply even if they were previously denied. A special team of supervisors will review their cases.
Some of these benefits were already available to families under a Biden-administration created task force designed to reunite separated families. But Gelernt said the settlement goes beyond the task force's purview in key ways such as the asylum assistance.
The settlement requires the government to keep detailed documentation when it separates children from parents so as to avoid the chaos that erupted during the Trump-era family separations where parents and children could not be quickly reunited.
Now that the government and the ACLU have agreed on a settlement plan, the judge will hold a hearing to decide whether to accept it. Before that, people opposed to the settlement can raise objections to the judge.
Add TheJapanNews to your Google News feed.