France Has Banned Pro-Palestinian Protests and Vowed to Protect Jews from Resurgent Antisemitism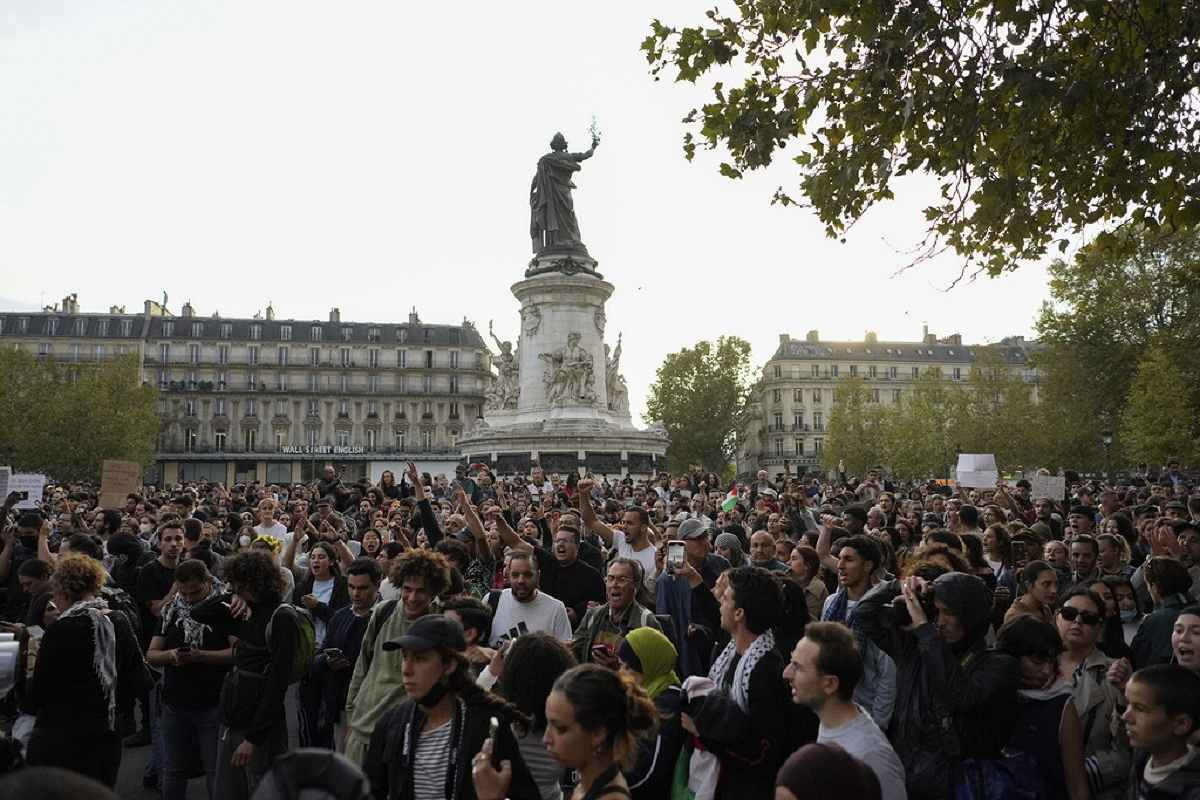 11:00 JST, October 13, 2023
PARIS (AP) — France's interior minister on Thursday ordered local authorities to ban all pro-Palestinian demonstrations amid a rise in antisemitic acts since Hamas attacked Israel over the weekend. President Emmanuel Macron urged French people not to allow the war in the Mideast erupt into tensions at home.
Soon before Macron spoke in a televised address to the nation about the Mideast conflict, Paris police used tear gas and water cannon to disperse pro-Palestinian protesters who had defied a ban and demonstrated Thursday against the Israeli government.
"Let us not bring ideological adventures here (to France) by imitation or by projection. Let us not add national fractures … to international fractures," Macron pleaded. "Let us stay united."
With several French-Israeli citizens believed held hostage by Hamas, Macron pledged that France would protect its Jewish citizens and be "ruthless toward all those who bear hate," and noted concerns about hostility toward France's Muslims too.
Fighting in the Middle East in the past has led to tensions in France, which is estimated to have the world's third-largest Jewish population after Israel and the U.S., and the largest Muslim population in Western Europe.
Macron said that 13 French citizens in Israel have been killed in the current fighting, with 17 people missing, many believed held hostage by Hamas. The Paris prosecutor's office opened an investigation Thursday into the killings and suspected kidnappings.
The French government has reported 24 arrests for more than 100 antisemitic acts in France since Hamas attacked Israel on Saturday, including verbal abuse, people caught with knives near Jewish schools and synagogues and a drone equipped with a camera spotted over a Jewish cultural center. More than 2,000 cases of antisemitic speech have been reported to an online watchdog force.
Interior Minister Gerald Darmanin sent a directive to local prefects on Thursday, seen by The Associated Press, calling for a further tightening of security around Jewish schools, synagogues and other sites.
It said pro-Palestinian demonstrations should be banned and those who defy bans should be arrested, "because they are susceptible to disrupt public order."
Pro-Palestinian associations decried the move. The National Collective for a Fair and Lasting Peace between Palestinians and Israelis said it "denounces this threat to freedom of expression," and pledged to continue holding actions to support the Palestinian people.
At the banned Paris protest Thursday, protesters draped Palestinian flags around their shoulders, and "Free Palestine" was sprayed on the monument underpinning Republic Plaza in eastern Paris. Many chanted "We are all Palestinians."
Earlier this week, thousands of people marched in Paris in support of Israel, and the Eiffel Tower was lit up with a Star of David and the blue and white of the Israeli flag.
Other European cities have seen pro-Palestinian demonstrations in recent days as well as pro-Israeli gatherings.
Denouncing Hamas as a terrorist group, Macron called for peace efforts that would ensure both Israel's security and a Palestinian state.
"Those who confuse the Palestinian cause with justifying terrorism are committing a moral, political and strategic error," he said.
Macron also sought to address the concerns of French-Israeli families whose loved ones have disappeared and are believed kidnapped or killed by Hamas.
Struggling to speak as they sobbed or choked back tears, family members of missing French citizens pleaded Thursday at a news conference in Tel Aviv for help from Macron.
"We will do everything so that these hostages, regardless of their nationality, are freed," Macron said.
French Foreign Minister Catherine Colonna announced she would travel to the region on Sunday. France's government organized an evacuation flight Thursday to bring French citizens in Israel to Paris, and other flights are planned in the coming days.
Add TheJapanNews to your Google News feed.