Russian Drone Attack on a City in Western Ukraine Sparks an Inferno at a Warehouse and Kills 1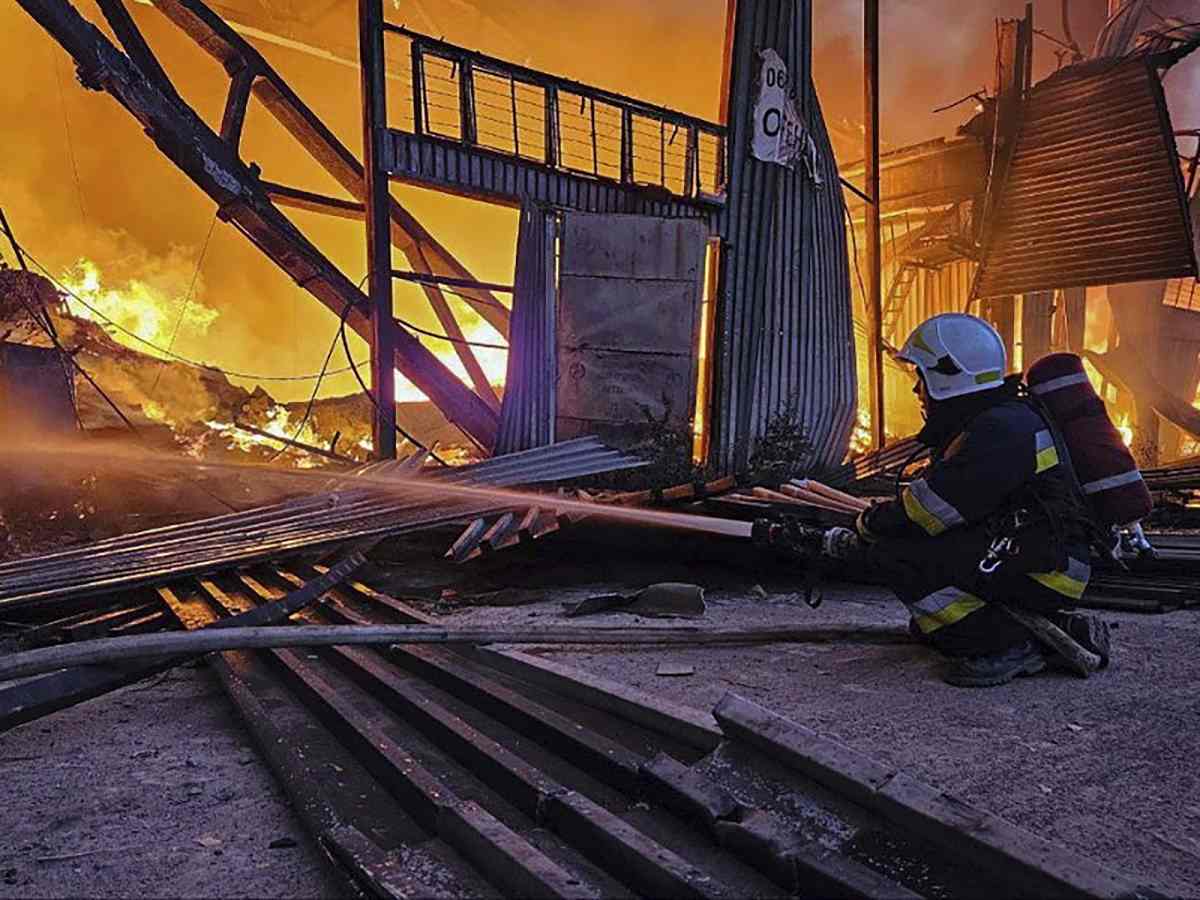 12:36 JST, September 20, 2023
KYIV, Ukraine (AP) — Russia launched a massive drone attack on the western city of Lviv early Tuesday, burning down a warehouse said to house humanitarian supplies and killing one man, Ukrainian authorities said. It was one of at least three deadly attacks in different cities.
Ukraine intercepted most of the 30 Shahed drones overnight, the country's air force said. But drones that got through air defense systems sparked an inferno at the industrial storage facility, Gov. Maksym Kozytsky said.
The U.N. humanitarian coordinator for Ukraine condemned the drone strikes and said they had burned down a charity's warehouse that contained vital relief supplies. Denise Brown said the attack violated international humanitarian law that protects workers, facilities and supplies.
"Attacks impacting humanitarian assets have escalated throughout the year and ultimately impact those who are suffering the horrific consequences of the war," Brown said.
In other Russian attacks, a guided aerial bomb killed three civilians in Kupyansk, a city in the eastern Kharkiv region, and an artillery strike in Kherson in the south struck a bus, killing a police sergeant and wounding two men, Ukrainian officials said. That strike also torched a warehouse.
Russia invaded Ukraine in February last year. Troops from both sides are currently engaged in fierce battles in the country's east, where Ukrainian forces are making slow but steady advances as part of a grinding counteroffensive.
On Tuesday, Russia blamed Ukraine for an explosion that struck a market in eastern Ukraine's Donetsk region two weeks ago, killing at least 16 people and injuring more than 30 others.
Russian foreign ministry spokeswoman Maria Zakharova said Ukraine had fired the missile from a Buk surface-to-air missile system which struck the city of Kostiantynivka on Sept. 6. In her Telegram post, she pointed to a New York Times investigation published Monday, which cited evidence suggesting it was an errant Ukrainian missile that exploded over the market.
"Even if the action wasn't premeditated, it's obvious to everyone that a complete demilitarization of the Kyiv regime isn't merely a demand but an acute necessity," Zakharova declared.
Ukraine's SBU state security service rejected the findings of the New York Times report, saying that an ongoing investigation so far showed the attack was carried out by Russia. Missile fragments found at the scene were identified as a S-300 surface-to-air missile, it said.
Doubts have emerged about the origin of the strike after the NYT report, which cited evidence — including missile fragments, satellite imagery and witnesses — that suggested Ukraine had fired an air defense missile that failed to hit its intended target.
Kyiv blamed Russia for the attack at the time, with President Volodymyr Zelenskyy calling it a "deliberate" strike at a civilian area. The White House also blamed Russia for the attack, one of the deadliest bombardments of civilians in the 18-month-old war.
Throughout the war, Russian officials have repeatedly claimed without offering evidence that strikes on apartment buildings and civilian infrastructure in Ukraine came from the Ukrainian forces. It was the case again with the Sept. 6 strike on Kostyantynivka, when Russian officials quickly pointed the finger at Ukraine.
Speaking at the United Nations after the attack, Russia's U.N. Ambassador Vassily Nebenzia accused the West of covering up what he described as a "horrible crime and a terrible provocation by Ukraine."
Zelenskyy meanwhile was in New York preparing to address the U.N. General Assembly and the Security Council before traveling to Washington on Thursday to meet with lawmakers and President Joe Biden.
Zelenskyy has continued to drum up funding and support for new weapons as the counteroffensive Ukraine launched in June approaches what could be its final weeks before wet weather slows progress. Ukraine has made small advances but no major breakthroughs.
Other allies pledged money and weapons at a meeting of the Ukraine Defense Contact Group in Germany.
Add TheJapanNews to your Google News feed.