'El Chapo' Son Ovidio Guzmán López Pleads Not Guilty to US Drug and Money Laundering Charges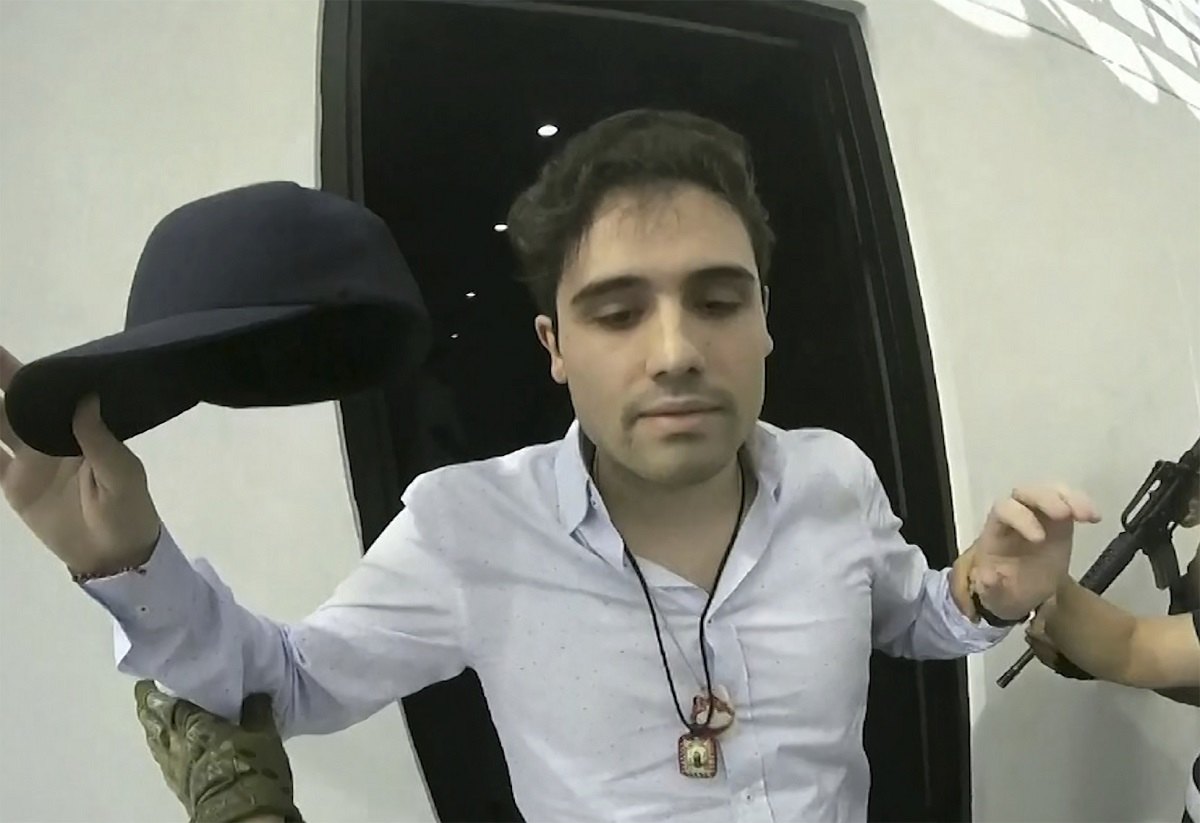 13:03 JST, September 19, 2023
CHICAGO (AP) — Ovidio Guzmán López, a son of former Sinaloa cartel leader Joaquin "El Chapo" Guzmán, pleaded not guilty in Chicago on Monday to U.S. drug trafficking, money laundering and other charges during his first court appearance since being extradited to the U.S. from Mexico.
Guzmán López was extradited on Friday, five months after U.S. prosecutors unsealed sprawling indictments against him and his brothers, known collectively as the "Chapitos." The indictments allege that following their father's extradition and eventual life sentence in the U.S. in 2019, the brothers steered the cartel increasingly into synthetic drugs such as methamphetamine and the powerful opioid fentanyl.
During Monday's 15-minute arraignment with a larger-than-usual contingent of security inside the courtroom, Guzmán López pleaded not guilty through a translator. He stood before U.S. District Judge Sharon Johnson Coleman in an orange jumpsuit and matching orange slippers, with his legs shacked at the ankles.
The short, slight 33-year-old, whose nickname is "the Mouse," hunched forward, answering questions from the judge softly and politely, presenting a picture that sharply contrasted with the reputation for extreme violence of the cartel he allegedly helps lead.
His arrest by Mexican security forces in January in Culiacan — the capital of Sinaloa state, the cartel's namesake — set off violence that left 30 people dead, including 10 military personnel. Mexico's army used Black Hawk helicopter gunships against the cartel's truck-mounted .50-caliber machine guns. Cartel gunmen hit two military aircraft, forcing them to land, and sent gunmen to the city's airport, where military and civilian aircraft were hit by gunfire.
Three years earlier, the government tried to capture him, but aborted the operation after similar violence.
The U.S. indictments against the brothers that were unsealed in April said their goal was to produce huge quantities of fentanyl and sell it at the lowest price. The brothers denied the allegations in a letter.
"We have never produced, manufactured or commercialized fentanyl nor any of its derivatives," the letter said. "We are victims of persecution and have been made into scapegoats."
When Coleman asked Guzmán López on Monday if he was on medication, he said he was — for depression, anxiety and a stomach ailment — but that it didn't impede his ability to understand the proceedings.
Some of the five charges against Guzmán López carry maximum life sentences, including conspiracy to import drugs and conspiracy to distribute them. A conviction on one of the counts, engaging in an illegal enterprise as a leader, carries a mandatory life sentence. Money laundering has a maximum 20-year sentence.
Coleman set Nov. 17 as the next court date for Guzmán López.
Homeland Security Adviser Liz Sherwood-Randall said in statement Friday that the extradition of Guzmán López "is testament to the significance of the ongoing cooperation between the American and Mexican governments on countering narcotics and other vital challenges." Sherwood-Randall made multiple visits to Mexico this year to meet with President Andrés Manuel López-Obrador, most recently last month.
López Obrador has described his country as a transit point for fentanyl precursors coming from China and bound for the U.S., despite assertions by the U.S. government and his own military about production in Mexico.
Add TheJapanNews to your Google News feed.