Special UN Summit, Protests, Week of Talk Turn Up Heat on Fossil Fuels and Global Warming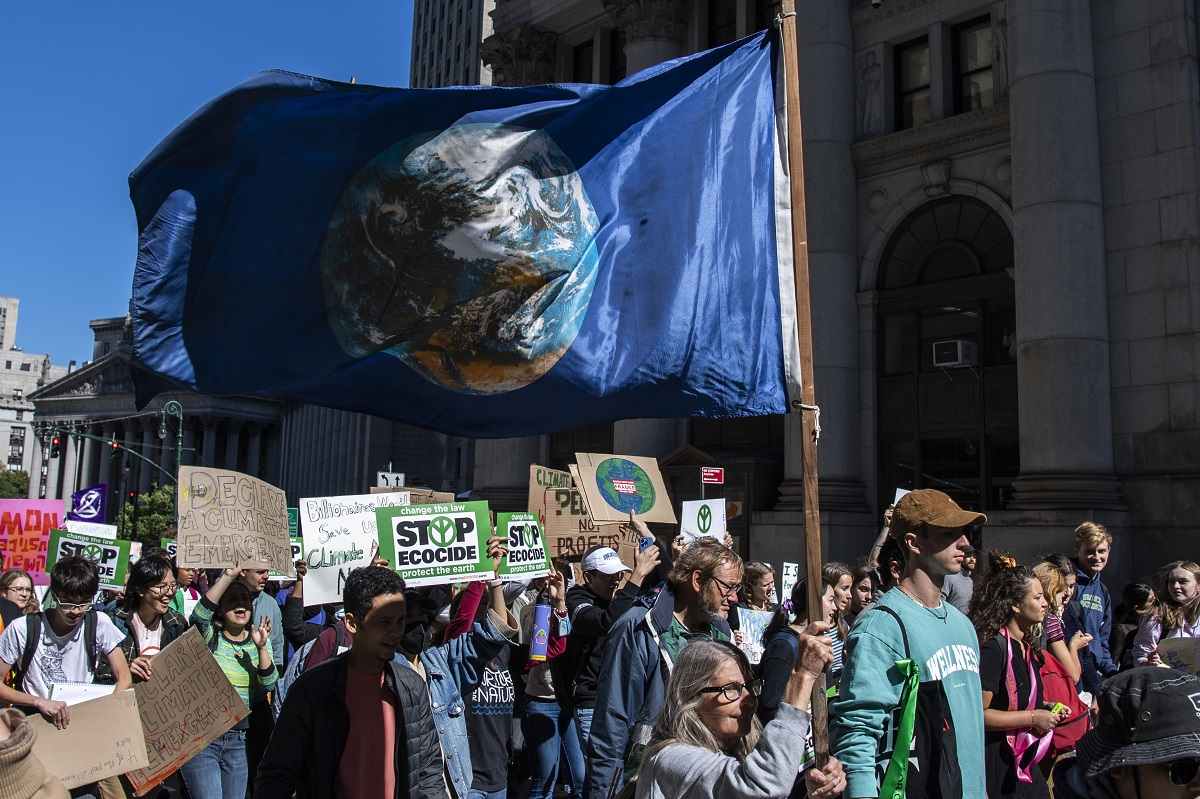 11:53 JST, September 17, 2023
The heat is about to be turned up on fossil fuels, the United States and President Joe Biden.
As a record-smashing and deadly hot summer draws to a close, the United Nations and the city that hosts it are focusing on climate change and the burning of coal, oil and natural gas that causes it. It features a special U.N. summit and a week of protests and talk-heavy events involving leaders from business, health, politics and the arts. Even a royal prince — William — is getting in on the action.
The annual Climate Week, which coincides with the U.N. General Assembly, kicks off Sunday with tens of thousands of people expected in the "March to End Fossil Fuels" Manhattan rally, one of hundreds of worldwide protests.
This week "is the start of an incredible pressure cooker that we are all part of," said Jean Su, a march organizer and energy justice director for the Center for Biological Diversity. "It is coming from the top down, from that chief of the United Nations and now it is coming from bottom up in over 400 distributed actions across the world."
Much of the heat is coming from Secretary-General Antonio Guterres, who is convening a new Climate Ambition Summit on Wednesday that has a special twist: Only leaders from nations that bring new and meaningful action will be allowed to speak. And the U.N. isn't saying yet who will get that chance.
It won't be Biden, who is speaking Tuesday at the U.N., the White House said. Nor will it be the leaders of China, the United Kingdom, Russia or France – all major players in the development and use of fossil fuels — who won't even be in New York.
Guterres has repeatedly aimed his criticism at fossil fuels, calling them "incompatible with human survival." He and scientific reports out of the United Nations have emphasized that the only way to curb warming and meet international goals is to "phase out" fossil fuels.
Phase-out is a term that world leaders in past climate negotiations and meetings of large economic powers have refused to back, instead opting for watered-down phrases such as "phase down" of unabated coal, allowing fossil use if its emissions are somehow captured and stored. The president of the upcoming international climate negotiations in Dubai is an oil executive from the United Arab Emirates and will be speaking at Wednesday's summit, though his dual role has upset activists and some scientists.
"This really is an unprecedented soft power moment where the U.N. chief is throwing fossil fuels into the limelight and forcing heads of states to respond," Su said. "Whether it's yes or no, he's at least forcing them to respond as to will you commit to no new fossil fuel development in line with climate science?"
But U.N. chiefs have little real power, said Climate Analytics CEO Bill Hare, a climate scientist.
"They can talk. They can persuade. They can from time-to-time constructively criticize and that's all the tools that he's got," Hare said. "The U.N. secretary-general has moral authority and he's using that."
Guterres "can shame leaders who show up with pitiful offers in terms of climate action," said Power Shift Africa Director Mohamed Adow, a longtime climate diplomacy observer. "We've got to a point where we can no longer be able to afford the velvet glove diplomacy."
Guterres will ask nations to accelerate their efforts to rid themselves of carbon-based energy, with the richest nations that can afford it going first and faster, and providing financial aid to the poorer nations that can't afford it, said Selwin Hart, Guterres' special adviser for climate action.
"We know the use of fossil fuels is the main cause of the climate crisis, coal, oil and gas," Hart said Friday. "We need to accelerate the global transition away from fossil fuels. But it must be just, fair and equitable."
But the same 20 richest economies who promise to slice carbon emissions "are now issuing new oil and gas licensing at a time when the (International Energy Agency and the science-based Intergovernmental Panel on Climate Change) has clearly stated that this is incompatible with the 1.5 degree (Celsius, 2.7 degrees Fahrenheit) goal of the Paris Agreement," Hart said.
Yet speeding to net zero emissions of carbon requires rapid and huge reshaping of the energy landscape that "could inflict serious harm on the economy," American Energy Alliance President Thomas Pyle said last month.
Environmental activists calculate that five rich northern countries – the United States, Canada, Australia, Norway and the United Kingdom – that talk about cutting back emissions are responsible for more than half of the planned expansion of oil and gas drilling through 2050. The United States accounts for more than one-third.
So activists and protesters at Sunday's march say they are aiming their frustration – and pressure – at Biden and America.
However, Biden has repeatedly trumpeted last year's Inflation Reduction Act, which includes $375 billion to fight climate change, mostly on solar panels, energy efficiency, air pollution controls and emission-reducing equipment for coal- and gas-fueled power plants.
"They want to be seen as the good guys, but the fact is they have very little to back it up," said Brandon Wu, policy director at ActionAid USA. He pointed to the new drilling plans and said the United States has failed to deliver on its promised climate-based financial aid to poor countries and has not increased its money pledges like other nations.
"How much carnage does the planet have to suffer for global leaders to act?" Su said. "We want President Biden and other major oil gas producers to phase out fossil fuels."
Add TheJapanNews to your Google News feed.