Moroccans whose Homes were Destroyed by Last Week's Earthquake Face Daunting Rebuilding Decisions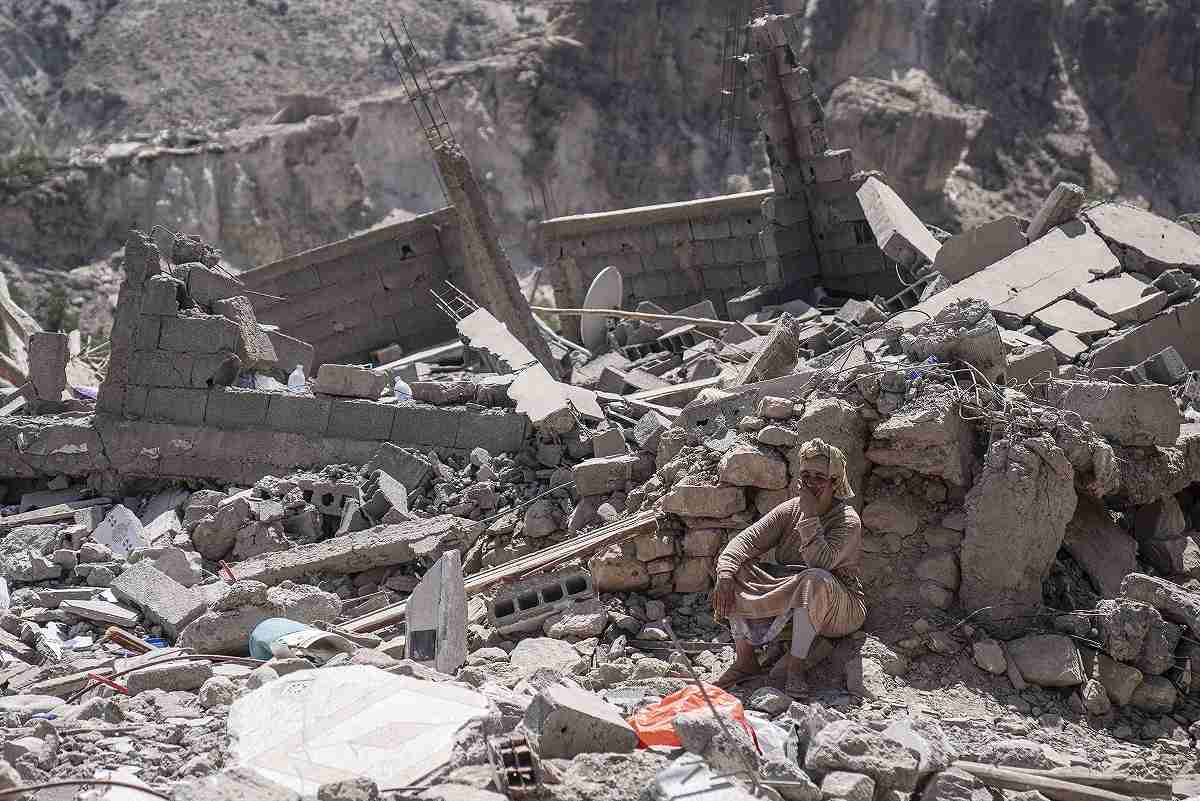 11:21 JST, September 15, 2023
AMIZMIZ, Morocco (AP) — The building where Naima Ait Brahim Ouali lived in a third-story apartment with her five children was one of many that were destroyed by the earthquake that killed nearly 3,000 people in Morocco last week.
A house cleaner, she and her daughter fell down the stairs as the quake tore off the building's top floor and laid waste to much of the rest of their neighborhood in the town of Amizmiz, near the epicenter.
Like children in many parts of the world, Ait Brahim Quali's youngest had just started their school year. Now, relocated with the rest of the Sourejdid neighborhood to a tent city in the town center, fear sets in at around 11 p.m. each night — the time the earthquake happened last Friday.
"They saw death," she said of her children, who range in age from 10 to 25. One of her daughters now has nightmares.
The displaced family is one of many in Morocco wondering what their future holds, particularly as autumn approaches and the nights get colder. Though many villagers are being provided with food and water, officials said it could take five or six years to rebuild Atlas Mountain communities like Amizmiz, which is more than an hour's drive from the closest big city, Marrakech.
The death toll from the 6.8 magnitude quake stood at 2,946 on Wednesday, with several thousand injuries. The government doesn't release the number of deaths by community, but in Amizmiz, everyone seems to know at least someone who was killed.
Rebuilding has already begun in Marrakech's old Jewish Quarter and other damaged parts of the city frequented by tourists. In Al Haouz — the province that includes Amizmiz and was the hardest hit by the earthquake and its aftershocks — efforts are still focused on immediate humanitarian needs.
After King Mohammed VI presided over an emergency response meeting on Thursday, Moroccan officials said the government would fund both emergency relief and future rebuilding for residents of roughly 50,000 homes that were damaged or destroyed by allocating cash depending on the level of destruction.
Some in the Al Haouz region's mountain towns and villages might move away, but Ait Brahim Ouali said she's committed to staying — just not in the same type of multistory brick apartment building. Like most in this part of Morocco, her family is Amazigh, the country's largest indigenous group, and she doubts that they would get enough government assistance to be able to afford a home in Marrakech big enough for the whole family.
"We are afraid for the future. We just started the new school year but the earthquake came and ruined everything," she said, standing under an umbrella outside of a yellow tent as children played inside. "We just want somewhere to hide from the rain."
UNICEF, the United Nations agency that provides aid for children, estimated this week that roughly 100,000 children have been "impacted" by the quake. That's in line with the 300,000 people of all ages who the U.N. estimates were affected, as roughly a third of Morocco's population are kids.
Ricardo Pires, a spokesperson for UNICEF, said that during humanitarian disasters, the organization worries about the trauma of displacement as well as basic needs for children such as access to clean water and medical supplies.
"Children get separated from their families. They might be displaced, on the move, and not knowing where to go to stay safe," Pires said. "This is always a major risk in humanitarian disasters or when earthquakes like this break and it's very hard to reach certain areas."
Like many in Amizmiz, 40-year-old plumber Rachid Alachoun said his family plans to stay and rebuild. Half of their home near the town's old Jewish quarter, the Mellah, collapsed during the quake. The yellow tent in the town center that his family was given isn't big enough for everyone, so Alachoun stayed behind, navigating between rubble and exposed wires to get to his kitchen and bathroom.
On Wednesday, he cooked chicken, carrots and olives in a clay pot on the gas stove in an area of the home he's kept tidy. Cooking with gas beneath a cinderblock ceiling is especially precarious when aftershocks strike, such as a 4.6-magnitude tremor on Thursday morning.
The Alachouns were told Saturday that assistance was on the way. Food and water soon arrived, but they lacked shelter until they were given the tent Tuesday.
"They told us not to come to get supplies and that supplies would come. So we waited," Alachoun's sister, Loubna, said from the coated polyester tent she is sharing with another brother, father, mother and a close family friend.
Add TheJapanNews to your Google News feed.