Biden to Use G20 Summit and Vietnam Visit to Highlight US as Trustworthy Alternative to China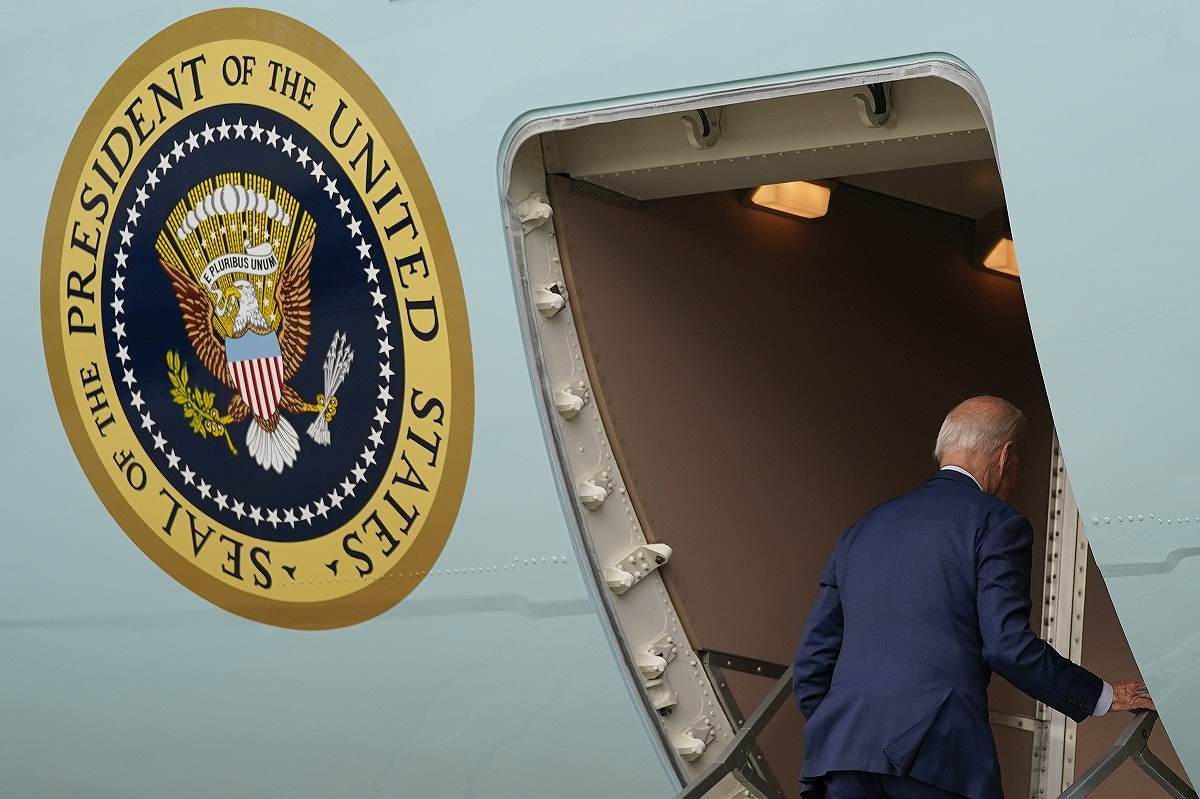 11:56 JST, September 8, 2023
WASHINGTON (AP) — President Joe Biden wants to show the world at the Group of 20 summit in India and during a stop in Vietnam that the United States and its like-minded allies are better economic and security partners than China.
White House officials said Biden, who departed Thursday evening for New Delhi, will use the annual G20 gathering as an opportunity for the U.S. to highlight a proposition for developing and middle-income countries that would increase the lending power of the World Bank and International Monetary Fund by some $200 billion.
That is an attempt to offer a significant, albeit smaller, alternative to China's massive Belt and Road infrastructure initiative, which the U.S. views as a Trojan horse for China-led regional development and military expansion. Chinese President Xi Jinping plans to skip the summit, where Premier Li Qiang will represent the country.
After the summit, Biden and Vietnamese General Secretary Nguyen Phu Trong will meet in Hanoi and are expected to announce plans to tighten economic cooperation.
Vietnam and China have robust trade relations, but also deep differences. Vietnam, like Malaysia, the Philippines, Taiwan and Brunei, has been in a tense territorial standoff for decades with China, which has claimed authority over waters in the South China Sea that are hundreds of miles from the Chinese coastline.
"I think Xi's absence at this particular summit, if that comes to pass, really is a big missed opportunity for the Chinese," said Colleen Cottle, deputy director at the Washington think tank Atlantic Council's Global China Hub. "And I think it affords the Biden administration even more of a chance to go on the offensive in terms of stepping up and showing … what their value proposition is to the Global South."
Leaders of the U.S., India, Saudi Arabia and the United Arab Emirates were working to finalize a joint infrastructure deal that could be announced in New Delhi, according to an official familiar with the matter.
If it comes together, the arrangement would involve ship transit between India and Saudi Arabia, then trains through Saudi Arabia and the UAE, likely to Jordan, then ship transit to Turkey and onward from there by train, according to a diplomat familiar with the negotiations.
White House national security adviser Jake Sullivan said he could not confirm the deal. He said the initiative is something "that we've invested effort into with our partners.:"
"We believe that connectivity from India across the Middle East to Europe is incredibly important and would bring a significant number of economic benefits, as well as strategic benefits, to all of the countries involved," he told reporters accompanying Biden aboard Air Force one.
Heading into the summit, the U.S. has criticized China for reducing the transparency of its reporting on basic economic data in recent months and for cracking down on companies in China that had been providing such data.
At the same time, the White House has tried to improve ties. Commerce Secretary Gina Raimondo, who recently returned from China, was the latest administration officials to engage Beijing amid disputes over technology, security, Taiwan and other issues.
Raimondo told The Associated Press that "the world is looking for the U.S. and China to responsibly manage our relationship." She said the administration's goal is to have a stable economic relationship in which there is consistent engagement. But Xi's decision to not attend the G20 shows that "we have work to do" regarding communication between the countries, she said.
"Communication is of course, a two-way street," Raimondo said. "Communication does need to lead to action."
Biden said he was disappointed that Xi will not be in New Delhi, where the summit is expected to focus on climate, development and the future of the grouping of leading economies.
The U.S. has criticized China's lending practices under Belt and Road as "coercive," saying the $1 trillion infrastructure effort that provides Chinese loan assistance to poor countries often comes with strings attached that restrict the restructuring of debt with other major creditor nations. China also frequently retains the right to demand repayment at any time, giving Beijing leverage over other countries.
A recent Associated Press analysis of a dozen countries most indebted to China, including Pakistan, Kenya, Zambia, Laos and Mongolia, found paying back that debt is consuming an ever-greater amount of tax revenue. Countries in AP's analysis had as much as 50% of their foreign loans from China and most were devoting more than one-third of government revenue to paying off foreign debt.
Sullivan said the effort to bolster the lending capacity of the World Bank and the IMF would provide a "credible alternative" to China.
Biden included $3.3 billion for both institutions in the supplemental budget request he has sent to Congress. The administration said the money would help leverage nearly $50 billion from the U.S. alone in lending for middle-income and poor countries and up to $200 billion around the world.
"We believe that there should be high-standard, noncoercive lending options available to low- and middle-income countries," Sullivan said
Xi is trying to navigate through one of the most turbulent moments for China's economy in decades.
The Chinese economy is weighed down by a property bubble, local government debt, high youth unemployment and a broader inability to rebound as expected from pandemic lockdowns. Added to that is the longer-term challenge of China's population starting to decline due to aging and lower birth rates.
Most conventional economic analyses assume the U.S. economy and its allies are largely insulated from a Chinese slowdown. There are supply chain risks if factories close in China and global growth struggles. But so far this year, the U.S. economy has outperformed expectations as the Chinese economy has underperformed.
Xi countered in a speech published last month that the U.S. and its allies "cannot curb the greedy nature of capital and cannot solve chronic diseases such as materialism and spiritual poverty." He suggested his model of a government with centralized power will do more to serve the interests of "the vast majority of people."
How China navigates through its economic headwinds is a big question for the White House. The administration has tried to have a stable trade relationship, even as it has frustrated China by restricting imports of advanced technology for national security purposes. U.S. officials have emphasized the importance of an ongoing dialogue between the governments of the world's two largest economies.
G20 leaders will also discuss the global impact of Russia's invasion of Ukraine and joint efforts at combating climate change. Any summit agreements on the climate front are expected to be incremental at best. G20 climate and environment ministers, at their July meeting, were unable to agree on a goal of peaking emissions by 2025, moving to clean energy and a tax on carbon as a way to reduce emissions.
Biden is scheduled to meet with Indian Prime Minister Narendra Modi at Modi's residence after he arrives in India on Friday evening.
Biden has put much effort into bolstering his relations with Modi, a conservative Hindu nationalist leading the world's most populous country. The U.S.-India relationship will be vital in coming decades as both sides deal with an ascendant China and the enormity of climate change, artificial intelligence, supply chain resilience and other issues.
Biden hosted Modi in June for a pomp-filled state visit.
Add TheJapanNews to your Google News feed.