Nobel Foundation Withdraws Invitation to Russia, Belarus and Iran to Attend Ceremonies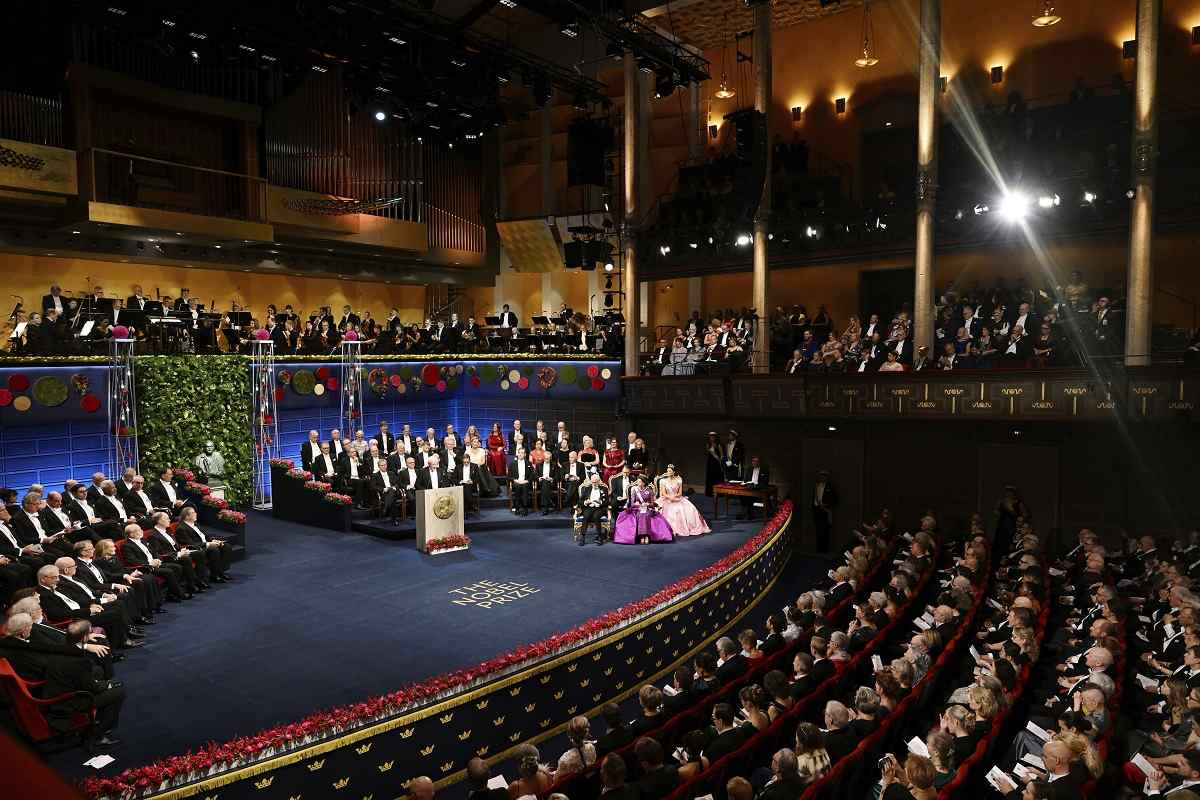 17:41 JST, September 3, 2023
STOCKHOLM (AP) — The Nobel Foundation on Saturday withdrew its invitation for representatives of Russia, Belarus and Iran to attend this year's Nobel Prize award ceremonies after the decision announced a day earlier "provoked strong reactions."
Several Swedish lawmakers said Friday they would boycott this year's Nobel Prize award ceremonies in the Swedish capital, Stockholm, after the private foundation that administers the prestigious awards changed its position from a year earlier and invited representatives of the three countries to attend, saying it "promotes opportunities to convey the important messages of the Nobel Prize to everyone."
Some of the lawmakers cited Russia's war on Ukraine and the crackdown on human rights in Iran as reasons for their boycott. Belarusian opposition figure Sviatlana Tsikhanouskaya on Friday called on the Swedish Nobel Foundation and the Norwegian Nobel Committee not to invite representatives of Belarusian President Alexander Lukashenko's "illegitimate regime to any events."
On Saturday, she welcomed the Nobel Foundation's decision. She told The Associated Press that it was "a clear sign of solidarity with the Belarusian and Ukrainian peoples."
"This is how you show your commitment to the principles and values of Nobel," Tsikhanouskaya said.
Ukrainian Foreign Ministry spokesperson Oleh Nikolenko called the decision a "victory for humanism."
"Thank you to everyone who demanded that justice be restored," he wrote on Facebook, adding that "a similar decision" should be made regarding the attendance of Russian and Belarusian ambassadors at celebrations taking place in Norway following the ceremony in Sweden.
Swedish Prime Minister Ulf Kristersson, who said Friday he wouldn't have allowed the three countries to participate in the award ceremonies, was also happy with the decision. He posted on social media platform X, formerly known as Twitter, that "the many and strong reactions show that the whole of Sweden unambiguously stand on Ukraine's side against Russia's appalling war of aggression."
The foundation said Saturday it recognized "the strong reactions in Sweden, which completely overshadowed this message" and therefore it had decided not to invite the ambassadors of Russia, Belarus and Iran to the ceremony in Stockholm where the prizes in Sciences and Literatures are awarded.
However, the Norwegian Nobel Committee that awards the Nobel Peace Prize said it would follow its usual practice and invite all ambassadors to the ceremony in the Norwegian capital of Oslo where the Nobel Peace Prize is awarded.
"The Committee wishes the government authorities in every country officially represented in Norway to have the opportunity to take part in the Nobel Peace Prize award ceremony and to familiarize themselves with the Nobel Peace Prize laureates' important message," the Committee said to the AP in a statement.
"This applies not least to countries with an authoritarian regime which wage war against other countries or against their own population, and which our Peace Prize laureates oppose."
Saturday's announcement was widely praised in Sweden by politicians. Even the Swedish Royal House reacted with spokeswoman Margareta Thorgren saying, as quoted by newspaper Aftonbladet, that "we see the change in the decision as positive." She added that King Carl XVI Gustaf was planning to hand out this year's Nobel awards at ceremonies in Stockholm "as before."
This year's Nobel prize winners will be announced in early October. The laureates are then invited to receive their awards at glittering prize ceremonies on Dec. 10, the anniversary of award founder Alfred Nobel's death in 1896.
Add TheJapanNews to your Google News feed.