Former Harrods Owner Mohamed Al Fayed, Whose Son Died in Car Crash with Princess Diana, Dies at 94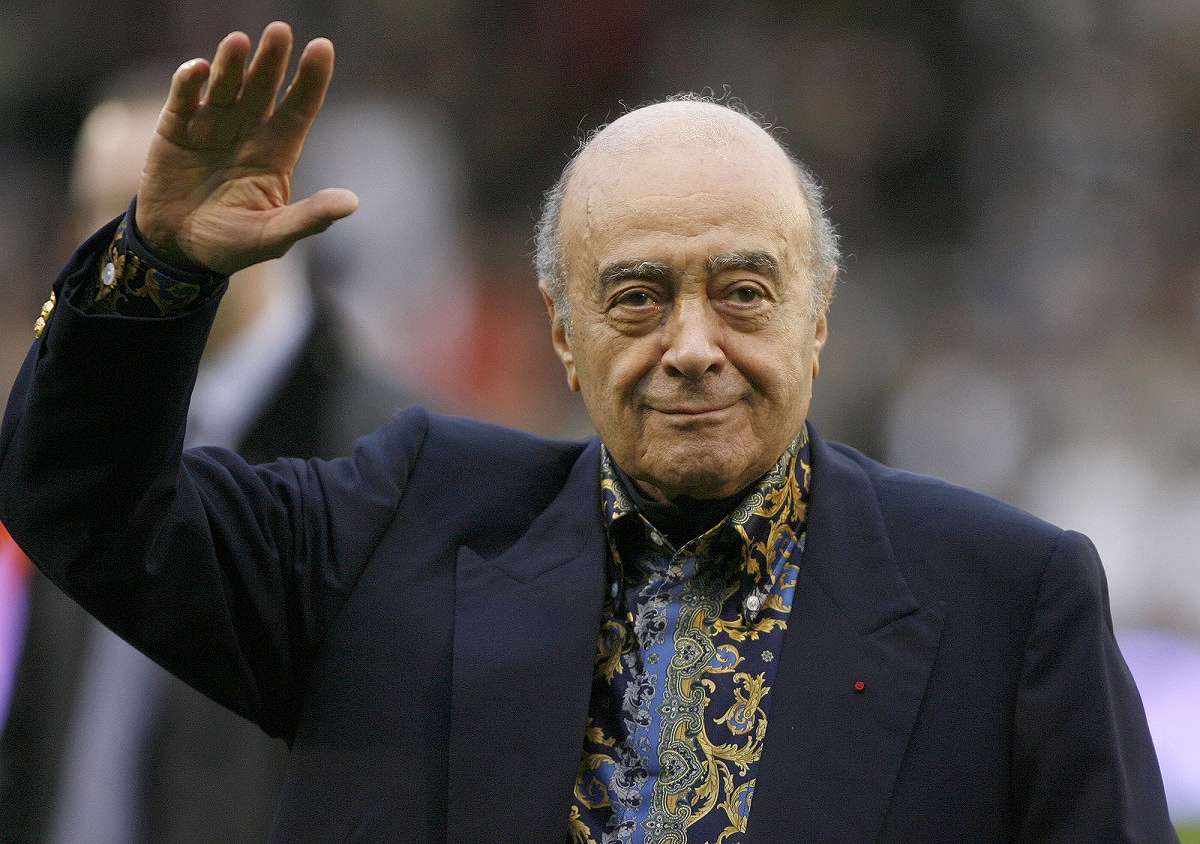 11:43 JST, September 2, 2023
LONDON (AP) — Mohamed Al Fayed, the flamboyant Egypt-born businessman whose son was killed in a car crash with Princess Diana, died this week, his family said Friday. He was 94.
Al Fayed, the longtime owner of Harrods department store and the Fulham Football Club, was devastated by the death of son Dodi Fayed in the car crash in Paris with Diana 26 years ago. He spent years mourning the loss and fighting the British establishment he blamed for their deaths.
"Mrs Mohamed Al Fayed, her children and grandchildren wish to confirm that her beloved husband, their father and their grandfather, Mohamed, has passed away peacefully of old age on Wednesday August 30, 2023,″ his family said in a statement released by the Fulham club. "He enjoyed a long and fulfilled retirement surrounded by his loved ones.″
Al Fayed was convinced Dodi and Diana were killed in a conspiracy masterminded by Prince Philip, the husband of Queen Elizabeth II. He maintained the royal family arranged the accident because they did not like Diana dating an Egyptian. Al Fayed claimed that Diana was pregnant and planning to marry Dodi and that the royal family could not countenance the princess marrying a Muslim.
In 2008, Al Fayed told an inquest the list of alleged conspirators included Philip, two former London police chiefs and the CIA.
The inquest concluded that Diana and Dodi died because of the reckless actions of their driver — an employee of the Ritz Hotel owned by Al Fayed — and paparazzi chasing the couple. Separate inquiries in the U.K. and France also concluded there was no conspiracy.
Al Fayed's relationship with the royal family was recently depicted in season five of "The Crown," in which the billionaire, played by Salim Daw, gets to know Diana.
The son of a school inspector, Al Fayad was born on Jan. 27, 1929, in Alexandria, Egypt. After early investments in shipping in Italy and the Middle East, he moved to Britain in the 1960s and started building an empire.
At the height of his wealth, Al Fayed owned the Ritz hotel in Paris and Fulham soccer team in London as well as Harrods, the luxury department store in the capital's tony Knightsbridge neighborhood.
The Sunday Times Rich List, which documents the fortunes of Britain's wealthiest people, put the family's fortune at 1.7 billion pounds ($2.1 billion) this year, ranking Al Fayed as the 104th richest person in the country.
Al Fayed first hit the headlines in the 1980s when he battled with rival tycoon "Tiny" Rowland for control of the House of Fraser group, which included Harrods.
Al Fayed and his brother bought a 30% stake in House of Fraser for 130 million pounds in 1985. They paid an additional 615 million pounds to take full control the following year.
That transaction sparked an investigation by the Department of Trade and Industry, which concluded Al Fayed and his brother had "dishonestly misrepresented their origins, their wealth, their business interests and their resources." Despite those findings, the deal was allowed to go through.
Al Fayed was also a key player in the "cash for questions" scandal that roiled British politics in the 1990s.
Al Fayed was sued for libel by a British lawmaker, Neil Hamilton, after the businessman claimed he had given Hamilton envelopes of cash and a lavish stay at the Ritz in Paris, in return for asking questions in the House of Commons.
Hamilton's lawyer, Desmond Browne, claimed the allegation was fantasy, saying: ″If there were Olympic medals for lying, Mr. Fayed would be a prime contender for a gold one."
A jury found in Al Fayed's favor in December 1999.
But he was never accepted by the British establishment. The government twice rejected his applications for citizenship, though the reasons were never released publicly.
Al Fayed bought underdog London soccer team Fulham in 1997, and spent lavishly on coaches and players to improve its performance. It was a success, with the club winning promotion to the Premier League in 2001.
Al Fayed was also friends with Michael Jackson and had a statue of the pop star erected outside Fulham's London stadium in 2011, two years after Jackson's death.
Never popular with Fulham fans, it was removed in 2013 by Al Fayed's successor as team owner, Shahid Khan.
Add TheJapanNews to your Google News feed.