In Final Hours Before Landfall, Hurricane Idalia Stopped Intensifying and Turned from Tallahassee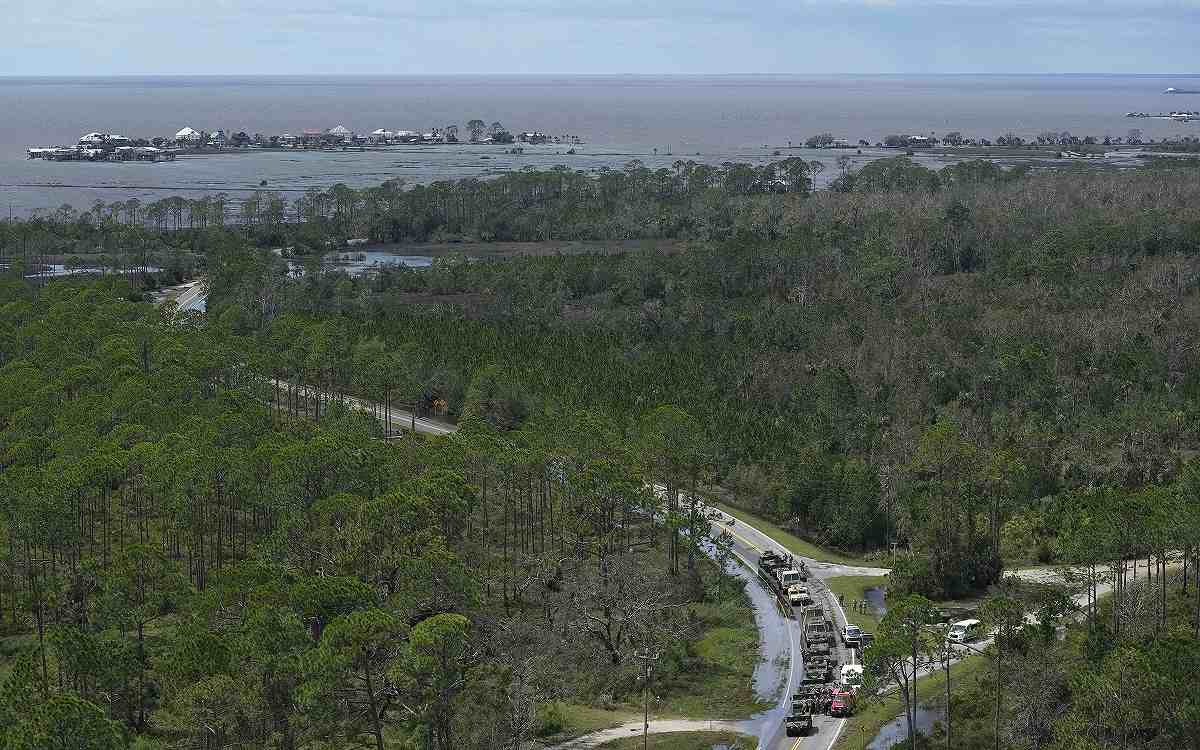 11:11 JST, September 2, 2023
ATLANTA (AP) — In the final hours before Hurricane Idalia struck Florida the storm had grown into a Category 4 beast lurking off the state's west coast, and the forecast called for it to continue intensifying up until landfall.
An Air Force Reserve Hurricane Hunter aircraft had recorded winds up to 130 mph (215 kph), the National Hurricane Center said in an ominous bulletin at 6 a.m. Wednesday.
As the sun rose an hour later, however, there was evidence the hurricane began replacing the wall around its eye — a phenomenon that experts say kept it from further intensifying. Maximum winds had dropped to near 125 mph (205 kph), the Hurricane Center said in a 7 a.m. update.
Then came another surprising twist: A last-minute turn sparing the state's capital city of Tallahassee from far more serious damage.
"Eyewall replacement cycles are common in major hurricanes, and so when you see that, it does lead to some temporary weakening," said Kelly Godsey, one of the meteorologists tracking the storm at the National Weather Service in Tallahassee, where his colleagues slept inside the weather office so they could be at work in case the city was devastated.
The eyewall essentially begins collapsing, and that "was beneficial from a timing perspective," said Donald Jones, a National Weather Service meteorologist in Lake Charles, Louisiana. Several hours after the process begins, a new eyewall forms and the hurricane can then quickly intensify — which didn't happen to Idalia as there wasn't enough time before landfall, Jones said.
"Like a figure skater pulling in her arms versus holding her arms out, the hurricane spins with a lot more energy, power, and ferocity when it has a tighter eye," said Ryan Maue, a meteorologist and former chief scientist with the National Oceanic and Atmospheric Administration.
After a successful completion of an eyewall replacement cycle, the hurricane has a larger eye and overall expanded wind field, extending the potential for damage over a larger area. Instead, Idalia tracked over land where friction immediately reduced the wind speeds near the surface.
Then, after the eyewall replacement had begun, the hurricane took a last-minute turn away from Tallahassee, home to about 200,000 people, Florida State University and thousands more people in the metro area. Instead of striking the capital city, it wobbled to the north-northeast and made landfall near Keaton Beach, Florida, the Hurricane Center announced at 7:45 a.m.
"Had that turn not occurred, there would have been much more devastating impacts here in Tallahassee," Godsey said.
Despite the eyewall replacement cycle's effects, Idalia was still a major hurricane threatening storm surges of up to 15 feet (4.6 meters) along some parts of Florida's coast.
"All of that energy has already been transferred to the water surface and the devastating storm surge is already on its way," Godsey said.
A hurricane undergoing an eyewall replacement cycle can also see an expansion of its wind field, meaning that a larger area could be struck with hurricane-force winds, said Allison Michaelis, an assistant professor in the Department of Earth, Atmosphere, and Environment at Northern Illinois University.
During the eyewall replacement, there isn't much difference in the amount of thunderstorms or tornadoes the hurricane generates because that type of weather occurs in the storm's outer bands hundreds of miles from the eye, Maue said.
Farther south in Tampa, the mood was intense as forecasters tracked the storm while it moved up the coast and took aim at the Big Bend region, said Christianne Pearce, a meteorologist at the National Weather Service office in Tampa.
"The stress level is definitely elevated, but everyone is very alert and very attentive," she said. "You know, what you're putting out there is about making decisions to help people save lives."
One of the hurricane hunter airplanes — a P-3 turboprop plane that flies directly into hurricanes to collect data — typically flies out of Lakeland, Florida, when it investigates Gulf of Mexico storms. But with Lakeland near Idalia's potential path, those operations moved to Fort Lauderdale, said Michael Fischer, a University of Miami associate scientist.
"That aircraft data is really important in helping understand the structure of the storm," said Fischer, who helps to ensure the airplane's data is transmitted in real time to the National Hurricane Center and emergency managers.
As Idalia advanced toward Florida, Fischer said he was impressed by some of the high-resolution hurricane models used by meteorologists. They have advanced over the years and now give scientists a better picture of the processes taking place inside hurricanes — including signs an eyewall replacement cycle might begin, he said.
Once the storm made landfall, it was moving fast with a forward speed of around 18 mph (30 kph), the National Hurricane Center said.
The fast forward speed "was good and bad at the same time," Pearce said. It didn't linger long enough to drop copious amounts of rain on the region, but it was fast enough that it could maintain much of its intensity and remained a hurricane as it moved across south Georgia.
Idalia's inland track was fairly straightforward for a storm moving near the coast across the Southeast U.S., said Bob Henson, a meteorologist and journalist with Yale Climate Connections.
"The most unusual aspect was the especially high water recorded at Charleston, South Carolina, and other places along the Southeast coast," he said. "These high waters were a combination of a 'supermoon' high tide, the storm-surge effects of Idalia, and a long-term component from sea level rise associated with human-produced climate change. "
There are several aspects of Idalia that have weather experts intrigued, Michaelis noted.
"It's interesting that we had a drought of major hurricanes making landfall from 2006 to 2016, but since the 2017 season, we've had six major hurricanes make landfall across the Gulf Coast," said Michaelis, who added that the location where Idalia made landfall in Big Bend Coast, Florida, rarely sees a direct hit from hurricanes.
"To me, this underscores the main message we try to communicate before and during every hurricane season: It only takes one," he said. "Aside from how quiet or active a season is, aside from how quiet or active previous seasons have been, and aside from where we traditionally see major landfalls, it only takes one storm to make an impact."
Add TheJapanNews to your Google News feed.