North Korea Says Its 2nd Attempt to Launch a Spy Satellite Has Failed, Vows 3rd Try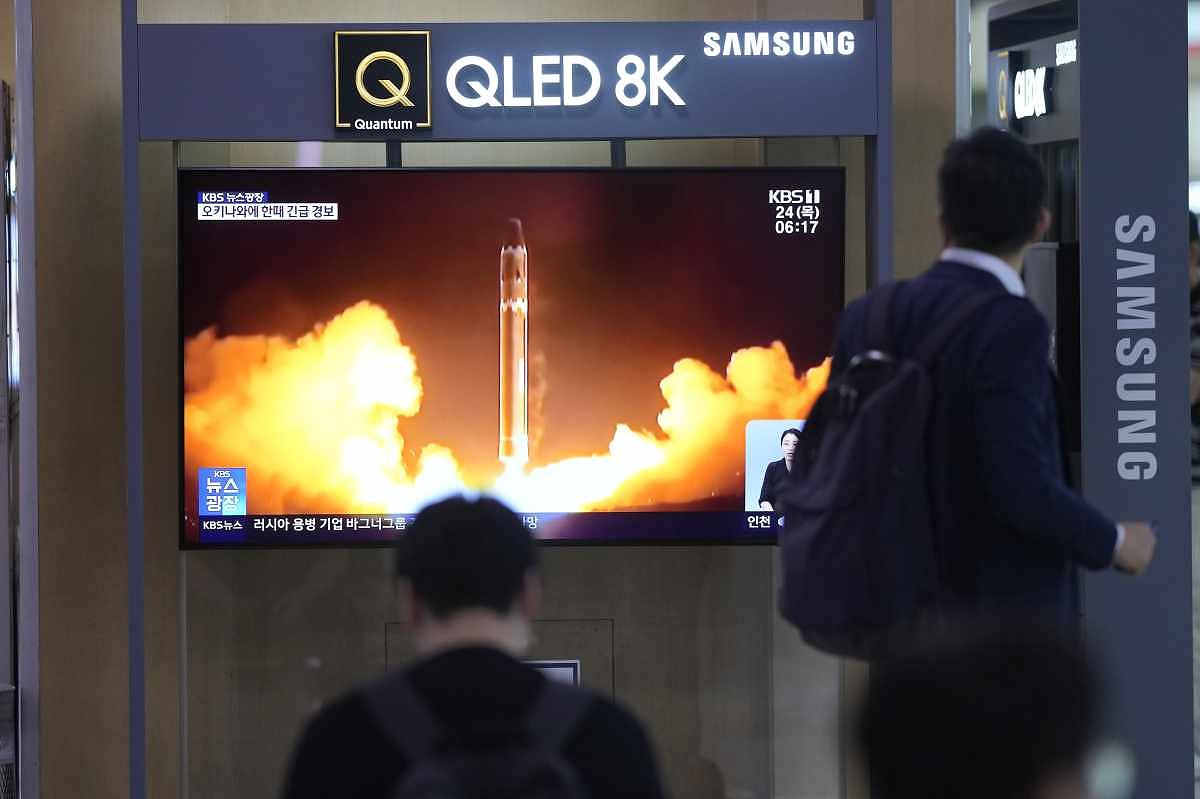 8:48 JST, August 24, 2023
SEOUL (AP) — North Korea said Thursday that its second attempt to launch a spy satellite failed but vowed to make a third attempt in October.
The announcement followed a statement by South Korea's military that North Korea had launched a long-range rocket.
The North's space agency said it used the new-type carrier rocket Chollima-1 to put the reconnaissance satellite Malligyong-1 into orbit. It said the flights of the first and second stages of the rocket were normal, but the launch eventually failed due to an error in the emergency blasting system during the third-stage flight, according to the official Korean Central News Agency.
The space agency said it would make a third launch attempt in October after studying what went wrong with Thursday's launch. The agency added that "the cause of the relevant accident is not a big issue in terms of the reliability of cascade engines and the system."
Earlier Thursday, South Korea's Joint Chiefs of Staff said in a statement that it detected the rocket flying above international waters off the Korean Peninsula's west coast after its liftoff at the North's northwestern Tongchang-ri area at 3:50 a.m. The site is where North Korea's main space launch center is located. The North made a failed launch of a spy satellite there in late May.
South Korea's military said it had bolstered its surveillance posture and was in close coordination with the United States.
On May 31, a North Korean rocket carrying a spy satellite plunged into the sea soon after liftoff, posing a setback to leader Kim Jong Un's push to establish a space-based surveillance system to better monitor the U.S. and South Korea. North Korea had since vowed to make a second attempt.
After the first launch attempt, North Korea made an unusually quick admission of failure, saying its newly developed Chollima-1 rocket lost thrust between launch stages and crashed into the sea. The North's ruling party leadership described the failed launch as a serious setback in the country's efforts to bolster its military capabilities amid tensions with rivals.
South Korea's military recovered some of the debris after the failed launch and said in early July that the North Korean satellite wasn't advanced enough to conduct military reconnaissance.
South Korea, the U.S. and others have still condemned the May launch for raising tensions and violating U.N. Security Council resolutions that banned the country from using ballistic missile technology.
Thursday's launch came three days after the U.S. and South Korean militaries kicked off annual military drills that North Korea calls an invasion rehearsal.
North Korea's official Korean Central News Agency said the 11-day U.S.-South Korean exercises are increasing the danger of a nuclear war on the Korean Peninsula. It said the current situation is compelling North Korea to take "offensive, overwhelming" steps, but didn't elaborate.
South Korea's spy agency told lawmakers last week it spotted signs that North Korean is preparing for the test-flights of intercontinental ballistic missiles and other provocative weapons. On Monday, KCNA said Kim had observed the test firings of strategic cruise missiles.
Since the start of 2022, North Korea has test-fired around 100 missiles in a torrid run of military demonstrations. Along with the North's testing activity, the combined military U.S.-South Korea military exercises have intensified recently in a tit-for-tat cycle.
North Korea says its weapons testing is part of efforts to bolster its nuclear deterrent to counter increasing U.S.-led military threats. But many experts say North Korea aims to modernize its weapons arsenal to boost its leverage to wrest greater concessions from the U.S.
A spy satellite is among an array of high-tech weapons systems Kim has publicly vowed to acquire.
After repeated failures, North Korea successfully put its first satellite into orbit in 2012, and the second one in 2016. North Korea said both are Earth observation satellites launched under its peaceful space development program, but many foreign experts believed they were developed to spy on its rivals.
Observers say there has been no evidence that both satellites have ever transmitted imagery back to North Korea. But those satellite launches were still believed to have improved North Korea's long-range missile technology.
Since 2017, North Korea has performed a slew of intercontinental ballistic missile tests, demonstrating its potential ability to send missiles anywhere in the continental U.S. But experts say North Korea still has some technological hurdles to clear before obtaining functioning nuclear missiles, such as manufacturing warheads small enough to be topped on missiles and ensuring those warheads would withstand the severe conditions of atmospheric reentry.
The U.N. Security Council imposed economic sanctions on North Korea over its satellite launches in previous years, seeing them as covers for long-range ballistic missile tests. But the U.N. council failed to adopt further sanctions over the North's recent series of missile launches because permanent veto-wielding members Russia and China oppose them, underscoring a divide that has deepened over Russia's war on Ukraine.
Add TheJapanNews to your Google News feed.