Former Thai Leader Thaksin Goes to Jail as Political Party Linked to Him Wins Vote to Take Power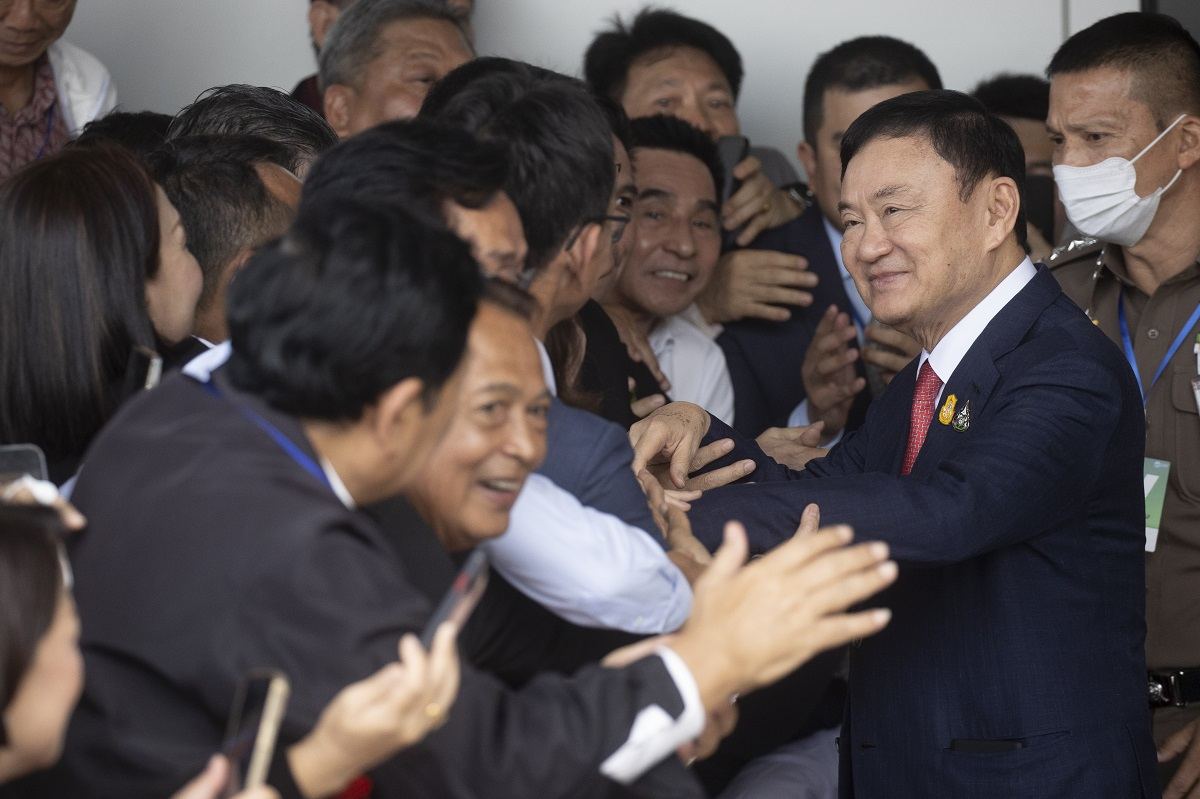 11:33 JST, August 23, 2023
BANGKOK (AP) — A divisive former prime minister of Thailand made a dramatic return home Tuesday to face an eight-year prison term, just as a party linked to him won a vote in Parliament to lead the government — the latest turn in the country's tumultuous politics.
The move by Thaksin Shinawatra indicates he is hoping that a friendly government will be able to cut short his sentence, although he has said his decision to come back had nothing to do with the Pheu Thai party's bid for power.
Thaksin's return after 15 years in self-imposed exile was an emotional moment for supporters of the 74-year-old billionaire, who won the loyalty of millions with populist policies that directed attention and funding to the country's largely rural, impoverished north before being removed in a coup. His reemergence recalls the years of pitched battles — both figurative and sometimes literal — between his "red shirt" supporters and "yellow shirt" opponents who champion conservative, royalist values.
Hundreds of people gathered outside of the airport early in the morning, donning red clothes and holding signs with welcoming messages. They sang and chanted in anticipation, then raised a raucous cheer when Thaksin appeared at the terminal's door.
Hours later, Srettha Thavisin of the Pheu Thai party secured enough votes to become prime minister, ending months of suspense, legal wrangling and horse trading that followed May's elections. The progressive Move Forward Party won the most votes in those elections but was blocked from taking power by conservative senators.
The Pheu Thai party has since entered a coalition with military parties linked to the coup that removed it from power in 2014, and some accuse the party of turning its back on the election results and the democracy movement that began after the military removed Thaksin from power in an earlier coup, in 2006. Thaksin is widely seen as the party's de facto leader.
"From the past, the party was seen by the people as the most diligent in standing up for democracy," said Thanet Aphornsuvan, a retired professor of history. "Now, that sentiment is going to disappear."
Thaksin and parties he backed have tussled with the military — and the conservative elite it represents — for years. His second term as prime minister was cut short by the 2006 coup, sparking years of deep political divisions.
He was hit with corruption charges, which he dismissed as politically motivated, and was tried and convicted in absentia after he fled into exile.
A Pheu Thai government led by Thaksin's sister, Yingluck Shinawatra, eventually came to power but was ousted in 2014 by then-army chief Prayuth Chan-ocha, who is now the outgoing prime minister.
At the airport, Thaksin prostrated himself before a portrait of Thailand's king and queen and left a flower wreath — an important gesture of deference for a man who often had been accused of not sufficiently respecting the monarchy, which is widely revered in Thailand. He spent a moment greeting supporters and the media waiting in front of the terminal, but did not speak.
"I feel fulfilled that I traveled here today to welcome him. If possible I want to hug him. Everyone has tears, tears coming out of their eyes," said Makawan Payakkae, a 43-year-old from Maha Sarakham province in Thailand's northeast.
Pheu Thai will begin forming Thailand's next government and Srettha will lead a coalition of 11 parties that includes two pro-military parties affiliated with Prayuth.
Pheu Thai said the coalition agreed to back the party's platform of boosting the economy, increasing the minimum wage and ending mandatory conscription. They will also support keeping medical marijuana legal and work to amend the constitution to help the country "become more democratic."
"I will try my best to perform my duty without being worn down, in order to lift up the quality of life of all Thai people," Srettha said.
Move Forward was excluded from the coalition. Pheu Thai leaders said Move Forward's vow to reform a law that forbids insulting the royal family had made it impossible to rally enough support from other parties and the unelected Senate, which was installed by the previous military government. Both houses of Parliament vote together for the prime minister under the military-implemented constitution.
Critics say the law, which carries a penalty of up to 15 years in prison, has been widely abused as a political weapon. The Pheu Thai-led coalition pledged not to touch the law.
Thanet, the retired professor, said the wide range of interests in the coalition would make the government an "unhappy" one, forced to accommodate allies from all ends of the political spectrum and a backlash from Pheu Thai's own supporters.
But Thitinan Pongsudhirak, a professor of political science at Bangkok's Chulalongkorn University, held out some hope that the government could work effectively, with Move Forward able to push some reform from its position in the opposition.
Before the parliamentary vote began, Thaksin's convoy went from the airport to the Supreme Court, where a special body that handles criminal cases against former officeholders confirmed his eight-year sentence. He then went directly to Bangkok's main prison.
Many observers say that Thaksin is betting he won't stay in prison long. Less than a week before the May elections, Thaksin announced plans to return before his birthday in July, but they were repeatedly delayed after his party failed to win and faced uncertain prospects of entering a new government.
"This implies a strong connection between the election, formation of coalitions, and selection of the prime minister on one hand, and Thaksin's personal agenda on the other," said Napon Jatusripitak, a political science researcher and visiting fellow at Singapore's ISEAS-Yusof Ishak Institute.
Napon said Thaksin's decision to return suggests that "he has received assurances that he will not have to serve a prison sentence in full."
Deputy Prime Minister Wissanu Krea-ngam of the outgoing military-linked government has said that Thaksin can request a royal pardon like any other inmate.
Correctional officers at Bangkok Remand Prison said in a news conference that following a medical check that Thaksin had been categorized as "vulnerable" due to his age and chronic conditions, including high blood pressure, and he will be held in isolation and monitored.
Add TheJapanNews to your Google News feed.