New Thai leader Srettha Thavisin is a Wealthy Property Developer Who Didn't Hide His Political Views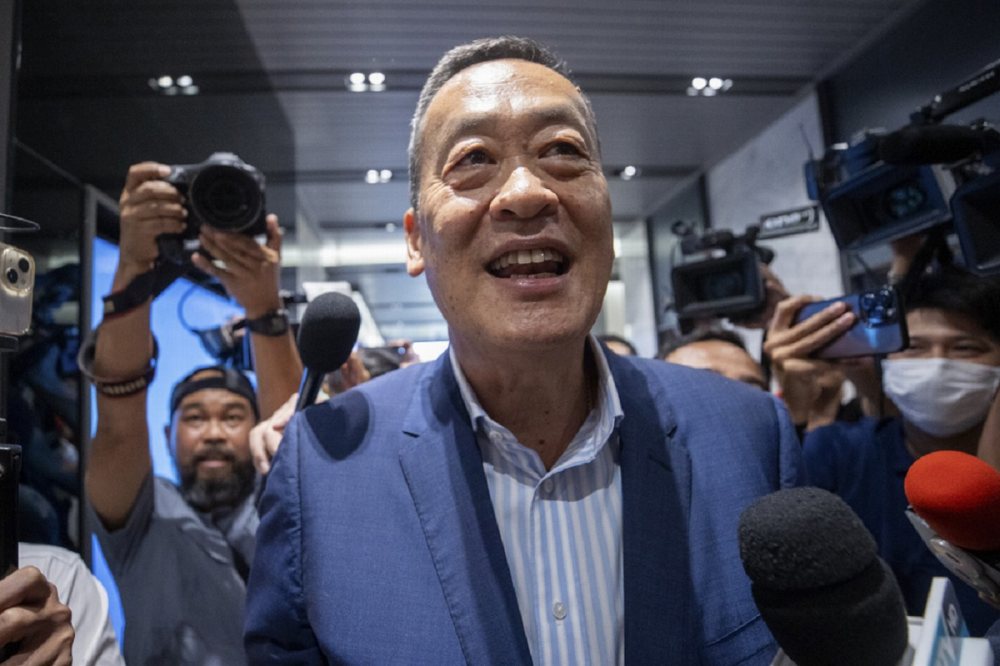 20:45 JST, August 22, 2023
BANGKOK (AP) — The leader of one of Thailand's best-known property empires has been selected prime minister just nine months after joining a political party that champions the poor.
Parliament confirmed Srettha Thavisin on Tuesday, ending months of political uncertainty following May elections. The 61-year-old political newcomer, who exudes the confidence of a seasoned business tycoon, will lead the Pheu Thai party's push to stimulate the economy and bridge one of the world's worst inequality gaps.
I'm doing this because I want to improve the country and the economy, Srettha wrote on X, formerly known as Twitter, days ahead of the vote. "I'd like to emphasize again. My enemy is people's poverty and inequality. My goal is a better livelihood for all Thai people."
Srettha announced last November that he had joined Pheu Thai, the latest in a string of parties associated with popular but divisive former Prime Minister Thaksin Shinawatra, who was ousted by a military coup in 2006. It was Srettha's first official step into politics.
Hours before Tuesday's parliamentary vote, Thaksin returned to Thailand from years of self-imposed exile and began serving an eight-year prison sentence on corruption charges he has dismissed as politically motivated. There has been widespread speculation that Srettha's expected appointment was related to Thaksin's return and that it might help shorten his jail time.
Early this year, Srettha stepped down as CEO and president of his family's company, Sansiri, one of Thailand's largest property developers with assets worth over 100 billion baht ($2.9 billion). He also transferred all of his shares, reportedly valued at more than 1.2 billion baht ($35 million), in the company to his daughter.
The recipient of an MBA from Claremont Graduate University in the U.S., Srettha led Sansiri to a record profit of over 4 billion baht ($117 million) in 2022.
After Pheu Thai confirmed it would nominate him as prime minister, Srettha and Sansiri battled a series of accusations of tax evasion and money laundering. The company and its former boss denied any wrongdoing.
Pheu Thai finished second in the May elections but was able to assemble an 11-party coalition — including two pro-military parties affiliated with outgoing Prime Minister Prayuth Chan-ocha — with enough parliamentary votes to approve Srettha.
Srettha was born into a wealthy family, and there has been skepticism over his ability to connect with Pheu Thai's main voters in the country's relatively poor, rural north. After joining the party, he appeared at many campaign stops targeting the working class, including residents of Bangkok's biggest slum community and rural farmers.
He became an adviser for Pheu Thai's economic team and helped promote the party's policies, including a plan to give 10,000 baht ($290) in digital money to all Thais age 16 and above, which created a major buzz.
Before starting his political career, Srettha was a high-profile critic of the outgoing government headed by Prayuth, who as army commander staged a coup that toppled a Pheu Thai government led by Thaksin's sister Yingluck in 2014 and who returned as prime minister after a 2019 election. Srettha was among dozens of opposition politicians, academics and activists who were summoned by Prayuth's junta for interrogation shortly after the coup.
Srettha wrote many online posts accusing Prayuth and his Cabinet of failing to effectively handle the COVID-19 pandemic. Combined with his support for student-led protests demanding democratic reforms in 2020, he earned a throng of followers who admired his views.
In an interview with Forbes Thailand last year, published just days before he formally announced his membership in Pheu Thai, Srettha said he believes big businesses and billionaires should contribute more to society to reduce inequality. He said he wants to inspire young people to help strengthen Thailand's competitiveness with other countries.
Add TheJapanNews to your Google News feed.