Biden Creates New National Monument near Grand Canyon, Citing Tribal Heritage, Climate Concerns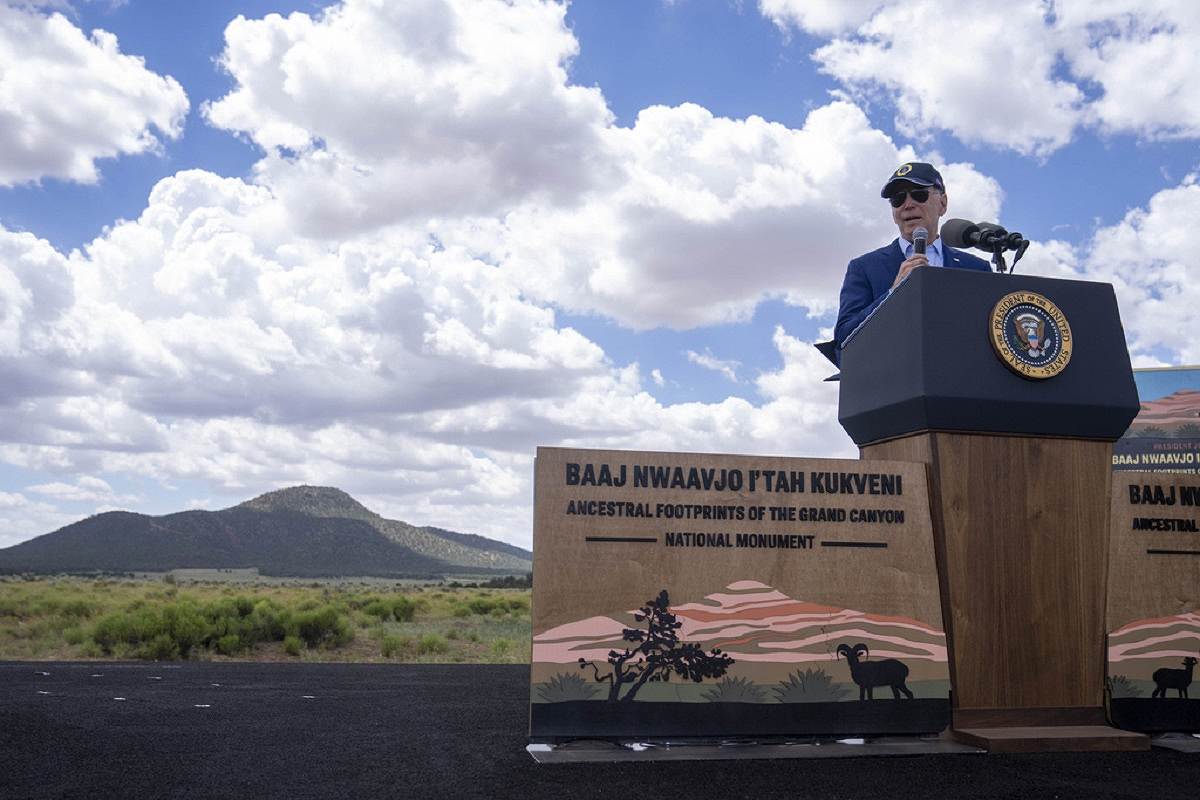 17:09 JST, August 9, 2023
GRAND CANYON NATIONAL PARK, Ariz. (AP) — Declaring it good "not only for Arizona but for the planet," President Joe Biden on Tuesday signed a national monument designation for the greater Grand Canyon, turning the decades-long visions of Native American tribes and environmentalists into reality.
Coming as Biden is on a three-state Western trip, the move will help preserve about 1,562 square miles (4,046 square kilometers) just to the north and south of Grand Canyon National Park. It encompasses canyons, plateaus and tributaries that feed a range of plants and wildlife, including bison, elk, desert bighorn sheep and rare species of cactus, and it is Biden's fifth monument designation.
Tribes in Arizona have been pushing the president to use his authority under the Antiquities Act of 1906 to create a new national monument called Baaj Nwaavjo I'tah Kukveni. "Baaj Nwaavjo" means "where tribes roam," for the Havasupai people, while "I'tah Kukveni" translates to "our footprints," for the Hopi tribe.
Preserving these lands is good, not only for Arizona but for the planet, said Biden, who spoke with a mountain vista behind him using a handheld mic to counter the wind and wearing a baseball cap and sunglasses to shield him from the sunshine. "It's good for the economy. It's good for the soul of the nation."
The president tied the designation to his administration's larger push to combat climate change and noted this summer's extreme heat, which has been especially punishing in places like Phoenix. He said extreme heat was responsible for more deaths than other natural disasters like floods and hurricanes but added, "None of this need be inevitable."
Biden also criticized adherents of former President Donald Trump 's "Make America Great Again" movement for opposing efforts to promote green energy and expand federal environmental protections. He spoke near Red Butte, a site culturally significant to the Havasupai and Hopi tribes, to an audience that included a number of people in traditional native dress, including feathered headbands.
Biden said the new designation would see the federal government live up to its treaty obligations with Native American tribes after many were forced in decades past from their ancestral homes around the Grand Canyon as officials developed the site of the national park.
At a time when some seek to ban books and bury history, we're making it clear that we can't just choose to learn what we want to learn, Biden said, a reference to his frequent criticism of some top Republicans who have sought to impose limits on school libraries, citing parental complaints about explicit material.
The political stakes are high since Arizona is a key battleground state that Biden won narrowly in 2020. It is one of only a few genuinely competitive states heading into next year's election, making winning Arizona a critical part of Biden's efforts to secure a second term.
Later Tuesday, the president flies to New Mexico, considered safe for Democrats in 2024, and he will visit the Republican stronghold of Utah after that.
Invitees at Tuesday's event included Yavapai-Apache Nation Chairwoman Tanya Lewis, Colorado River Indian Tribes Chairwoman Amelia Flores, Navajo President Buu Nygren and Havasupai Tribal Councilwoman Dianna Sue White Dove Uqualla.
Carletta Tilousi, a former Havasupai councilwoman and spokesperson for the Grand Canyon Tribal Coalition, was moved as she first watched her daughter introduce Biden, and then saw the president sign the designation.
I've had a lot of mixed emotions leading up to this day, Tilousi said. "One, missing my elders that started this campaign. They've all passed away. … They weren't here to witness this special moment physically but I know they're here in the clouds, in the wind."
Noting Biden's reference to past mistreatment of Native Americans, she added, "I never thought I'd hear a president say that in a lifetime."
Republican lawmakers and the uranium mining industry that operates in the area had opposed the designation, touting the economic benefits for the region while arguing that the mining efforts are a matter of national security.
Reps. Bruce Westerman, chairman of the House Natural Resources Committee, and Paul Gosar, an Arizona Republican who also holds a leadership position on the committee, released a letter to Biden on Tuesday, suggesting the designation "would permanently withdraw the richest and highest-grade uranium deposits in the United States from mining—deposits that are far outside the Grand Canyon National Park."
The Interior Department, reacting to concerns over the risk of contaminating water, enacted a 20-year moratorium on the filing of new mining claims around the national park in 2012. Still, existing mining claims will not be affected by the designation, senior Biden administration officials say.
Furthermore, the monument site encompasses around 1.3% of the nation's known and understood uranium reserves. Officials say there are significant resources in other parts of the country that will remain accessible.
Arizona Gov. Katie Hobbs said Tuesday that "the Grand Canyon is known as one of the seven natural wonders of the world, but we know it for so much more." In his own remarks, Biden mistakenly referred to the nine wonders of the world, but corrected himself.
There's no national treasure, none, that is grander than the Grand Canyon, the president said.
Other opponents of establishing a monument have argued it won't help combat a lingering drought and could prevent thinning of forests and stop hunters from keeping wildlife populations in check. Ranchers in Utah near the Arizona border say the monument designation would strip them of privately owned land.
In 2017, President Barack Obama backed off a full-on monument designation. The idea faced a hostile reception from Arizona's Republican governor and two senators. Then-Gov. Doug Ducey threatened legal action, saying Arizona already has enough national monuments.
The landscape of Arizona's political delegation has since changed considerably. Hobbs, Democratic Sen. Mark Kelly and Sen. Kyrsten Sinema, an independent, all endorsed the move.
Mining companies and the areas that would benefit from their business nonetheless remained opposed. Buster Johnson, a Mohave County supervisor, said he doesn't see the point of not tapping into uranium and making the country less dependent on Russia.
We need uranium for the security of our country, Johnson said. "We're out of the game."
No uranium mines are operating in Arizona, although the Pinyon Plain Mine, just south of Grand Canyon National Park, has been under development for years. Other claims are grandfathered in. The federal government has said nearly a dozen mines within the area that has been withdrawn from new mining claims could still potentially open.
After Arizona, Biden will go on to Albuquerque on Wednesday, where he will talk about how fighting climate change has created new jobs. During a visit to Salt Lake City on Thursday, the president will mark the first anniversary of the PACT Act, which provides new benefits to veterans who were exposed to toxic substances.
Add TheJapanNews to your Google News feed.