White House Says Top Russian Official Pitched North Korea on Increasing Sale of Munitions to Moscow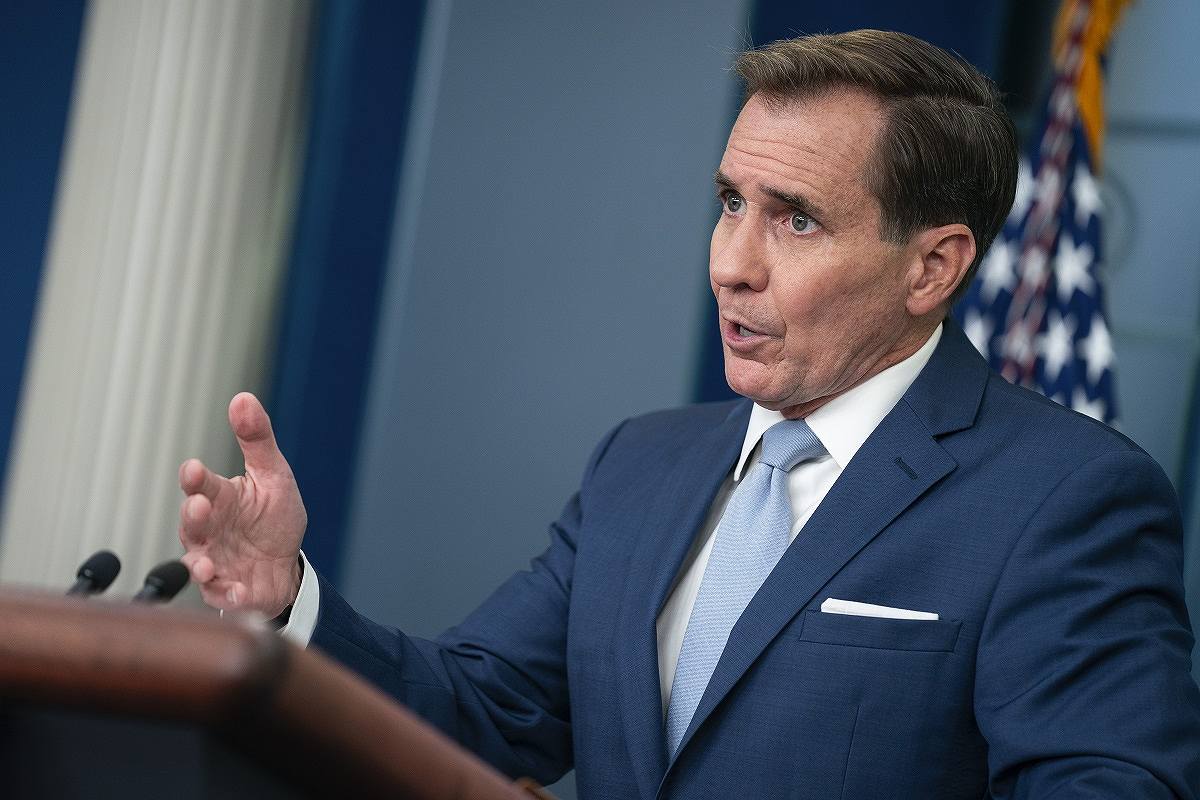 11:12 JST, August 4, 2023
WASHINGTON (AP) — The White House on Thursday said U.S. intelligence officials have determined that Russian Defense Minister Sergei Shoigu spoke last week to North Korean officials during a visit to Pyongyang about increasing the sale of munitions to Moscow for its war in Ukraine.
Shoigu made the pitch during his visit to North Korea for events marking the 70th anniversary of the armistice that halted fighting in the 1950-53 Korean War, according to White House National Security Council spokesman John Kirby. Russian President Vladimir Putin dispatched Shoigu to lead the Russian delegation for the commemoration.
The Biden administration says Shoigu's pitch to tighten cooperation with North Korea underscored that the Kremlin has become reliant on the country, as well as Iran, for the arms it needs to fight its war against Ukraine. North Korea and Iran are largely isolated on the international stage for their nuclear programs and human rights records.
"This is yet another example of how desperate Mr. Putin has become because his war machine is being affected by the sanctions and the export controls," Kirby said. "He is going through a vast amount of inventory to try to subjugate Ukraine, and he's reaching out to countries like North Korea, like Iran, and certainly he's been trying to reach out to China to get support for his war machine."
In March, the White House said it had gathered intelligence that showed that Russia was looking to broker a food-for-arms deal with North Korea, in which Moscow would provide the North with needed food and other commodities in return for munitions from Pyongyang,
Late last year, the White House said it had determined that the Wagner Group, a private Russian military company, had taken delivery of an arms shipment from North Korea to help bolster its forces fighting in Ukraine on behalf of Russia.
Both North Korea and Russia have previously denied the U.S. allegations about weapons. North Korea, however, has sided with Russia over the war in Ukraine, insisting that the "hegemonic policy" of the U.S.-led West has forced Moscow to take military action to protect its security interests.
The Biden administration says the Kremlin's reliance on North Korea and Iran shows Russia's desperation.
The White House says Iran has been a crucial supplier of attack drones for Russia as the war in Ukraine grinds on and Moscow has had to maneuver around sanctions that keep it from obtaining sophisticated parts to build and sustain its weapons supply.
The United States long has been concerned that China may provide weapons to Russia. Secretary of State Antony Blinken warned earlier this year that U.S. intelligence showed Beijing was weighing it. But U.S. officials have said that, to date, they do not believe China has provided Moscow with weapons.
Chinese leader Xi Jinping promised Russian President Vladimir Putin a partnership with "no limits" when they met just weeks before Putin sent his troops into Ukraine on Feb. 24, 2022.
The Biden administration has repeatedly released intelligence findings over the course of the war that aim to demonstrate Russia has limited options to help it resupply weapons.
Add TheJapanNews to your Google News feed.