2 US Navy sailors charged with providing sensitive military information to China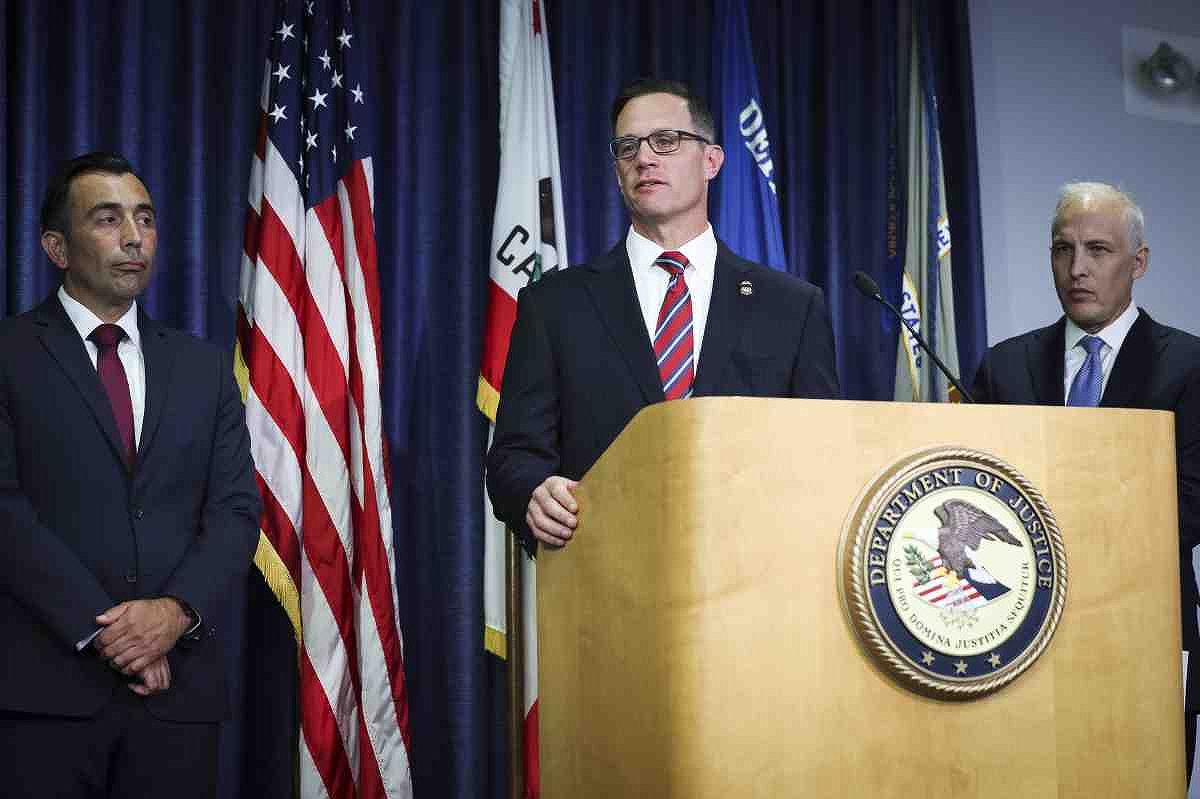 10:49 JST, August 4, 2023
SAN DIEGO (AP) — Two U.S. Navy sailors were charged Thursday with providing sensitive military information to China — including details on wartime exercises, naval operations and critical technical material.
The two sailors, both based in California, were charged with similar moves to provide sensitive intelligence to the Chinese. But they were separate cases, and it wasn't clear if the two were courted or paid by the same Chinese intelligence officer as part of a larger scheme. Federal officials at a news conference in San Diego declined to specify whether the sailors were aware of each other's actions.
Both men pleaded not guilty in federal courts in San Diego and Los Angeles. They were ordered to be held until their detention hearings, which will take place Aug. 8 in those same cities.
U.S. officials have for years expressed concern about the espionage threat they say the Chinese government poses, bringing criminal cases in recent years against Beijing intelligence operatives who have stolen sensitive government and commercial information, including through illegal hacking.
The pair of cases also comes on the heels of another insider-threat prosecution tied to the U.S. military, with the Justice Department in April arresting a Massachusetts Air National Guardsman on charges of leaking classified military documents about Russia's war in Ukraine and other sensitive national security topics on Discord, a social media platform popular with people playing online games.
U.S. officials said the cases exemplify China's brazenness in trying to obtain insight into U.S. military operations.
Through the alleged crimes committed by these defendants, sensitive military information ended up in the hands of the People's Republic of China, said U.S. Attorney Randy Grossman for the Southern District of California. He added that the charges demonstrate the Chinese government's "determination to obtain information that is critical to our national defense by any means, so it could be used to their advantage."
Jinchao Wei, a 22-year-old sailor assigned to the San Diego-based USS Essex, was arrested Wednesday while boarding the ship. He is accused of passing detailed information on the weapons systems and aircraft aboard the Essex and other amphibious assault ships that act as small aircraft carriers.
Prosecutors said Wei, who was born in China, was approached by a Chinese intelligence officer in February 2022 while he was applying to become a naturalized U.S. citizen, and admitted to the officer that he knew the arrangement could affect his application. Even so, at the officer's request, Wei provided photographs and videos of Navy ships, including the USS Essex, which can carry an array of helicopters, including the MV-22 Ospreys, according to an indictment unsealed Thursday.
The indictment alleges Wei included as many as 50 manuals containing technical and mechanical data about Navy ships as well as details about the number and training of Marines during an upcoming exercise.
Wei continued to send sensitive U.S. military information multiple times over the course of a year and even was congratulated by the Chinese officer once Wei became a U.S. citizen, Grossman said. He added that Wei "chose to turn his back on his newly adopted country" for greed.
The Justice Department charged Wei under a rarely-used Espionage Act statute that makes it a crime to gather or deliver information to aid a foreign government.
After pleading not guilty in San Diego, Wei was assigned a new public defender who declined to comment following the hearing. Wei did not visibly react when read the charges.
Assistant U.S. Attorney Fred Sheppard told the judge that Wei had passed information to Chinese intelligence as recently as two days ago. He said Wei, who also went by the name Patrick Wei, told a fellow sailor in February 2022 that he was "being recruited for what quite obviously is (expletive) espionage."
Sheppard said Wei has made $10,000 to $15,000 in the past year from the arrangement with the unnamed Chinese inelligence officer. If convicted, he could face up to life in prison.
The officer instructed Wei not to discuss their relationship, to share sensitive information and to destroy evidence to help them cover their tracks, officials said.
The Justice Department also charged sailor Wenheng Zhao, 26, based at Naval Base Ventura County, north of San Diego, with conspiring to collect nearly $15,000 in bribes from a Chinese intelligence officer in exchange for U.S. naval exercise plans, operational orders and photos and videos of electrical systems at Navy facilities between August 2021 through at least this May.
The information included operational plans for a large-scale U.S. military exercise in the Indo-Pacific region, which detailed the location and timing of naval force movements.
The Associated Press was unable to reach the federal public defender assigned to Zhao, who pleaded not guilty in Los Angeles.
The indictment further alleges that Zhao photographed electrical diagrams and blueprints for a radar system stationed on a U.S. military base in Okinawa, Japan.
Prosecutors say Zhao, who also went by the name Thomas Zhao, also surreptitiously recorded information that he handed over. If convicted, Zhao could face a maximum sentence of 20 years in federal prison.
It was unclear if federal officials were looking at other U.S. sailors and if the investigation was ongoing.
At the Pentagon, Brig. Gen. Pat Ryder told reporters that, "I think we have clear policies and procedures in place when it comes to safeguarding and protecting sensitive information. And so if those rules are violated, appropriate action will be taken." He declined to discuss any specifics of the cases.
U.S. Attorney Grossman said the charges reflect that China "stands apart in terms of the threat that its government poses to the United States. China is unrivaled in its audacity and the range of its maligned efforts to subvert our laws."
He added that the U.S. will use "every tool in our arsenal to counter the threat and to deter China and those who have violated the rule of law and threaten our national security."
Add TheJapanNews to your Google News feed.