Trump Pleads Not Guilty to Federal Charges That He Tried to Overturn The 2020 Election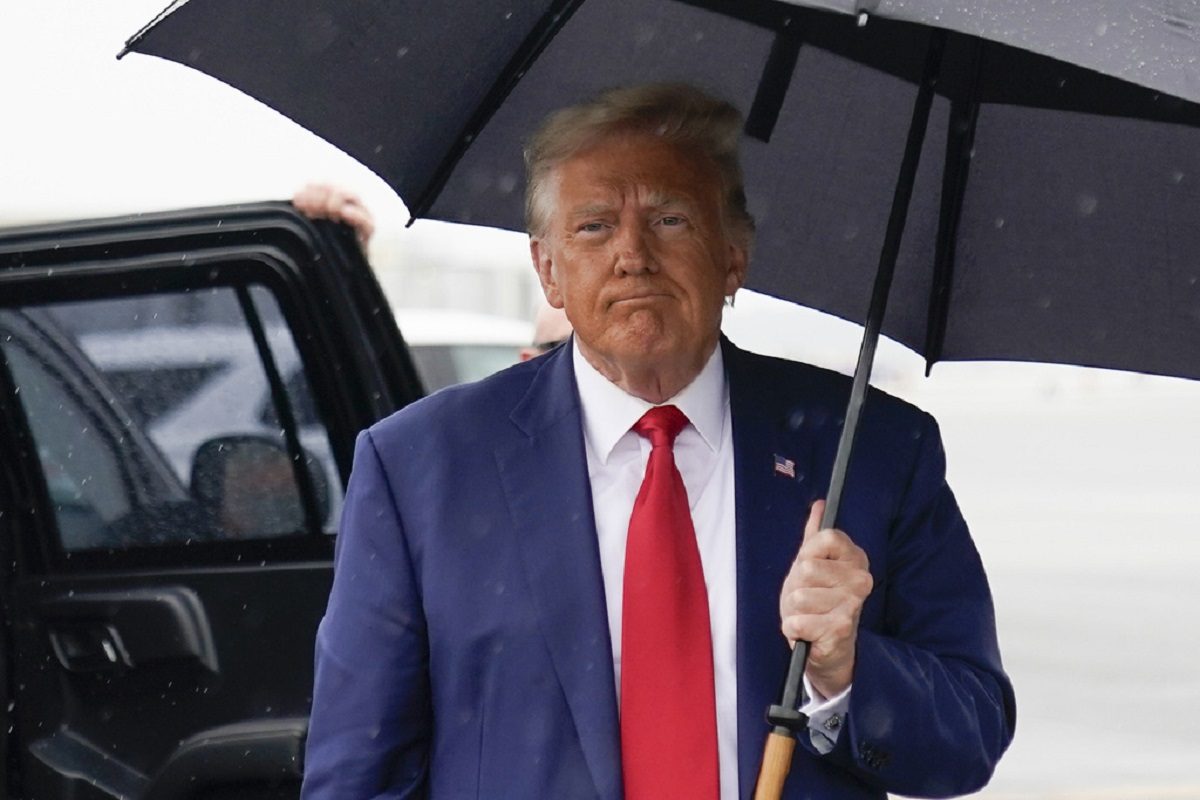 8:07 JST, August 4, 2023
WASHINGTON (AP) — Donald Trump pleaded not guilty Thursday to trying to overturn the results of his 2020 election loss, answering for the first time to federal charges that accuse him of orchestrating a brazen and ultimately unsuccessful attempt to block the peaceful transfer of presidential power.
The former president appeared before a magistrate judge in Washington's federal courthouse two days after being indicted on four felony counts by Justice Department special counsel Jack Smith. Of the three criminal cases he's facing, the most recent charges are especially historic since they focus on Trump's efforts as president to subvert the will of voters and obstruct the certification of Democrat Joe Biden's victory. His refusal to accept defeat and his lies about widespread election fraud helped fuel the violent riot on Jan. 6, 2021, when a mob of supporters stormed the U.S. Capitol.
Trump, who is now the early front-runner in the 2024 Republican presidential primary, sat stern-faced with his hands folded, shaking his head at times as he conferred with an attorney and occasionally glancing around the courtroom as his court appearance began. He stood up to enter his "not guilty" plea, answered perfunctory questions from the judge and thanked her at the conclusion of the arraignment.
His appearance Thursday unfolded — as will the rest of the case — in a downtown courthouse between the Capitol and the White House and in a building where more than 1,000 of the Capitol rioters have been charged by the Justice Department, which last November appointed Smith to lead a probe into the role of Trump and his allies in the events of that day.
The indictment charges Trump with four felony counts related to his efforts to undo his presidential election loss, including conspiracy to defraud the U.S. government and conspiracy to obstruct an official proceeding. The charges could lead to a lengthy prison sentence in the event of a conviction, with the most serious counts calling for up to 20 years.
Smith himself was in the courtroom and sat in the front row behind the prosecutors handling the case, sitting about 20 feet away from Trump and looking in his direction — though neither appeared to gesture at or talk to each other.
U.S. Magistrate Judge Moxila Upadhyaya set the next court date for Aug. 28, when a tentative trial date will be set, and directed Trump not to communicate directly about the facts of case with any individual known to be a witness.
Three police officers who defended the Capitol that day were also seen entering the courthouse. One of them, Aquilino Gonell, who retired from the Capitol Police after suffering injuries, took stock of the symbolism of the location, noting that it was "the same court in which hundreds of rioters have been sentenced. It's the same court former President Trump is being arraigned in today for his alleged involvement before, during, and after the siege."
Trump has said he is innocent, and his legal team has characterized the latest case as an attack on his right to free speech and his right to challenge an election that he believed had been stolen.
He addressed the proceedings in a brief statement on a drizzly tarmac at Washington's Reagan National Airport before he boarded his plane back to New Jersey.
"This is the persecution of the person that's leading by very, very substantial numbers in the Republican primary and leading Biden by a lot," he said. "So if you can't beat 'em, you persecute 'em or you prosecute 'em. We can't let this happen in America."
One early point of contention emerged Thursday when defense lawyers bristled at the idea that the trial could be rapidly scheduled. Prosecutors said they would move quickly to provide Trump's lawyers with the information they need to prepare a defense, but defense attorney John Lauro said it was "somewhat absurd" that the case could be ready for trial anytime soon.
"These are weighty issues. Obviously, the U.S. has had three years to investigate this matter," Lauro said.
The election theft case is part of an ongoing set of escalating legal troubles for the ex-president, coming nearly two months after Trump pleaded not guilty to dozens of federal felony counts accusing him of hoarding classified documents at his Florida estate and thwarting government efforts to retrieve them. That case is set for trial next May.
He also was charged in New York with falsifying business records in connection with a hush money payment to a porn actor during the 2016 presidential campaign, a case scheduled for trial next March. And prosecutors in Fulton County, Georgia, are expected in the coming weeks to announce charging decisions in an investigation into efforts to subvert election results in that state.
Tuesday's arraignment was part of a now-familiar but nonetheless stunning ritual of Trump, requiring him to hit pause on his presidential campaign and play the role of a criminal defendant. He was flown by private plane from New Jersey to Washington, where his motorcade with lights and sirens made its way through the nation's capital — a journey documented in wall-to-wall cable coverage once again.
His appearance was a relatively rare return to Washington since he left the White House. After a trip that took him through a highway tunnel and District streets, Trump lamented what he called the "filth and the decay" of the city, which he claimed was worse than when he ended his term. But that overlooks the fact that when he left office, some businesses were boarded up and military presence in the city was ramped up in the aftermath of the insurrection sparked by his own election lies.
Federal and state election officials and Trump's own attorney general have said there is no credible evidence the election was tainted. The former president's allegations of fraud were also roundly rejected by courts, including by judges Trump appointed.
The courtroom Thursday filled with spectators who included several federal judges, including Chief District Court Judge James Boasberg — presumably there to observe the momentous event.
The indictment chronicles how Trump and his Republican allies, in what Smith described as an attack on a "bedrock function of the U.S. government," repeatedly lied about the results in the two months after he lost the election and pressured his vice president, Mike Pence, and state election officials to take action to help him cling to power.
The former president was the only person charged in the case, though prosecutors referenced six unnamed co-conspirators, mostly lawyers, they say he plotted with, including in a scheme to enlist fake electors in seven battleground states won by Biden to submit false certificates to the federal government.
It indictment relies on testimony from a broad cross-section of Trump's aides and state election officials, and also cites contemporaneous notes they say were taken by Pence.
The legal proceedings going forward will be presided over by U.S. District Judge Tanya Chutkan, an appointee of President Barack Obama who has stood out as one of the toughest punishers of rioters.
Add TheJapanNews to your Google News feed.