Extreme Heat Moves East where many will See their Hottest Days of the Year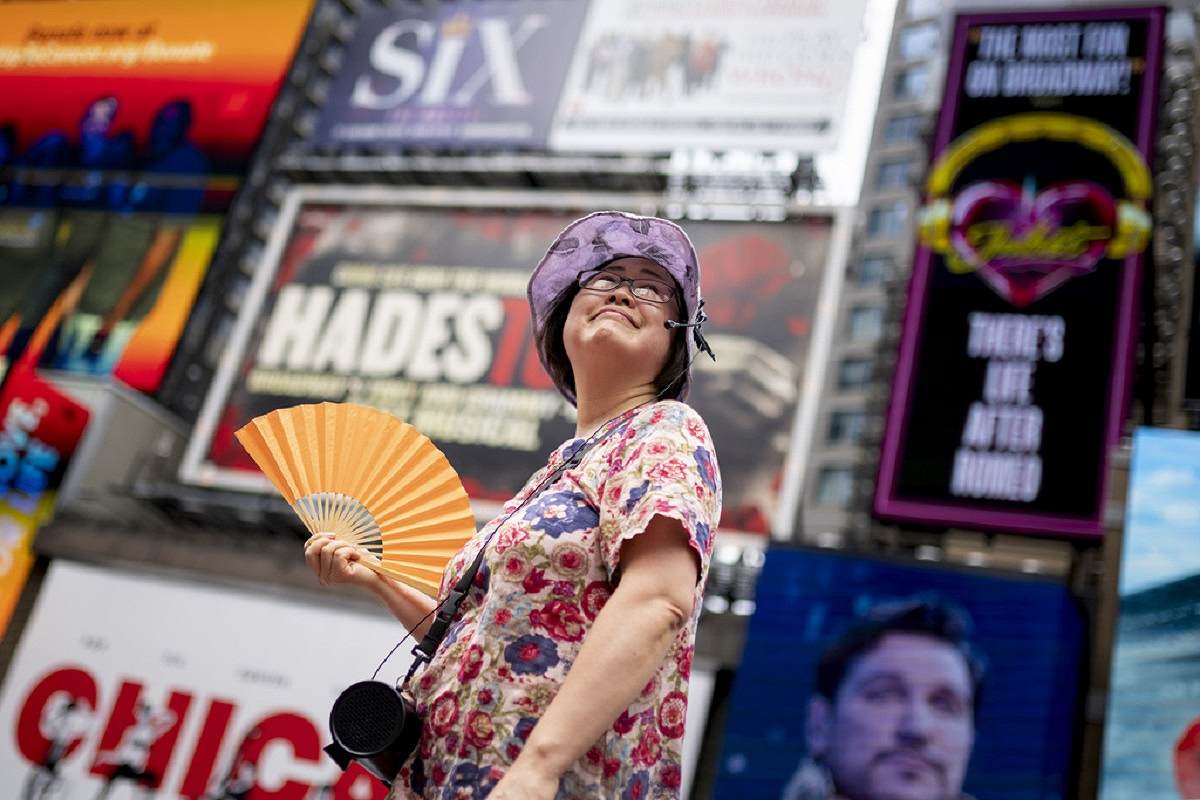 11:08 JST, July 29, 2023
NEW YORK (AP) — Carlos Reyes sought shade under a tree in the Bronx on a day that felt like it was over 100 degrees (38 degrees Celsius) because of the heat and humidity.
"It's not like when you were younger, you were playing around," said the 56-year-old who runs a daycare center. "Now it's like you got the humidity. It makes you kind of not breathe the same way. So when you walk, you get a little more tired, a little more exhausted."
Reyes was one of nearly 200 million people in the United States, or 60% of the U.S. population, under a heat advisory or flood warning or watch since Thursday, according to the National Weather Service.
Dangerous heat engulfed much of the eastern half of the United States Friday as extreme temperatures spread from the Midwest into the Northeast and mid-Atlantic where some residents saw their hottest temperatures of the year.
Although much of the country does not cool much on normal summer nights, night temperatures are forecast to stay hotter than usual, prompting excessive heat warnings from the Plains to the East Coast.
From Thursday to Friday, the number of people under a heat advisory rose from 180 to 184 million and the number of people under a flood warning or watch dropped from 17 to 10 million.
Moisture moved into the Southwest, cooling somewhat the southernmost counties of California and parts of southern Arizona, but excessive heat warnings remain for much of the region.
On top of the heat, severe thunderstorms are forecast for multiple regions of the country. There are forecasts with flash flood warnings for Great Lakes and Ohio Valley, west to the Middle Missouri Valley through Saturday morning. There are severe thunderstorm warnings with a chance of quarter-sized hail Friday night for the Washington, DC metropolitan area.
Tornado watches are posted in Wisconsin and New Hampshire, in addition to the heat advisories and potential for severe storms.
The prediction for continued excessive heat comes as the World Meteorological Organization and the European Union's Copernicus Climate Change Service declared July 2023 the hottest month on record this week.
Scientists have long warned that climate change, driven by the burning of fossil fuels, by deforestation and by certain agricultural practices, will lead to more and prolonged bouts of extreme weather.
On Thursday, heat and humidity in major cities along the East Coast, including Washington, D.C., Philadelphia and New York City, made it feel above 100 degrees Fahrenheit (37.8 degrees Celsius). Forecasters expect several records may break Friday with temperatures 10 to 15 degrees Fahrenheit (5.5 to 8 degrees Celsius) above average.
The "dangerous" heat wave, as the National Weather Service called it, may begin to subside on Saturday as thunderstorms and a cold front from Canada progress through the region. It seems the hottest temperatures happened on Friday.
"By Sunday, the high temperature is going to be 86," he said, "so that's more typical weather you would expect in July."
The Salvation Army in the Bronx was one of hundreds of cooling centers open in New York City to give people a respite from the scorching heat.
"It's very hot every year. This year, it started last week, becoming very hot," said Robert Ciriaco, a corps officer with The Salvation Army. "(It's) very dangerous for people. Some people die. So that's why we open to offer people (a place) to come to be comfortable."
Philadelphia declared a heat health emergency as temperatures soared into the 90s, and city authorities opened cooling centers.
But some residents took the heat in stride. Alexander Roman, who brought his children to play in the fountain at the city's iconic Love Park, said he is not worried about heat stroke as long as his family can cool down. "A lot of water with ice and it will be O.K," he said.
In the Southwest and southern Plains, oppressive temperatures have been a blanket for weeks. One meteorologist based in New Mexico called the prolonged period of temperatures over 100 degrees (37.8 Celsius) unprecedented.
Due to the extreme heat, some of the nation's large power grids and utilities are under stress, which could affect Americans' ability to cool off.
In New York City, utility Con Edison sent out a text blast asking residents to be frugal with air conditioning to conserve electricity. Overtaxing an electrical grid can mean blackouts, which are not just an inconvenience, but can lead to equipment failures and major pollution as equipment restarts.
The country's largest power grid, PJM Interconnection, declared a level one energy emergency alert for its 13-state grid on Wednesday, meaning the company had concerns about ability to provide enough electricity.
"PJM currently has enough generation to meet forecast demand, but operators continue to monitor the grid conditions for any changes," said spokesperson Jeffrey Shields on Thursday.
PJM isn't the only electrical grid to issue such an alert. The Midcontinent Independent System Operator, which mostly covers states in the Midwest and Northern Plains, issued a similar one Thursday.
The California Independent System Operator also issued an energy emergency alert for the evening on Wednesday, in part due to excess heat in Southern California, but that expired the same day. Anne Gonzales, a CAISO spokesperson, said they expect to be able to meet demand the next few days.
A spokesperson for the Electric Reliability Council of Texas, which covers most of Texas, said they expect their grid will operate per usual during this latest blast of extreme weather across the country.
The dangerous heat peaks in the Northeast, mid-Atlantic, and Midwest Friday and Saturday before a cold front is expected to bring some relief Sunday and into next week.
Heat experts and environmental advocates said that these effects of the high temperatures will not be felt equally.
"The impacts of heat are highly inequitable," said Ladd Keith, an assistant professor at the University of Arizona who studies heat policy and governance. He explained that people experiencing homelessness feel heat effects more than the housed, and low-income and communities of color are often hotter than more affluent and whiter neighborhoods.
"When we're talking about how to keep people safe, we not only need to be thinking about the neighborhoods that are disproportionately warmer during these heat waves," said Jeremy Hoffman, director of climate justice and impact at Groundwork USA, an environmental justice nonprofit. "But (also) the folks that can't avoid being outside during these heat waves, people that rely on public transportation, people that work outside, and the extremely elderly that may be living in substandard housing without a lot of ventilation and air conditioning."
Add TheJapanNews to your Google News feed.