Drone Hits Crimean Ammunition Depot as Strikes Kill, Wound Civilians and Journalists in Ukraine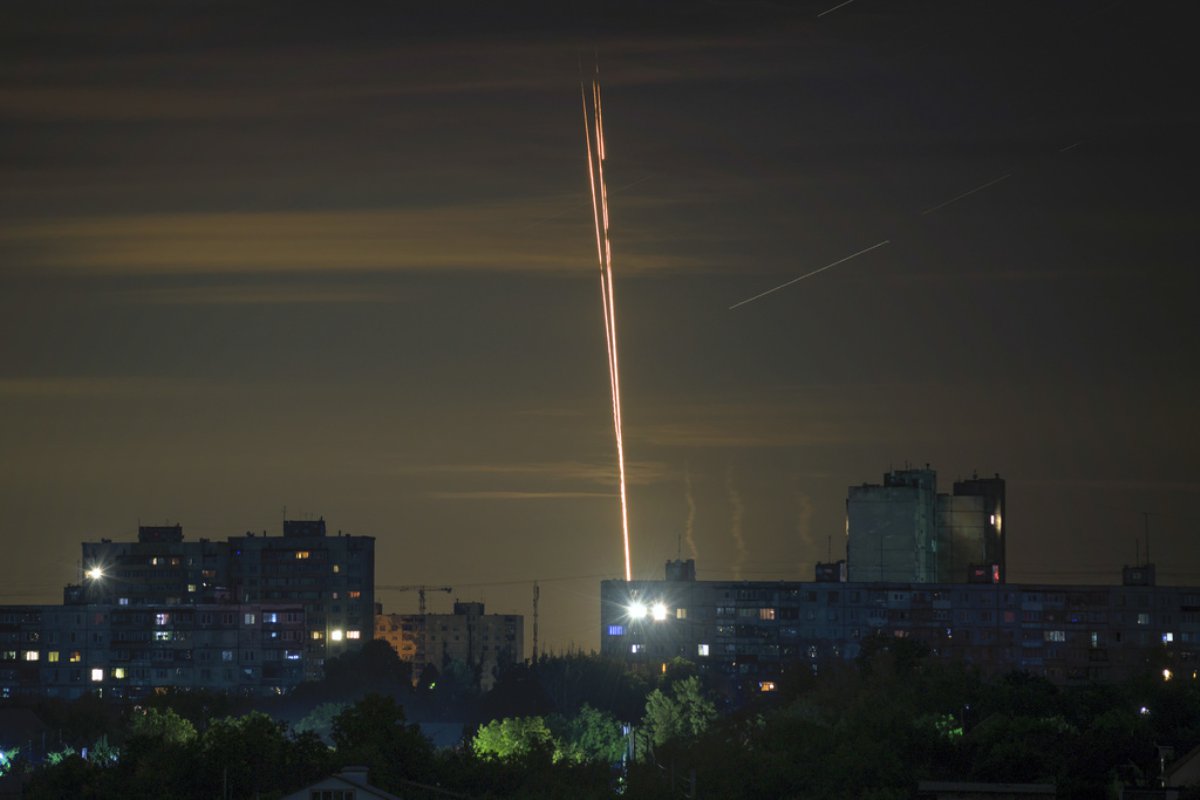 9:52 JST, July 23, 2023
KYIV, Ukraine (AP) — A Ukrainian drone strike Saturday caused a massive explosion at an ammunition depot in Russia-annexed Crimea, forcing the evacuation of nearby homes in the latest attack since Moscow canceled a landmark grain deal amid Kyiv's grinding efforts to retake its occupied territories.
The attack on the depot in central Crimea sent huge plumes of black smoke skyward and came five days after Ukraine struck a key bridge that links Russia to the peninsula it illegally annexed in 2014 and after Moscow suspended a wartime deal that allowed Ukraine to safely export its grain through the Black Sea.
Sergey Aksyonov, the Kremlin-appointed head of Crimea, said in a Telegram post that there were no immediate reports of casualties from the strike, but that authorities were evacuating civilians within a 5-kilometer (3-mile) radius of the blast site.
The Ukrainian military took credit for the strike, saying it destroyed an oil depot and Russian military warehouses in Oktyabrske, in the Krasnohvardiiske region of Crimea, though without specifying which weapons it used.
A Crimean news channel posted videos Saturday showing plumes of smoke billowing above rooftops and fields near Oktyabrske, a small settlement next to an oil depot and a small military airport, as loud explosions rumbled in the background. In one video, a man can be heard saying the smoke and blast noises seemed to be coming from the direction of the airport.
The strike came during a week in which Ukraine attacked the Kerch Bridge and Russia, in what it described as "retribution" for the bridge attack, bombarded southern Ukrainian port cities, damaging critical infrastructure including grain and oil terminals.
Ukraine also attacked the bridge in October, when a truck bomb blew up two of its sections, which took months to repair. Moscow decried that assault as an act of terrorism and retaliated by bombarding Ukraine's civilian infrastructure, targeting the country's power grid over the winter.
The Kerch Bridge is a conspicuous symbol of Moscow's claims on Crimea and an essential land link to the peninsula. The $3.6 billion, 19-kilometer (nearly 12-mile) bridge is the longest in Europe and is crucial for Russia's military operations in southern Ukraine.
Speaking at the Aspen security forum via video link, Ukrainian President Volodymyr Zelenskyy called the bridge a legitimate target for Ukraine, noting that Russia has used it to ferry military supplies and it must be "neutralized."
In a video address to the nation later Saturday, Zelenskyy said he had a phone call with NATO Secretary-General Jens Stoltenberg to discuss "our steps to unblock and ensure the stable operation of the grain corridor" following Russia's withdrawal from the grain deal.
Zelenskyy said they agreed to hold a meeting of the Ukraine-NATO Council in the nearest days for consultations on the issue. "We can overcome the security crisis in the Black Sea," he said.
As fierce fighting continues in Ukraine's bid to retake territory from Russia, Russian shelling killed at least two civilians and wounded four others on Saturday, Ukrainian officials reported. A 52-year-old woman died in Kupiansk, a town in the northeastern Kharkiv region, while another person was killed in a cross-border Russian attack on a village in the neighboring Sumy province.
Earlier Saturday, Ukrainian officials reported that Russian attacks on 11 regions across the country on Friday and overnight had killed at least eight civilians and wounded others.
A DW cameraman was injured Saturday by shrapnel from Russian cluster munitions that also killed one Ukrainian soldier and wounded several others near the town of Druzhkivka, in the eastern Donetsk region, the German broadcaster said in a statement. Cameraman Ievgen Shylko was part of a team sent to report from the Ukrainian army training ground about 23 kilometers (14 miles) away from the frontline, it said.
"We were filming the Ukrainian army during target practice when suddenly we heard several explosions," DW correspondent Mathias Bölinger said. "We lay down, more explosions followed, we saw people were wounded. Later, the Ukrainian army confirmed that we had been fired at with cluster munitions."
Cluster munitions, which open in the air and release multiple small bomblets, are banned by more than 100 countries because of their threat to civilians, but they have been used extensively by both sides in the war.
The Pentagon has said the cluster munitions the U.S. recently gave to Ukraine will give Kyiv critically needed ammunition to help bolster its counteroffensive.
The Russian Defense Ministry announced that a group of Russian journalists came under artillery fire in the southern Zaporizhzhia region. In an online statement, it said four correspondents for pro-Kremlin media had been struck by cluster munitions and that one of them, Rostislav Zhuravlev of the state RIA Novosti news agency, later died from his injuries.
The Kremlin-installed head of the Russia-occupied parts of the Zaporizhzhia region, Yevhen Balitsky, claimed in a Telegram post that the journalists were traveling in a civilian vehicle that was hit by shelling. The claims couldn't be independently verified.
Russian Foreign Ministry spokeswoman Maria Zakharova denounced the attack on journalists as a "heinous crime" in which the U.S. and its allies were complicit.
The Ukrainian air force on Saturday morning said that overnight, it had brought down 14 Russian drones, including five Iranian-made ones, over the country's southeast, where battles are raging. In a regular social media update, the air force said that all Iranian-made Shahed exploding drones launched by Russian troops during the night were brought down, pointing to Ukraine's increasing success rate in neutralizing them.
Add TheJapanNews to your Google News feed.