Russia Bombards Odesa and Other Southern Ukraine Port Cities for Third Night Since End of Grain Deal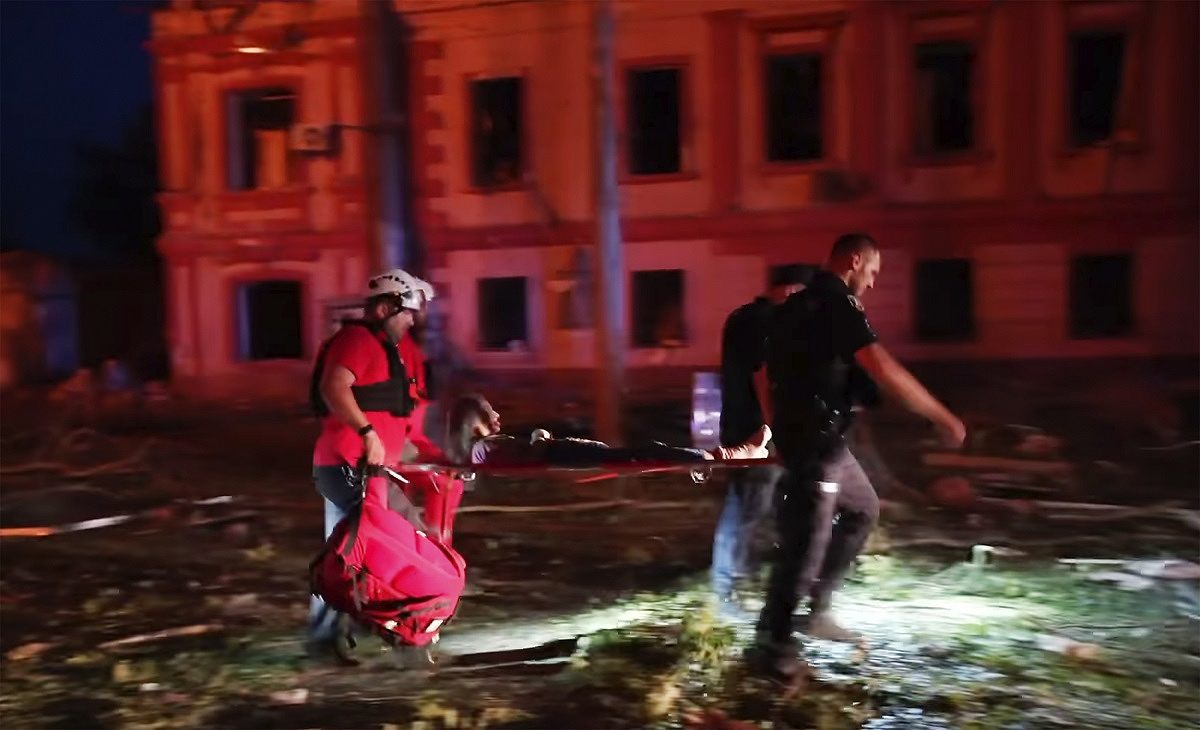 10:59 JST, July 21, 2023
KYIV, Ukraine (AP) — Russia pounded Ukraine's southern cities with drones and missiles for a third consecutive night Thursday, keeping Odesa in the Kremlin's crosshairs after a bitter dispute over the end of a wartime deal that allowed Ukraine to send grain through the key Black Sea port.
The strikes killed at least two people in Odesa. In the nearby city of Mykolaiv, which is close to the Black Sea, at least 19 people were injured, including a child, Ukrainian officials said.
Russia has targeted Ukrainian critical grain export infrastructure since it vowed "retribution" this week for an attack that damaged a crucial bridge between Russia and the Moscow-annexed Crimean Peninsula. Russian officials blamed that strike on Ukrainian drone boats.
The strikes on Ukraine's grain export infrastructure have helped drive up food prices in countries facing hunger. U.N. Secretary-General Antonio Guterres said the end of the deal Monday would result in more human suffering, with potentially millions of people affected.
The grain deal provided guarantees that ships would not be attacked entering and leaving Ukrainian ports, while a separate agreement facilitated the movement of Russian food and fertilizer.
The Russian military on Thursday described its strikes on Odesa, a city whose downtown area is described by the United Nations' cultural agency UNESCO as possessing "outstanding universal value," as "retaliatory."
In January, UNESCO added Odesa's historic center to its list of endangered World Heritage Sites, with UNESCO Director-General Audrey Azoulay saying the "legendary port that has left its mark in cinema, literature and the arts."
Despite multiple Russian artillery attacks and airstrikes during the war that began in February 2022, Odesa had not previously been subjected to the heavy barrages that have targeted other towns and cities in Ukraine's south and east.
Odesa residents reeled from Russia's sudden focus on their city.
"I remember the attack on the port last year, but now it feels like it was only 5% compared to what the Russians have launched at us during these past three days," Oleksandr Kolodin, a 29-year-old photographer, told The Associated Press.
Some feared that Russia's decision to tear up the grain deal would make Odesa a long-term primary target.
"We saw how they could attack Kyiv for an entire month," said 29-year-old programmer Victor, referring to the intense bombardment of the Ukrainian capital in May. He asked to use only his first name out of concern for his safety.
The Russian Defense Ministry said in a statement that it targeted "production shops and storage sites for unmanned boats" in Odesa and the nearby city of Chornomorsk. In the Mykolaiv area, the Russian military claimed to have destroyed Ukrainian fuel infrastructure facilities and ammunition depots.
Neither sides' claims could be independently verified.
The previous night, an intense Russian bombardment using drones and missiles damaged critical port infrastructure in Odesa, including grain and oil terminals. The attack destroyed at least 60,000 tons of grain.
In what appeared to be a tit-for-tat move, Ukraine's Defense Ministry announced that as of Friday, all vessels in the Black Sea heading to Russian ports "may be considered by Ukraine as such carrying military cargo with all the associated risks." That may result in higher insurance costs for those ships.
Russia's Defense Ministry said earlier this week that Moscow had formally declared wide areas of the Black Sea dangerous for shipping and warned that it would view any incoming ship as laden with weapons, effectively announcing a sea blockade.
Despite the risks, ship owners haven't shown any less interest in carrying Ukrainian grain through the Black Sea, according to John Stawpert, senior manager of environment and trade for the International Chamber of Shipping, which represents 80% of the world's commercial fleet.
The European Union's foreign affairs chief condemned Russia's targeting of grain storage facilities.
"More than 60,000 tons of grain has been burned," Josep Borrell said in Brussels on Thursday, regarding Moscow's recent tactics. "So not only they withdraw from the grain agreement … but they are burning the grain."
German Foreign Affairs Minister Annalena Baerbock said at the same meeting that the EU is involved in international efforts to get Ukrainian grain to the world market.
"The fact that the Russian president has canceled the grain agreement and is now bombing the port of Odesa is not only another attack on Ukraine, but an attack on the people, on the poorest people in the world," she said. "Hundreds of thousands of people, not to say millions, urgently need grain from Ukraine."
The White House warned Wednesday that Russia was preparing possible attacks on civilian shipping vessels in the Black Sea. The warning could alarm shippers and further drive up grain prices.
Russia has laid additional sea mines in the approaches to Ukrainian ports, White House National Security Council spokesman Adam Hodge said in a statement. "We believe that this is a coordinated effort to justify any attacks against civilian ships in the Black Sea and lay blame on Ukraine for these attacks," the statement said.
Carlos Mera, head of agricultural commodities markets at Rabobank, said wheat prices have risen about 17% over the last week, calling it a surprising rise that started even before the grain deal ended Monday and attributing it to "a little bit of panic."
A lot of the wheat exported from Ukraine goes to very poor countries, such as those in North Africa, he said. People in those places are already struggling with food insecurity and high local food prices. Russia, meanwhile, has been exporting record amounts of wheat in recent months despite complaints that its agricultural exports have been hindered.
Russia has blasted Ukrainian towns and cities since the start of the war. Ukraine's Western allies have helped upgrade its air defense systems. The latest military aid package from the United States, announced by the Pentagon on Wednesday, includes funding for four National Advanced Surface-to-Air Missile Systems, or NASAMS, and munitions for them.
Meanwhile, the Ukrainian military has begun deploying cluster munitions — bombs that open in the air and release scores of smaller bomblets — that it recently received from the U.S., U.S. National Security spokesman John Kirby said Thursday at a news conference.
"We have gotten some initial feedback from the Ukrainians and they're using them quite effectively," he said.
On Thursday, the director of the International Atomic Energy Agency, Rafael Grossi, said agency inspectors have not seen signs of explosives or mines at the Zaporizhzhia Nuclear Power Plant. Ukraine's military intelligence has claimed for weeks, without providing evidence, that Russia is planning a "large-scale provocation" at the plant, which is Europe's largest and under Russian control.
However, Grossi noted in a statement that the inspectors have not been allowed access to the roofs of reactors and their turbine halls.
Add TheJapanNews to your Google News feed.