American Soldier's Dash into North Korea Leaves Family Members Wondering Why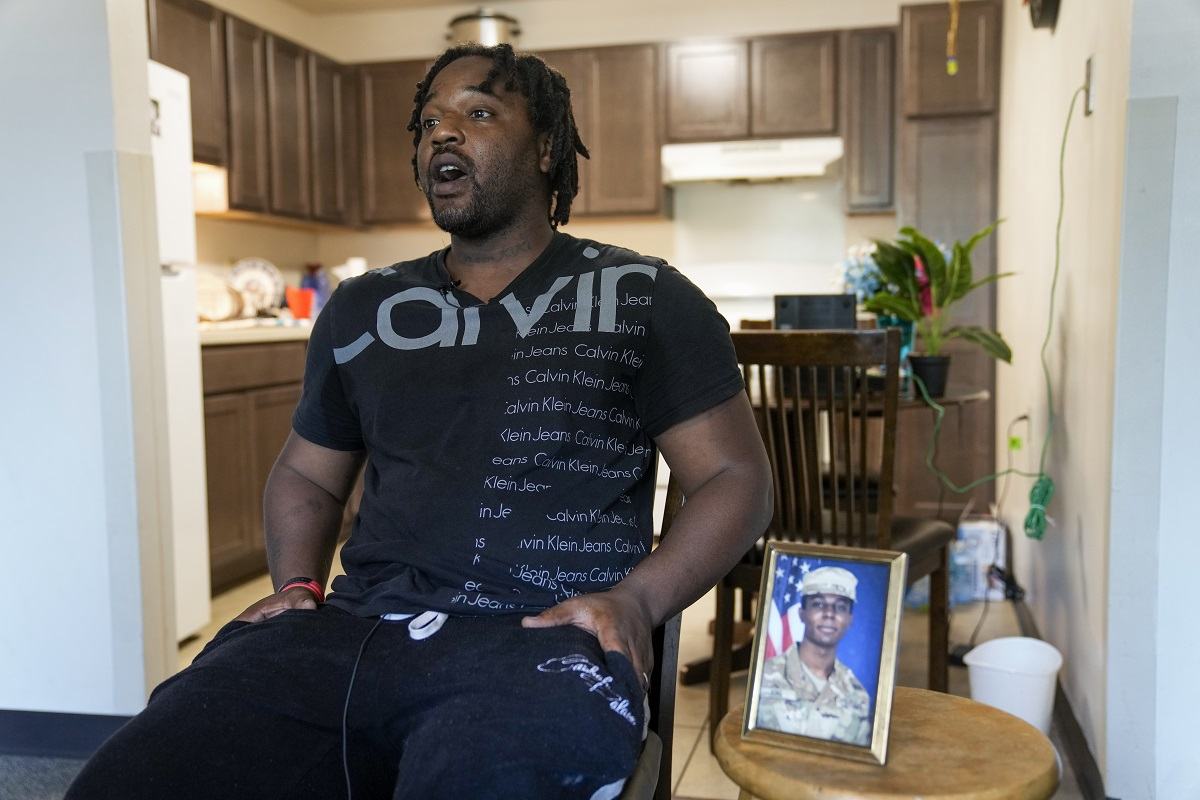 12:31 JST, July 20, 2023
KENOSHA, Wis. (AP) — Family members of the U.S. Army private who sprinted across the border into North Korea said Wednesday that he may have felt overwhelmed as he faced legal troubles and his possible looming discharge from the military.
Relatives described Pvt. Travis King, 23, as a quiet loner who did not drink or smoke and enjoyed reading the Bible. After growing up in southeast Wisconsin, he was excited about serving his country in South Korea. Now King's family is struggling to understand what changed before he dashed into a country with a long history of holding Americans and using them as bargaining chips.
"I can't see him doing that intentionally if he was in his right mind," King's maternal grandfather, Carl Gates, told The Associated Press from his Kenosha, Wisconsin, home. "Travis is a good guy. He wouldn't do nothing to hurt nobody. And I can't see him trying to hurt himself."
King was supposed to be returned to the U.S. this week to face military discipline after serving nearly two months in a South Korea prison on assault charges. But instead of boarding a flight for Texas on Monday, as planned, King slipped away and quietly joined a civilian tour group on Tuesday morning headed for the Demilitarized Zone that divides South and North Korea.
Even with legal troubles hanging over him, King's relatives said they are at a loss to explain why he acted as he did.
King's uncle, Myron Gates, questioned whether his nephew was experiencing a mental problem.
"I don't understand why he would do that, because it seemed like he was on his way back here to the United States," Myron Gates said. "He was on his way home."
Another relative said King was despondent over the recent loss of a young cousin. Lakeia Nard said King was close with her 7-year-old son, King'nazier Gates, who died in February of a rare genetic disease.
Carl Gates said his grandson joined the military three years ago out of a desire to serve his country and because he "wanted to do better for himself." He has an older brother who is a police officer and a cousin who is in the Navy.
King served as a cavalry scout with the 1st Armored Division.
"He's a nice, quiet guy," Carl Gates said. "He doesn't bother anybody. He keeps to himself."
King was facing discharge from the Army because he was convicted of a crime in a foreign country, according to a U.S. official who spoke on condition of anonymity because of the sensitivity of the matter.
In February, a court fined King 5 million won ($3,950) after he was convicted of assaulting an unidentified person and damaging a police vehicle in Seoul last October, according to a transcript of the verdict obtained by the AP.
The ruling said King was also accused of punching a 23-year-old man at a Seoul nightclub, though the court dismissed that charge because the victim did not want the soldier to be punished. King served 47 days in prison.
According to the U.S. official, King was escorted to the airport on Monday by two U.S. service members. He was supposed to board an American Airlines flight to Texas that was scheduled to leave at 5:40 p.m. Upon arrival, he was to be met by military personnel who would escort him to Fort Bliss.
On the way to his departing flight, King was escorted as far as customs but left the airport before boarding the plane. It was unclear how he spent the hours until joining the tour in the border village of Panmunjom and running across the border Tuesday afternoon.
Sarah Leslie, a tourist from New Zealand, said King was in her tour group and was traveling alone. He initially acted like any other tourist, buying a DMZ hat from a gift shop. He was casually dressed in jeans and a T-shirt.
As the tour was ending, the group members were milling about and taking photos. That's when Leslie saw King running "really fast." She thought it was a stunt.
"I assumed initially he had a mate filming him in some kind of really stupid prank or stunt, like a TikTok, the most stupid thing you could do," Leslie said. "But then I heard one of the soldiers shout, 'Get that guy.'"
Before soldiers could catch him, King was across the border. It took just a few seconds.
U.S. officials were saying little about what may have motivated King.
"We are still gathering facts," State Department spokesman Matthew Miller said.
White House press secretary Karine Jean-Pierre said the administration was trying to figure out where King was being held, his condition and his reason for crossing into North Korea. She said administration officials would work to ensure his safe return to his family.
King's mother, Claudine Gates, told reporters outside her Racine, Wisconsin, home that all she cares about is bringing her son home.
"I just want my son back," she said in video posted by Milwaukee television station WISN. "Get my son home."
King's grandfather called on his country to help rescue his grandson.
"We're the United States. We make things happen. If they get him out of there, we appreciate it as a family," Carl Gates said. "Save my grandson."
Add TheJapanNews to your Google News feed.